Montessori Floor Beds: 11 Best Options Including DIY
Floor beds might seem like a passing trend, but there's much more behind them than having an Instagram-worthy toddler room. The Montessori Method of education is founded upon principles that support a child's independence, and a Montessori floor bed encourages many of these principles. 
Here you'll learn what they are, why you might choose one for your child, your options to purchase or opt for a DIY floor bed frame, and how to set up the room safely.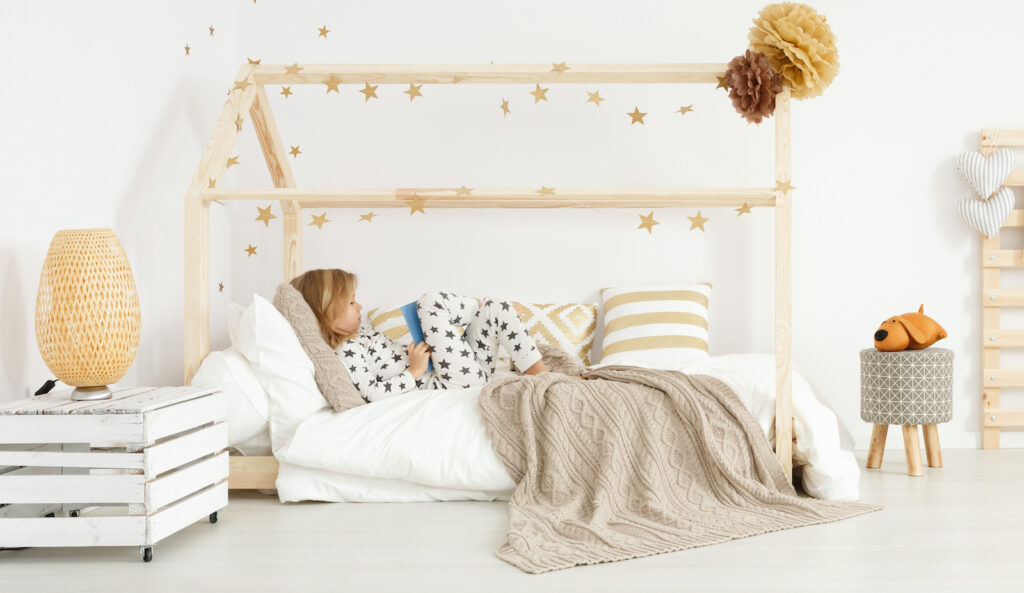 Why Use a Montessori Floor Bed?
In the book, The Secret of Childhood, Dr. Maria Montessori explained, "One of the greatest helps that could be given to the psychological development of a child would be to give him a bed suited to his needs and cease making him sleep longer than necessary."
"A child should be permitted to go to sleep when he is tired, to wake when he is rested, and to rise when he wishes. This is why we suggest that the typical child's bed should be done away with as has already been done in many families. The child instead should be given a low couch resting practically upon the floor, where he can lie down and get up as he wishes. Like all the new helps for a child's psychic, a low bed is economical."
Here's how a floor bed helps meet these developmental needs with Montessori principles.
Freedom Within Limits
The Montessori Method revolves around seeing children as competent in learning new things and doing things on their own, even at a young age. Having the freedom to move around and make choices is imperative to this.
Cribs and playpens aren't in alignment with this because they confine a child and limit access to the world around them. Thus, their ability to learn, grow, and realize their capability can be inhibited. Creating an environment that allows for freedom of movement while also having healthy boundaries for safety supports the development of their self-sufficiency.
Independence 
Dr. Maria Montessori said that adults should never do for children what they can do for themselves. A kid-friendly bed can save little ones frustration and slips because they have a bed they can get in and out of easily.
Respect For The Child
It's about trusting a child's ability to learn and respecting that they can make their own choices. It also makes the world more accessible to the child by making it easy to get in and out of bed. Montessori beds also allow for children to decide when they rise and when they snooze and to establish their own sleep rhythms.
Auto-Education
Dr. Montessori said that children have the ability to teach themselves things when they have the right materials and environment. A toddler floor bed provides an opportunity for children to teach themselves how to sleep on their own and have some say in their own bedtime routine.
More Benefits of a Floor Bed
A floor bed provides children access to their world whereas a crib can restrict young ones in what they can see and do. Their relationship with their room and their home can also change because a floor bed supports a feeling of belonging, whereas a crib implies that children should be kept separate from their surroundings.
The Montessori floor bed also enables children to make their own decisions. When children can choose when to get in and out of bed, they learn things about themselves. They can recognize cues like yawning, tiredness, and sunset that indicate it's time to let the body rest.
Having the ability to make choices rather than being forced also fosters a different relationship with their bed. Rather than a crib that feels like a prison that separates them from the world, they have a bed that welcomes their presence and gives them access to their own space.
Does A Montessori Floor Bed Need A Frame?
A toddler floor bed doesn't require a frame. In fact, it could be easier for children to get in and out of their beds and reduce risks of being hurt since there's no frame for them to bump into. The only downside to a frameless option is mold.
Placing a mattress directly on the floor cuts off airflow around the mattress and allows for moisture to accumulate. You'll have to take a few precautions to avoid mold spots, allergens, and other unpleasant microbial activity. Cleaning the floor under the mattress and leaning it against the wall to dry once a week could be enough to address this.
You can also try
One other thing to take into consideration with the great dilemma of "to frame or not to frame" is the height. Parents who enjoy spending time with their children reading, playing, or chatting will have a much longer drop down to the mattress. Then there's the matter of getting up from the floor. Families who spend time on their child's bed may want something above floor level.
The Best Montessori Floor Beds
Here are the top-rated floor beds, where to find them, and the safest mattress options to complete your setup.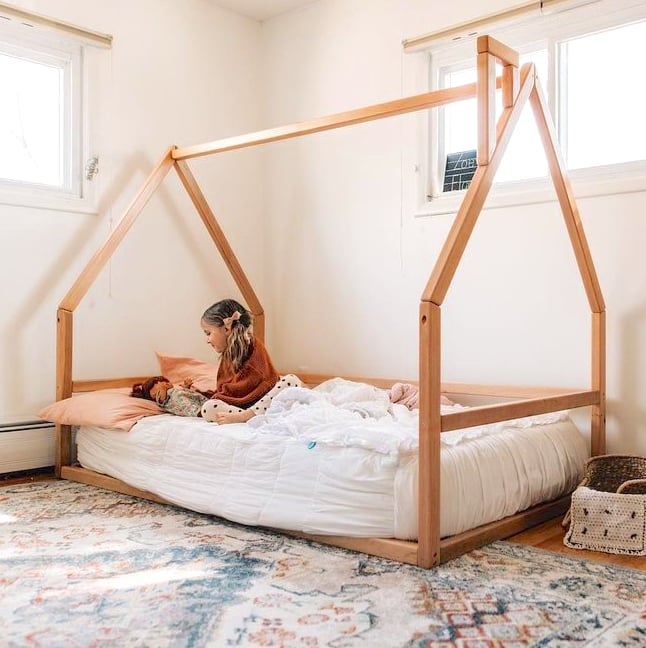 Handmade by a small, family-owned business, the Montessori Bed is the only option with a lifetime warranty. Originally from Latvia, the family follows Dr. Maria Montessori's guidelines with their own children. We love this bed because it's hand-crafted from high quality wood by people who really care about creating an independent yet cozy environment for your child.
Their toddler floor beds are made from Alder wood, which is known to be stronger than baltic, birch, and other types of wood. Choose from their floor bed or house bed.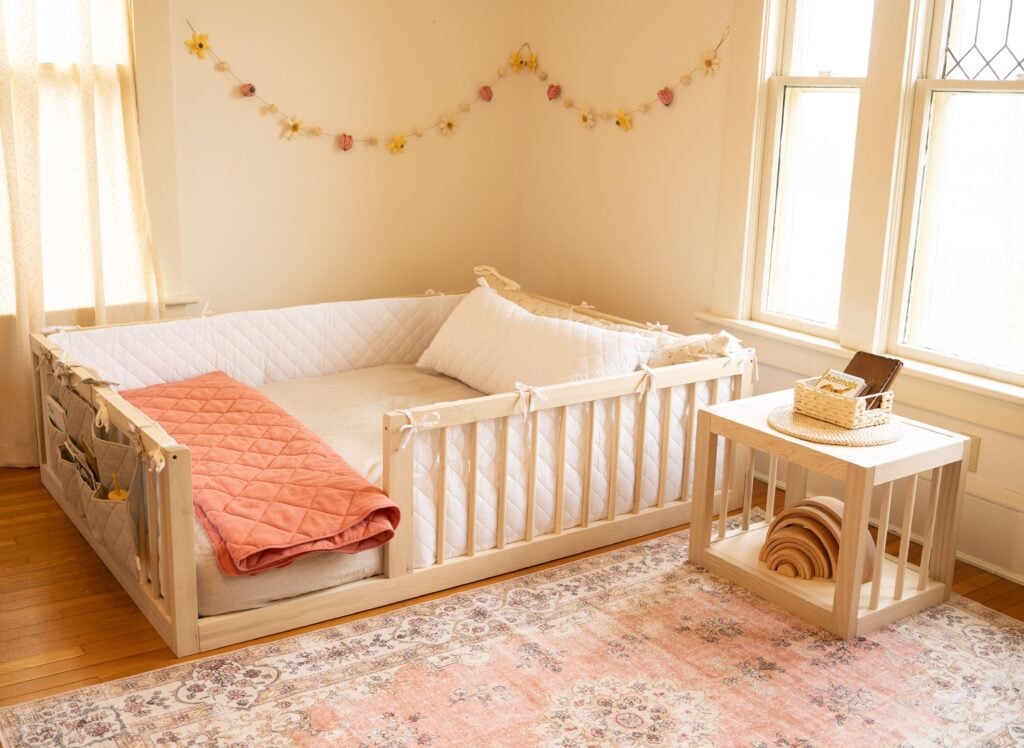 If your child prefers to be less out in the open, the rails on this floor bed help them feel contained. The quilted pads offer plenty of areas they can sleep against. As we've mentioned, these beds are not for infants or babies who could get stuck between the padding or rails.
Handmade in Ohio, Zipadee Kids offers their floor beds in twin, full, and even queen sizes. The front and back railing are removable. The bed is made from responsibly forested Appalachian Poplar with no veneer or glues.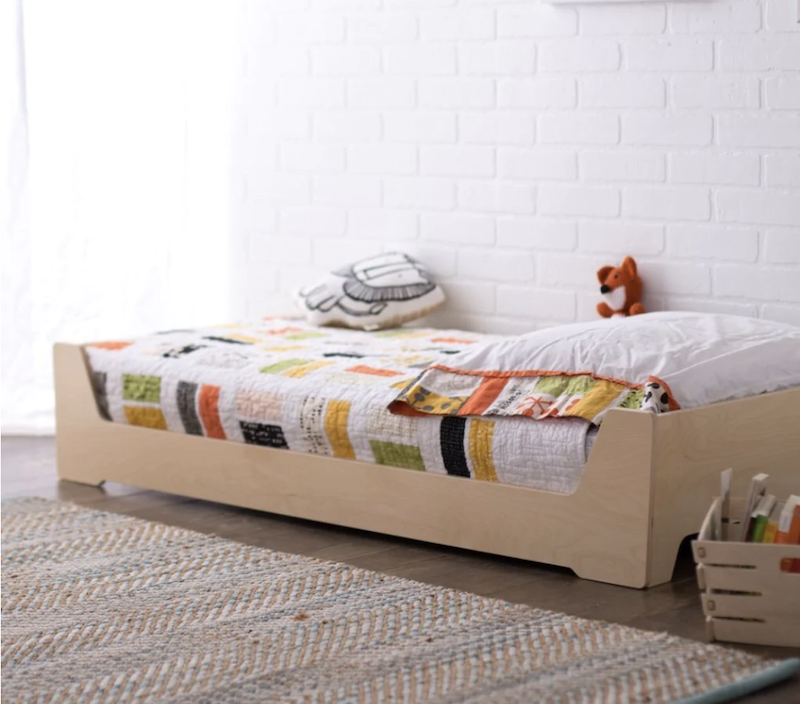 Sprout's floor bed is minimalist, sleek, and extremely versatile.
When you're finished using it as a floor bed, just flip the bed frame upside down to make a platform bed. Depending on the size of the mattress, this side can last through the teen years.
The frame is made out of baltic birch with no VOC stains. It can hold up to 250 pounds, and comes in twin, toddler, or full size.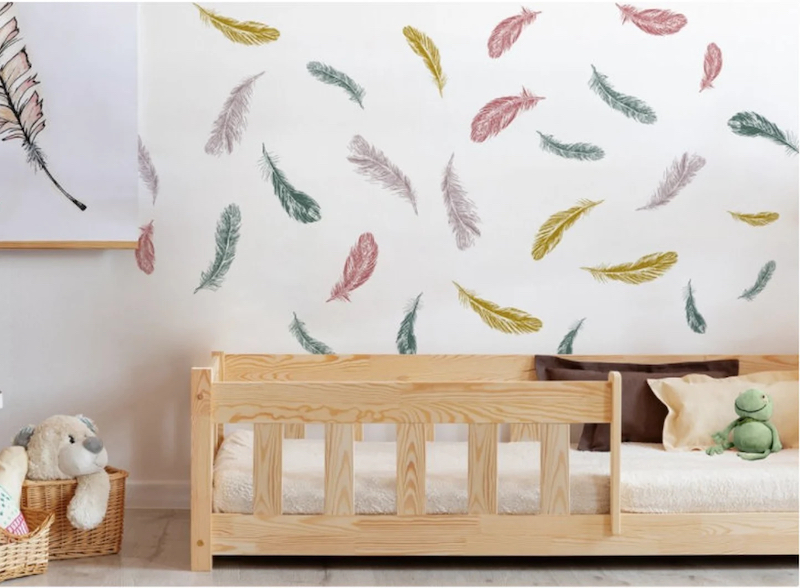 Handmade from FSC-certified pine, Kidoo Crafts offers a simple, yet durable design. With safe side rails, little ones are contained while sleeping but still have plenty of access to get in and out on their own. The frame is made of flexible slats. It provides adequate support for the mattress while allowing proper air circulation.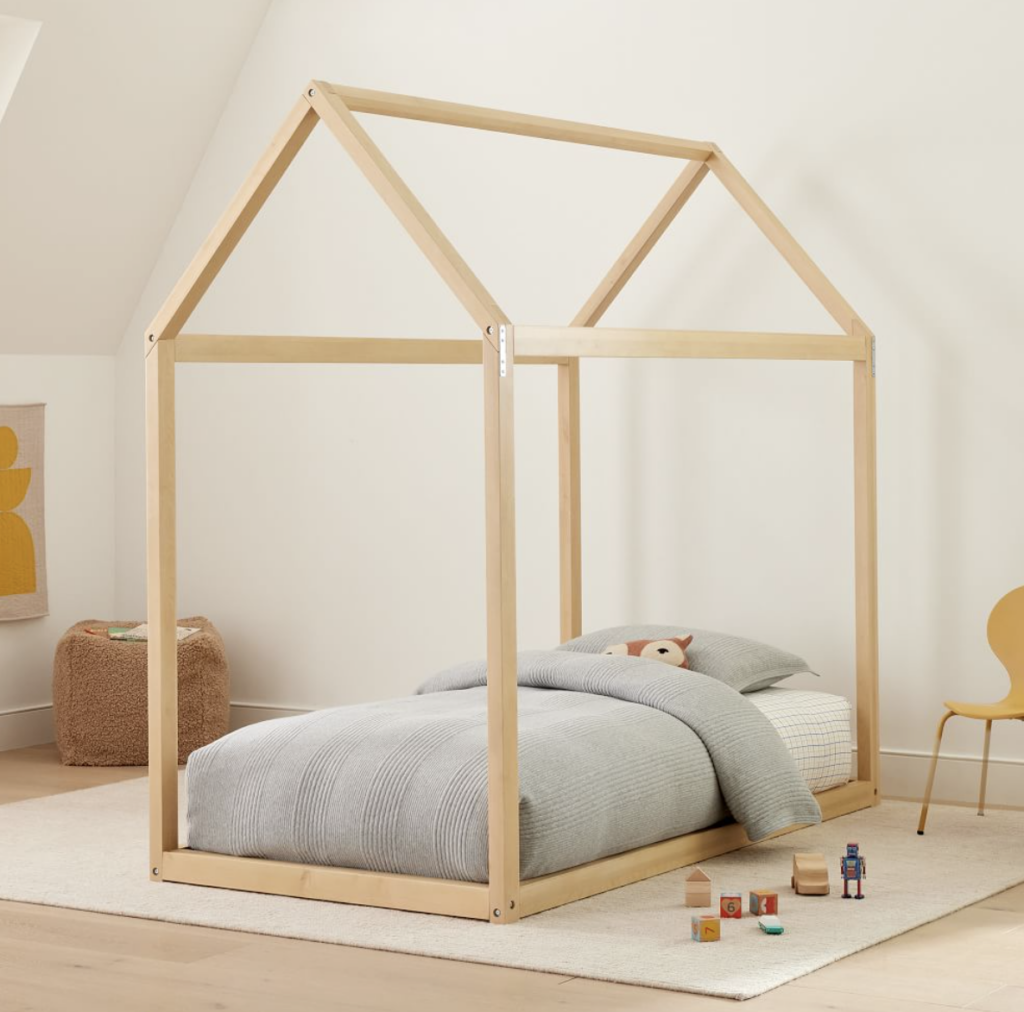 The West Elm tent shaped frame is Greenguard Gold and low VOC-certified. An optional canopy creates the perfect hideaway for sleeping, playing or daydreaming. The high quality frame will last years, and can support a box spring to grow with your child through adolescence. It's also finished with a child-safe, water-based finish on all sides.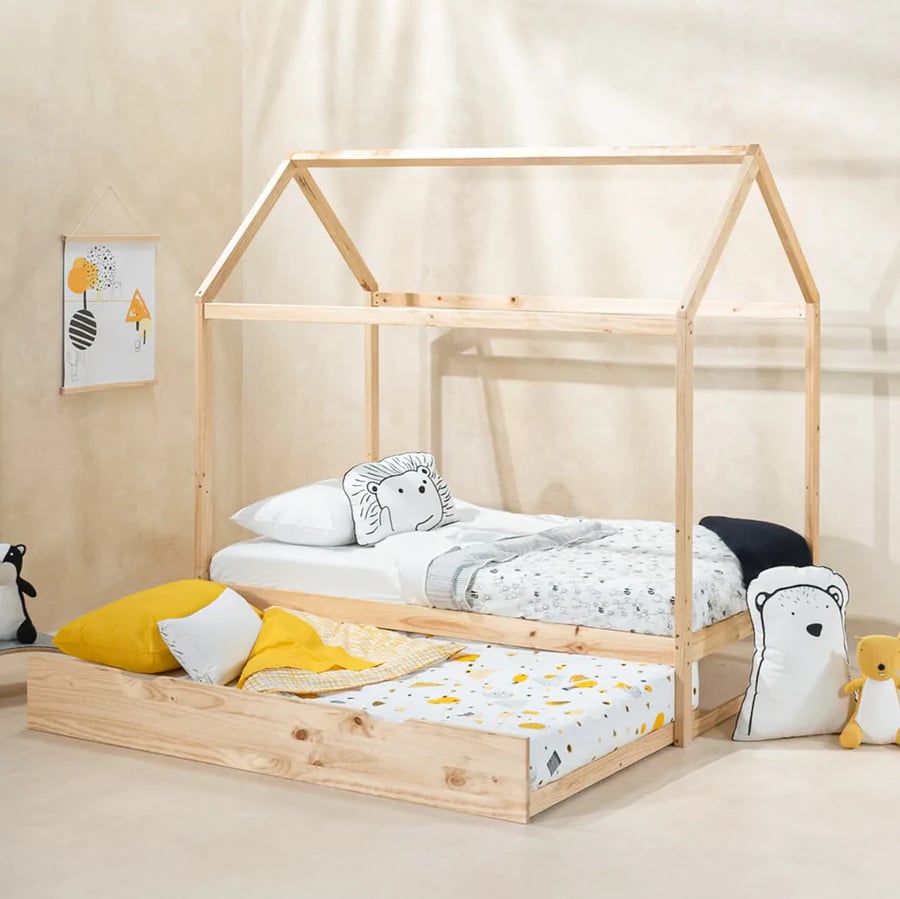 A great grow-with-me option! The wooden trundle bed from Coco Village keeps little ones close to the floor as long as they need. The extra bed is perfect for a sibling, a friend, or a parent who needs to be nearby for snuggles or comfort. Tuck the trundle away to make more space.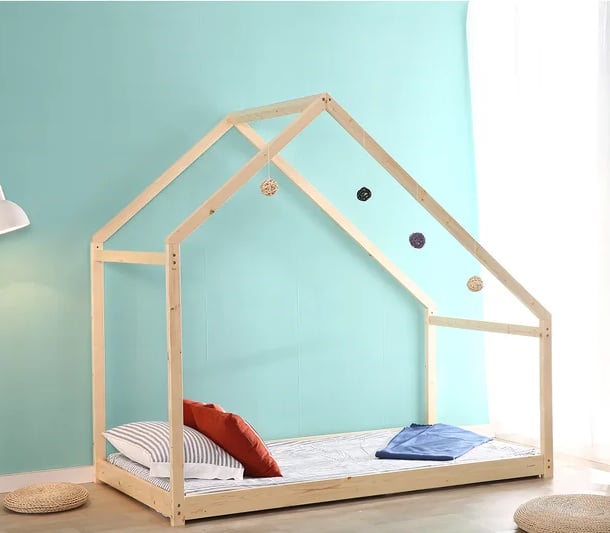 Another simple and affordable option. Made with premium Finland Pine, the bed is resistant to household temperature and air humidity changes.
By starting off with a mattress foundation, you're one step closer when your child is ready to move to a raised bed. Naturepedic's foundation is made in the USA from solid wood and organic cotton stretch knit fabric. It's also free from flame retardants and contains extra slats for increased support.
As we mentioned, some parents opt for a mattress and base with no surrounding rails. This is one way to achieve a floor bed that still allows for ventilation. And it's ready to move to frame when your child is bigger.
You can also get 15% off the purchase of their top-rated, certified organic mattresses and accessories with code Greenchild15.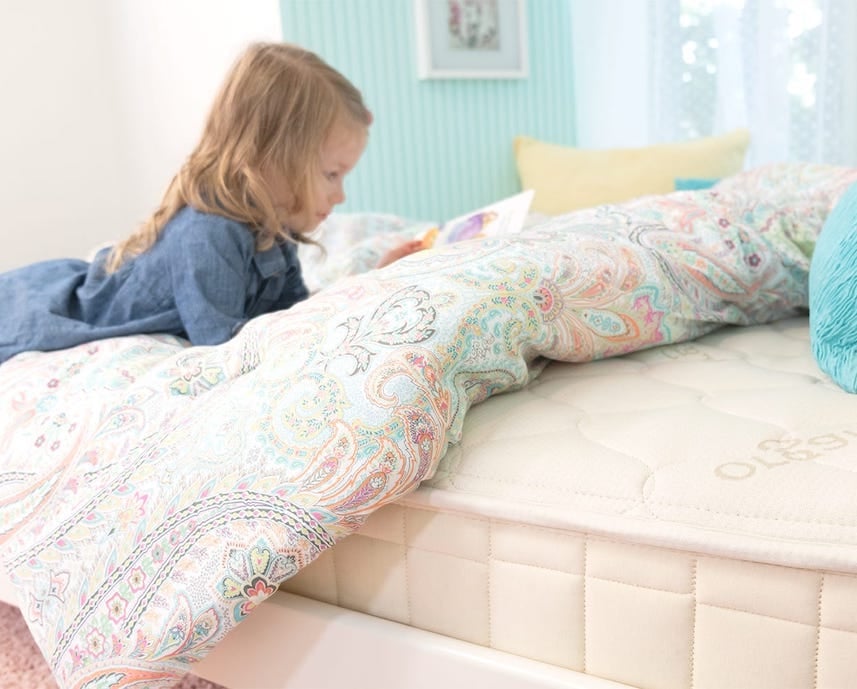 Conventional mattresses are coated with toxic adhesives, dyes, and chemical flame retardants. Flame retardants (and resulting endocrine disruptors) are major contributors to our overall chemical body burden.
Naturepedic mattresses are 100% GOTS certified organic cotton. Non-toxic waterproof layer made from sugarcane. No glues, adhesives, or polyurethane foam. Passes flame standards without fire retardants or chemical additives.
Use code GreenChild15 for 15% off.
DIY Montessori Floor Bed Options
You can start with a firm crib mattress or twin size mattress on the floor. The benefits of going bigger than a crib mattress is that kids and caregivers can snuggle up and read. If you have multiple kids or bedtime is a fun family affair, a full size mattress could be the dream floor bed.
Here's more when you're considering toddler floor bed ideas:
Design – One of the most popular DIY floor bed designs is the house frame. It turns a bed into a make-believe home for imaginative play. It can also be a fort, fairy home, or a princess bed. Another popular design is a bed frame with rails to contain rolling little ones as they sleep.
Here's a video tutorial for a DIY house bed from Ashleigh Lauren of The Ash Life.
Materials – Pinterest is full of platform ideas that can be made out of new, used, or upcycled materials. Wood pallets, salvaged wood, and even cushions can be used to create a frame. Fabrics, mats, or rugs can be used for mattresses placed on the floor.
You can find the downloadable plans for this DIY floor bed at Oh Happy Play.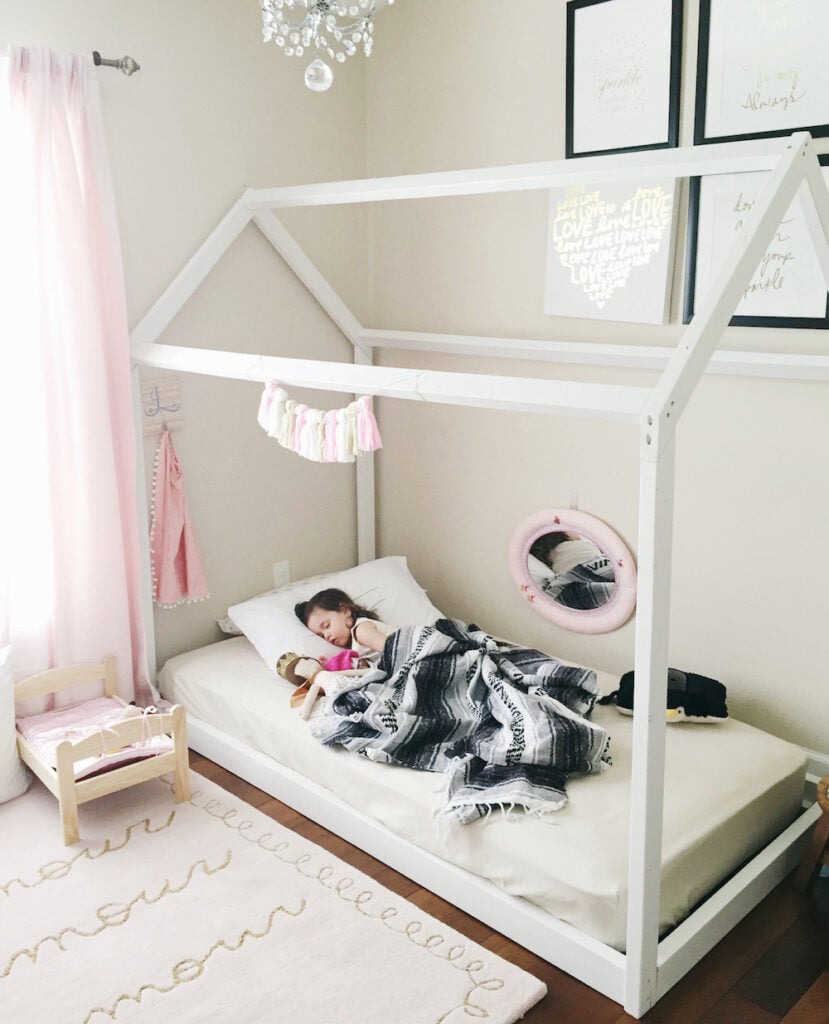 Air Flow – If the floor bed isn't on some sort of frame or platform, you'll need one of the items mentioned above (in the mold section) to open up air flow.
Height – The perfect height of a floor bed is based on a child's height. The easier they can climb in and out of bed, the greater the fulfillment. The height of the adults in the home may also affect the decision to have a frame with a little elevation.
Size – Decide on the mattress size that best works for your room size, your budget, and your child's tendencies. If you'd like to test it out before committing, use a mattress from another bedroom or place your child's crib mattress on the floor (following the safety guidelines below).
Floor Bed Safety
Most children are mobile when parents decide to transition to a floor bed, so a properly child-proofed room is essential.
Place the mattress out in the open (away from a wall or furniture) so if your child rolls while sleeping, they don't get trapped against a wall.
Choose a safe, nontoxic mattress. Conventional mattresses contain chemical flame retardants (more about the dangers here) that are harmful for developing children to breathe for 8 to 10 hours a night.
Secure dressers or any furniture to the walls, cover electrical outlets, hide cords, and remove small choking hazards.
Keep only items in the room that are safe for a child to use unsupervised.
If your home has stairs, be sure to install a baby gate.
Bumper pads, rails, rolled blankets, or soft rugs can keep your child from rolling off the bed. Some parents use baby gates to keep babes from wandering around the house at night.
Will A Montessori Floor Bed Work For My Child?
If you feel that bedtime should be strict and controlled, this option probably isn't the best fit. With a floor bed, bedtime is an invitation to climb into bed and fall asleep, not a demand.
Making the shift from crib to floor bed can be an adjustment, but it's a learning experience that can offer far more pros than cons. Floor beds offer children the experience of taking ownership over their own bodies and what they do. That benefit alone is priceless!
Floor beds are recommended for children as young as 6 – 10 months. Of course, the ideal time will depend on your child's needs as well as the setup of the nursery and the home. The sooner a child has a Montessori floor bed, the sooner they can start to regulate their own behavior with bed or nap time.
Some parents begin the transition to a floor bed with naps at first. Then they include bedtime once their wee one has adjusted. There are plenty of ways to work with a floor bed so it best serves your child.
A Montessori floor bed can support a child's development and foster healthy independence. And it can be loads of fun! 
Find more resources and the answers to several common Montessori questions here.