The term body burden refers to the total accumulation of toxins in the body. From dangerous metals like lead or mercury to pesticides and food additives… our bodies can carry quite a heavier burden than they were meant to.
You may eat only organic, limit processed foods, and try to buy more natural body care products. But have you ever wondered what your body burden or toxic chemical load is?
It was much safer to simply wonder about my own body burden.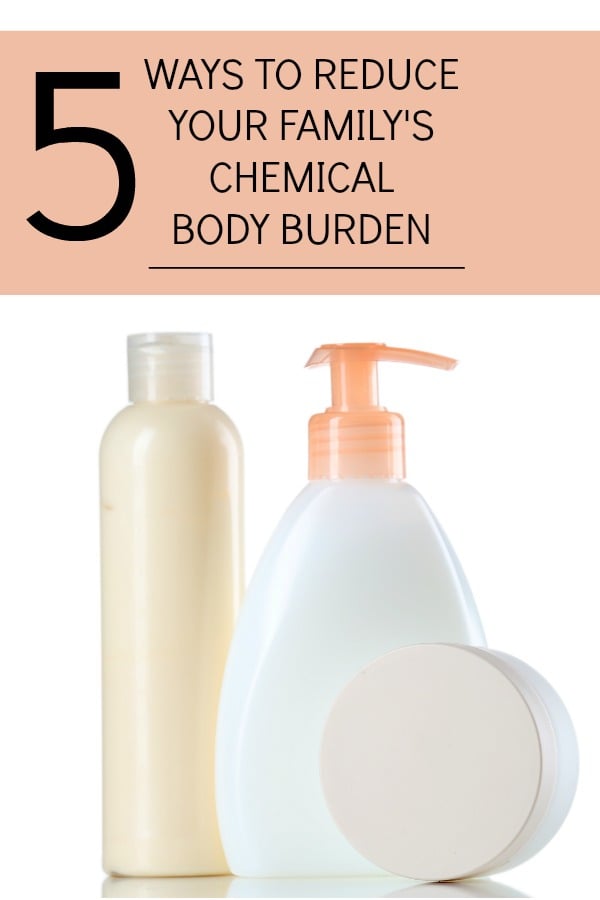 I'd been writing about toxins in everyday products such as baby lotion, antibacterial soap, sunscreen, and in our food, water and air intensively for years on my blog, Non-Toxic Kids. When a friend from the Vermont Public Interest Research Group asked me if she could forward my name to participate in a body burden study, I knew I had to do it.
It was time to put my body where my mouth was, so to speak. The study was a long process involving a chunk of hair, a urine sample, and lots (lots!) of blood.
As a consumer, I strive to be conscientious and deliberate about what I purchase, even if it means spending a little more money. I buy organic food, I use glass food storage containers, and I've replaced conventional and personal care products with greener, safer versions. So I was surprised and troubled when the results to the study revealed that 35 of the chemicals tested were found in my body.
In particular, I was shocked and disturbed to hear about the elevated levels of Deca (a flame retardant) in my body. I had the highest levels of Deca among all of the participants. Now I question my electronics, my furniture, and the dust I don't vacuum as regularly as I should.
Most importantly, I wonder about the flame retardants my young daughters are exposed to in our home and what the health consequences for them might be. I know Deca has been linked to reproductive disorders, cancer, liver damage, impaired learning, and thyroid dysfunction.
How to Reduce Your Family's Chemical Body Burden
In the end, I learned that lifestyle alone can't protect us from chemical exposures, but certain changes can help.
Reduce PBDE (Polybrominated diphenyl ethers)
Vacuum regularly with a HEPA filter vacuum. Be sure to vacuum in areas of potential PBDE dust, such as behind TVs, around couches and under the bed.
When buying electronics, especially computers, opt for companies who do not use PBDEs. There are several TV and electronic manufacturers who now don't use them, such Apple, Dell, Sony, Sharp, Samsung, Panasonic, Lenovo, Phillips, LG Electronics, Toshiba Personal Computing and Hewlett Packard. When buying a computer, buy from a company that is the best for indoor environmental health, such as Apple, who phased out PBDEs years ago and uses no PVC or mercury in their electronics.
When buying furniture, ask if the foam contains PBDE. IKEA phased out bromated flame-retardants from all their furniture and mattresses and should be a safer bet. The best choice is an organic mattress and furniture made from natural materials such as wool and organic cotton.
Consider buying a home air purifier. The toxic dust that settles can be vacuumed up, but the airborne dust remains. An allergenic filter is designed to catch the most possible toxins from the air.
Avoid Pesticides
Buy as much organic produce as your budget allows, but especially those in the "dirty dozen" as rated by EWG, the fruits and vegetables with the highest amounts of pesticides.
Wash and rinse your produce to eliminate any accumulated bacteria and lessen the amount of pesticides present.
Eat at home whenever possible and consider transitioning to a real food pantry to avoid processed foods and the chemicals they contain.
Avoid BPA (Bisphenol A)
Recycle all the plastic Tupperware in your kitchen… get it safely out of your house.
Store leftovers in glassware (clear glass works best so you can see what left-overs are there without opening it.)
To avoid leaching BPA, never microwave food or drinks in plastic.
Use stainless steel water bottles and travel mugs.
Eat fewer (or no) canned foods. The lining in most cans contains BPA in considerable amounts in some cases. Consumer Reports released a report on the BPA in canned foods, and it is present even in some organic brands claiming to be BPA free!
Choose Safer Personal Care Products
Take Action
We can't exactly shop our way out of this problem.
Even with a lifestyle where I follow most of the above recommendations, I found out I have these toxins in my body… in some cases in large and troubling amounts.
There are thousands of untested chemicals in everyday products. Our current regulation system does not protect families from harmful chemicals and their serious health consequences. We need a shift of burden from consumers, non-profits, and the government to the manufacturers who are making profits by using untested and unsafe chemicals in their products.
The European Union has done this with their REACH legislation, passed in 2004, and we need to follow their example. Here are ways you can act to support changes in our legislation, regulation and management of chemicals in the U.S.
Support the work of the Environmental Working Group, Safer Chemicals, Healthy Families and the Washington Toxics Coalition. These groups release regular reports showing the affects of toxic chemicals on developing babies, toddlers, children and pregnant mothers and advocate for legislation that protects families from harmful chemical exposures.
Join Momsrising, an organization dedicated to promoting issues of critical importance to families, often has action steps in the area of chemical legislation and safety.
We have the power to make our world safer and healthier for everyone. It's time to use it, collectively.

Since 2010, Green Child has published a digital magazine devoted to natural parenting and conscious living. Hailed as "good for a green mama's soul," Green Child has grown into a resource valued by parents who care about bringing simplicity, compassion, social responsibility, and instinctual intelligence back to parenting.

Latest posts by Green Child Magazine (see all)