We recently learned that conventional mattresses are much more dangerous than we realized.
Among our editorial team, we thought mainstream mattresses were bad because they're filled with toxic chemicals that make them flame retardant. We believed that the tradeoff for inhaling endocrine disruptors all night was that if a fire broke out in your home, your mattress wouldn't catch and your family would have more time to get out safely.
It turns out – that belief is mostly wrong.
Most mainstream mattresses are actually made of mostly petroleum based materials – which are highly flammable (think gasoline) and sprayed with toxic flame retardants.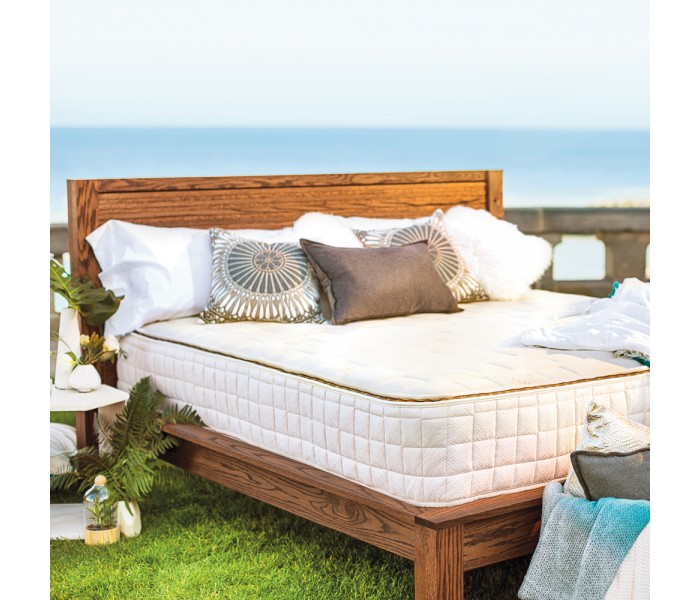 If you don't get why a mattress made of gasoline is bad, scroll down to watch the video.
But why are the added chemicals also bad?
Because we spend one third of our lives sleeping, it's really important to make sure we're not inhaling toxins while the body is trying to rest and restore itself. The health impact of our exposure to mattress chemicals is huge – especially for kids. In this feature, we're sharing what you need to know in order to choose the best organic mattress.
Not only are conventional mattresses loaded with chemicals that can cause chronic health conditions and not sustainably made… you may be surprised at what you learn here about the flame retardants they contain.
Whether your mattress is due to be replaced due to its age, or if you're just learning about safer mattress alternatives, it can be overwhelming to sift through information and decide which organic mattress is the right one for you.
This guide to non-toxic, organic mattresses will help you create a chemical-free bedroom with ideal indoor air quality.
Polyurethane Foam Mattresses
Flexible polyurethane foam has been a popular material in mattresses thanks to its affordability, as well as light weight and resilient properties.
However, the higher flammability of polyurethane foam used in furnishings has been associated with an increase in serious fires as well as fire deaths.
In the below video, fire fighters created two identical rooms. One contained furniture made with natural materials, and the other contained furniture made with synthetic materials. See how dramatically fire spreads in a room with modern furnishings compared to furnishings from decades past.
Natural materials burn at a slower lower rate than petroleum-based materials and with lower heat release.
Ironically, even synthetic mattresses with flame retardants burn extremely hot once ignited. That's because they're essentially petroleum at their core. Escape times and the toxicity of the fumes can be drastically different for something as simple as materials, and may ultimately make the difference between life and death.
What's in an Organic Mattress?
To reduce the danger of fatal fires, many mattresses have flame retardants applied in order to meet flammability standards and can contain volatile organic compounds (VOCs) from both the polyurethane foam itself, glues/adhesives used in its construction as well as the flame retardants.
Exposure to VOCs can cause short and long term symptoms, from headache and dizziness, to damage to the kidneys, liver and central nervous system. VOCs found in mattresses include acetaldehyde, formaldehyde and benzene (among others), which have been associated with increased cancer risk. There are also risks from the endocrine disruptors found in conventional mattresses.
So, now you know that you don't want a polyurethane foam mattress, but what do you want?
Eco, green, natural, organic…how do you know you're choosing a safe mattress?
Types of Natural Mattresses
In addition to polyurethane foam mattresses, mattresses can use latex foam, steel coils, or a combination of both. Some other materials used in organic mattresses include cotton and wool.
Inner Spring Mattresses – coils can be in hourglass or circular shapes, and can be continuous, or wrapped in cloth as "pocket coils," giving them the ability to compress independently.
Latex Foam Mattresses – these mattresses are comprised of various layers of latex to provide layers for comfort and support. They are typically covered with cotton and/or polyester.
Hybrid Mattresses – using a mixture of both coils and latex, hybrid mattresses often have varying designs when comparing different manufacturers.
Mattress Certifications
The Global Organic Textile Standard (GOTS) is the gold standard for organic mattresses. Any textile must contain at least 70% organic fibers to be eligible for certification and must meet specific criteria. You can search the GOTS database to verify whether a brand truly has GOTS certification.
The Global Organic Latex Standard (GOLS) focuses on organic latex and requires that 95% of raw material be organic, as well as meeting safety standards.
The Organic Content Standard (OCS) verifies that a product truly contains the organic material it is labeled to have.
MadeSafe screens products to ensure no ingredients are known to cause harm to human health.
UL Greenguard certification means the product has been tested for chemical and VOC emissions and met standards set for allowable emissions.
OEKO-TEX laboratory tests include around 100 test parameters and consider how the product is intended to be used.
What Do We Recommend?
Naturepedic goes beyond GOTS certification and has strict standards to provide only the safest mattresses. Not only are their individual materials certified, but the finished mattress is certified as well.
Naturepedic products can be found in hospitals across the U.S. Their product line includes everything from crib mattresses to luxury king mattresses, and they are fully customizable to the firmness that works for you.
Right now, you can get 20% off of Naturepedic's adult mattresses and free shipping.
For organic comfort and safety with a lower price tag, the affordable Happsy line. Made by Naturepedic, they follow the same rigorous standards for safety. The main difference is there are fewer custom options with Happsy mattresses. Right now you can get $200 off a Happsy mattress with code SAVE200.
Another winner in the best organic mattress category is the Natural Escape Mattress from MyGreenMattress. Handcrafted with a responsive zoned pocketed coil spring system with enhanced lumbar support and a supportive edge, this mattress is covered with a full three inches of breathable, conforming GOLS certified organic Dunlop latex.
It also features a GOTS certified organic cotton and GOTS certified organic wool quilted cover that provides an additional layer of comfort and acts as a natural flame retardant. The Natural Escape mattress is button tufted, a time-honored technique that allows for secure layers without the use of adhesives. Right now you can save 15% on your order with code FREEDOM.
Whichever mattress you choose, we hope this information helps you make an informed choice!

Latest posts by Green Child Magazine
(see all)