How to Choose the Best Organic Mattress
Plenty of brands claim to offer organic mattresses. But in many cases, it's just that… a claim. Here, you'll find all the details on what actually makes a non toxic mattress and the certifications to back it up. You'll also find a list of the best organic mattresses and where to buy them.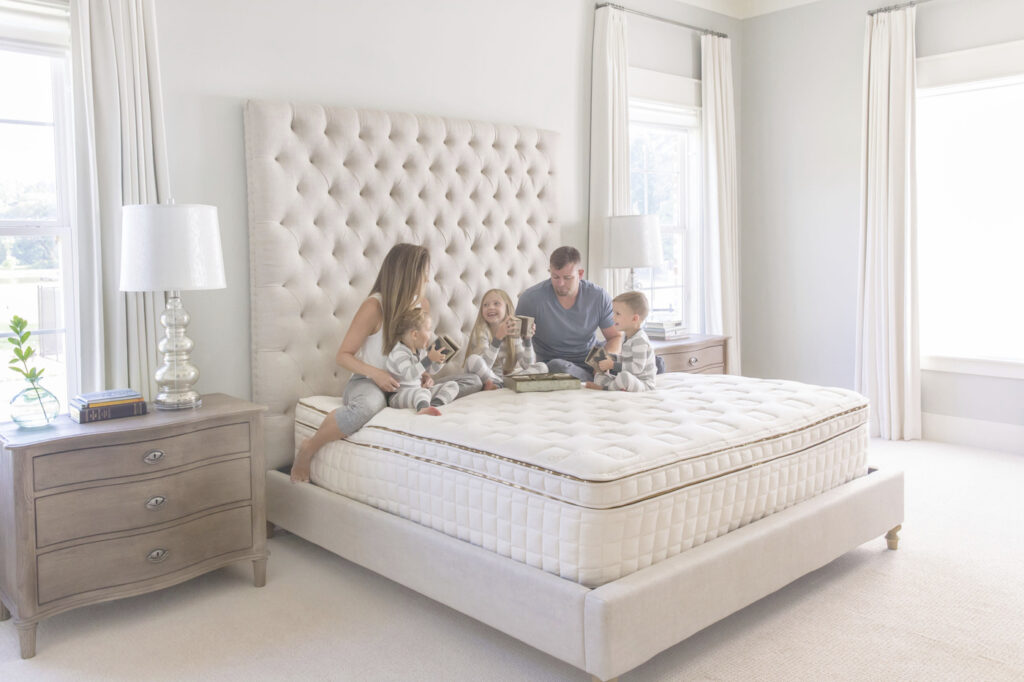 Whether you're looking for the ideal mattress to create a peaceful bedroom for yourself or a healthy sleep environment for your child, an organic mattress is essential. Everyone – but especially small children and people with autoimmune issues or chronic illness – can benefit from sleeping on a nontoxic mattress.
Looking for a Naturepedic discount code? Year round, you can use Greenchild15 to get 15% off the purchase of their top-rated, certified organic mattresses and accessories.
Why An Organic Mattress is Safer
Because we spend one third of our lives sleeping, it's really important to make sure we're not inhaling toxins while the body is trying to rest and restore itself. The health impact of our exposure to toxic mattress chemicals is huge – especially for kids. Here, we share what you need to know in order to choose the best organic mattress.
Not only are conventional mattresses loaded with chemicals that can cause chronic health conditions and not sustainably made… you may be surprised at what you learn here about the flame retardants they contain.
Sleep Is a Time for Rest and Repair
When we sleep, our bodies are resting, rejuvenating, and detoxing. If our bed is off-gassing toxic chemicals, it's limiting the body's ability to rejuvenate and detox—not to mention exposing us to harmful chemicals for the hours that we're sleeping on it.
Childhood cancer rates have increased 34% since 1975. "Such an uptick in cases over a short period of time signifies environmental factors are at play," explains Dr. Philip J. Landrigan, MD, MSc, FAAP.
Babies and children sleep more than adults to support their rapid mental and physical development; combined with the fact that exposure to toxic chemicals during these critical windows of development can be detrimental, it's important that babies sleep on safer surfaces.
Whether your mattress is due to be replaced due to age, or if you're just learning about safer mattress alternatives, it can be overwhelming to sift through information and decide which organic mattress is the right one for you.
This guide to non-toxic, organic mattresses will help you create a chemical-free bedroom with ideal indoor air quality.
Foam Mattresses and Flame Retardants
I always believed that the tradeoff for inhaling carcinogens and endocrine disruptors like flame retardants was that if a fire broke out in your home, your mattress wouldn't catch fire and you would have more time to get out safely.
It turns out – that belief is wrong.
Conventional mattresses are actually made of mostly petroleum-based materials. These are highly flammable (think gasoline). Then they are sprayed with flame retardant chemicals to help prevent the combustible foam from reacting how petroleum reacts with fire.
If you don't get why a mattress made of gasoline is bad, there's a pretty compelling video below.
Flexible polyurethane foam has been a popular material in mattresses thanks to its affordability, as well as light weight and resilient properties.
However, the higher flammability of polyurethane foam used in furnishings has been associated with an increase in serious fires as well as fire deaths.
In the below video, fire fighters created two identical rooms. One contained furniture made with natural materials, and the other contained furniture made with synthetic materials. See how dramatically fire spreads in a room with modern furnishings compared to furnishings from decades past.
Natural materials burn at a slower lower rate than petroleum-based materials and with lower heat release. Yes, petroleum. As in gasoline.
Ironically, even synthetic mattresses with flame retardants burn extremely hot once ignited. That's because they're essentially petroleum at their core. Escape times and the toxicity of the fumes can be drastically different for something as simple as materials, and may ultimately make the difference between life and death.
What Is an Organic Mattress?
Some mattress brands use the term "organic" in their marketing because they contain one or a few fibers that were grown organically and without pesticides. But a truly organic mattress must meet strict production standards.
The terms "eco", "green", "natural", and "organic" are often misused in mattress marketing.
In fact, Avocado Mattress was sued earlier this year for false advertising. More on this below.
To reduce the danger of fatal fires, many mattresses have chemical flame retardants applied in order to meet flammability standards and can contain volatile organic compounds (VOCs) from both the polyurethane foam itself, glues/adhesives used in its construction as well as the flame retardants.
Exposure to VOCs can cause short and long term symptoms, from headache and dizziness, to damage to the kidneys, liver and central nervous system. VOCs found in mattresses include acetaldehyde, formaldehyde and benzene (among others), which have been associated with increased cancer risk. There are also risks from the endocrine disruptors found in conventional mattresses.
So, now you know you don't want a polyurethane foam mattress, but what should you choose instead?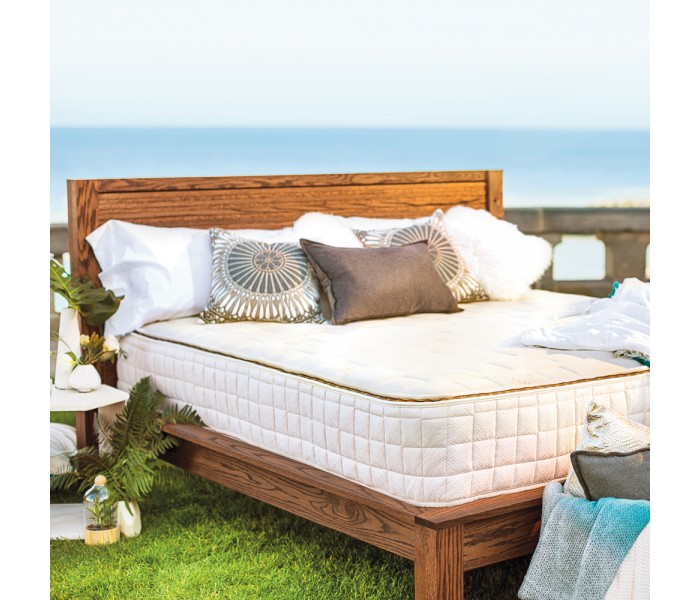 This post contains affiliate links.
This is what you need to know to buy a safe mattress. Here's the breakdown:
Core: Polyurethane foam, also appearing as "memory foam" or "soy foam," is made with a potentially cancer-causing chemical, and may emit VOCs. VOCs can also be found in synthetic latex foam, which can irritate eyes, nose and throat, cause headaches and are linked to cancer.
Padding: Polyester is often used for padding, which is a petroleum product that may contain hidden additives and contaminants.
Flame retardant material and chemicals: Studies show that these toxic chemicals appear immediately in the bloodstream and urine, and have linked fire retardants to long-term impacts like endocrine disruption, lower IQ, ADD, fertility issues, thyroid disease and cancer. They are heavy polymers and wind up in common household dust; they're inhaled and consumed and then stored in our fat, and they bio-accumulate and increase through the food chain. What's worse, studies are showing that these added chemicals are not even effective in slowing fires.
Cover or "ticking": This layer is often made of vinyl, used as a waterproof cover. Vinyl relies on many toxic chemicals throughout its production, including cancer-causing chemicals, asthma triggers, and developmental toxins.
Types of Natural Mattresses
In addition to polyurethane foam mattresses, mattresses can use latex foam, steel coils, or a combination of both. Some other materials used in organic mattresses include cotton and wool.
Inner Spring Mattresses – coils can be in hourglass or circular shapes, and can be continuous, or wrapped in cloth as "pocket coils," giving them the ability to compress independently.
Latex Foam Mattresses – these mattresses are comprised of various layers of latex to provide layers for comfort and support. They are typically covered with cotton and/or polyester.
Hybrid Mattresses – using a mixture of both coils and natural latex, hybrid mattresses often have varying designs when comparing different manufacturers.
Who Should Use an Organic Mattress?
Ideally, everyone should sleep on a non toxic mattress. There are affordable options, and if money is still an issue, I recommend asking anyone who gives you gifts (birthdays, holidays, wedding or baby showers) to donate to your organic mattress fund.
If you have to prioritize, here are some considerations on who needs an organic mattress.
Babies and small children – their developing brains and nervous systems shouldn't have to process toxins during the many hours they spend sleeping. Find the best organic crib mattresses here.
People with cancer, chronic illness, and autoimmune issues
Allergy sufferers
Hot sleepers – natural materials like organic wool breathe better and naturally wick away moisture
Those who care about the environment
People who are sensitive to chemical flame retardants
Mattress Certifications Defined
The Global Organic Textile Standard (GOTS) is the gold standard label for organic mattresses. Any textile must contain at least 70% organic fibers to be eligible for certification and must meet specific criteria. You can search the GOTS database to verify whether a brand truly has GOTS-Certified Organic Cotton certification.
The Global Organic Latex Standard (GOLS) focuses on organic latex and requires that 95% of raw material be organic, as well as meeting safety standards.
The Organic Content Standard (OCS) verifies that a product truly contains the organic material it is labeled to have.
MADE SAFE screens products to ensure no ingredients are known to cause harm to human health.
UL Greenguard certification means the product has been tested for chemical and VOC emissions and met standards set for allowable emissions. Greenguard Gold standard includes health-based criteria for additional chemicals and also requires lower total VOC emissions levels to help ensure that products are acceptable for use in environments like schools and healthcare facilities.
OEKO-TEX laboratory tests include around 100 test parameters and consider how the product is intended to be used.
The Best Organic Mattress Brands
We receive dozens of requests other brands to this guide, but virtually none are able to provide proof that their certifications are issued to them – and not just outside suppliers. So it's hard to verify that their full process and all materials are safe.
Naturepedic
Naturepedic goes beyond GOTS certification and has strict standards to provide only the safest mattresses. Not only are their individual materials certified, but the finished mattress is certified as well.
A recent report, The Mattress Still Matters, was released by the nonprofit Getting Ready For Baby Coalition. Backed by 90 environmental organizations, they found that the majority of crib mattresses evaluated were made with chemicals of concern.
Naturepedic's No-Compromise Organic Baby Crib Mattress was the only mattress to be both fully transparent with component claims and made with no hazardous chemicals.
Naturepedic founder Barry Cik advocates for massive chemical reform. He believes that reducing children's exposure to environmental toxins may help prevent non-genetic childhood cancer.
"We are fighting to disrupt the industry from the top down. We also want parents to not only have access to trustworthy information to assess what's at risk, why it's important, and what chemicals to be aware of… but to understand that they have power in this, too," explains Cik.
Naturepedic's high-quality products can be found in hospitals across the U.S. Their product line includes everything from crib mattresses to luxury king mattresses, and they are fully customizable to the firmness that works for you. Their mattresses for kids have won the Good Housekeeping Parenting Award multiple times.
They offer a 25-year warranty (limited) on adult and kid mattresses and a limited lifetime warranty on baby mattresses.
Looking for a Naturepedic discount code? When it's time to buy your new mattress, use Greenchild15 to get 15% off the purchase of their top-rated, certified organic mattresses and accessories. They also carry pillows and memory foam mattress toppers.
Happsy
For organic comfort and safety with a lower price tag, try the affordable Happsy line of organic mattresses. Made by Naturepedic, they follow the same rigorous standards for safety.
The main difference is there are fewer custom options with Happsy mattresses. They offer sizes from twin up to California king. And you can choose from medium-firm or plush. They also carry an organic mattress topper. See below for my hack involving a topper.
Obasan
This Canadian company is certified organic. The first thing they sent me when they reached out was a link to their GOTS and GOLS certificates, and both are in their name. Obasan has a carbon-neutral factory and they custom make each bed in Canada.
They welcome questions and respond with transparency. You can email them with any questions you have. They offer explanations of their materials, mainly organic cotton, organic wool, organic rubber, and sustainable wood on their website.
Obasan has a pretty elaborate customization process. I don't completely understand it, but their multi-zone system consists of three layers: a base, six support zones and a top comfort layer. You can go through the customizing process by entering your height, weight, body type, and your sleeping position. They'll recommend the perfect mattress for you.
They've offered a 10% discount code for our readers. Just enter GREENCHILDMAGAZINE at purchase.
My Green Mattress
MyGreenMattress is another affordable safe and eco-friendly mattress option. We've worked with them for 8 years, and my younger son has their full sized Kiwi mattress. It is the most comfortable kids' mattress we've ever had.
Their Natural Escape Organic is at the top of our list of latex mattresses for adults. It includes three inches of GOLS certified organic Dunlop latex for breathability and conforming comfort.
The Kiwi is their most popular organic kids' mattress. And their safe option for babies and toddlers, the Emily Organic Crib, won a Good Housekeeping 2021 Parenting Award.
My Green Mattress also offers a 120 night sleep trial so you can make sure it's the best non toxic mattress for you.
Mattress Brands That Don't Live Up to Their Claims
Most of the terms used in the mattress industry aren't regulated. So brands can say they make an organic mattress if just a few components are grown organically. Avocado Mattress either used greenwashing tactics or failed to pay attention to their supply chain.
On April 28th, 2023, Avocado Mattress LLC was sued in the Superior Court of San Francisco "for fraud, deceit, and/or misrepresentation; violation of the Consumer Legal Remedies Act; false advertising; negligent representation; unfair, unlawful, and deceptive trade practices; unjust enrichment; and breach of contract" by Plaintiffs Richard Roberts and Akeem Pina.
The plaintiffs accused Avocado of deliberately selling products that are not as "natural", "eco," "organic", "and/or "green" as advertised. An analysis and chemical composition of Avocado latex foam from an EPA-certified lab found it to contain the following toxic components:
1,3-diphenylguanidine, or "DPG" – associated with damaging human fertility and unborn babies. It is also an irritant to the eyes, skin, and the respiratory system.
Wingstay-L – linked to cancer, birth defects, and other reproductive harm.
Pentyl Furan – acutely toxic and causes eye, skin, and respiratory irritation. Is is also flammable.
Zinc diethyldithiocarbamate, or "ZDEC" – irritating to the eyes, respiratory system, and skin. It's also toxic to aquatic organisms, and it may cause long-term adverse effects in water environments.
2,2′-dibenzothiazyl disulfide, or "MBTS" – linked to skin and respiratory irritation, including symptoms like bronchitis.
Hydrocarbon oil – flammable and linked to eye, skin, and respiratory irritation.
The lawsuit states that Avocado cannot claim ignorance because they own their entire production chain. They make the latex foam at their factories, so they should be aware of the chemicals involved.
They also claimed their mattresses to be biodegradable. But many of the substances above are not readily biodegradable.
Does this mean you should get rid of your Avocado mattress?
Not necessarily. If you can get past the lies, their mattress is actually safer than many other latex options. It's just not nearly as pure as they claim.
Brands That Can't Prove Certifications
According to Mamavation, these brands can't verify having less than 5% synthetic chemicals in their vulcanization phase of latex manufacturing.
Amazon Basics
Avenco Mattress
Birch Natural
Brooklyn Bedding
Dreamfoam
GhostBed
Helix
LUCID
Luma Sleep
Nest Bedding
Saatva Zenhaven
Sunrising Bedding
Wink Beds
You Don't Have to Sacrifice Comfort for Safety
If you've been disappointed by greener options before, it can be hard to justify buying a higher priced item even if you know the logic is sound.
In this case, you don't have to worry. Naturepedic's mattresses are comfortable, breathable, and last for years. You can customize the options for maximum comfort and flexibility. Your sleep partner also gets to choose their sleep preferences so you'll never have to compromise. And with the pillow top version, you get three full layers of customizable comfort.
My Budget-Friendly Non Toxic Mattress Hack
I know that replacing every mattress in your home at once isn't an option for everyone. It took us a few years to replace all of ours for my family of four. It helped when Naturepedic offered their discount to our readers because I was able to use it myself.
Recently my oldest started college. His apartment is similar to a dorm in that he can't change any of the furniture. The lease stated that they change the mattresses every three years.
I didn't want him breathing the chemicals from a new (or new-ish) off-gassing mattress. And if he didn't get a new one, there was the issue of other people sleeping on it for the last few years.
So, I ordered an organic mattress topper to put a safe and extremely comfortable layer between him and the mattress. This is where the Happsy option is perfect. I didn't want to spend more for Naturepedic's latex topper because his apartment mattress was a Twin XL and we don't have that size at home to use again.
We also added an organic cotton mattress protector pad because I really wanted to reduce the likelihood of him coming into contact or inhaling allergens or fumes.
Either or both of these hacks can add at least one safer layer between the person and a less than pure mattress. If or when you are able to upgrade to an organic mattress, these accessories can carry over easily. Our discount code Greenchild15 works on Naturepedic accessories too.