Considering that a majority of your baby's time in the first months is devoted to sleeping, it makes choosing a nontoxic crib mattress highly important. But, as much time as we take picking out the perfect crib, the adorable decor, and the cute clothing, the mattress is often a practical afterthought determined by cost rather than quality.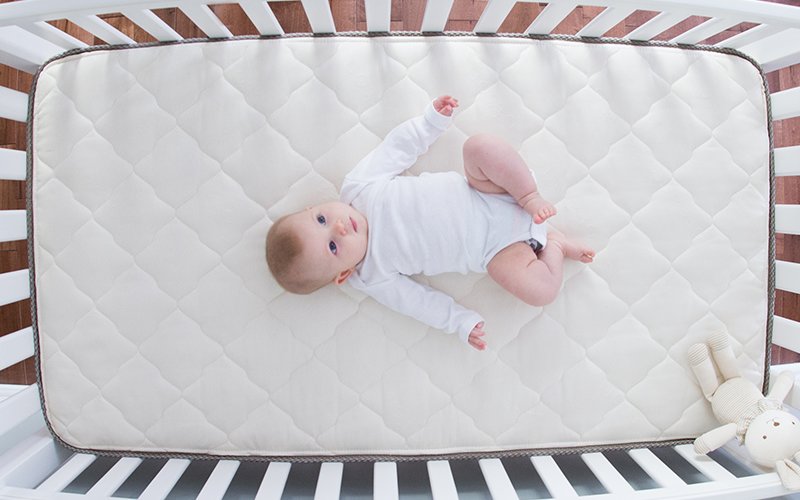 As it turns out, you'll want to put your child's mattresses higher on the list of parental priorities. Our number one concern as parents is the safety and well-being of our children, and there is some unnerving data surfacing about the effects of chemicals made in traditional mattress production.
As it stands, federal law does not require mattress companies to list the chemicals they use in their production processes. A vast number of chemicals such as boric acid, antimony, modacrylic, formaldehyde, and polyurethane foam – some used in the construction of the mattress, others used as a flame retardant – are used in the production of the mattresses that we put our families to sleep on nightly. When these off-gas, some of these chemicals may be linked to increases in many ailments, including allergies, eczema, organ toxicity, liver issues, and even cancer.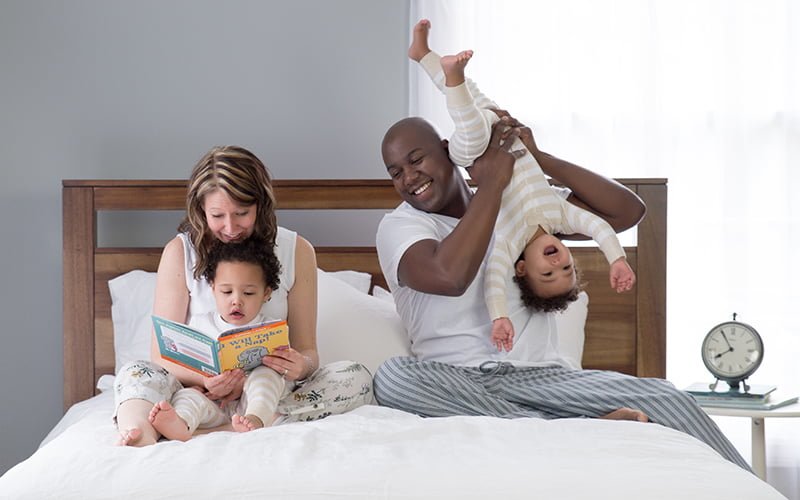 Mattress Off-Gassing & SIDS
And there is a chance that these chemicals may actually have an increased influence on the cases of SIDS (Sudden Infant Death Syndrome).
KidsHealth.org says SIDS is the leading cause of death for children between the age of 1 month and 1 year of age, claiming the lives of about 2,500 children each year in the United States. There is no definitive cause for this terrifyingly unpredictable condition, although there are many possible risk factors leading to SIDS.
Related: Green Child Readers save $25 on the Emily Natural Crib Mattress from My Green Mattress with code GC25
While the correlation between SIDS and mattress off-gassing is still being investigated, there is reason to consider a connection seriously. When the SIDS epidemic had its first major awareness campaign in 1994, a "Back to Sleep" initiative was suggested (and is still promoted) to parents and caregivers.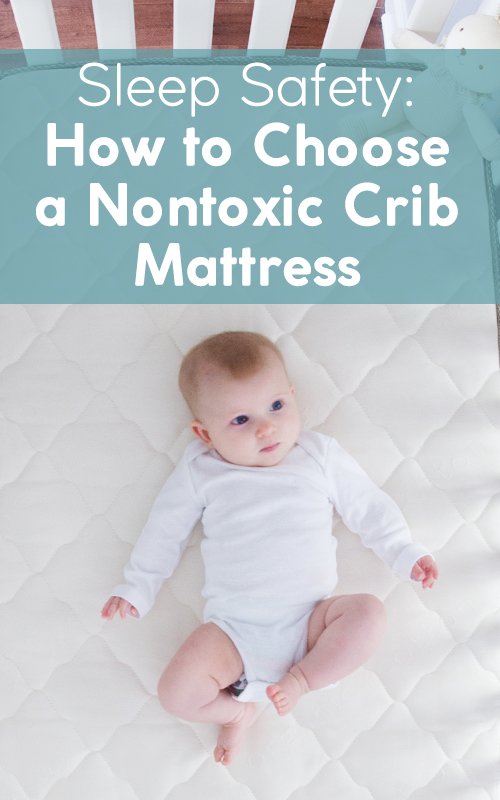 This is the first time that back sleeping, running a fan, and keeping baby from overheating were advised; these solutions would actually explain a connection to off-gassing since these tactics would put baby's face away from the surface of the mattress, circulate the chemicals up in lower concentrations and throughout the room rather than directly in baby's direct breathing space, and baby's sweat and body heat wouldn't activate a higher concentration of the gasses. It's an intriguing possibility.
With the scary prevalence of SIDS today, choosing just the right mattress – one free of these chemicals and fumes – may actually be in the best interest for your little one. With the right information, you can make an informed choice to affect the health and well-being of your baby.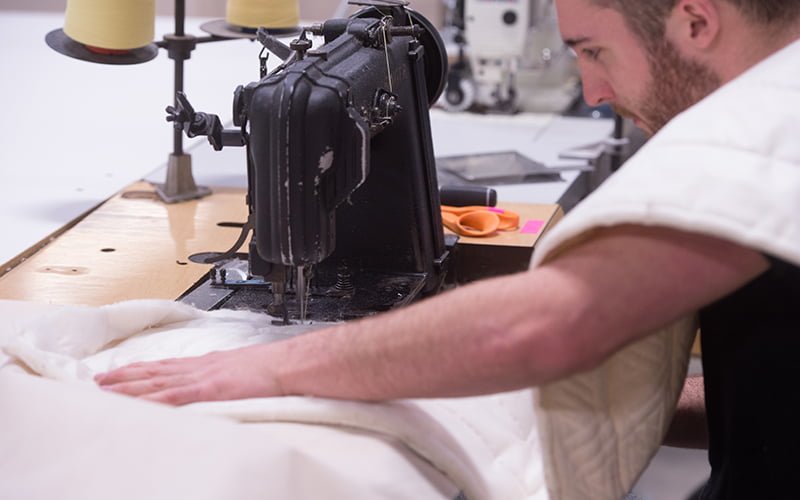 What to look for in a nontoxic crib mattress:
No vinyl (PVC).
No chemical flame retardants. Cotton or wool has been used successfully to inhibit flames and pass the government's flammability requirements. Silica is another mostly natural, non-toxic fire blocker. Boric acid will be in some crib mattresses as a flame retardant, and that one is debatable on safety.
No petroleum-based foam. Beware of brands claiming to use a soy-based foam – be sure to ask questions about whether it's 100% soy (many mix a small percentage of soy-based foam in with the highly flammable polyurethane foam), and whether there are chemicals mixed into the foam itself.
Organic fibers. Cotton is considered the world's dirtiest crop due to its heavy use of pesticides.
Picking a safe crib mattress can be a daunting task, but we're lucky to have companies today that are dedicated to providing the healthiest options for our babies – companies like My Green Mattress.
With My Green Mattress' Emily Natural Crib Mattress, you won't have to worry about what untold chemicals might be wafting around your baby's sleeping space because there simply won't be any.
Made in the U.S., the Emily Mattress is made with heavyweight cotton batting, heavy duty coil springs to give baby maximum support, and a wool cover that acts as a natural flame barrier that allows the mattresses to pass the flame testing required by law without the use of toxic flame retardant chemicals. This wool is also resistant to mold, mildew, and dust mites and every mattress comes with a 10-Year Warranty and 100-Night Comfort Guarantee.
If you plan on co-sleeping, be sure to follow safe co-sleeping guidelines and make sure your bed is safe from harmful off-gassing chemicals. My Green Mattress offers safe options from every member of the family with mattresses and toppers in all sizes.
As important as all these features are, the fact that the whole shebang is GREENGUARD Gold Certified is the non-toxic icing on the cake. According to Industries.UL.com, products that achieve this certification "are scientifically proven to meet some of the world's most rigorous, third-party chemical emissions standards—helping reduce indoor air pollution and the risk of chemical exposure while aiding in the creation of healthier indoor environments."
In short, you can rest easy that your baby will be resting in a clean, comfortable, and chemical-free environment.
This article is part of a collaboration with our advertising partner, My Green Mattress. All thoughts and opinions are ours. Thank you for supporting the brands that make it possible for Green Child to provide free healthy living content.

Since 2010, Green Child has published a digital magazine devoted to natural parenting and conscious living. Hailed as "good for a green mama's soul," Green Child has grown into a resource valued by parents who care about bringing simplicity, compassion, social responsibility, and instinctual intelligence back to parenting.

Latest posts by Green Child Magazine (see all)