How to Choose the Best Organic Crib Mattress 2023 Guide
Finding the best nontoxic and organic crib mattress for your baby is challenging, especially as we learn more about how harmful traditional mattresses can be.
It goes beyond choosing organic versus non-organic or latex fibers versus rubber or cotton. And don't get me started about finding out which companies are GOTS certified through the entire process.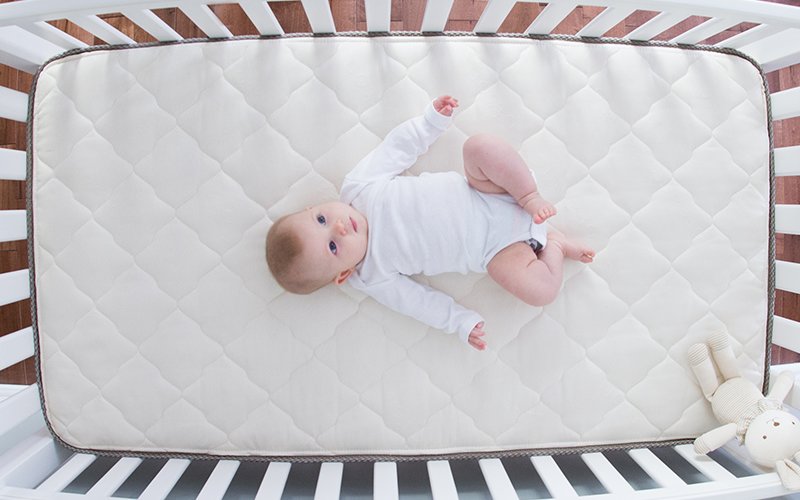 When it comes to researching nontoxic baby gear, the items your baby will use the most should be a priority. Babies spend a lot of time sleeping. And whether that's in a bassinet, co-sleeper, or crib, you'll want to make sure they're not breathing or touching harmful chemicals.
As much time as parents take designing an adorable nursery, an organic crib mattress is often an afterthought determined by cost rather than quality.
That said, there is unnerving data around the effects of chemicals made in traditional baby mattress production.
"Our research shows mattresses can be a significant source of chemical contaminants in the nursery and bedroom," says Dr. Brandon E. Boor, an assistant professor of civil engineering at Purdue (source).
Crib mattresses are generally composed of polyurethane foam, a petroleum-derived synthetic material. And they often contain adhesives and other chemical additives. The foam core is usually enveloped with a waterproof cover. These mattress components can release harmful VOCs, some of which can cause respiratory and nervous system damage (source).
First, here's what to look for when buying a crib mattress plus our recommendations. Or if you're looking to start off with baby in your room, take a look at our guide to safe, nontoxic bassinets.
Further down, you'll find more information on which materials and additives you should avoid and why.
What To Look For & Avoid in an Organic Crib Mattress
Choosing the best nontoxic mattress for your baby is more important than you might realize. With the right information, you can make an informed choice. Keep these requirements in mind:
GOTS or GOLS certification – This ensures the finished product was made in a certified facility with rigorous standards. The acronyms stand for Global Organic Textile Standard (GOTS) and Global Organic Latex Standard (GOLS). For example, "natural latex" is not the same as GOLS-certified latex because the former can contain up to 30% synthetic materials, including polyurethane foam which is toxic and highly flammable.
USA made – Many crib mattresses are made in China, where oversight, quality control, and contamination are often issues.
Organic, natural fibers – Organic cotton and wool are safe mattress components. And so is food-grade polyethylene.
No chemical flame retardants – These are linked to dozens of health concerns, including childhood cancers. They don't even work like you think they do. Much more on these below.
No petroleum-based or soy-based foam – Ask what makes up any mattress foam. Many mix a small percentage of soy-based foam in with the highly flammable polyurethane foam. Find out whether there are chemicals mixed into the foam itself.
Avoid vinyl waterproofing – Polyvinyl Chloride (PVC) is the most toxic plastic for our health and the environment. (source) Choose an organic waterproof pad from our recommendations below.
Avoid synthetic or recycled materials – A truly organic crib mattress won't contain polyester or recycled content.
The Best Organic Crib Mattresses of 2023
This baby gear guide contains affiliate links.
From my personal experience along with the moms on our review team, here are my top picks for the best crib mattresses that meet all the criteria outlined in this guide.
Naturepedic Classic Organic Crib Mattresses
I have two Naturepedic mattresses in my home. And while my kids are long past the crib stage, I have hands-on experience with their crib mattresses through a family member and our reviewers for Green Child. Through my practical knowledge, their classic organic crib mattress is the easiest and best choice to give you peace of mind as a new parent.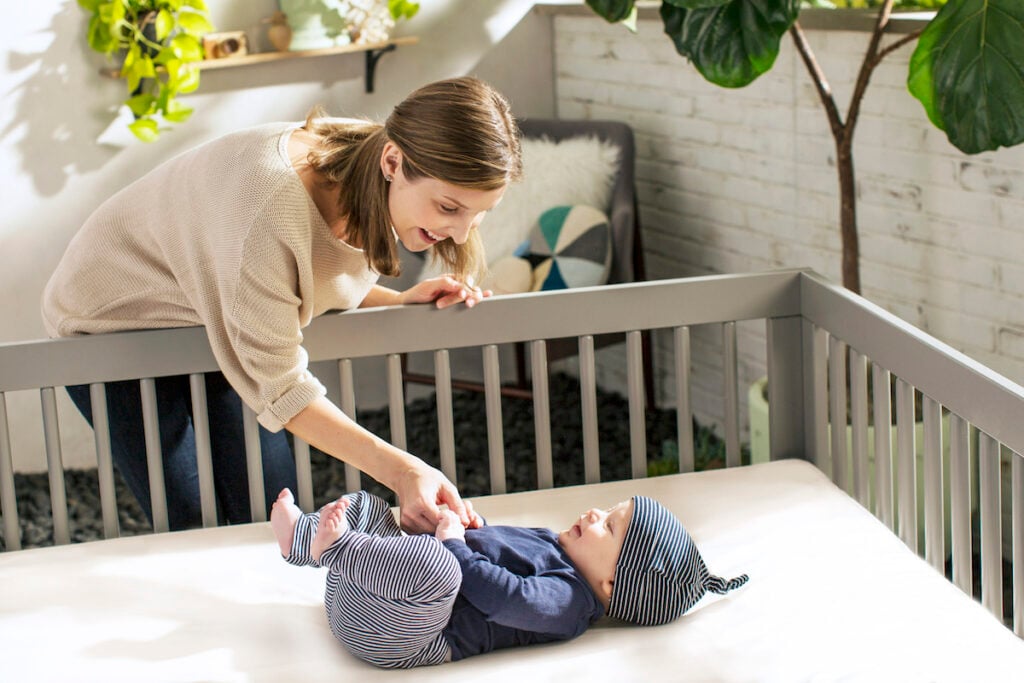 Naturepedic leads our mattress recommendations in every category because they've been creating safe, nontoxic bedding for the last 20 years. I've known their team since 2012. Their owner, Barry Cik, is a board-certified environmental engineer who personally, professionally, and politically advocates for healthier products.
I trust Naturepedic because they exceed all baby sleep safety standards. They also attained GOTS, GOLS, Non-GMO, Greenguard Gold, and Green America certifications. These certificates are issued to Naturepedic themselves – they don't just pass along their supplier credentials as their own.
The company regularly tests their products for chemical emissions. They are certified to be formaldehyde-free. And you can rest easily knowing there are never any toxic flame retardants sprayed on their mattresses.
The nonprofit Getting Ready for Baby Coalition's report The Mattress Still Matters found that the majority of crib mattresses evaluated were made with chemicals of concern. Naturepedic's No-Compromise Organic Crib Mattress was the only mattress found to be both fully transparent with component claims and made with no hazardous chemicals.
Naturepedic founder Barry Cik advocates for massive chemical reform. He believes that reducing children's exposure to environmental toxins may help prevent non-genetic childhood cancer. "We want parents to be better equipped with how to create safe, optimal conditions for their child that can lower internal toxicity levels and may prevent their risk of disease," Cik says.
In addition to being safe and nontoxic, Naturepedic crib mattresses:
fit snugly within the crib, leaving no dangerous gaps for baby to get caught in
give off no chemical odors (because they don't contain any bad chemicals to offgas)
include a 100 night trial, lifetime warranty, and free returns
include access to excellent, caring customer service reps
are simple to set up and use
are made in the United States
Year round, you can use code GREENCHILD15 to get 15% off the purchase of Naturepedic top-rated, Greenguard gold certified organic mattresses and accessories. And choose from one of the following options:
Includes all the features listed above and available with or without innerspring coils.
Naturepedic's higher end, waterproof crib mattress. Its firm, flat waterproof surface is made from non-GMO sugarcane that meets food contact standards and easily wipes clean and for added durability. It has a luxurious quilted finish, thicker breathable layer and designer fabric. And it makes a great for the transition to a toddler bed.
Includes all the features listed above, sized for a standard mini crib, approximately 23.5″ x 37.5″ x 3″.
Includes all the features listed above, sized for an oval crib, approximately 27″ x 47″ x 3″.
My Green Mattress Crib Mattress
I've personally worked with My Green Mattress since 2016 and have watched their commitment to transparency and safe bedding components grow over the last decade.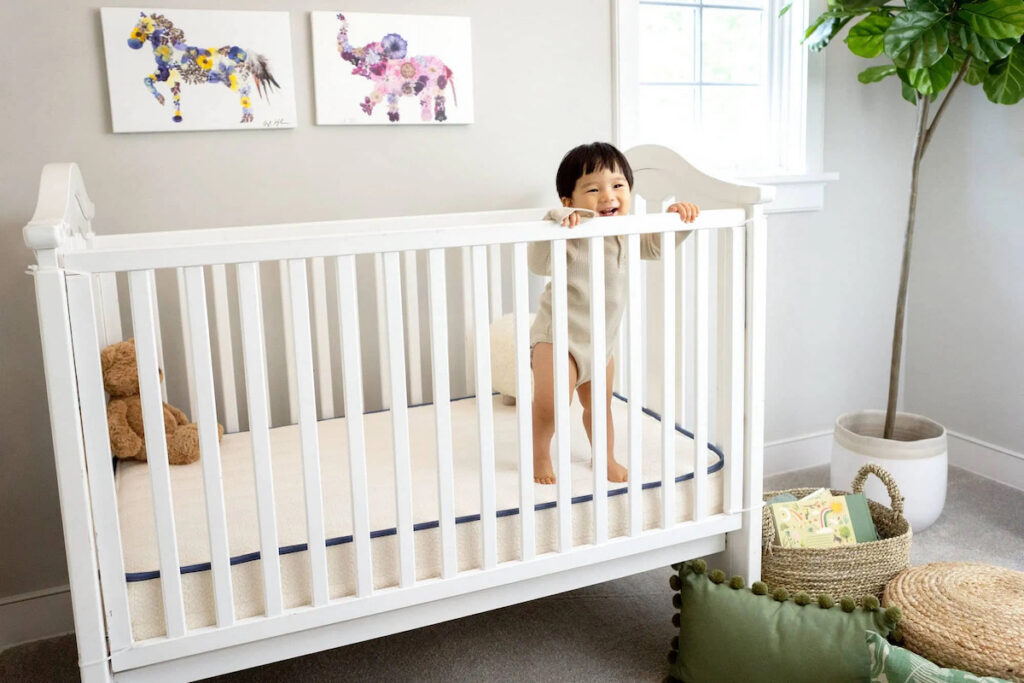 My son has their full sized Kiwi mattress, and it is the most comfortable kids' mattress we've ever had. It's actually more comfortable than many adult mattresses I've owned.
Organic Emily Crib Mattress
Their certified organic Emily Crib Mattress is made with a layer of breathable, GOLS certified organic coconut coir—a supportive, firm, yet pressure-relieving pad made from organic coconut fibers that are bound together using organic latex.
The Emily is an innerspring mattress, and it's covered in GOTS-certified organic cotton and GOTS certified organic wool, which acts a a natural flame retardant. Our research shows this combination protects your baby from the off-gassing chemicals (detailed below) that are found in most flame retardants and polyurethane foams.
MyGreenMattress' crib mattress comes with a 10-year warranty and a 365 Night Sleep Trial.
Lullaby Earth Crib Mattresses
Lullaby Earth is owned by Naturepedic. So, you get the same quality, safe product in a line of bedding created specifically for babies and toddlers. They've also earned the MadeSafe certification.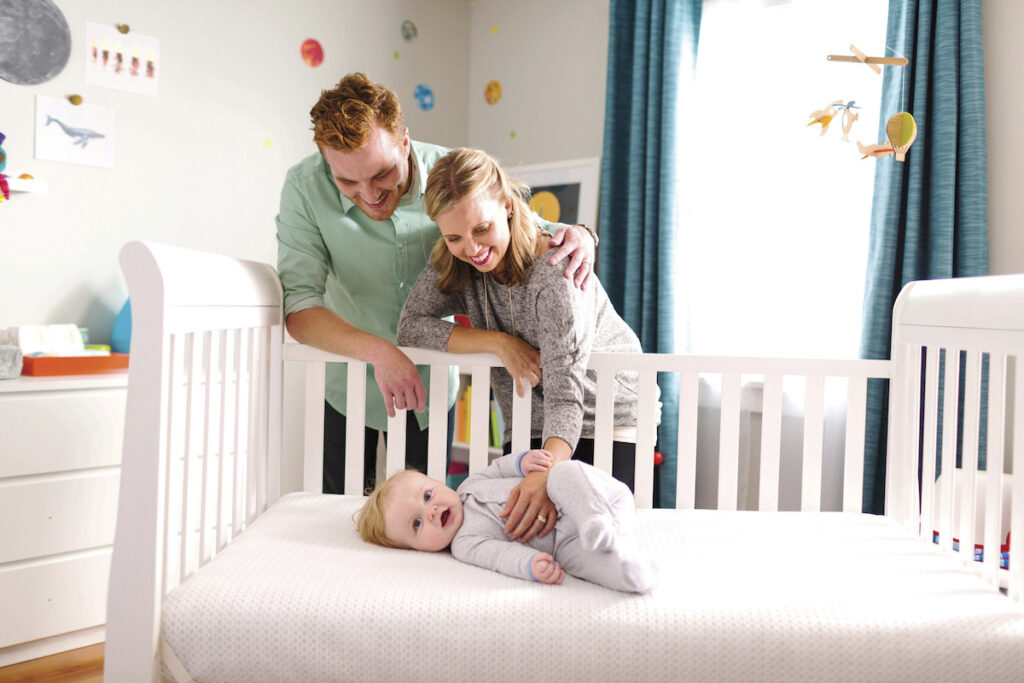 They've created a reliable line of safe, organic mattresses for babies and toddlers. Our reviewer said, "I learned from the research and from using this mattress that it provides more airflow than our previous crib mattress. Our daughter (age 4 months) actually started sleeping longer when we switched to this mattress. And I love that this one has no odor."
Lullaby Earth mattresses are made without polyurethane foam and pass all government flammability standards without any flame retardant chemicals. And of course, they also avoid formaldehyde, vinyl, PVC, perfluorinated compounds (PFCs), pesticides, glues/adhesives, and GMOs.
Pediatricians and sleep safety experts recommend babies sleep on their backs to reduce the risk of SIDS. If you have a wiggly baby, they'll likely turn their head from side to side or even turn over during sleep. That's when having additional airflow under baby may be helpful. This can also improve temperature regulation and reduce overheating.
This crib mattress offers excellent airflow via its breathable cover. It's made from a 3-dimensional structure that allows air to flow through the fabric and under the baby for 360 degree air circulation. Since air is able to pass freely, your baby can breathe right through it.
The two stages make it an easy transition from infant to toddler. Also comes with a lifetime limited warranty.
This mattress also contains none of the common potential allergens or chemicals like formaldehyde, perfluorinated compounds (PFCs), pesticides, glues/adhesives, and GMOs.
From our testing, we discovered that their safe waterproofing components make it super easy to clean. It's also one of the more affordable options in the nontoxic crib mattress category.
Obasan Organic Crib Mattress
Obasan's crib mattress is handcrafted in Canada from GOTS and GOLS certified organic latex, coconut husk, and cotton. You'll find no off-gassing, no chemical flame retardants, no vinyl waterproofing, and no polyurethane foams close to your baby.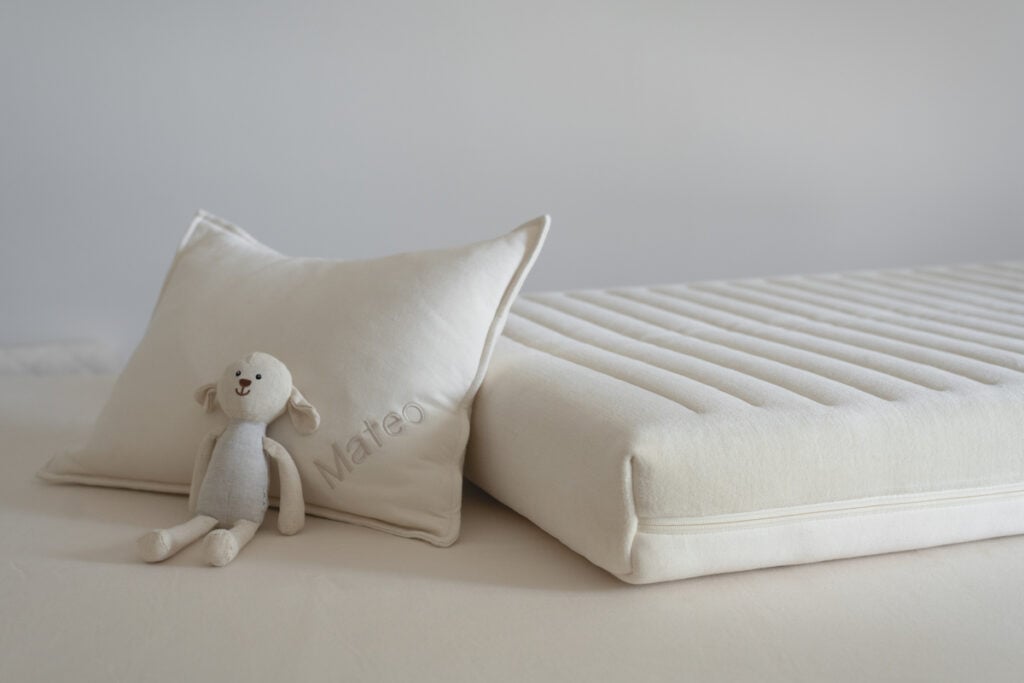 Our experience with this mattress and their team has been excellent. Customer service is helpful, and the shipping process from Canada was simple.
One of the benefits of Obasan's crib mattress is that it comes with its own cover. Most brands offer them separately. We found the cover to be very soft, and the mattress is very easy to get out and in the crib. The fit is also snug inside the crib to ensure a safe space for your little one.
Obasan crib mattresses also feature:
Made with moisture-wicking wool for temperature control.
Dual 2" layers made of organic material. One extra-firm rubber layer and one natural rubberized coconut fiber layer which forms a firm base. Made with different cotton fabrics for two varying feels.
Fits all standard North American crib frames.
Organic wool cover acts as an all-natural fire barrier and is easy to remove and spot clean.
Organic Breathable Crib Mattress Cover
Protect your nontoxic crib mattress from diaper leaks, spit-up, and other messes. Get all the safety and comfort benefits of a breathable mattress with the convenience and practicality of a certified organic cotton removable and washable layer.
This organic waterproof crib mattress cover also helps with airflow, keeping baby more comfortable with a reduced risk of overheating. Some parents use an organic mattress protector to provide a nontoxic layer between baby and a conventional mattress.
Keep in mind – you can use GREENCHILD15 to get 15% off when you shop at Naturepedic for baby and toddler mattresses and accessories.
Why VOC Exposure is Especially Troubling for Babies
"A baby's exposure to chemical contaminants in their crib mattresses can be amplified since they sleep for 12 to 14 hours every day and inhale air just inches above the mattress surface, where the concentrations of the VOCs (volatile organic compounds) can be about twice as high as standing just a few feet away," he said. "Their body heat also increases VOC emissions."
As it stands, federal law does not require mattress companies to list the chemicals they use in their production processes.
An alarming number of toxic chemicals such as boric acid, antimony, modacrylic, formaldehyde, and polyurethane foam are used in the production of baby mattresses. Some of these chemicals are used in the construction of the mattress, glues, or as flame retardants.
When these off-gas, some of these chemicals may be linked to increases in many ailments, including allergies, eczema, organ toxicity, liver issues, and even cancer.
SIDS and Mattress Off-Gassing
When discussing baby sleep safety, SIDS (Sudden Infant Death Syndrome) and risk of suffocation is a top concern for new parents.
KidsHealth.org says SIDS is the leading cause of death for children between the age of 1 month and 1 year of age. It claims the lives of about 2,500 children each year in the United States. There is no definitive cause for this terrifyingly unpredictable condition, although there are many possible risk factors leading to SIDS.
While the correlation between SIDS and mattress off-gassing is still being investigated, there is reason to consider a connection. When the SIDS epidemic had its first major awareness campaign in 1994, a "Back to Sleep" initiative was suggested (and is still promoted) to parents and caregivers.
This is the first time that back sleeping, running a fan, and keeping baby from overheating were advised. These solutions could explain a connection to off-gassing.
These tactics would put baby's face away from the surface of the mattress. It also circulates the chemicals up in lower concentrations and throughout the room rather than directly in baby's direct breathing space. And baby's sweat and body heat wouldn't activate a higher concentration of the gasses.
5 Common Crib Materials That Off-Gas
Certain off-gassing fumes are way more harmful than others. The following are some of the worst off-gassing offenders in crib mattresses and their potential health risks to your little one. Just a reminder, by choosing an organic crib mattress like the ones listed above, you'll avoid these chemicals.
1. Polyfluoroalkyl Substances (PFAS)
PFAS are a common chemical additive for waterproofing crib mattresses. PFAS are linked to a growing number of serious health concerns like kidney cancer, lowered birth weights, and immune and endocrine system disruption. The latest tests show that 99% of the population has measurable amounts of PFAS in their bloodstream. (source)
2. Vinyl/Phthalates
A vinyl crib mattress surface is a potent source of off-gassing as the phthalates (a known animal carcinogen) do not stick well to vinyl and therefore circulate in the air. Vinyl and phthalate exposure has been linked to:
Nervous system dysregulation
Behavioral issues
ADHD
Depression
Anxiety
Child IQ deficits
Decrease in memory
3. Formaldehyde
When inhaled, formaldehyde can also cause irritation and damage to the nose, throat and lungs and can increase the risk of developing asthma. This toxin can also still be found in many crib mattresses as an adhesive.
4. Flame Retardant Chemicals
Fire retardants are added to baby crib mattresses with the intention of preventing or slowing the spread of fires. Although perhaps well-intentioned, these harmful substances have been linked to:
Neurological impairments
Immune and endocrine system disruption
Chronic health issues
Cancer
5. Polyurethane Foam/Memory Foam
Most mainstream foam mattresses are actually made of mostly petroleum based materials – which are highly flammable (think gasoline) and sprayed with toxic flame retardants. To reiterate why a mattress made of gasoline is bad, watch the video on flammability in this article.
What's more, polyurethane foam is highly flammable, meaning that it requires all those toxic flame retardants we just discussed. It is also a porous material that compresses to trap heat and can make babies or toddlers feel hot and sweaty. Without proper waterproofing, this porous material can harbor mold and contribute to respiratory issues.
Picking the best nontoxic mattress can be a daunting task. But we're lucky to have companies today that use natural materials and are dedicated to baby sleep safety.
You can use Greenchild15 to get 15% off the purchase of their top-rated, certified organic mattresses and accessories.
Naturepedic exceeds all baby sleep safety standards. This brand avoids the use of latex in their organic crib mattresses for a more allergen-friendly design made specifically for babies and children. Their waterproof mattresses, pads, and accessories feature a patented waterproof surface. And they are all made without harmful chemicals. Naturepedic also meets or exceeds all GOTS, GOLS, Non-GMO, Greenguard and Green America certifications.
FAQ's About Buying a Nontoxic Crib Mattress
Here are the questions I often hear from parents searching for a safe crib mattress.
Why do mattresses for babies contain flame retardants and toxins?
It usually comes down to money. Unfortunately, toxic components are cheaper than high quality, organic materials. And mattress companies are not required to disclose all of the chemicals they use in their products. Sometimes they use the certifications of one of their suppliers and pretend all the components meet those same standards.
Some companies that make an eco-friendly or organic mattress will then coat it in chemical flame retardants. Don't worry – they're not on this list!
All mattresses sold in the United States must meet be the requirements of 16 CFR Parts 1632 and 1633, as regulated by the U.S. Consumer Product Safety Commission. (source)
Many companies soak mattresses in flame-retardant chemicals like polybrominated diphenyl ether, better known as PBDE.
These chemicals are highly toxic, and you don't have the right to know if they're included. These chemicals can accumulate in the body through skin and inhalation exposure and are known endocrine disruptors. Exposure can be associated with brain, hormonal, and reproductive damage.
A CDC study found that 97 percent of Americans had flame retardants in their blood, and those ages 12 to 19 had the highest levels. (source)
In addition to using certified organic components, your best organic crib mattress choice is one where the entire crib mattress is also certified organic to the Global Organic Textile Standard (GOTS). Another way to tell that it is safe and high quality is to look for the Greenguard Gold certification. Mattresses that are safe for your body are also eco-friendly.
Do natural fire resisting options work as well?
Cotton and organic wool have been used successfully to inhibit flames and pass the government's flammability requirements. Silica is another mostly natural, non-toxic fire blocker.
And yes, these have been found to work as well or better than their toxic counterparts. Studies have shown that the use of flame retardants in upholstery foam meeting certain standards doesn't actually increase fire safety. (source)
Does an innerspring mattress act as an antenna to amplify EMF radiation?
Here at Green Child, we've covered the harmful effects of radiation since 2012.
In 2010, a guest blogger posted on the Scientific American website, and started a frenzy about the dangers of electromagnetic force (EMF) radiation and innerspring mattresses. The researchers did not actually say that innersprings act as antennas and amplified radio waves, or that innersprings increase the likelihood of cancer.
When the claim that metal coils could possibly attract or magnify EMFs came about, I set an alert to follow the studies.
Test have been taken immediately above an innerspring mattress and then repeated in the exact location of the room, but with the mattress removed. In all cases, the EMF field did not change. They could find no discernible difference between what's immediately surrounding an innerspring bed versus further away. (source)
When I reached out to My Green Mattress about the potential issue, they told me, "Our independent testing shows no change or amplification in EMF readings when tested directly above the mattress compared to the same location with the mattress removed. Our testing includes all mattress models in multiple home settings."
If you're still concerned, consider buying any of the Lullaby Earth mattresses which have a WaveSupport core instead of innerspring coils. Naturepedic's lightweight options do not contain coils. Or go with an organic latex based mattress like the Obasan crib mattress above.
Can I use a cheaper, conventional crib mattress?
Based on my research and personal experience, no.
Childhood cancers are on the rise. Our little ones are bombarded with so many chemicals, it would be nearly impossible to link an illness or condition to one thing. But when they spend half of their time touching and breathing a mattress, that becomes a huge source of exposure.
Add one of these nontoxic crib mattresses to your baby registry. Encourage a few family members or friends to go in together on it. Or if you're paying for all of your own baby gear, prioritize the mattress over a stroller, where much of the use happens in open air.
Are plant-based foam mattresses safe?
As mentioned above with soy-based foam, it can be a sign of shady practices. A manufacturer can replace a small percentage of the polyurethane foam with plant-based ingredients and call it eco-friendly.
Keep in mind that while eco-friendly is usually good for the planet, it's not automatically good for human health. Some playground surfaces are made from recycled tires. It's green to reuse those tires, but you don't really want your child laying their head down to take a nap on it.
Even bamboo may contain chemical solvents that result in a cellulose fiber similar to the synthetic fabric, rayon.
How high should the crib mattress be for a newborn?
Always follow the crib manufacturer's assembly instructions and look at your baby's growth for signs that it's time to adjust the crib mattress height.
Most baby cribs offer three settings for changing mattress height as they reach size and developmental milestones. Here's a great illustration from Babylicious to illustrate how high the crib mattress should be for a newborn and through most of the first year.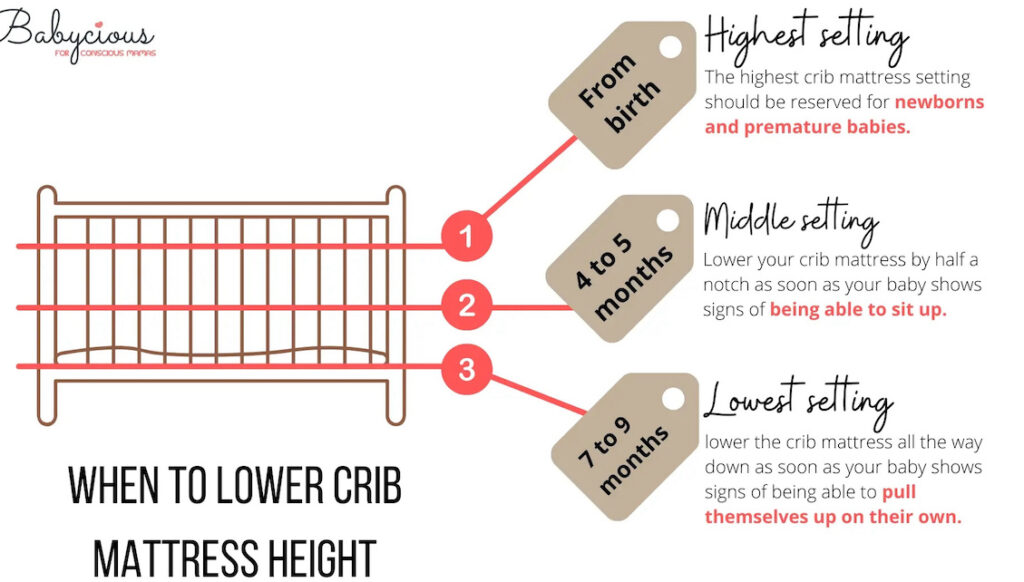 Newborn – Set the mattress at its highest level for newborns through about 3-4 months. Baby shouldn't be rolling or pushing up at this setting.
Baby gets mobile or begins sitting – Once baby can sit up by themselves, it's time to lower the mattress to the next setting. This may be anywhere from ages 4 to 8 months. If you're baby isn't quite sitting up yet, but is very mobile, it's a good idea to lower the mattress.
Baby starts to pull up – When baby shows signs of being able to pull up on furniture, the crib, or your hands, it's time to lower the mattress to the third setting down. Baby pulling up to a standing position puts them in danger of toppling out of the crib when the mattress is too high.
Baby is climbing or is 35″ tall – Plenty of kids figure out how to climb out of the crib before age 1. Climbing or a height of 35″ or taller means it's time for a toddler bed or floor bed.
If you plan on co-sleeping, be sure to follow safe co-sleeping guidelines and make sure your bed is also safe from harmful off-gassing chemicals. For big kid and adult size beds, we recommend the high-quality, nontoxic mattresses from Naturepedic and their budget-conscious counterpart, Happsy.
When you choose one of these non-toxic crib mattresses, you won't have to worry about chemicals might wafting around your baby's sleeping space… because there simply won't be any.
For more on choosing the best organic adult mattresses, find our guide here.