The Best Non-Toxic Bassinets of 2023
Looking for the best natural and non-toxic bassinet or co-sleeper? This guide has everything you need for choosing the safest sleeping option for your newborn.
When preparing for a baby, there's one thing that most parents would agree is top of mind: baby sleep. It doesn't help that oftentimes veteran parents meet the news of someone else's upcoming baby with, "sleep while you can" and "better rest up now". It leaves expecting parents wondering:
How often will the baby sleep? Will the baby ever sleep? Will I ever sleep again?
Well, we may not be able to answer those questions—even if odds are that exhaustion will set in for everyone at some point, and you will in fact sleep again—but we can help you tackle the question of: "Where will the baby sleep?"
And in answering this question, we may even help improve your chances of getting at least one restful night's sleep for all.
Will I Need a Bassinet?
A bassinet is a safe place for babies to sleep throughout the first few months of their lives. Bassinets are typically smaller than cribs and have soft, mesh sides. It is recommended that all babies sleep in a bassinet as a precautionary measure to protect against SIDS.
Non-toxic bassinets are considered the safest sleep option for babies, especially in comparison to sleep loungers and pillows that are not products designed as a safe sleeping place for babies. In fact, the popular infant pillow, Boppy, recently experienced a mass recall because of the potential risk and consequential infant deaths when used as a sleep solution.
How long do babies sleep in a bassinet?
If you are a first-time parent you may be surprised to learn that babies don't sleep in a crib until about six months of age. It is recommended by the AAP that babies sleep in bassinets for the first four to six months.
Mobility is another sign your baby has outgrown the bassinet. It'll be time for a crib once your baby is strong enough to roll over, is showing signs of pulling or sitting up unassisted, or they have outgrown their bassinet—most bassinets have a weight limit of 15-20 pounds.
Where do you put a bassinet?
Bassinets are designed to fit by your bedside. This keeps baby close to you, but safe from SIDS and potential falls. Many bedside bassinets are designed to accommodate parents who may have had a C-section as the sides are lower to prevent pressure on your stomach while bending over to pick up your baby.
Today, many bassinet models are also portable and some strollers even come with bassinet attachments, so baby can sleep comfortably while on the go.
Are bassinets safe?
The Safe Sleep for Babies Act was passed in May of 2022. It prohibits crib bumper pads and inclined sleep products from being manufactured and sold in the U.S. The reasoning behind the new law is that these products have caused safety issues (included more than 100 fatalities) over the years.
Bassinets don't fall into the same category as inclined bouncer seats, but many parents used inclined sleepers as an alternative for sleeping in the same room. You can rest assured that these bassinet recommendations meet all of the latest CPSC standards. And we go a step further to rule out the ones with toxic chemicals with this list of natural bassinets.
This baby gear guide contains affiliate links. See our disclaimer.
Best Non-Toxic Bassinets of 2023
Our list focuses on bassinets that are designed for safety and are free from (or contain fewer) worrisome chemicals you don't want near your baby. A newborn is small and all of the body's systems are still developing, so they are especially sensitive to the VOC's, formaldehyde, flame retardants, and other off-gassing chemicals found in conventional baby gear.
This category is one of the most challenging of our baby gear guides. So far, no single bassinet meets all of the criteria on our safety list. (Hint to green baby brands – here's your opportunity to fill a huge need for natural parents!)
That said, here are some of our favorite non-toxic bassinets of 2023.
Halo BassiNest® Glide Sleeper Bassinet
Designed to glide easily across any floor surface, including carpet, HALO's Glide Sleeper Bassinet features breathable mesh walls and is BPA-free. Simply slide the bassinet in and out to make getting in and out of your own bed simple.
This bedside bassinet keeps baby at your eye level, so you can make sure they are safe and comfortable as you rest. And if you have to attend to them, the non-toxic bassinet's side wall lowers and automatically returns. HALO also offers an organic bassinet mattress that is free from flame retardants.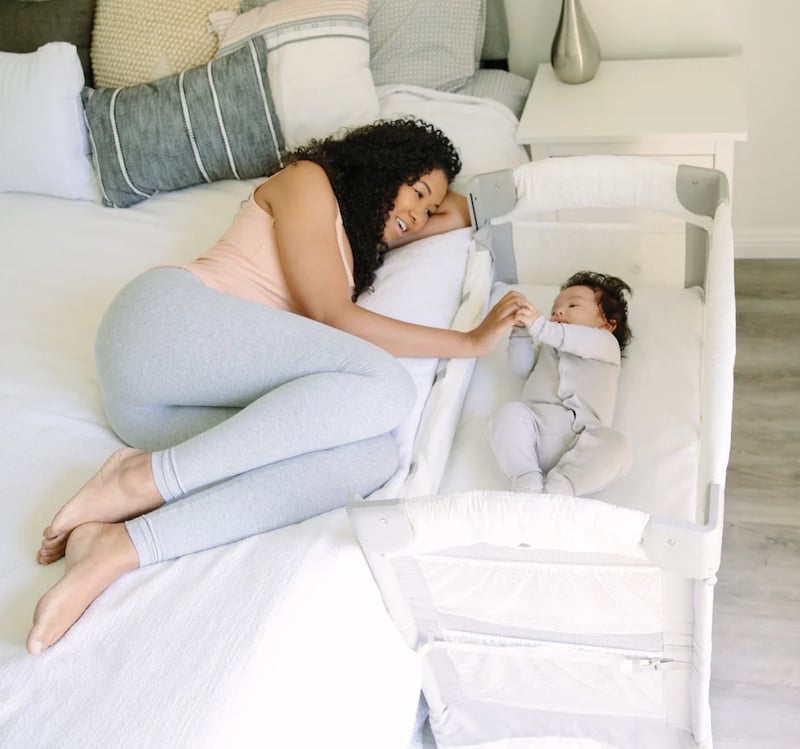 In our experience, the Arm's Reach co-sleeper is the best bassinet for breastfeeding.
With two modes – bedside sleeper and freestanding bassinet – the Clear-Vue Co-Sleeper makes sure you can see your baby at all times. The innovative design has built-in leg extensions to adjust to varying bed heights, and four castor wheels to easily move around the house. Plus, you'll love the large attached storage basket.
Arm's Reach actually created the first co-sleeper with the help of sleep experts more than 20 years ago. Find it in the size shown here or their new Mini Ezee 2 in 1 co-sleeper bassinet. This bassinet has two modes: Co-Sleeper bassinet and stand-alone bassinet.
We like the simplicity of BABYBJÖRN's Cradle. Their fabrics are Oeko-Tex Standard 100 and contain no health-hazardous substances. This formaldehyde free bassinet also features breathable sides and the gentle rocking motion can help soothe baby back to sleep.
The fabric and mattress cover are easily removable to wash. It's also light and compact so you can easily move it from room to room.
Halo Bassinest Premiere Swivel Sleeper – Pebble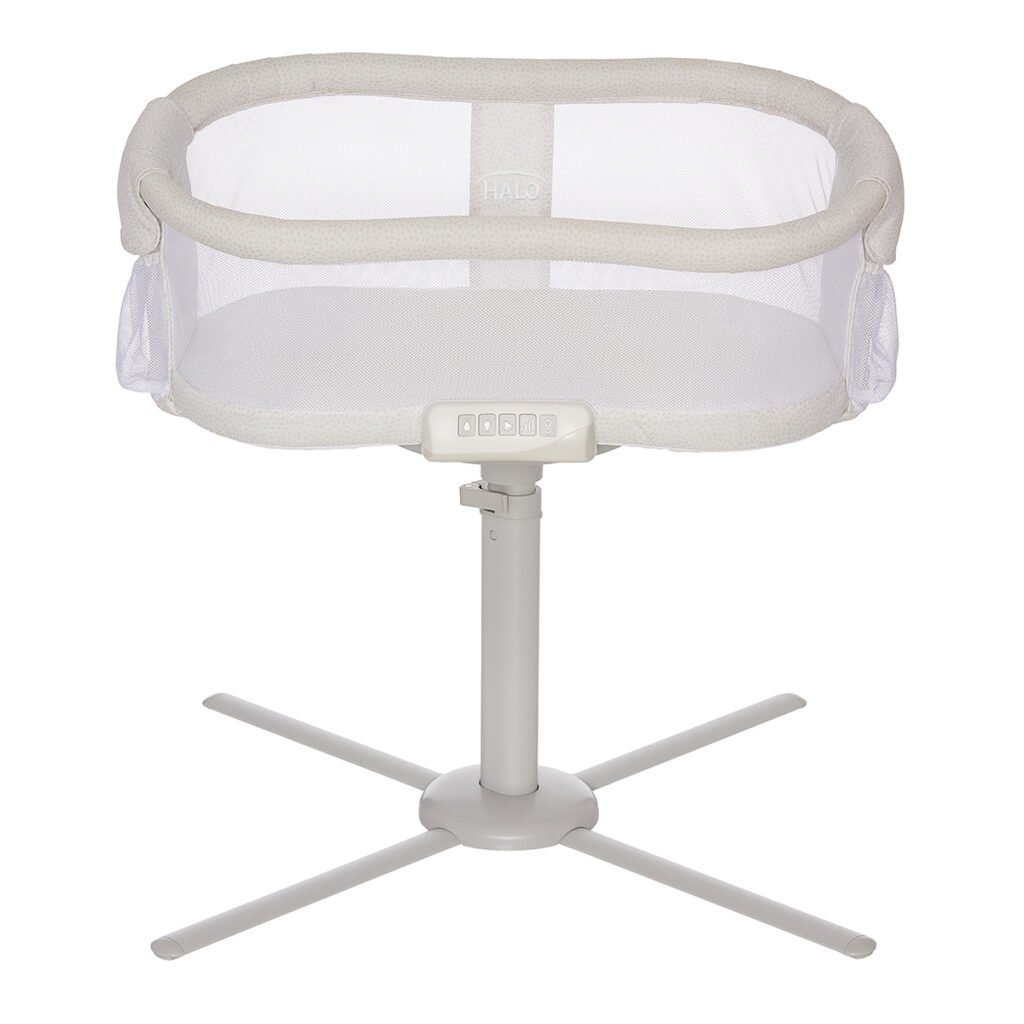 Another fan favorite from HALO, the Premiere Swivel Sleeper rotates 360 degrees so you can sleep as close as you like to your baby while keeping them safely contained. In our experience, the fully rotating design makes it smooth and really useful.
This BPA-free mesh sided bassinet swivels outward when you need to get up and out of bed. Like the Glide model, the Swivel Sleeper has a patented side wall that lowers and returns automatically. And it features soothing sounds and lullabies, a back to bed reminder, nightlight, and vibration options.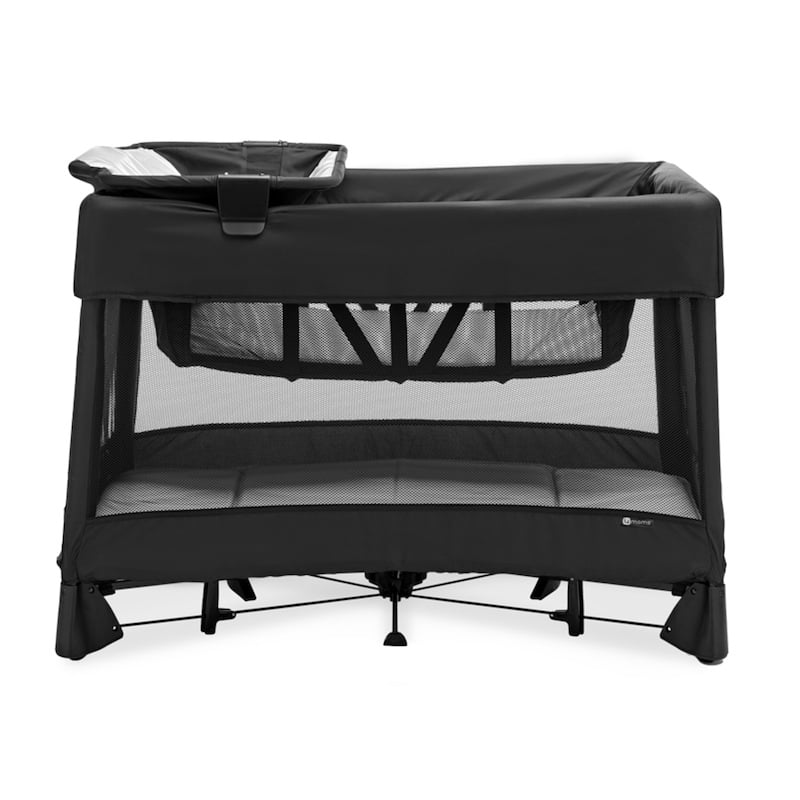 Most of the moms on our team got a play yard with a bassinet for our baby showers. If you have a two-story home, a play yard offers storage in addition to a safe place for baby to sleep during the day. They're also nice to take on vacation or to grandma's house.
The Breeze Plus is a bassinet and play yard combo designed for easy transport. It has a one push open and one pull close feature, to keep setup and pack up simple, even if you are holding your baby at the same time.
Tested to be free from toxic dyes and inks, lead, formaldehyde, flame retardants, phthalates, PVC, BPA, and BPS.
Maxi Cosi Iora Bedside Bassinet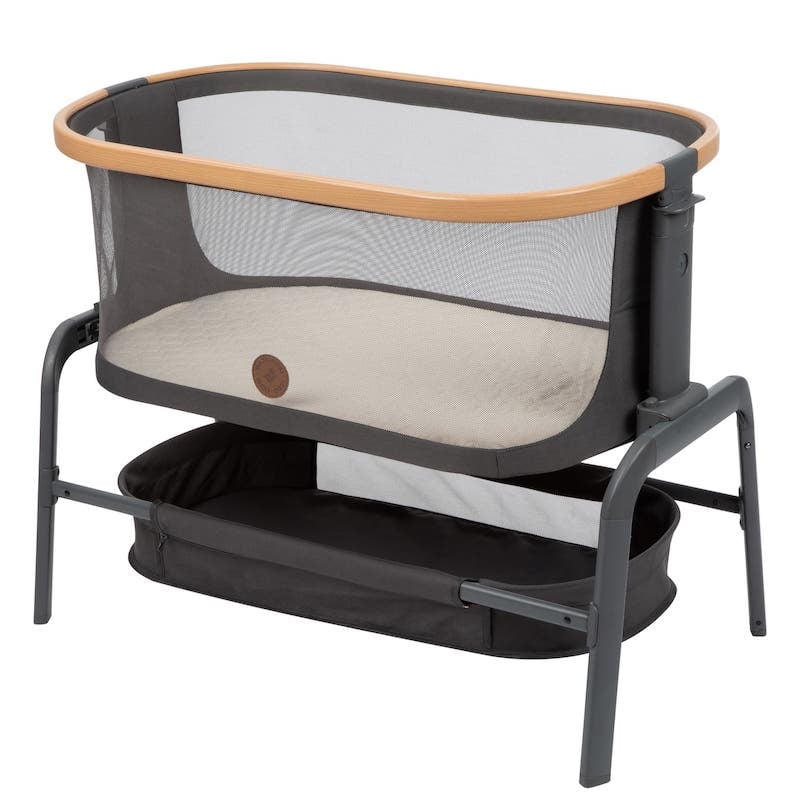 For maximum comfort, the Maxi Cosi bassinet comes with its own safe and comfortable mattress. It is great for travel or for moving around the house to different rooms, as it easily folds up and reassembles.
This non-toxic bassinet has breathable mesh sides and features five height positions and three slide positions. It also offers a large storage basket underneath to keep baby wipes, diapers, and other essentials on hand. Find it at Maxi Cosi or Walmart.
Best Moses Baskets
Moses baskets are another great and approved option for baby sleep throughout the first few months. They are portable, non-toxic, and can be reused for years to come as toy storage, a blanket holder, or even a closet organizer for spare sweaters and things. Here are two of our favorites:
Bilia Bassinet with Organic Insert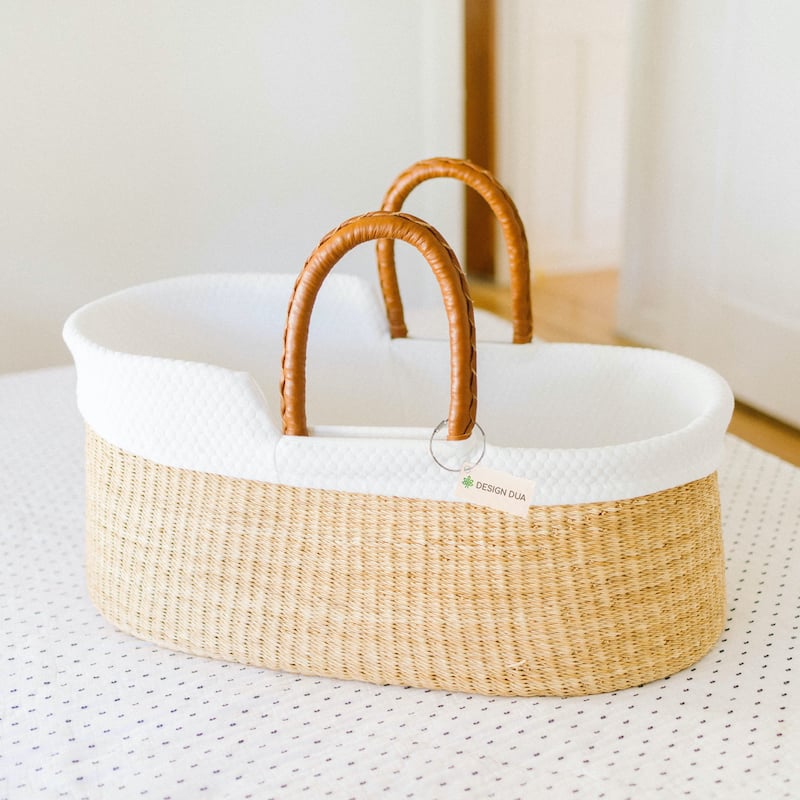 This Moses basket is handmade from 100% natural and non-toxic elephant grass. It features an organic kapok fiber mattress pad and the sheet and liner are made from GOTS-certified organic cotton, are free from harmful pesticides and herbicides, and are dyed with non-toxic dyes.
In addition to how beautiful it is, our team appreciates that it is free of flame retardants, lead, and pesticides. It is also US Safety-Tested.
Since the 1930's in Finland, all new mothers are given a cardboard bassinet filled with new baby essentials from the government. Statistics point to one of the lowest infant mortality rates in the world.
DockATot has created a similar and very stylish sustainable cardboard bassinet for baby. Unfortunately for mothers everywhere but Finland, we have to buy this one ourselves. But their beautiful option has ornately crafted pedestal feet and a supportive water resistant mattress and a 100 percent cotton fitted sheet.
And while you are in baby prep mode, don't forget to also prepare for your own recovery postpartum.
What to Do When You're Finished With Your Bassinet
If you plan to have another child, store the bassinet with your other large baby gear. If you won't need it again, you can sell or donate it. Passing along gently used items can help make any baby gear item eco-friendly. You can find plenty of parents who are eager to buy gently used baby items on eBay, Marketplace, or through local parenting groups.
You can also use the new trade in program from GoodBuy Gear. "Most baby and kid gear is designed to far exceed the average time a family actually needs it," explains Kristin Langenfeld, CEO and co-founder of GoodBuy Gear. They offer a program that gives parents the opportunity to keep perfectly good gear in circulation longer by passing it along to another family—all while earning cash toward their own child's next milestone and reducing their carbon footprint by up to 82%.
We hope this guide to non toxic bassinets gives you and baby plenty of nights of dreamy bliss!