The Best Cloth Diaper Sprayers of 2023: Eco Baby Gear
Many of our readers are cloth diapering families and to make life a little simpler, we're highlighting the best cloth diaper sprayers. This eco-friendly baby product choice can save you money and lessen your family's personal load on the environment.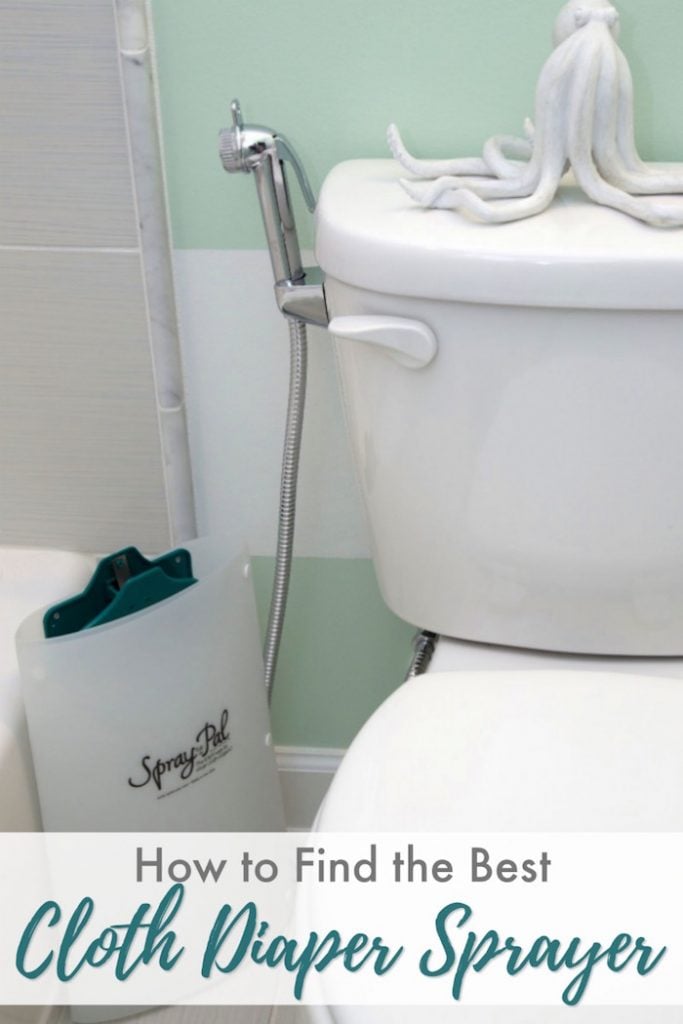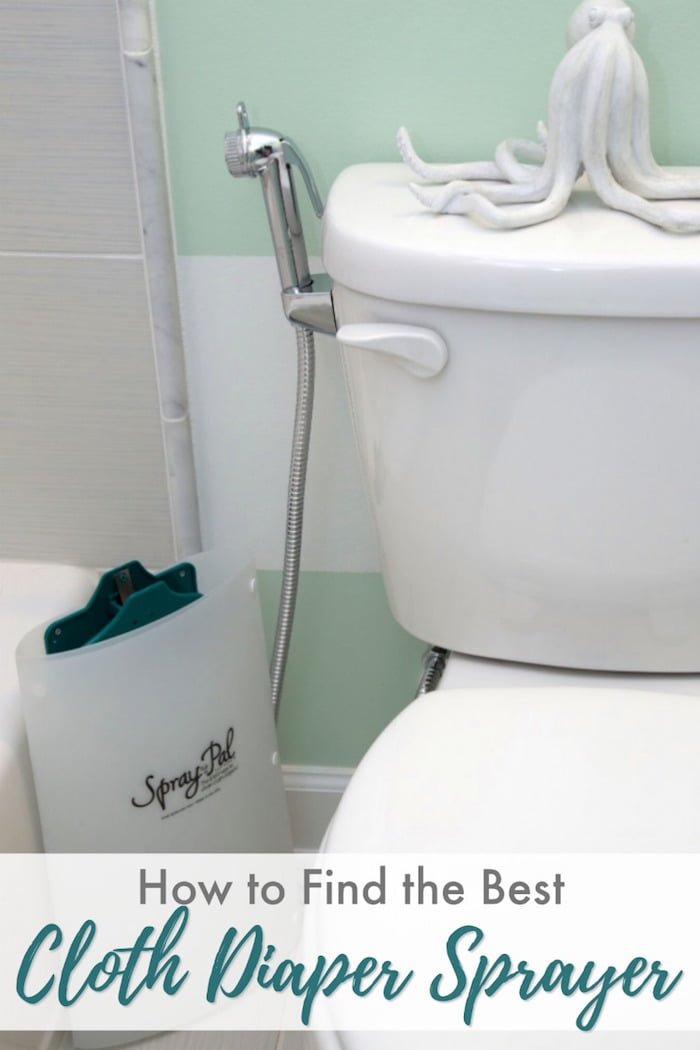 For the past 12 years, we've worked with hundreds of baby gear experts and our own team of parents to bring you the top eco-friendly baby gear items. And cloth diapering is an area of many questions among our readers.
If you haven't made up your mind which type of diapers you'll use, take a look at our beginner's guide to cloth diapering. If you're already committed to cloth, a cloth diaper sprayer can make your laundry process easier and keep those adorable diapers looking new longer.
Side note: many cloth diapers hold their value really well, so if you keep them in great condition you'll likely recover a nice portion of your investment when you sell them.
How Does a Cloth Diaper Sprayer Work?
A cloth diaper sprayer is the tool that makes sustainable diapering easier. While many people are totally fine dealing with the contents of a poopy diaper – to be completely honest – we can't imagine using cloth diapers without a toilet sprayer attachment.
It's a water spraying wand, usually stainless steel, that hooks up to the valve on the side of your toilet and can be used to rinse diaper contents directly into the toilet. It eliminates the soaking or swish and dunking steps.
Cloth diaper sprayers are easy to use. They work just like the water sprayer attachment at your kitchen or laundry sink. Installation is pretty simple. You won't need a plumber, and most kits come with everything you need to install.
Each one has a slight learning curve, so when you first use it, don't open the diaper sprayer valve all the way. You'll want to perfect your spraying aim at lower pressure so you don't spray solid waste around your bathroom (hint: this is why we chose our top pick). Once you get the hang of it, you can use more water pressure or at least figure out how to use enough pressure to clean off those dirty diapers.
And we love recommending products that have multiple uses, so you get more than just your cloth diapering years out of them. Your cloth diaper sprayer will be super helpful for toilet cleaning, and it works great as a bidet.
Cloth Diaper Sprayer Features
When it comes to the best cloth diaper sprayers, you'll want to look for…
Durability
Check the customer reviews and ask questions to make sure people aren't returning it for quality issues. As with anything, a high-quality, well-made sprayer is worth the price so you won't be dealing with nozzle cracks or leaks.
Ease of Use
The best diaper sprayer will be simple to use. This is important because one hand will be holding a diaper in some capacity. Again, read the reviews to make sure there aren't any weird hangups when it comes to the water flow, spray head, or installation.
Adjustable Pressure
Sometimes what you find in a diaper is a little stubborn, so you'll need to make sure the sprayer is powerful enough to remove everything. Again, you'll see why we chose our top pick as you consider the aftermath (or mess) of high pressure spraying.
Warranty / Customer Service
As with any product for new parents, great customer service makes all the difference. You're busy and probably sleep-deprived. You need to know there's help if you have trouble with installation or if something goes wrong with the product.
The Best Cloth Diaper Sprayers of 2023
Here are our top picks for the best cloth diaper sprayers on the market now. As you'll see, many of them function similarly, so we've focused on trusted brands and quality materials.
If you need more info on how to use a toilet diaper sprayer, scroll down to the FAQs.
This baby gear guide contains affiliate links.
Our top pick for the best cloth diaper sprayers is the Spray Pal Sprayer + Splatter Shield Bundle. Even though the jet spray on most sprayers is adjustable, many parents have a legitimate fear of getting dirty diaper contents on your body or around the bathroom. Their splatter shield keeps everything contained, making it the perfect partner for soiled diapers.
It checks all of our boxes for high-quality materials, easy installation, and having great customer service. Founders Jen and Dave Aprea were the first to create a splatter shield, and while it has been copied in recent years, it remains the most user-friendly sprayer kit available.
The bundle also includes their patented Spray Pal splatter shield so you can spray at full pressure without worrying about any messy overspray. The Spray Pal diaper sprayer has a 4-foot long hose, encased in stainless steel. The video below shows how easy it is to use and how handy it is for squeezing out excess water before taking the diapers to your laundry room or adding to a wet bag. Plus it folds flat to store easily in the bathroom.
Their customer service is excellent, and it comes with a one-year warranty. From our extensive use, Spray Pal is the best cloth diaper sprayer. And if you already own a sprayer, you can buy the splatter shield separately.
The Bumworks Cloth Diaper Toilet Sprayer is easy to install and is all metal / chrome (no cheap plastic parts). Its mounting clip adaptor attaches under the toilet lid so you don't have to attach anything to your wall.
This is another powerful sprayer for breaking up stubborn diaper debris and cleaning up afterward. Once sprayed, those dirty cloth diapers will be ready for the washing machine. The cloth diapering mamas on our team love the simple and sleek chrome design.
The SmarterFresh Hand Held Bidet Sprayer is another highly-rated option for making cloth diaper laundry easier. The sprayer head is stainless steel and the inner trigger is brass. The first thing we noticed in our personal experience is that each piece is sturdy and feels well-made.
It includes a long hose and a holder that can be hooked onto the toilet or mounted on the wall. The SmarterFresh sprayer also comes with a one-year warranty.
Purrfectzone Sprayer Kit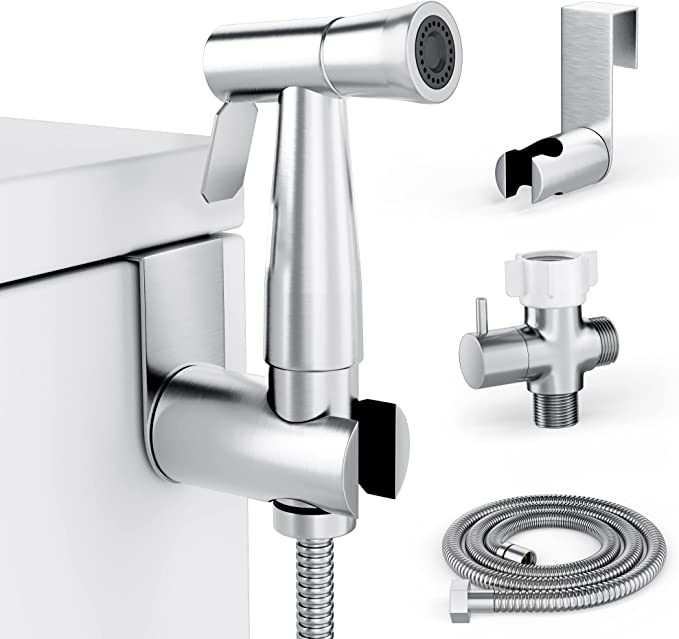 With wall mount or toilet tank mount options, the Purrfectzone sprayer is another worthwhile option that's also an affordable way to clean cloth diapers. Parents like that you can easily switch between two modes: jet spray and soft. The kit includes the valve adapter, plumber tape, acres and anchor, and washers, along with the hose and handle. 
Cloth Diaper Sprayer FAQs
Do I have to have a diaper sprayer for cloth diapers?
No. A toilet sprayer is not a necessity. Parents who choose a minimalist approach to baby gear say they can cloth diaper fine without one. They use the dunk, soak, and squeeze method. Other parents say it makes dealing with cloth diapers so much easier, they can't imagine not having one. It's really a personal preference.
How hard is it to install a cloth diaper sprayer?
Installation isn't hard, even for parents who aren't very handy. Each brand we recommend comes with detailed instructions and you can find demonstration videos online. It will probably take no more than 15 minutes to install.
How long can you wait to spray a dirty cloth diaper?
It's ideal to get the solid waste out of a cloth diaper as soon as possible. Once you've sprayed the diaper, it can go in the wet bag or your usual cloth diaper laundry routine.
Will I get splashed with poop using a diaper sprayer?
Without a splatter shield, this is a possibility. If you don't opt for a shield like Spray Pal, practice using the sprayer on a clean diaper (or just around the toilet bowl) until you get used to the water pressure and the angles you'll need to spray to keep it from splashing or making a mess.
Can you use a diaper sprayer as a bidet?
Yes, it can serve the same purpose as a bidet. A toilet sprayer won't have the same features as a higher end bidet, such as heated water or heating the toilet seat. But it's a great way for one item to serve more than one purpose (which is eco-friendly).
What to Do When You're Finished with Your Cloth Diaper Sprayer
Diaper sprayers aren't just convenient for cloth diapers! They offer one of the easiest ways to help with potty training accidents. Or in the unfortunate event of stomach bug mishaps, they can be extremely helpful for bathroom cleanup.
They can also be used as a handheld bidet sprayer. During the toilet paper shortage in 2020, when bidets were hard to come by, the owners of Spray Pal told us they had a hard time keeping their sprayer attachment in stock for several months.
And of course, you can sell it or donate it to another cloth diapering family.
If you're looking for the perfect baby shower gift, be sure to check our eco friendly baby gear guide.