Looking for the best eco-friendly baby gear of 2021?
Each year, our annual Eco Baby Gear Guide appears in Green Child's digital magazine. You can always find our newest picks for safe, non-toxic baby gear items. We search high and low for the safest, most convenient and eco-friendly baby items… so you don't have to do the guess work.
After eight years of working on the baby gear guide, you might have guessed – our babies aren't so small anymore! So, this year we're delighted to team up with some brilliant experts to bring you an amazing and helpful Eco Baby Gear Guide.
You'll find top baby gear picks from Babylist, Kaitlyn Kirby of Mini Magazine, Neve Spicer of We The Parents, and the inspiring moms behind The Soft Landing. Not only are they familiar with what makes baby products safe, useful, eco-friendly, and time- saving, they are 100% worthy of your trust. That's why we're so thrilled to share their picks with you.
Top Eco

-Friendly Baby Ge

ar Items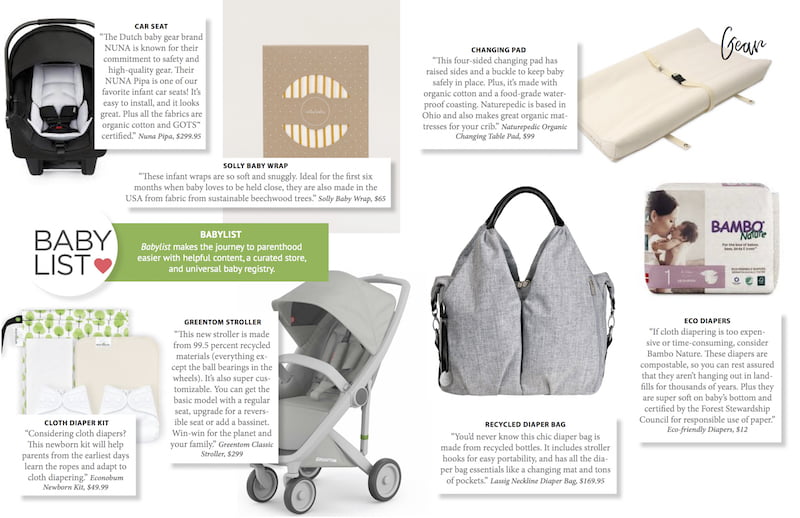 Recycled Diaper Bag by Lassig
You'd never know this chic diaper bag is made from recycled bottles. It includes stroller hooks for easy portability, and has all the diaper bag essentials like a changing mat and tons of pockets.
Babywearing Wrap by Solly Baby
These infant wraps are so soft and snuggly. Ideal for the first six months when baby loves to be held close, they are also made in the USA from fabric from sustainable beechwood trees. Find it at Solly Baby or Nordstrom.
Recycled Stroller from Greentom
When it comes to eco-friendly baby gear, this new stroller is made from 99.5-percent recycled materials (everything except the ball bearings in the wheels). It's also super customizable. You can get the basic model with a regular seat, upgrade for a reversible seat or add a bassinet. Win-win for the planet and your family. Find it at Amazon or Albee.com.
Car Seat by Nuna
The Dutch baby gear brand Nuna is known for their commitment to safety and high-quality gear. Their Pipa is one of our favorite infant car seats! It's easy to install, and it looks great. Plus all the fabrics are organic cotton and GOTS™ certified.
Deluxe+ DockATot
A safe spot for baby when you're not wearing her. Made from safe materials and in gorgeous prints and colors, this cozy "docking station" is an easy way to keep baby close by without the plastic or electronics used in bouncy seats or other baby holders. It's also great for travel. Find it at Amazon or in dozens of gorgeous prints and colors at DockATot.
Innovative Changing Pad from Naturepedic
This four-sided changing pad has raised sides and a buckle to keep baby safely in place. Plus, it's made with organic cotton and a food-grade waterproof coating. Naturepedic is based in Ohio and also makes great organic mattresses for your crib. Find it at Amazon or Naturepedic.
Newborn Cloth Diapering Starter Set from Cotton Babies
Considering cloth diapers? This newborn kit will help parents from the earliest days learn the ropes and adapt to cloth diapering.
Bambo Nature Disposable Diapers
Bambo Nature diapers are compostable – making them a greener version of disposable diaper. Plus they are super soft on baby's bottom and certified by the Forest Stewardship Council for responsible use of paper.
Top Eco-Friendly Baby Toys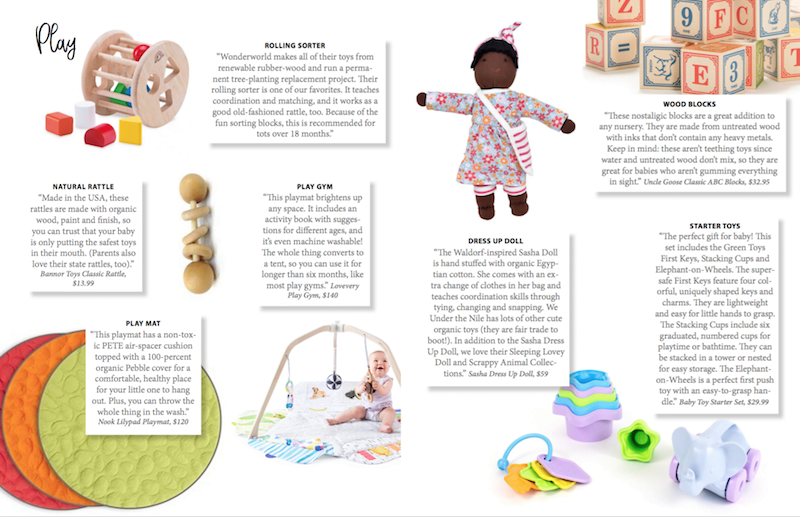 Classic ABC Blocks by Uncle Goose
These nostalgic blocks are a great addition to any nursery. They're made in the USA from untreated wood with inks that don't contain any heavy metals. Keep in mind: these aren't teething toys since water and untreated wood don't mix, so they are great for babies who aren't gumming everything in sight. Uncle Goose or Amazon
LilyPad Playmat by Nook
"Not just super cute and soft, but eco-friendly too! This play mat is made of recycled water bottles— each one holds and saves 75 bottles." NookSleep.com or Amazon
Recycled Toy Starter Set by Green Toys
The perfect gift for baby! This set includes the Green Toys First Keys, Stacking Cups and Elephant-on-Wheels. The super-safe First Keys feature four colorful, uniquely shaped keys and charms. They are lightweight and easy for little hands to grasp. The Stacking Cups include six graduated, numbered cups for playtime or bath time. They can be stacked in a tower or nested for easy storage. The Elephant-on-Wheels is a perfect first push toy with an easy-to-grasp handle. Babylist or Amazon
Classic Baby Rattle by Bannor Toys
When it comes to eco-friendly baby gear, anything a baby is likely to put in her mouth matters. Made in the USA, these rattles are made with organic wood, paint and finish, so you can trust that your baby is only putting the safest toys in their mouth. (Parents love their state rattles.) Bannor Toys or Amazon
Sasha Doll by Under the Nile
The Waldorf-inspired Sasha Doll is hand stuffed with organic Egyptian cotton. She comes with an extra change of clothes in her bag and teaches coordination skills through tying, changing and snapping. We Under the Nile has lots of other cute organic toys (they are Fair Trade to boot!).
Under the Nile or Amazon
Rolling Sorter by Wonderworld
Wonderworld makes all of their toys from renewable rubber-wood and run a permanent tree-planting replacement project. Their rolling sorter is one of our favorites. It teaches coordination and matching, and it works as a good old-fashioned rattle, too. Because of the fun sorting blocks, this is recommended for tots over 18 months.
Developmental Zone Play Gym by Lovevery
This play gym brightens up any space. It includes an activity book with suggestions for different ages, and it's even machine washable! The whole thing converts to a tent, so you can use it for longer than six months, like most play gyms. They even have baby and toddler subscription boxes customized to your child's age and development stage.
Top Eco-Friendly Baby Layette Items
Glass Baby Bottles by Natursutten
We've made a serious effort to ditch all of the plastic baby gear, including bottles! These baby bottles are made from both glass and all natural rubber, free of harmful chemicals.
B. Warmer Nursing Sweatshirt 
I lived in this sweatshirt when I was pregnant. The fleece is made from recycled PET bottles. Find it at Boob.com or Amazon
Organic Cotton Sleeper from Burt's Bees Baby
These organic cotton sleepers are just about all my little one wears. The fabric is SO SOFT! Burt's Bees Baby or Amazon

Miniware by Bonnsu
I love these adorable suction-bottom baby plates and bowls, plus they're made from 100% natural materials. Bonnsu or Amazon
Organic Muslin Swaddles
You can never have too many swaddles for baby and these are the softest, organic muslin. Margaux & Mayor Maisonette
Wooden Teethers from Bannor Toys
I'm hesitant to fill my house up with plastic toys, so these wooden teethers have been a must-have. Bannor Toys on Etsy or Amazon
Natural Pacifier from Natursutten
When it comes to eco-friendly baby gear, pacifiers are high on the list of reasons to buy safe and green. These all-natural rubber pacifiers are safest for baby and packaged in boxes made from recycled paper. Natursutten or Amazon
Top Eco-Friendly Baby Feeding Items



Round Stainless Steel Container by LunchBots
Clever, versatile, and highly practical, these leak-proof round containers are perfect for transporting otherwise messy or wet snacks. Toss them into your tote without fear of leaks. Lunchbots or Amazon
Organic Bamboo Spork by bambu
This organically grown bamboo spork will simplify meal times and provide your baby with one less projectile to hurl across the room.
Stainless Baby Bottle by Klean Kanteen
Klean Kanteen's stainless steel baby bottle is safe, toxin-free, and carefully crafted for tiny hands. The wide mouth makes it easy to clean and fill, and it's soft, silicone nipple provides a natural paced flow. Klean Kanteen or Amazon
Natural Beeswax Food Wrap
Forget single-use, disposable plastic cling wrap. These natural food wraps are made from hemp, organic cotton, beeswax, tree resin, and jojoba oil. Practical and functional, they protect food from air and moisture while letting it breath naturally. Washable and should last up to a year.

Divided Silicone Plate by Ooga
Made from high-grade silicone, these fun baby plates are toxin-free and easy to clean. Dishwasher, microwave, and freezer safe… even oven safe!

Organic Cotton Burp Cloth
No list of eco-friendly baby gear is complete without a simple and practical burp cloth made from absorbent and fluffy organic toweling. Generously covers shoulders, chest, and back.
NatureBaby or Amazon
Reusable Food Pouch by WeeSprout
A simple and practical burp cloth made from absorbent and fluffy organic toweling. Generously covers shoulders, chest, and back.
Top Eco-Friendly Baby Care Items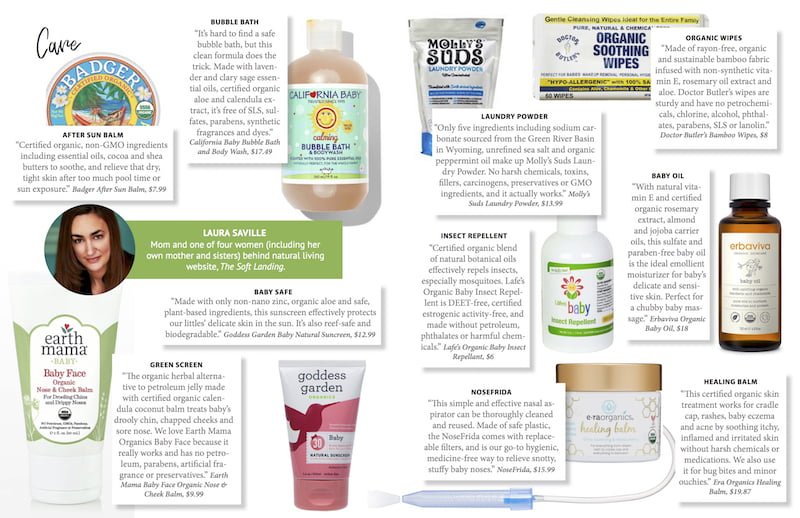 Nose & Cheek Balm by Earth Mama Organics
The organic herbal alternative to petroleum jelly made with certified organic calendula coconut balm treats baby's drooly chin, chapped cheeks and sore nose. We love Earth Mama Organics Baby Face because it really works and has no petroleum, parabens, artificial fragrance or preservatives. Earth Mama Organics or Amazon
3-in-1 Diffuser & Humidifier by FridaBaby
Dry air can aggravate congestion. FridaBaby's new humidifier increases the moisture in the room. Add a few drops of pure, organic essential oil to reduce allergens and help baby sleep with its diffuser function. Optional soothing night light colors.
Soothing Wipes
Made of rayon-free, organic and sustainable bamboo fabric infused with non-synthetic vitamin E, rosemary oil extract and aloe. Doctor Butler's wipes are sturdy and have no petrochemicals, chlorine, alcohol, phthalates, parabens, SLS or lanolin.
Organic Baby Oil by Erbaviva
With natural vitamin E and certified organic rosemary extract, almond and jojoba carrier oils, this sulfate and paraben-free baby oil is the ideal emollient moisturizer for baby's delicate and sensitive skin. Perfect for a chubby baby massage. Amazon
Healing Balm by Era Organics
This certified organic skin treatment works for cradle cap, rashes, baby eczema and acne by soothing itchy, inflamed and irritated skin without harsh chemicals or medications. We also use it for bug bites and minor ouchies. Amazon
Organic Baby Insect Repellant by Lafe's
Certified organic blend of natural botanical oils effectively repels insects, especially mosquitoes. Lafe's Organic Baby Insect Repellent is DEET-free, certified estrogenic activity-free, and made without petroleum, phthalates or harmful chemicals.
Bubble Bath & Body Wash by California Baby
It's hard to find a safe bubble bath, but this clean formula does the trick. Made with lavender and clary sage essential oils, certified organic aloe and calendula extract, it's free of SLS, sulfates, parabens, synthetic fragrances and dyes. California Baby or Amazon
Natural Sunscreen by Goddess Garden
Made with only non-nano zinc, organic aloe and safe, plant-based ingredients, this sunscreen effectively protects our littles' delicate skin in the sun. It's also reef-safe and biodegradable.
Gentle Laundry Powder by Molly's Suds
Only five ingredients including sodium carbonate sourced from the Green River Basin in Wyoming, unrefined sea salt and organic peppermint oil make up Molly's Suds Laundry Powder. No harsh chemicals, toxins, fillers, carcinogens, preservatives or GMO ingredients, and it actually works. Molly's Suds or Amazon
Nasal Aspirator by NoseFrida
This simple and effective nasal aspirator can be thoroughly cleaned and reused. Made of safe plastic, the NoseFrida comes with replaceable filters, and is our go-to hygienic, medicine-free way to relieve snotty, stuffy baby noses.

Latest posts by Green Child Magazine
(see all)