Our Top Picks for Safe Natural Sunscreen for Babies & Kids
Conventional sunscreens contain harmful chemicals and may increase your risk of sunburn, skin cancer, and other cancers. Here are some tips to keep in mind when shopping and a list of the best natural sunscreen for babies and kids.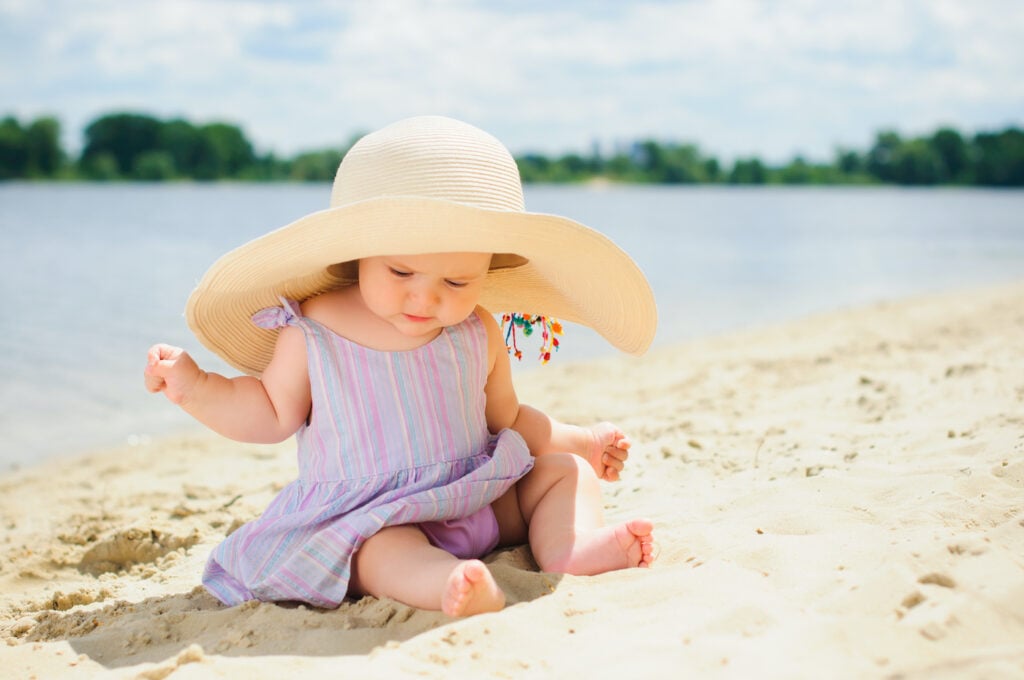 In our guide to choosing a safe sunscreen, we shared all the helpful research we've been using over the past decade when it comes to safe natural sunscreen options.
But if you don't have time to get a degree in chemistry or geek out about the health and environmental impacts of sunscreen chemicals, this pared down post and our list of safe natural sunscreen products is perfect for you.
What's Wrong with Conventional Sunscreen?
Both sunscreen use and skin cancer rates have increased in the past two decades. It's not a coincidence. Conventional sunscreens are loaded with harmful chemicals, some even known to cause cancer – the very thing you're trying to prevent.
Is it because we're slathering ourselves in chemicals? Or because we've demonized the sun – the very thing that gives life on our planet – to the point that we're deficient in the vitamins we need to fight off cancers?
It's likely a combination of both. Not to mention the fact that retinyl palmitate was shown to speed up cancer cell growth by 21% (source). But the good news is that by spending brief – but smart – time in the sun and choosing the best natural sunscreen, you and your family will be mostly protected from the dangers of sunscreen chemicals. Plus you'll be healthy enough to advocate for our coral reefs, which are also being harmed by sunscreens.
Most conventional sunscreens contain endocrine disruptors and substances that cause reproductive issues, tissue damage, asthma, and allergies (source).
Active ingredients like oxybenzone (the chemical found in most sunscreens), avobenzone, homosalate, octisalate, octocrylene, and / or octinoxate (more about these chemicals) can penetrate the skin and enter directly into the bloodstream (or breast milk in the case of nursing mothers).
See the details further down this page on which sunscreen ingredients to avoid and why.
Our Bodies Need Vitamin D From the Sun
The best sun protection is to avoid peak hours (10 am to 2 pm in most areas) or stay under shade trees, a tent, or wear UV protective clothing.
Our bodies are designed to thrive within the natural world, and exposure to sunlight via the skin is the most effective way to produce natural vitamin D.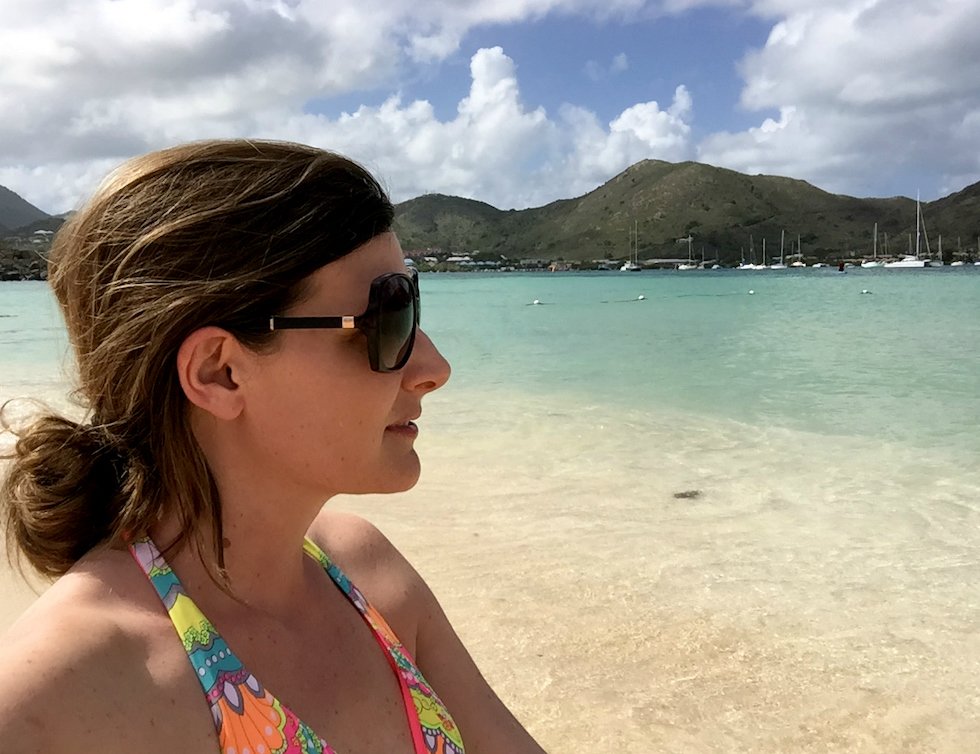 Most experts recommend getting about 10 to 15 minutes of direct sunlight daily, without wearing sunscreen, if you are fair to medium toned. If you have dark skin, you will likely need more time in the sun to make enough vitamin D because your skin has more protection against the sun's effects.
The benefits of vitamin D are many. Adequate vitamin D boosts the immune system, builds strong bones, reduces the risks of colon, breast, ovarian, and kidney cancers, and helps improve blood levels.
Consistent daily intake of high antioxidant levels fuels the body's removal of up to 90% of sun-produced free radicals.
The Best Natural Sunscreens for Kids, Babies & Families
With so many sunscreen brands available, how can you know which formulas are effective and safe for your child's skin and growing body?
Here's our list of the best natural sunscreens the EWG database considers safe. You'll see from our in-depth research on the ingredients and the personal testing below that we've done the digging to make sure they're safe enough for our own families.
Our team has tried each of these brands, and we update this guide every spring. My personal favorites are still Earth Mama Organics for body and Honua for face. I just ordered the new sunscreen from Annmarie Skincare so I'll keep you posted when I try it.
You can also rest assured after the recent Banana Boat, Neutrogena, and Aveeno sunscreen recalls, this is also a list of benzene free sunscreens.
This healthy sunscreen guide contains affiliate links.
Earth Mama Baby Mineral Sunscreen, SPF 40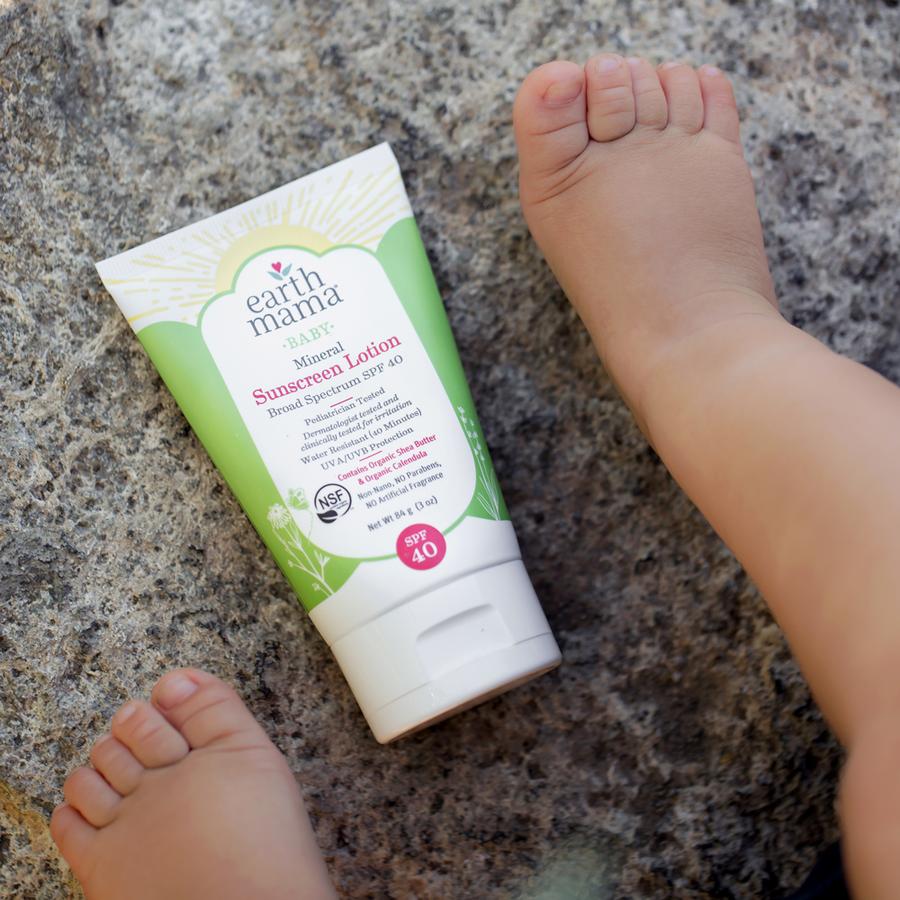 Delicate skin-friendly ingredients that are safe enough for baby make up this safe sunscreen formula. With organic shea butter and organic calendula, it contains both organic red raspberry seed oil (which has the highest naturally occurring SPF value in the plant world) and organic pomegranate seed oil for a cruelty-free boost in UV protection.
Earth Mama products are safe for those with sensitive skin. The active ingredient is non-nano Zinc Oxide. It's also reef-safe, cruelty-free, and comes in a variety of options for baby (stick or cream), kids, uber sensitive, and more.
Earth Mama Mineral Sunscreen, SPF 40
Earth Mama Organics products are known for their minimal ingredients and effectiveness for little ones and those with sensitive skin.
Their active sun blocking ingredient is non-nano Zinc Oxide and other ingredients include calming organic colloidal oatmeal and organic shea butter. It's also reef-safe, cruelty-free, and comes in a variety of options for baby (stick or cream), kids, uber sensitive, and more.
BALM! Baby All Natural Sunscreen, SPF 30
This company only uses sustainable packaging (we love the glass jar!) and their supply chain is also ethical and eco-conscious. Their non-nano Zinc Oxide formula is GMO-free, reef-safe, and gives your skin extra moisture along with sun protection.
Badger All Natural Sunscreen, SPF 30
Badger's integrity and commitment to human and environmental health inspire us, and their products are among the highest quality we've used.
Their active sun blocking ingredient is non-nano Zinc Oxide and the other ingredients are simply sunflower oil, Seabuckthorn, beeswax, and Vitamin E. It's also organic, reef-safe, cruelty-free, and is rated a 1 by the EWG making it one of the best natural sunscreen for kids.
Waxhead Zinc Oxide Sunscreen Stick, SPF 30
The Florida-based, water-sport-loving founders of Waxhead know a little something about sun protection and ocean safety. Also rated a 1 by the EWG, Waxhead is made with non-nano Zinc Oxide and stays on in extreme conditions. We especially love the stick version that has a little bit of cocoa added to keep you from getting that pasty white look.
Honorable Mention Safe Sunscreen Brands
MADE OF Organic Sunscreen, SPF 30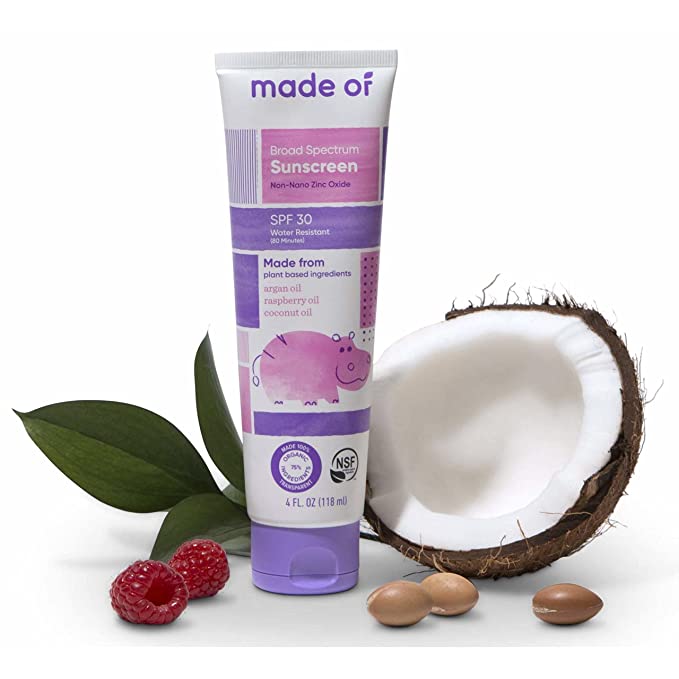 With a Rating of 1 by EWG and NSF Organic Certified, this is definitely a safe nontoxic sunscreen for kids. The reason it's in among our honorable mentions is that it's pretty thick and a bit hard to rub in.
It's made from 75% organic and 25% natural ingredients like argan and coconut oil. It's a non-nano zinc oxide that works as a physical block against UVA/UVB rays. In our testing, we had to rub it in for quite a while to reduce the white cast, but it was very effective in preventing sunburn.
Goddess Garden Organics Natural Mineral Sunscreen, SPF 30
Goddess Garden's formulas are all 100% biodegradable and are filled with nourishing organic ingredients like aloe vera and sunflower oil.
We recommend their lotion style sunscreens, but not the spray can version.
Raw Elements Certified Natural Sunscreen, SPF 30
Reef-safe and made with zinc-oxide, contains no oxybenzone or octanoate responsible for bleaching our coral reefs.
In our experience, Raw Elements is effective at preventing sunburn and doesn't wear off easily. It's very thick and also doesn't wash off too easily so that's why it made the honorable mention list.
Best Natural Sunscreen for Your Face
While all of the brands listed here are safe and effective for adults, most moms are super careful about what we put on our faces. We want to prevent sunburn and the signs of aging, but we don't want to use anything that clogs pores or contributes to breakouts.
Here are two products we absolutely LOVE when it comes to safe facial sunscreen. These are also benzene free sunscreens.
Honua Skincare Malu Protecting SPF30 Day Cream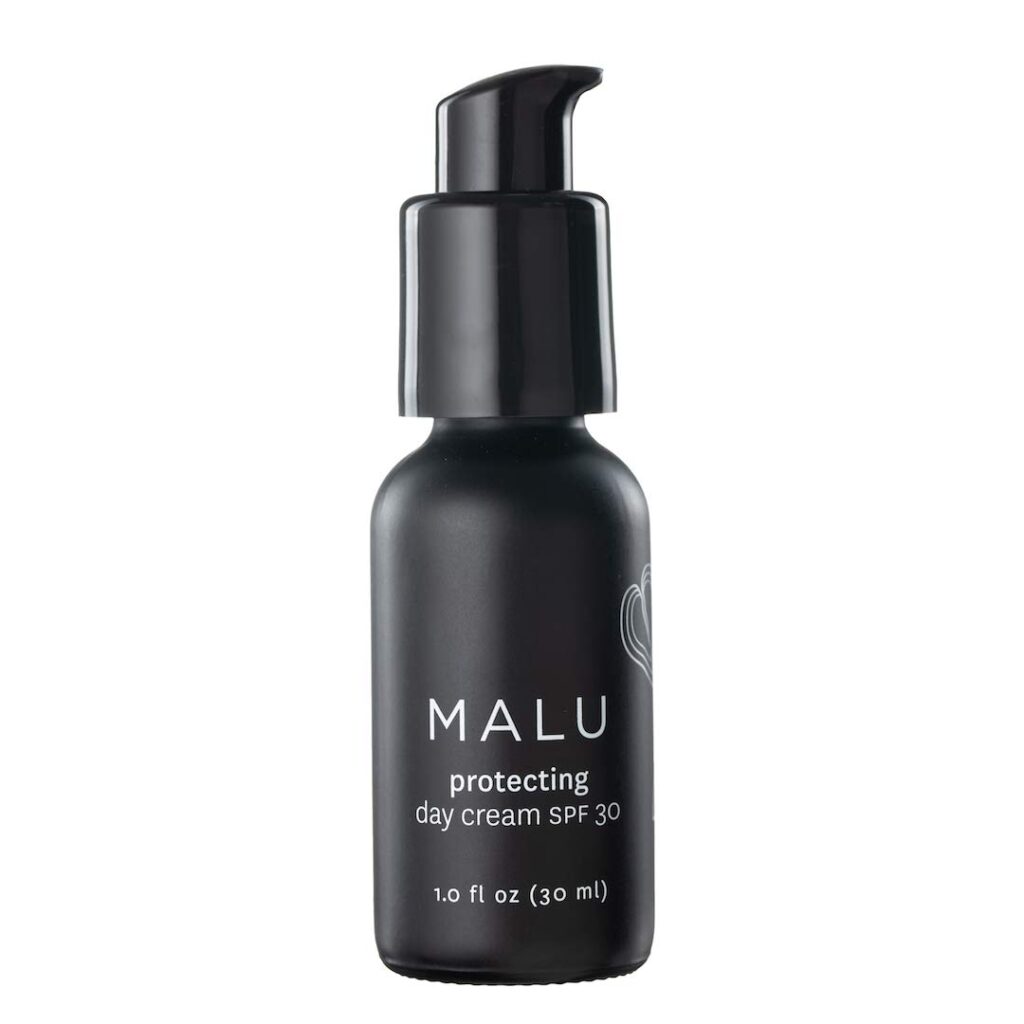 This product is a moisturizer and SPF in one. The texture is smooth. It comes out of the bottle white, but in our experience, it doesn't leave behind any white cast.
It absorbs clear and leaves a dewy, radiant finish. Malu uses non-nano zinc oxide as a mineral barrier, and from our testing (and my personal use for the past 3 years) it doesn't dry out your skin. It also works well for acne-prone skin.
Earth Mama Organics' Tinted Mineral Sunscreen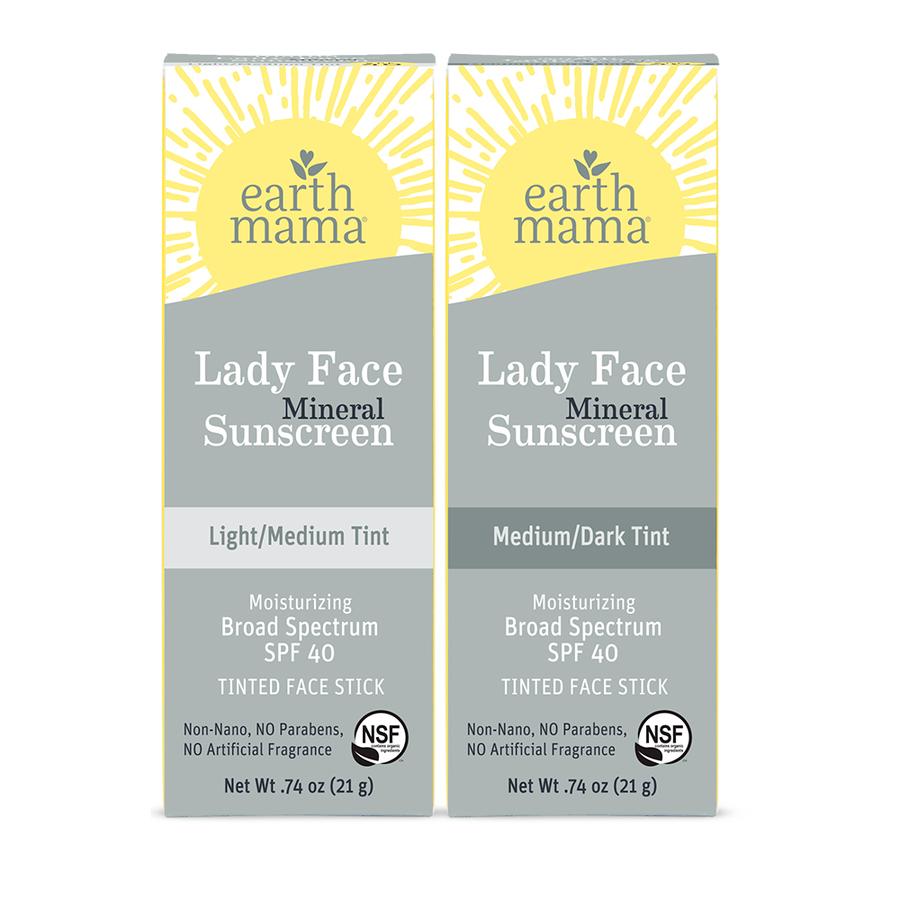 This face stick comes in SPF 40 and can pretty much take the place of foundation all year long. The tint is great for not giving you that ghostly white look. Free of toxic chemicals, it's infused with rich, moisturizing organic shea and cocoa butter, so the stick doesn't feel hard or chalky. Their two shades are similar to makeup – Light/Medium or Medium/Dark – blend in with or highlight any skin tone.
Tips for Getting the Most Out of Your Non Toxic Sunscreen
Always apply sunscreen at least 15 minutes before exposing your skin to the sun. This is especially important when water is involved. Water exposure or extreme sweat can wash away sunscreen before it's had a chance to absorb. When reapplying, slather sunscreen on dry skin whenever possible.
Sunscreens listing a higher SPF (50 or above) are no better at reducing the risk of skin damage or skin cancer. And the number can be misleading, allowing you to burn because you don't feel the need to reapply. As tempting as spray sunscreens are, EWG recommends avoiding them entirely, stating that "these ingredients are not meant to be inhaled into the lungs."
With so little known about the effects of sunscreen chemicals on the body when rubbed into the skin, we may never know how much worse the effects may be when they are inhaled. But suffice it to say: When your neighbor at the beach is spraying down their child, it's in your best interest to turn away and cover your nose and mouth (source).
Types of Sunscreen
There are two basic types of sunscreens — chemical and physical. Each work differently to block the sun's rays. Here's how…
Chemical sunscreens
Chemical sunscreens protect skin by absorbing the sun's rays. They do this by seeping into your skin. This is why chemical sunscreens apply smoothly, without leaving a thick film and include active ingredients such as oxybenzone.
The problem is that many of the chemical sunscreen active ingredients disrupt endocrine and hormone activity. Worse, they can actually encourage UVA damage deeper in the skin. In short, chemical sunscreens protect the skin surface from the temporary discomfort of sunburn, but they're simply passing the problem onward, where we don't notice it until years later when the dermatologist starts diagnosing serious skin problems.
Physical sunscreens
Physical sunscreen use minerals zinc oxide or titanium dioxide as active ingredients, which sit on top of the skin and physically block the sun's rays. They work immediately and do not seep into the skin. Zinc oxide is protective against both UVA and UVB rays, unlike most chemical sunscreens, which are only effective against one or the other.
Zinc oxide is the sole sunscreen-active ingredient that's FDA approved for use on infants. The key drawback to physical sunscreens is cosmetic — they sometimes leave a white film. This is what makes them the best natural sunscreen for kids. Properly formulated physical sunscreen can be spread to a thinness that is fully protective while being practically transparent on the skin.
Sunscreen Chemicals to Avoid
The FDA proposed new guidelines to sunscreen regulations in 2019. They found that only two ingredients – zinc oxide and titanium dioxide – could be classified as safe and effective, based on available information. This distinction helps narrow down the best natural sunscreen for kids.
Numerous new studies raise concern about endocrine-disrupting effects from other ingredients. According to EWG's most recent research, these are the sunscreen ingredients to avoid:
Oxybenzone
Within seconds of application, oxybenzone penetrates the skin and enters the bloodstream. As a photocarcinogen that can attack DNA and increase free radicals, it promotes the formation of cancerous cells. It's considered a contributing factor in the recent increase of melanoma cases among chemical sunscreen users.
Research studies link higher concentrations of oxybenzone to various serious disorders, including endometriosis in older women and lower birth weights in newborns. Some studies show it behaves similarly to the hormone estrogen, suggesting a link to breast cancer.
It's also been linked to eczema, and it can trigger allergic skin reactions and hormone disruptions. Small children should avoid using products containing oxybenzone, but really, everyone should avoid it.
Octinoxate
One of the most common ingredients in sunscreens, octinoxate is readily absorbed by the skin and helps other ingredients get absorbed. An endocrine disruptor, it mimics estrogen and can disrupt thyroid function. Hormone disruption can occur in even wildlife, should they come into contact after it leeches from humans into water.
Octinoxate has been detected in human urine, blood, and breast milk, indicating its systematic exposure to humans. Though SPF products are designed to protect skin from sun-induced aging, octinoxate may actually encourage premature aging, as it produces menacing free radicals that can damage skin and cells. It can lead to developmental and reproductive toxicity through enhanced skin absorption. Dangerous to anyone, it should not be used by pregnant women and children, due to its estrogen-like behavior.
Homosalate
Typically an ingredient in UVB-absorbing sunscreen and offering no UVA protection, homosalate helps sunscreen penetrate the skin. It's a potential endocrine disruptor, and studies in cells suggest it may impact hormones. In addition to direct health concerns, it may enhance the body's absorption of pesticides.
Homosalate degrades when exposed to sunlight, and like all salicylates, it is not powerful enough to stand on its own as UVB protection and is almost always combined with other UVB chemical filters.
Octisalate
Octisalate is used to augment UVB protection in sunscreen. As a salicylate (a weak UVB absorber), octisalate is generally combined with other UV chemical filters. It typically degrades when exposed to sunlight and is a penetration enhancer, increasing the amount of other ingredients passing through skin.
Research indicates it is a weak hormone disruptor, forms toxic metabolites, and can enhance the penetration of toxic herbicides.
Avobenzone
Avobenzone is a widely used organic filter that provides protection from UVA rays and is often used with other organic active ingredients in products offering broad spectrum protection.
Because avobenzone is not stabile, it must be paired with other ingredients that act as stabilizers to prevent it from breaking down in the sun. Breakdown products of avobenzone can cause allergic reactions (Nash 2014). Avobenzone can disrupt the endocrine system and has been shown to block the effects of testosterone in cellular studies (Klopcic 2017).
A new study shows that sunscreen mixed with swimming pool chlorine creates a harmful cocktail on wet skin. It neutralizes sunscreen's protective qualities and releases two dangerous chemicals. The combination of avobenzone and chlorine breaks down the former, and acetyl benzenes and phenols are released when chlorine meets avobenzone.
Benzene
This one gets confusing. You won't find it on the label. It's not an intended ingredient in any sunscreen formula or production. Yet benzene contamination seems to be a more common health issue than ever expected, as independent testing published in this study citing more than 50 contaminated sunscreen products.
Benzene is classified as a human carcinogen. Exposure to benzene can occur orally, by inhalation, and through the skin. It can result in cancers like leukemia and cancer of the bone marrow as well as blood disorders known to be life-threatening.
Octocylene
Octocrylene is readily absorbed by skin and accumulates within the body. It absorbs UVB (top-surface) and UVA (deep-skin) rays and produces free radicals that damage cells and cause DNA mutations.
There is evidence that octocrylene is responsible for reproductive toxicity, although the trials used doses higher than would be used in cosmetics. Quick to biodegrade and then bioaccumulate, Octocrylene has also been found in fish.
Paraben Preservatives
Parabens inhibit the growth of bacteria, yeast, and molds, and have been used in personal-care products like shampoos, conditioners, deodorants, and sunscreens for years, in order to extend shelf lives. Studies show parabens mimic estrogen, associated with certain forms of breast cancer.
Parabens can induce allergic reactions, along with developmental and reproductive toxicity. They're also estrogen disruptors, associated with infertility, abnormal development sexual organs, obesity, asthma, allergies, benign tumors of the uterus and digestive tract, and breast cancer. You won't find any parabens in our list of the best natural sunscreen for kids.
PABA
PABA was introduced into sunscreens in the 1970s because of its natural ability to absorb UVB (shallow surface) rays. Most sunscreens today don't use it, as (like oxybenzone) it was found to increase sensitivity to allergic reactions, gaining a reputation as a skin sensitizer. Studies in the 1990s raised the concern that it could encourage formation of cancerous cells in the skin by releasing free radicals when exposed to sunlight.
Most manufacturers have phased out the use of PABA, and many well known brands like to highlight how they're PABA free. This is like saying it's plutonium free, because PABA is so universally understood (by any company paying attention) as bad, PABA free is the case for almost all sunscreens. Those that list PABA free as a benefit tend to be ones with other, really bad chemicals and toxins.
Retinyl palmitate (Vitamin A)
Otherwise known as Vitamin A, retinyl palmitate is an extremely useful ingredient almost everywhere throughout the body, except sitting on the skin exposed to sunlight. As an ingredient in sunscreen, its purpose is to improve product performance against the aging effects of UV exposure. But on sun-exposed skin, it may speed development of skin tumors and lesions.
Consumers should avoid sunscreens, lip products and skin lotions that contain vitamin A, which can also be listed as retinal palmitate, retinyl acetate, retinyl linoleate and retinol. Daily skin-related use of retinyl palmitate by a pregnant woman may also be toxic to the developing fetus, and it's been linked to brain swelling, developmental toxicity, cellular changes, and organ toxicity.
Fragrance
Sunscreen is often injected with artificial fragrances as a means of making the product smell better to buyers. The list of chemicals used for this purpose is lengthy, and you'll rarely see the actual chemical name of a fragrance listed, as many are grouped together under the umbrella term "artificial fragrance." Cancer, nervous system disorders, allergies, and birth defects are some of the shocking concerns that have been linked to various artificial fragrances. We recommend avoiding such unnecessary chemicals in sunscreens.
Spray and Powder Sunscreens
People like sprays because they're easy to apply on kids and hard-to-reach areas. But they pose serious inhalation risks, and users usually don't apply enough to cover the skin adequately. The FDA has even expressed doubts about their safety and effectiveness but hasn't banned them.
Sprays are especially dangerous due to possible inhalation of nano-sized and micronized zinc and titanium. If you want the benefits of a mineral sunscreen, choose a zinc- or titanium-based lotion. And if you use a pump or spray sunscreen, lower your inhalation risk by applying it to your hands and then wiping it on your face.
Most aerosol bottles contain butane, propane, or isobutane, which can be contaminated with butadiene, which is a known carcinogen. Banana Boat sunscreen was recalled in July 2022 due to toxic benzene.
The FDA has decided powdered sunscreens should not be sold over-the-counter and should be subject to the more rigorous new drug application process.
Sunscreen + Insect Repellent
Studies indicate that concurrent use of sunscreens and pesticides leads to increased skin adsorption of the pesticide. Also consider that bugs may not be a problem during the hours that UV exposure peaks (eliminating the whole reason for the combination).
You may need to reapply sunscreen and bug repellent at different frequencies, and DEET (contained in many bug repellents) may reduce the SPF of sunscreen. Avoid using repellent chemicals on the face, since the fumes can be inhaled, and the chemicals can irritate and damage the eyes. In short, bug repellent sunscreen combos are a clever idea, but ultimately a misconceived option.
SPFs 50+
SPF stands for "sun protection factor," but that term refers only to protection against UVB rays, those which burn the skin. In itself, this illustrates the over-concentration on the short term convenience of burn protection (which IS important) at the expense of long term health considerations.
SPF has less to do with deeper tissue UVA protection. While UVA protection in American sunscreens maxes out at about 15 to 20, high-SPF products give a false sense of security and tempt users to stay in the sun too long, and the FDA is actually considering barring SPF above 50. High SPF products also suffer from serious diminishing returns. For instance, while a 30 SPF blocks 97% of UVB rays, a 100 SPF blocks 99%. A minuscule UVB blocking difference for a lot more deep tissue, UVA damage.
Safe Sunscreen Ingredients / Labels
Zinc Oxide (non-nano)
The sole sunscreen-active ingredient that's FDA approved for use on children, Zinc Oxide has been scientifically proven as the world's safest sunscreen and most effective UVA/UVB physical sun screen barrier. Effective across the entire UVA and UVB spectrum, zinc oxide holds tight to its electrons when it absorbs UV energy, limiting creation of free radicals. It's non-toxic and safe for marine life. Stable in sunlight, it provides greater protection from deep tissue UVA rays than titanium oxide (a toxic heavy metal) or any other sunscreen chemical approved in the US. It is mildly antimicrobial, and it won't block pores.
Zinc oxide MUST be non nano to be fully safe. Nanoparticles are smaller than 100 nanometers, and some companies have used them in their sunscreens to make them less white. The problem is that when it penetrates the skin, such particles can damage the system.
Broad Spectrum
Broad spectrum on the label means the product protects against both UVA and UVB rays. (Many sunscreens don't.) UVB rays affect the surface layers of skin, causing redness and in extreme cases, sunburn and blistering. UVA rays penetrate into the underlying layers of skin, causing wrinkling, DNA damage, and in some cases skin cancer.
The primary ingredients in non-chemical, safe, natural sunscreen, zinc oxide or titanium oxide, provide effective broad spectrum protection by blocking both types. Chemical sunscreens can defend against both, too. But they do it by absorbing the rays, with different chemicals to block one or the other, and some UVB blocking chemicals actually encourage UVA rays to enter deep skin tissues.
In short, chemical sunscreens are a mess in trying to maintain broad spectrum coverage. Sunscreens are now required by the FDA to be labeled as broad spectrum or have a warning label, so make sure you look for the broad spectrum UVA/UVB wording on labels.
Added Antioxidants
Some safe sunscreens add antioxidants like Vitamin E and Vitamin C to their formulations to reduce free radicals caused by UV rays. Studies are beginning to show this addition to safe sunscreen formulations can reduce the numbers of reactive oxygen species in skin more than two-fold. In addition to Vitamins C and E, good natural antioxidants to look for are olive oil, sunflower oil, jojoba oil, and coconut oil. But remember to stay away from Vitamin A as a skin application (see the "Bad" list).
Organic Ingredients When Possible
While many sunscreens list "organic" on the label, it's important to verify all active and inactive ingredients. Many so called "organic" sunscreens contain oxybenzone and other dangerous chemicals.
For a product to be truly organic, all ingredients must be food grade organic quality, and this isn't possible in sunscreen, even for the safest, because zinc oxide isn't deemed edible. However, you should choose sunscreens containing certified organic ingredients (for all ingredients that CAN be).
Lotions & Creams
Lotions and creams offer more consistent coverage and higher levels of UV protection than spray sunscreens. You'll need 1-2 tablespoons of safe sunscreen to cover head to toe with only a bathing suit on. You should use about 1/4 teaspoon for your face and neck and reapply every 2-4 hours.
Using a zinc oxide based sunscreen, you can achieve the right coverage by applying just enough so the whiteness becomes more or less transparent. That level of coverage delivers the amount of SPF listed on the product.
SPF 30-40
Realistically, 30-40 SPF is all one needs, and more is a slippery slope to deep tissue skin damage (see SPF 50+ in the Bad list above).
Water Resistant
Water resistance is good to have in a safe sunscreen, since it allows better coverage when swimming or sweating. Beginning in 2011, sunscreens formerly labeled waterproof or sweat-proof must now be labeled 40 or 80 minute "water resistant" because they protect from the sun for a limited period of time after exposure to water.
Remember "water resistance" doesn't ensure full protection. It just means it will come off more slowly than non water resistant varieties. Follow product directions by applying plenty of sunscreen, then reapplying after swimming, sweating or towel drying.
Ocean & Reef Safe
Toxins and chemicals contained in many sunscreens are harmful to reefs and marine life. Confirming "reef safe" within the marketing messages doesn't always get the whole story. Make sure to check the ingredients for any reef-damaging substances (like oxybenzone, butylparaben, and octinoxate, just to name a few, all of which have been shown to cause coral damage, even at low levels).
If any such chemicals are listed, the product isn't reef safe at all. These chemicals have been found in significant concentrations in water up to 100 meters from where people swim, far enough to reach coral reefs easily, and it's suspected that oxybenzone and other chemicals reach reefs through waste water systems that vacate into coastal areas.
Any natural, safe sunscreen product (organic, biodegradable, and so on) is better for marine environments than those based on chemicals.
Sunscreen and the Environment
The active ingredients found in chemical sunscreens, frequently used at beaches and while snorkeling, are toxic to aquatic and marine life. The manufacturers of chemical sunscreens don't tell us this, but those chemicals transfer from our skin into the water, where they harm, stress and even destroy coral reefs and other marine animals. Physical safe sunscreen ingredients cause no ill effect on natural water environments.
The American Academy of Dermatology, while promoting the use of safe sunscreen, calls it just "one component of a daily photo-protection regimen." We shouldn't forget the other ways to enjoy sun-healthy lifestyles.
Shade & Sun Defense Clothing
Avoid peak midday hours in the sun. Higher, more direct rays are more intense because UV light travels a shorter route through the atmosphere.
Peak intensity hours are roughly 10am – 3pm standard time and 11am – 4pm daylight savings time. Seeking shade during these hours can reduce sun exposure up to 60%.
Wearing sun-protective clothing is another way to limit exposure. If you plan to spend lots of time outside, invest in sun hats, sun-protective clothes, and UV-blocking sunglasses. Using shade and UV clothing is a smart example of natural sunscreen for kids.
Foods that Provide Extra Sun Defense
Rarely mentioned is the nutritional component to skin protection. High levels of antioxidants allow our skin to remove sun-produced free radicals, which are what actually burns our skin and causes long term damage.
Those who plan to spend significant time in the sun should eat a diet heavy in antioxidants for 10-14 days or more before such activity. Consistent daily intake of high antioxidant levels fuels the body's removal of up to 90% of sun-produced free radicals.
We get it. This information can be overwhelming. But you can feel good that we've done all the research and you can trust the best natural sunscreen for babies and kids brands recommended above. Feel free to ask any questions in the comment section.