Summer 2023 Baby Beach Gear Guide
Looking for the best beach gear for babies? We've got you covered with this freshly updated beach trip guide.
Summer is here! And after what has seemed like an eternal winter, we're sure you're ready to get out and enjoy a fresh whiff of ocean air. But if you're a new parent, you might be wondering how to navigate a beach day with a baby in tow.
How much and what do you pack?
What baby beach gear do you actually need and what is just nice to have?
Not to mention that a lot of what we might think to take to the beach — ahem disposable water bottles, plastic umbrellas, even sand-soaked towels — could end up being unintentionally left behind. It's really more common than you might think.
A Minimalist Look at What You Need for Baby at the Beach
The list below includes several "nice to have" items and a few luxuries. But here's a quick look at the basics.
Tent or umbrella – if you'll be spending more than a few hours that include 10am – 2pm at the beach, you really need some shade to get baby (and yourself or any older kids) out of the sun.
Towels – bring some to sit on and some for drying off.
Wet bag – for wet suits, swim diapers, or anything else you don't want dripping or leaving a mess behind.
Rash guards – many sunscreens aren't safe for babies younger than 6 months, so SPF clothing is essential to protect their delicate skin from sunburn.
Sunscreen – learn everything you need to know about nontoxic sunscreen for babies and kids in this guide.
Toys – a bucket and shovel can provide hours of fun for babies and toddlers (and give you a little bit of a break to enjoy the beach yourself!)
The usual baby necessities – just like going anywhere with baby, you'll need the usual diaper bag lineup like diapers or a swim diaper, wipes, bottles or sippy cups, and snacks.
When going anywhere with a new baby, it's easy to forget and/or drop things here and there.
Our beautiful beaches are definitely places we want to protect as much as possible (especially from single use plastic, so when drawing up a beach gear list, it can help to opt for eco-friendly or sustainable options where you can. After all, every little bit can help lighten your environmental load.
Check out our baby beach gear that can set you and your little one up for some fun in the sun. Or perhaps shade is a better word in this case, which brings us to our first set of products:
Baby Swimwear + Sunscreen
The first necessities of baby beach gear are unsurprisingly tied to sun protection. Not only will you want to apply a natural sunscreen for babies who are six months and older, but you will also want to ensure their delicate skin is protected with the right swimwear.
Look for a swim suit that can block UV rays and a wide brimmed sun hat that can protect their perfect little scalp and face.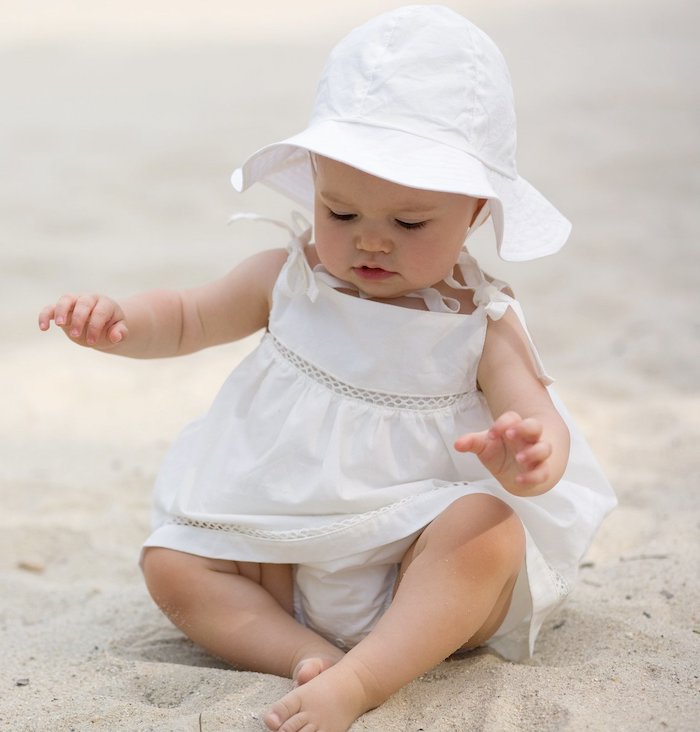 Classically cute, a summer baby hat with a chin strap is essential for time spent out in the sun. In my experience, it can be a challenge to keep a hat on your baby or toddler's head. So, here are some tips to help your child keep a hat on.
Under the Nile's poplin sun hat is ethically made in Certified Fair Trade facilities from soft 100% organic Egyptian cotton that's also GOTS certified.
It also feels strange to say this about an item of baby clothing, but it is free of Azo colorants, BPA, flame retardants, formaldehyde, fragrance, PVC, and lead.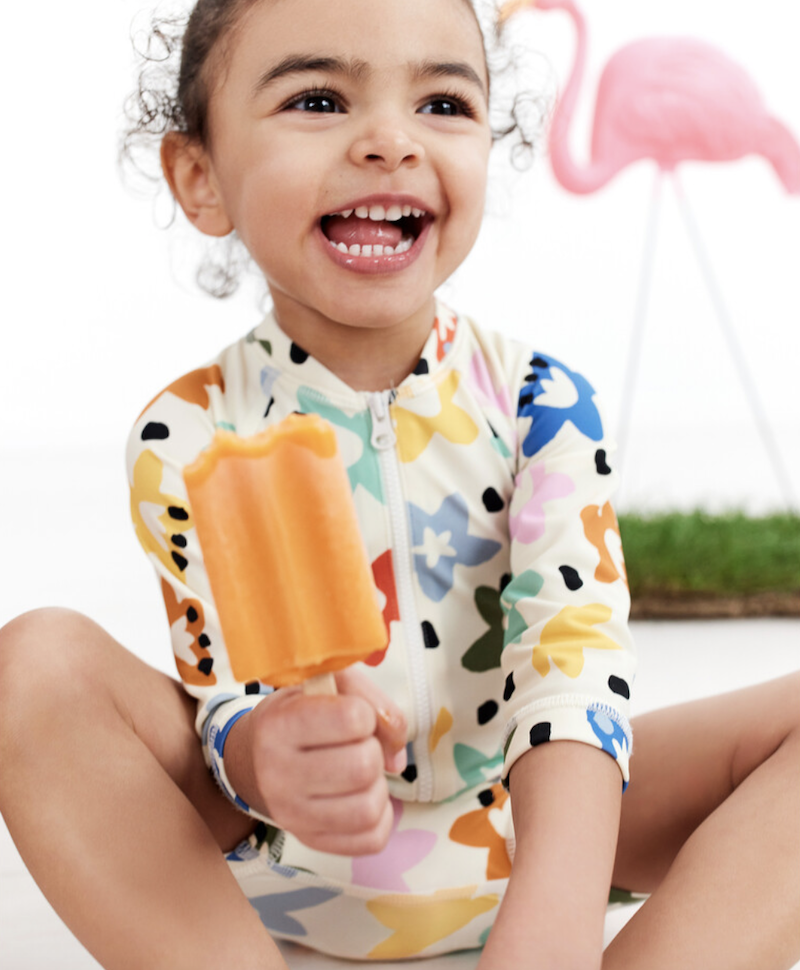 A rash guard is a baby swim suit or shirt that contains SPF protection in the fabric. It usually features long sleeves to cover more of baby's skin and protect from the sun's rays. For a full day at the beach, ideally This baby swimsuit is not only giving off all of the right summer beach vibes, it is also tested for harmful substances.
These adorable rash guards feature a zip design for easy changes, block 97% of harmful UVA/UVB rays, and dry quickly. Plus they come in several fun prints and colors for baby boys or girls. They also offer more gender-neutral prints and colors.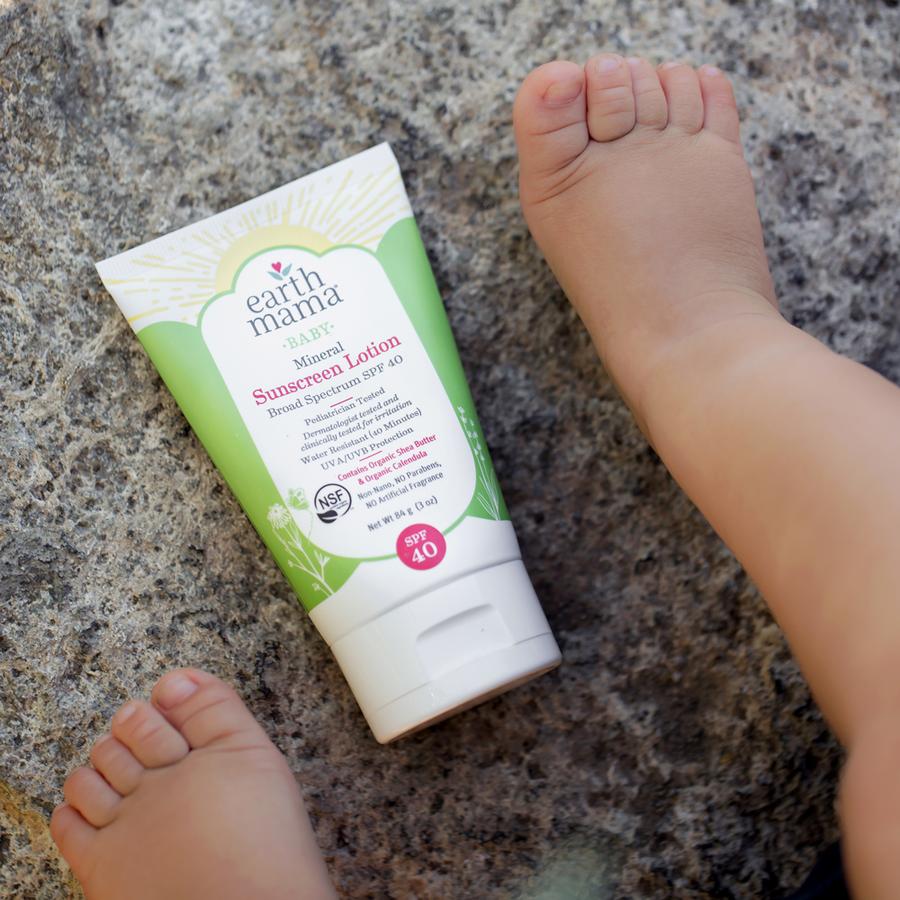 Delicate skin-friendly ingredients make this our favorite baby-safe sunscreen formula. With organic shea butter and organic calendula, it contains both organic red raspberry seed oil (which has the highest naturally occurring SPF value in the plant world) and organic pomegranate seed oil for a cruelty-free boost in UV protection.
Earth Mama products are safe for anyone with sensitive skin. The active ingredient is non-nano Zinc Oxide. It's also reef-safe and cruelty-free. Our whole families use this for a day at the beach or a regular day in the sun. It comes in plenty of options (stick or cream), kids, uber sensitive. I've also personally had great experience with the tinted sunscreen facial stick.
Also you can use code GCLove20 for 20% off your purchase at Earth Mama Organics.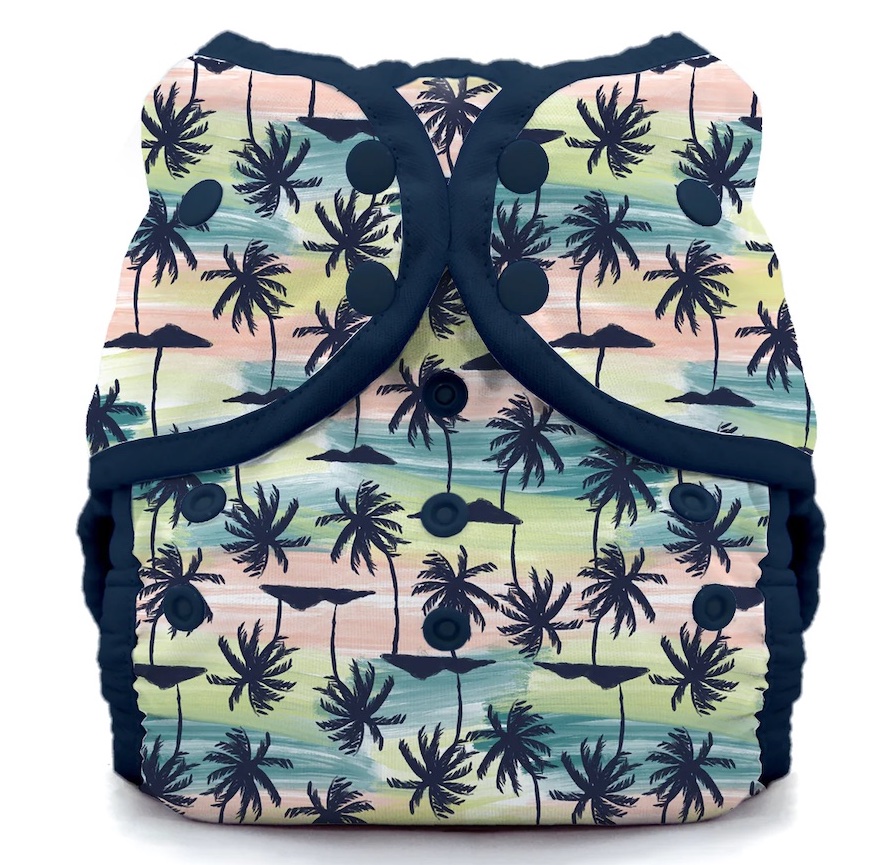 Even if you don't use cloth diapers full time, reusable swim diapers are more eco-friendly and safer for baby's skin than disposable swim diapers. Thirsties diapers are made in the USA. With the adjustable rise you will only need two sizes from birth to average potty training age/weight.
Reusable swim diapers are more effective at keeping solids in. If no solid changes happen while you're at the beach or pool, simply rinse thoroughly and hang dry. If solids happen, unsnap and remove the diaper, rinse soiled matter, wash, and use again.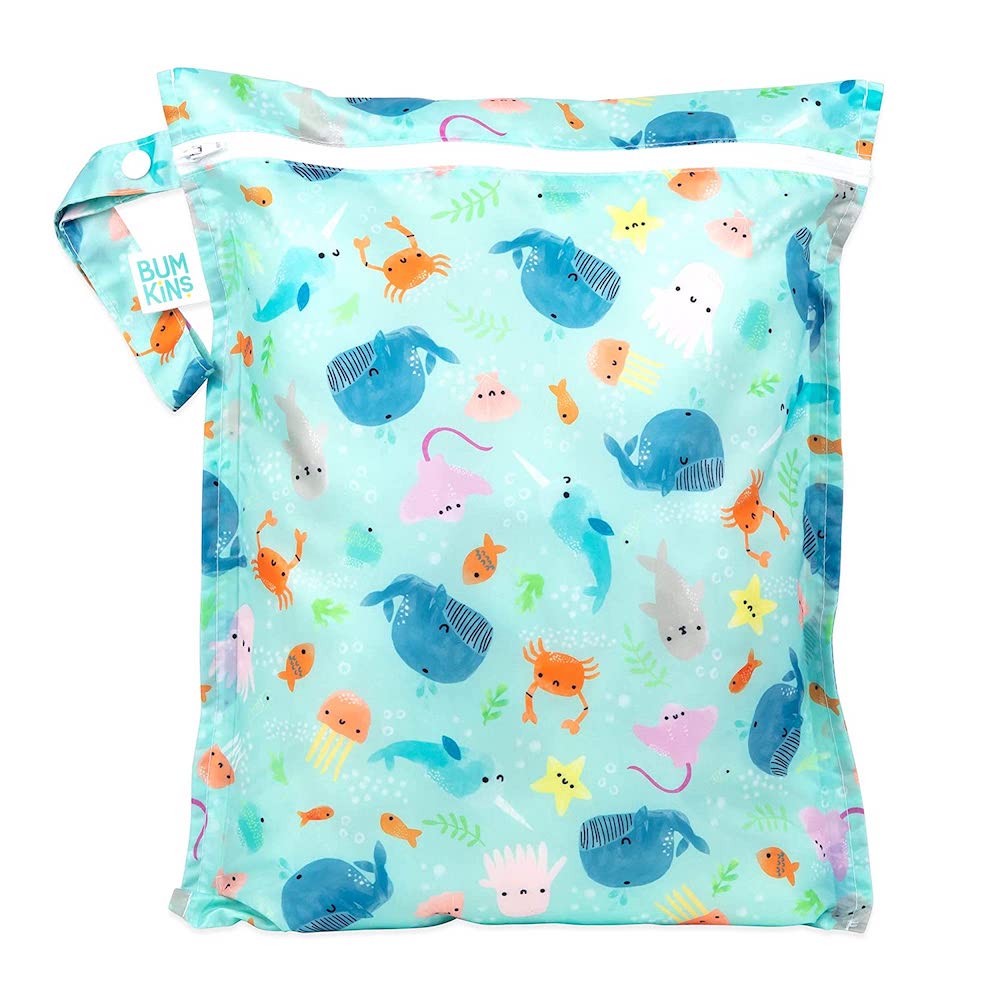 A wet bag is definitely on the baby beach essentials list. These bags will be part of your family beach vacation long after the baby years.
Bumkins' wet bag comes in dozens of cute prints and colors. It's washable, reusable, and can snap to other baby gear like a stroller handle. It comes in a generous size to hold wet clothes, swimsuits, or dirty diapers.
Beach Toys
If your baby is younger than six months old, the visual and auditory stimulation of a new place will be enough of an adventure. But for older babies who can sit up, grip, and move around a bit on their own, you'll want to add toys to your beach packing list.
One of the best ways to entertain kids at the beach is building sand castles. A young baby may not be able to shovel sand into a pail, but they can watch you.
You can also fill the bucket with sea water and let them splash and experience the change in temperature. Beach toys you buy now will still come in handy over the next few years! Are we ever too old to play in the sand?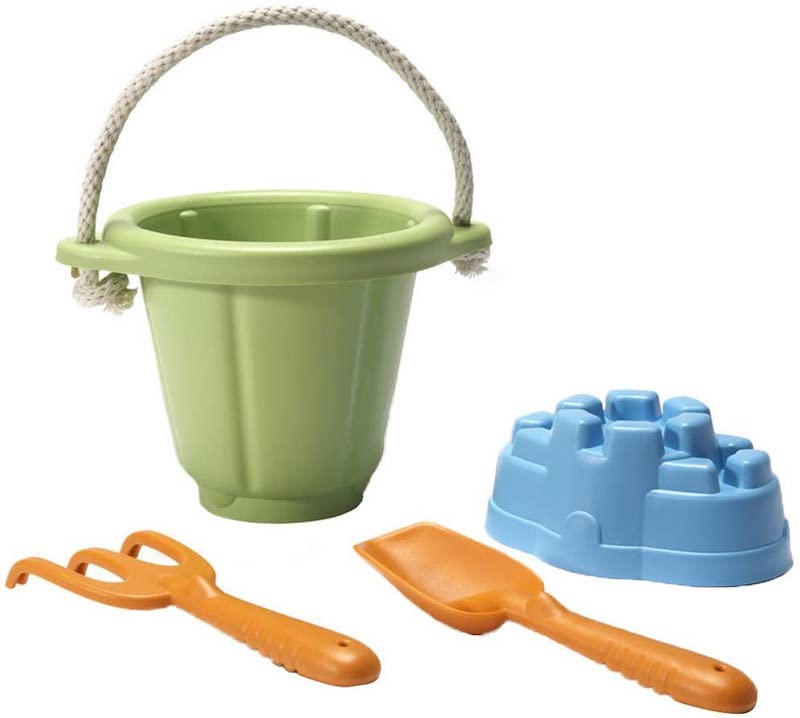 Our little ones love this simple beach toy set. A small bucket is the best option for babies and toddlers. This recycled beach play set is fun for your little one and helps keep plastics out of the landfill.
It includes a bucket, shovel, rake and sand mold that are all made from curbside collected milk containers and contain no phthalates or BPA.
Silicone Beach Toys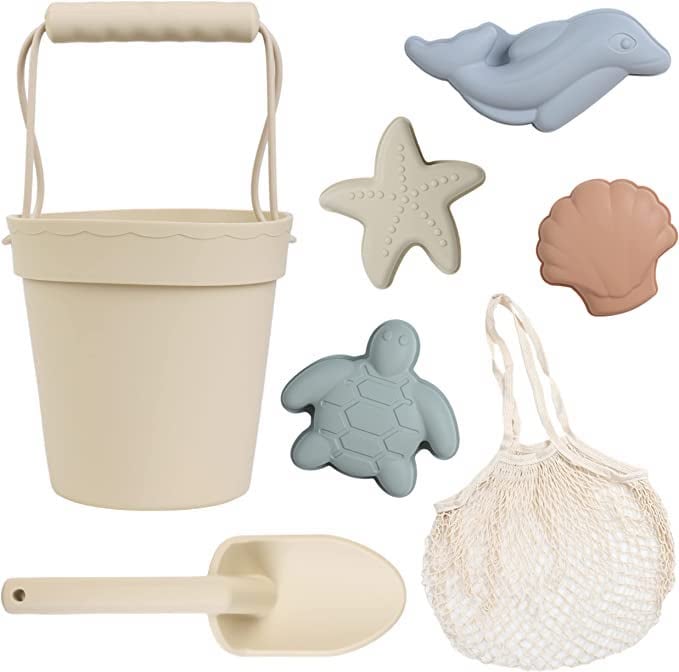 Great for at home or beach play, this 6-piece set is one of the most adorable and best beach toys we've seen. With another small bucket for small hands, this safe silicone set is charming and will bring hours of fun on those sunny days.
Beach Blankets + Beach Towels
Of course, an old quilt from the linen closet is both a sustainable and viable option for a beach blanket.
But if you're looking for something new, sand resistant towels and blankets can make for a great choice when beaching with baby. There's really no way to exit a beach sans sand, but these options can help get you a few steps closer: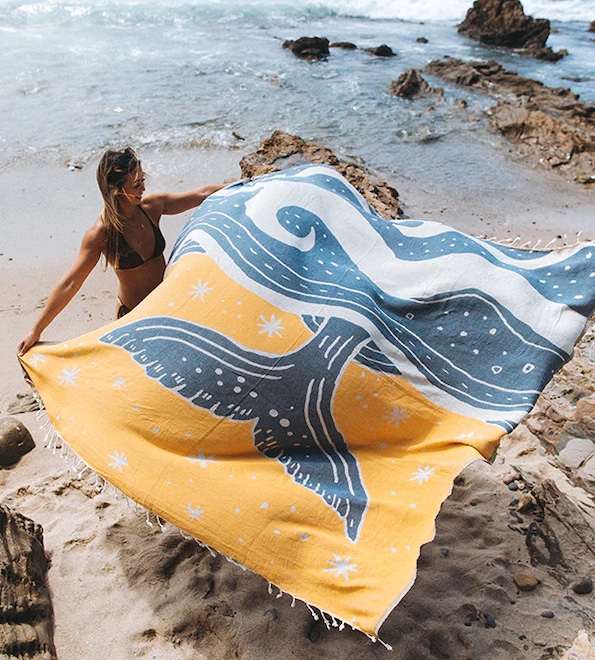 In case you're wondering – yes, sand really does easily fall off of these towels. They're lightweight and from our personal use, they take up less space in the beach bag than regular beach towels.
Made with sustainable fabric, this sand resistant towel measures 72″ by 72″ – another great option for baby to have plenty of space to crawl around. It dries quickly and folds up to be quite compact and light to carry. It's also a purchase that gives back. 10% of profits go toward marine conservation.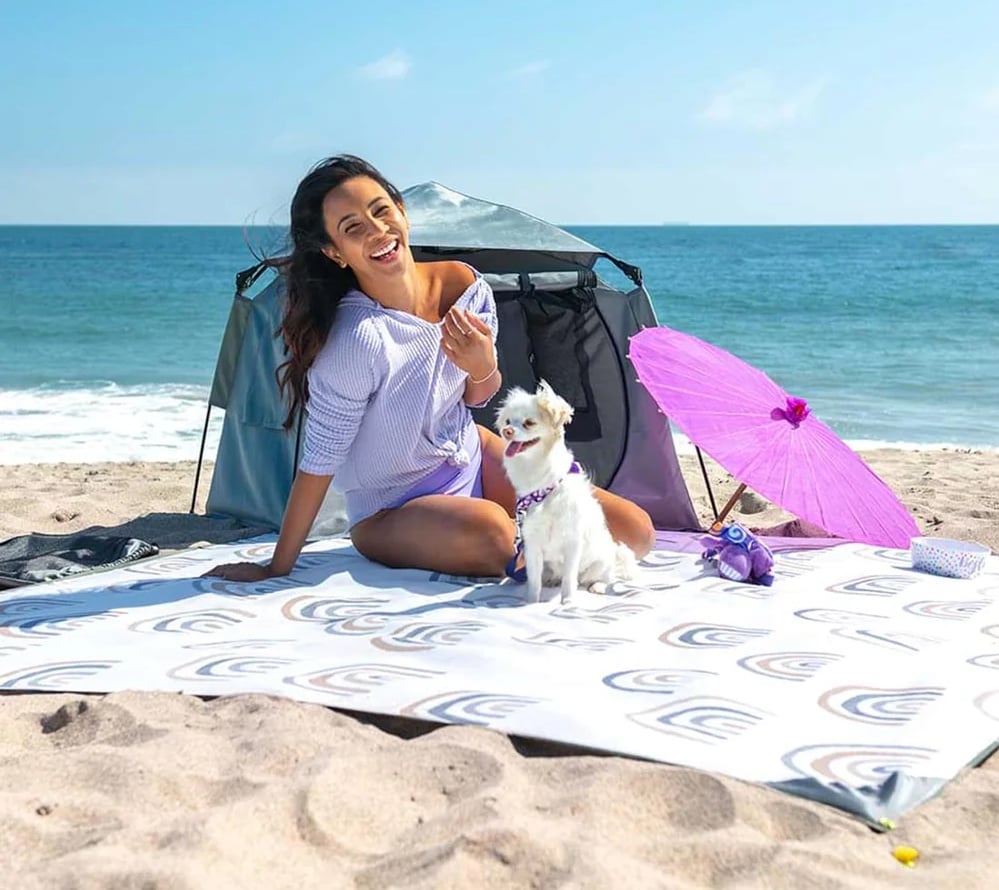 Give little ones a big play area of their own. This beach blanket is made from bamboo to be highly absorbent, very breathable, and ultra-soft. It features weighted corners to hold it down, comes in a variety of prints and is sand-resistant, water-resistant, and heat-resistant.
There's also a secret zipper pocket for storing valuable items and it packs up into a drawstring backpack in less than 10 seconds for easy transport.
Baby Beach Gear Base Camp
When you were hitting the beach solo, a towel and a good book may have been all of the supplies you needed. Well, you're going to need a few more baby beach gear items now.
You'll want to create a shaded space that you can keep cool. You'll also want to block the wind and blowing sand with an umbrella or play yard designed for on-the-go use.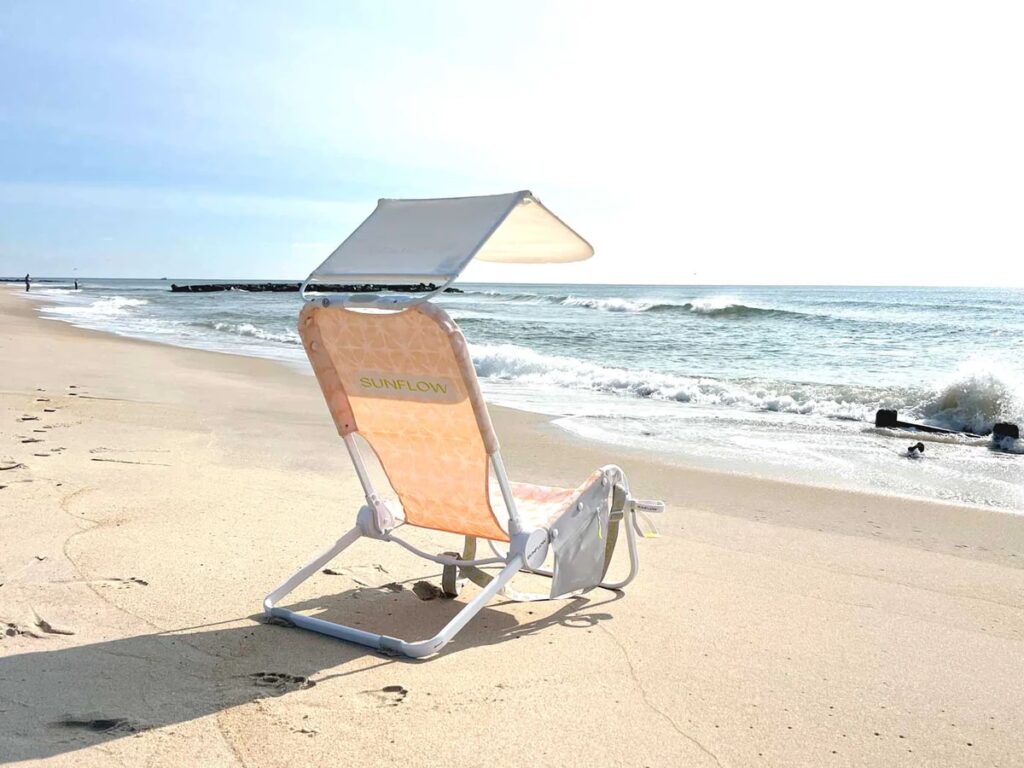 A low beach chair is ideal to give you a comfortable place to sit while you can still easily reach a little one playing in the sand. And trust us, your back won't appreciate sitting on the ground to nurse a baby. Mama needs some support to hold a breastfeeding (and then most likely napping) baby.
Sunflow's chair is the most comfortable beach chair we've ever sat in. It's built-in UPF 50+ sun shade protects you and baby from sunburn, and their bundle comes with a drink holder, dry bag, plus a beach towel that attaches to the chair. They've really thought of everything, including 25 beautiful colors and patterns.
If you already have camping chairs or other portable seats, by all means, use what you have. The key to eco friendly baby gear is not buying more than you need. Be sure whatever you bring is lightweight and compact. You'll be bringing more than you're used to when going to the beach with baby, so it's best to go as streamlined as possible.
Pop Up Baby Beach Tent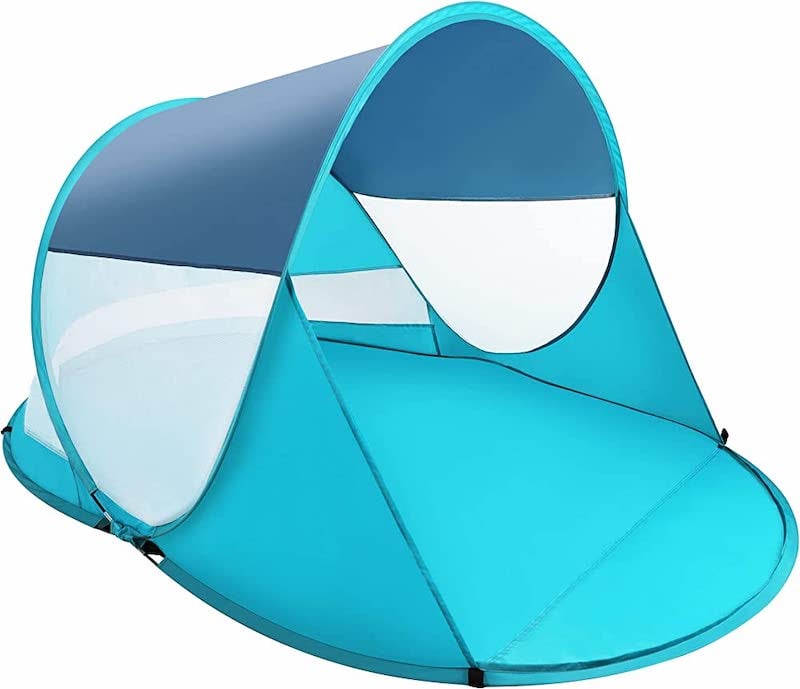 Ideal for windy days or when someone needs a break from the sun. ISILER's portable tent is made with waterproof UPF 30 + fabric. The mesh panels allow for plenty of air circulation.
We like to line this tent with a cotton muslin blanket to create the perfect shaded nap space for little ones. The large size of 78 × 47 × 35 inches accommodates 1-2 adults or 2-3 children relatively comfortably.
This play yard is fantastic because the cover is removable for an evening at the beach or a night stargazing with little ones. These play yards include a super useful UV shade cover and feature patented "pop-up and release" technology, so they are simple to set up and pack up. We've found it to be one of the lightest – and strongest – portable play yards available.
The Pop 'N Go is SGS & ASTM safety certified and non-toxic. It comes in the large size shown here, as well as a mini version.
Land and Sea Recycled Beach Umbrella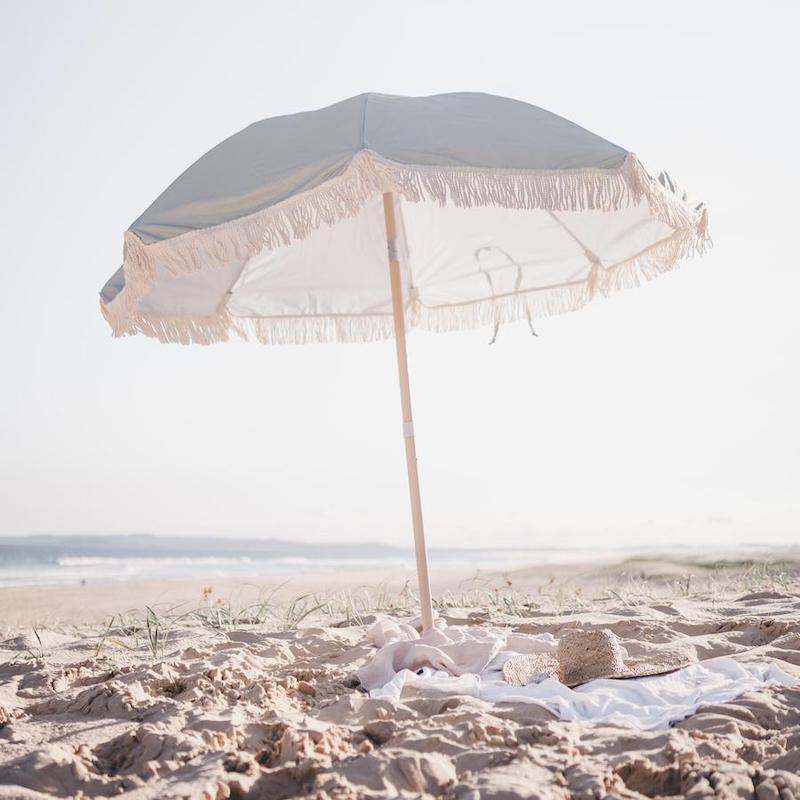 We'll admit this is a bit of a splurge item, but if you're willing to invest in a posh piece of beach gear, this umbrella should be it. Made from 50 recycled plastic bottles, its lightweight design features an easy three-way tilt, large canopy, promises to be simple to secure, and comes with a carry bag.
Baby Beach Transport
If you're now thinking to yourself, "Well great, how am I supposed to carry all of this stuff and my baby?!" These last few items can help get the above baby beach gear and your little one to the actual sand.
If you already have a baby carrier or sling you love, you'll definitely want to bring that along. In the market? Check out some of our favorite eco-friendly baby carriers.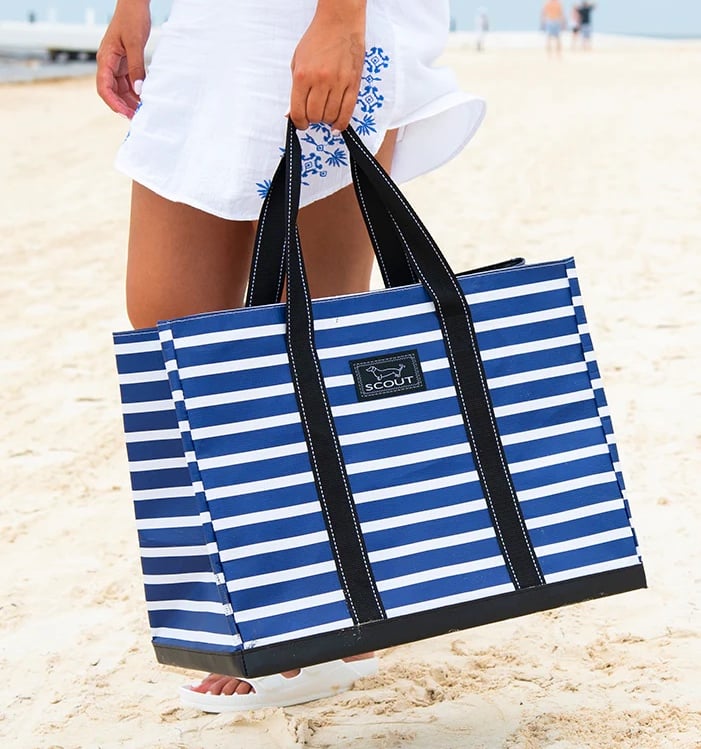 Just about any large capacity bag works for the beach. We've been known to let our favorite farmer's market basket be the beach bag for the day, so feel free to get creative.
But if you won't be bringing a cart, a huge bag is super useful for containing all those baby and toddler beach essentials. The Scout utility tote is water and sand proof. It wipes easily and is mold-resistant (great for when you accidentally leave something wet inside).
We've also used smaller wet bags and snack containers inside this roomy bag to help us locate small items like sunscreen stick or our keys more easily.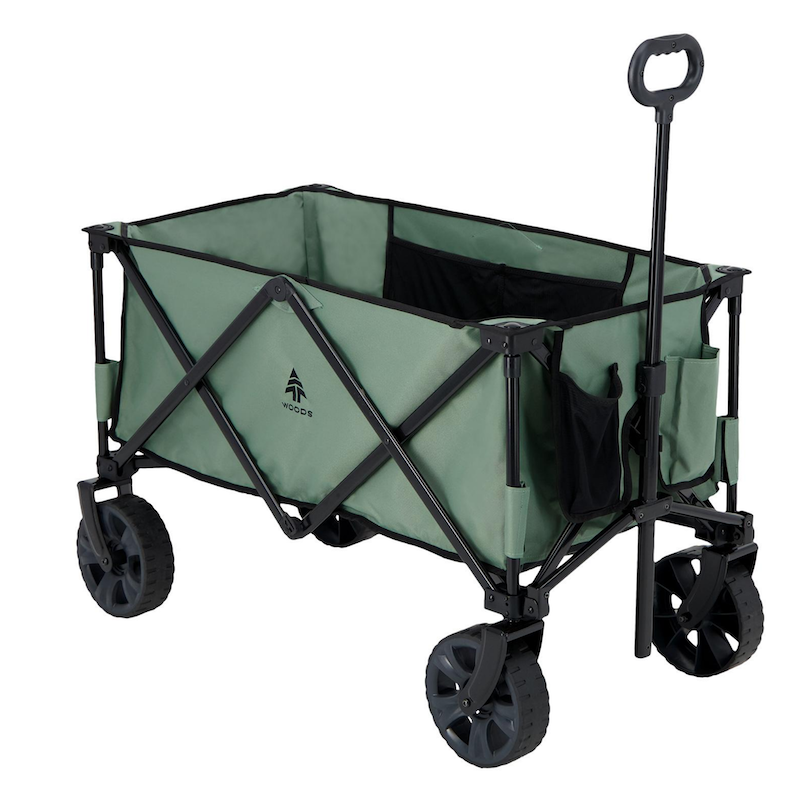 This wagon is SO versatile. From camping to beach trips or sports tournaments to hauling groceries, it has you covered for plenty of family fun activities. Woods' spacious wagon with beach-ready wheels can help tote all of the baby beach gear you need.
It is collapsible and has a large capacity and heavy-duty frame to allow loads up to 225 pounds. We've also heard of people using this wagon to transport tools for indoor jobs around the house or gardening tools outside.
Wonder Wheeler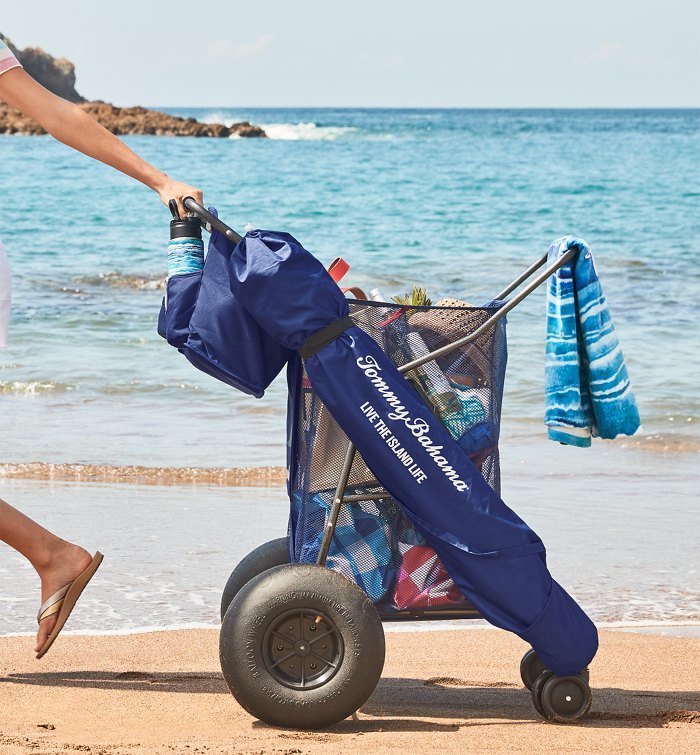 A friend swears by the Wonder Wheeler beach cart. "My husband is obsessed with it. It carries absolutely everything we need for taking a baby and a 3-year-old to the beach. It has cup holders and the big wheels are so easy on the sand."
With a capacity of 100 pounds, this cart can hold a 48-quart cooler and four beach chairs. It also includes a removable tote, insulated drink holders, and an umbrella holder.
Beach-Friendly Coolers
When packing for a beach day with baby, you'll want to ensure your baby beach gear list includes a cooler so that you'll both stay hydrated and nourished. The sun can take a toll on anyone's body, so be sure to pack enough water and snacks.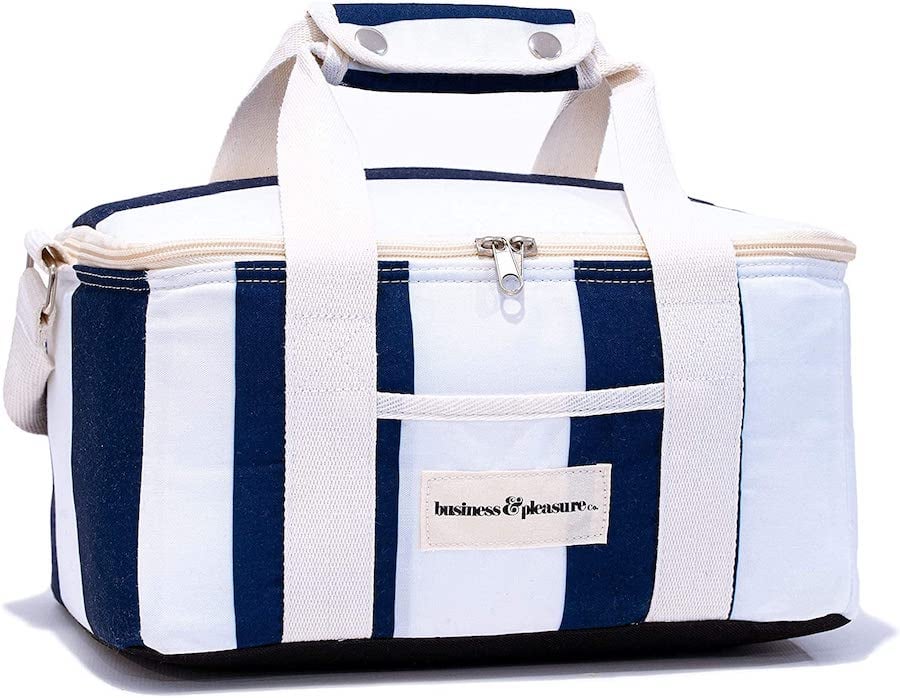 If you use a cart or wagon, a bag style cooler will easily fit inside without giving you an extra bulky item to pull behind. This stylish eco-friendly cooler holds 3.68 gallons or twelve drinks. The exterior premium beach umbrella canvas is treated with water and mold resistant UV coatings. Its lining is eco friendly and the stylish reinforced handles help extend this cooler's looks and function for years to come.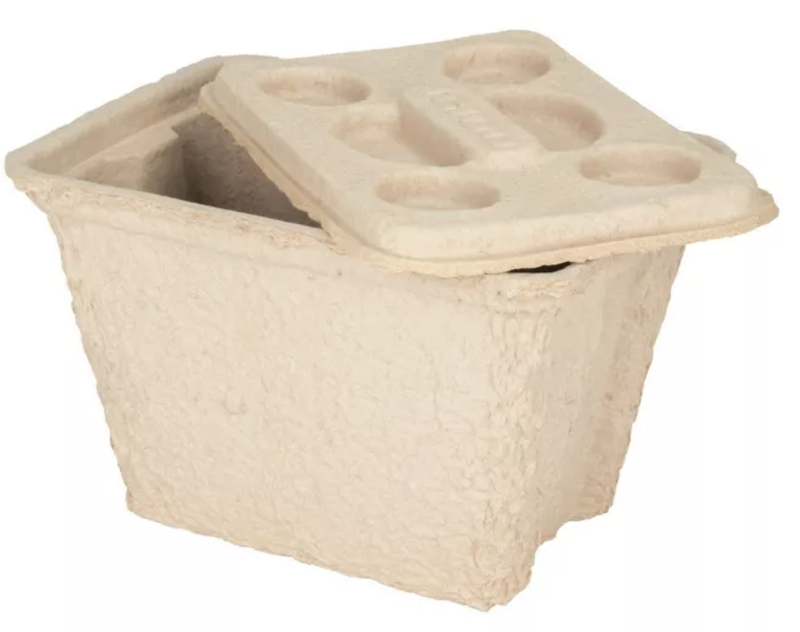 Made from 100% biodegradable materials in the USA, Igloo's new RECOOL cooler was created to provide an alternative to environmentally harmful foam coolers. It has a 16 quart capacity, features cup holders, and an easy-grab handle built into the lid.
Insulated Water Bottles + Tumblers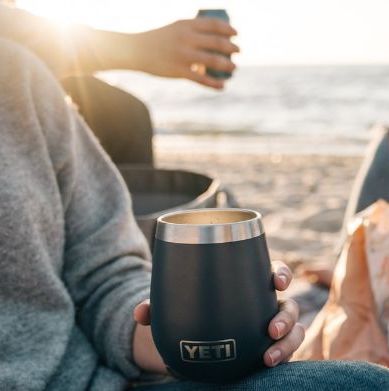 The YETI family of insulated water bottles and drink holders will keep your drinks cold thanks to their stainless steel construction, double-wall vacuum insulation, and No Sweat™ Design. Plus these travel essentials are dishwasher safe.
Will I Really Need All of This Beach Stuff?
Sometimes it can be hard to commit to buying so much baby stuff, especially knowing they grow and change so fast. It's true that your baby will outgrow some baby beach gear, like that cute sun hat and swim suit, but many items on this list can be used summer after summer.
That said, when looking to equip yourself and baby for the beach, consider how often you will go before buying up every item.
It can also be a good idea to do a short trip the first time you go with baby and just bring the essentials listed at the top and then decide what you really want or need to add.
Check local social media groups of parents who may have some insider info. For example, there might be a certain local beach that offers chairs and tents to rent for an affordable price. You may find some items for free in parent or neighborhood groups. So, see what you can reuse or repurpose before committing to buying all new items.
When going anywhere with a new baby, it's easy to get overwhelmed. Be sure that no matter how much you bring — or how long you last — you remember to enjoy the moment and soak up every bit of your baby at this stage.
Next summer will be here before you know it and you'll likely be chasing your toddler while they chase sea gulls across hot sand and sharp shells!