DIY Baby Wipes with Gentle Solution: Cloth or Disposable
Dozens of parents told us this guide to DIY baby wipes was a life-saver during supply chain shortages. Whether you're making your own baby wipes because you can't find them in stores or because you want to avoid chemicals, here are DIY options for both disposable and cloth wipes.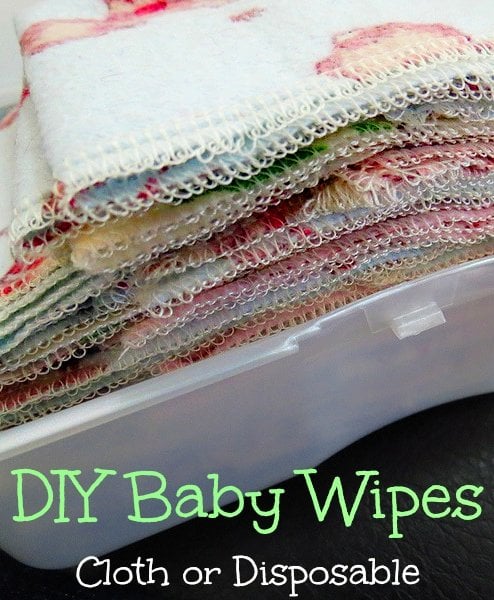 Why Make Your Own Baby Wipes?
There are several reasons to make homemade natural baby wipes, including:
some babies have sensitive skin and most baby wipes cause irritation for them
parents want to be eco-friendly and avoid disposables
parents want to avoid dangerous ingredients like propylene glycol, potassium tocopheryl acetate, laureth phosphate, and malic acid
store bought wipes are expensive and DIY baby wipes with a homemade wipe solution are more affordable
baby wipes are out of stock
For us, the main reason we DIY is to avoid nasty chemicals. Even sensitive skin wipes contain some of the ingredients listed above.
But saving money is always a plus. So, let's get started!
DIY Cloth Baby Wipes
If you'd prefer to use cloth wipes, you need only look around you to find the materials to get started. Organic cotton baby wash cloths, receiving blankets, old jersey knit sheets, old t-shirts, or any soft absorbent cloth you have on hand.
Jersey-knit sheets or T-shirts are ideal for this because they don't require any sewing and won't unravel.
How to make your own cloth baby wipes
Run the material through the wash on a hot cycle to make sure the cloth is clean and pre-shrunk.
Measure and cut into a uniform size.
Squares measuring 8 inches x 8 inches will fold neatly into a wipe container, but you can make them any size you like.
For finished edges, use the overlock stitch setting on a sewing machine and stitch around the perimeter of the fabric.
Pile finished wipes in a basket or in an old wipe container and place on the changing table.
Wash in hot water, and dry in the sun to remove any stains or odor.
If you are a compulsive closet-purger (ahem) and you don't have any material hanging around that would be suitable for wipes, you can easily find cloth wipes on Etsy.
The benefits of reusable wipes are endless. Washed on a hot cycle, they can do double duty as baby washcloths or burp cloths, and can be kept and reused for the next baby in the family. You probably want to separate diaper wipes from the ones you reuse for other baby situations.
DIY Baby

Wipes Solution
If you've decided to use cloth wipes, you can make this solution to take the edge off those messy diaper cleanups. The Castile soap is a gentle cleanser with a natural scent. Aloe helps soothe baby's bum. And olive oil allows the mixture to glide easily and moisturize that tender tush.
Ingredients:
– Pour all the ingredients into a large jar and measure out into a squeeze or spray bottle as needed (a well-rinsed shampoo or dish detergent bottle works great for this).
– The olive oil will rise to the top of the bottle between uses but don't panic, that's normal. Just give it a shake before you use it and you're good to go.
Disposable Wipes
This method still generates waste, but by making the wipes ourselves we can reduce a lot of the packaging involved. It also limits the number of mystery ingredients we're putting on our babes.
To Make Disposable Baby Wipes, You Will Need:
1 sealable container large enough to fit a paper-towel roll cut in half
1 roll of paper towels
2 cups of water, boiled and cooled
2 tablespoons organic olive oil (you could also use coconut oil or almond oil)
1 tablespoon organic Castile soap (we love Earth Mama Organics Castile Soap in Sweet Orange or Calming Lavender)
1 tablespoon pure Witch Hazel extract
– Start by using a serrated knife to cut the paper towel roll in half. Place one half inside the container.
– In a medium-sized bowl mix the water, the Castile soap, Witch Hazel extract, and the olive oil.
– When the mixture is combined well, pour it over the paper towels, close the lid securely, and then shake, rattle, and roll it around until the liquid is fully absorbed.
– Wait about 30 minutes, then open the container, remove the inner cardboard tube, and pull your first wipe from the inside of the roll.
That's it!
These DIY baby wipes are quick, inexpensive, and totally simple to make. Your baby's bottom will be clean, sweet-smelling, and smooth to the touch. And, best of all, you know exactly which ingredients went into getting it that way.
How Long Do DIY Baby Wipes Last?
You'll probably use them before they dry out. As long as you store them properly, they should last 3-4 weeks. If you keep a set for a backup diaper bag or your purse and haven't used them in a while, you can always add a little more solution if they dry out.
Are Homemade Baby Wipes Safe?
If you use ingredients like the ones above, yes, they're totally safe. In most cases, they're safer than conventional brands with all their cancer causing and irritating chemicals.
The ingredients we chose are extremely gentle, safe, and mostly organic. Some are even edible. If for any reason your baby develops irritation or diaper rash, discontinue use. These recipes don't call for essential oils but many DIY parents add them. Essential oils are extremely potent and may not be suitable to be applied directly to a baby's skin.
You Never Know When You Might Need Your Homemade Wipes
Yes, this is a recipe for nontoxic baby wipes, but it all started with this story Madeleine Somerville shared in her book, All You Need is Less: The Eco-Friendly Guide to Guilt-Free Green Living.
Hypothetical question: Have you ever gone to the bathroom at a friend's house and found yourself staring at an empty toilet paper roll?
Maybe you look under the sink and above the toilet. But there's no spare roll in sight.
You start to panic a bit, thinking, "Oh my gosh, I'm going to be stuck on the toilet forever. They'll wonder what happened to me and eventually they'll forget my name. I'll be known only as Toilet Lady, and they'll have to bring me my meals. I'm going to be eating macaroni and cheese with my pants around my ankles forever and ever, and normally that would sound kind of awesome but not under these conditions—not now!"
Then, maybe, did you start to freak out and even cry a little bit because you don't want to be Toilet Lady?
And then did you suddenly find a solution that would prevent you from becoming Toilet Lady? And did that solution just so happen to be a package of baby wipes?
No? That's never happened to you?
I mean, of course not — right? Me neither!
You know though… if I ever HAD found myself in that rather awkward situation, I would probably tell you that conventional baby wipes are NOT pleasant on your tender lady bits. Not at all.
Necessity really is the mother of invention.
This article was published in April 2014 and updated in July 2023