Caring for Diaper Rash Naturally + DIY Diaper Balm Recipe
When you need to treat your baby's diaper rash, the best place to start is with the root cause. We tend to want to treat symptoms – and sometimes that's all it takes – but it helps to dig a little deeper and find out why your baby has a diaper rash in the first place.
We're highlighting the most common causes of diaper rash, how you can prevent it, and a DIY diaper balm recipe.
Oh no! You've just changed your baby's diaper only to find a flaming red rash on their bum.
Now what? Regardless of which type of diaper you use (eco-friendly disposable or cloth diaper), you will likely encounter a diaper rash along the way. And many conventional diaper creams contain ingredients that aren't considered safe by the Environmental Working Group. (source)
In fact, conventional ointments like Desitin, Balmex and Boudreax's Butt Paste contain fragrances, petroleum, and other toxic ingredients that may actually make the rash worse.
There are gentler products available that are more effective at healing and soothing a diaper rash such as Badger's Zinc Oxide Diaper Cream, CJ's BUTTer, Earth Mama Organic Bottom Balm, and GroVia Magic Stick.
Before you start to treat a diaper rash or make a home made diaper rash cream, you'll want to find out what caused the rash in the first place. There are just about as many causes of diaper rashes as there are solutions.
What Causes Diaper Rash?
Teething – Teething babies produce a lot of extra saliva, and that saliva may be more acidic than normal. While most of the excess saliva will end up on the front of their shirts, they actually ingest a good bit as well. The increased acidity in their system can cause diaper rashes when your baby pees or poops.
Illness or medication – When a child is sick or on certain medications (antibiotics for example), they may be more prone to diaper rashes.
Acidic foods or other food sensitivities – It's very common for your child to get a diaper rash after eating a new food (or if you eat a different food if you're breastfeeding), especially those that are acidic, like tomatoes. The same goes for changes in formula.
Diaper change frequency – When baby sits in a wet or soiled diaper for even a short time, it can cause irritation or rash.
Chemical, detergent, or fabric sensitivities – Disposable diapers and wipes are filled with harsh chemicals that can cause rashes. When using cloth diapers you might have detergent or fabric sensitivities that can cause rashes.
Heat – Your baby might suffer from heat rashes if they are outdoors in the heat or when they are overdressed.
Thrush or yeast infections – These are perhaps the hardest rashes to cure because they tend to live inside your baby's stomach. Breastfeeding and probiotic drops can help replenish the good bacteria in your baby's gut.
How to Prevent Diaper Rash
Give baby diaper-free time – That's right, take some time and allow your baby to run or lie around naked. The absolute best way to heal a diaper rash is to let it air out. Take this time to practice elimination communication or early potty training.
Change frequently – Changing your baby as soon as they pee or poop will prevent a diaper rash from occurring. Their tiny stomachs can only hold so much liquid so they may pee within 15-30 minutes of eating or drinking. Just because a diaper says it can last for 12 hours doesn't mean it should.
Change diaper type, brand, or style – Conventional disposable diapers can contain plastics, gels, and chemicals. Cloth diapers contain no chemicals and are available in synthetic fibers and natural fibers. For an easy way to clean cloth diapers, see our guide to the best cloth diaper sprayers.
If you suspect the rash is from a chemical exposure or from a fabric type, try a different type of diaper. Conventional diaper wipes may also contain chemicals that your baby is sensitive to. Opt for a chemical free baby wipe or make your own baby wipes or you can just use a soft wash cloth with plain water.
Choose natural diaper cream – There are gentler products available on the market today that are more effective at healing and soothing a diaper rash such as CJ's BUTTer, Earth Mama Bottom Balm, and GroVia Magic Stick.
Make your own natural diaper cream – Coconut oil, avocado oil, breast milk, shea butter, and numerous other natural ingredients can be used on diaper rashes. They can be used by themselves or combined to make your own diaper rash cream or more natural version of a magic bottom cream. See below for an effective DIY.
What's the Best Home Remedy for Severe Diaper Rash?
Most of the solutions here are preventative and ongoing. But sometimes you need a quick intervention.
In this case, baking soda can be very effective. A dirty diaper is generally acidic. The highly alkaline form of salt in baking soda can neutralize that bacteria and acidity. Baking soda also kills bacteria, lowers inflammation, and reduces redness.
How to use baking soda to cure severe diaper rash quickly
Let baby sit in a baby bath tub or large bowl of lukewarm water with 2 tablespoons of baking soda for at least 3 minutes. If baby is happy, let them stay longer to fully neutralize the skin. Baking soda can be drying on baby's skin, so be sure to moisturize with coconut oil or your DIY rash ointment.
Diaper Cream Ingredients to Avoid
The last thing you want to put on baby's sensitive skin is an ingredient that could affect their endocrine system.
Be sure to avoid mineral oils, parabens, phthalates, aluminum starch octenylsuccinate, artificial waxes, artificial dyes and fragrances, paraffins, and petroleum.
Here's a home made diaper rash cream recipe that's totally safe for your baby. If you are new to making your own personal care products, this is a fairly easy one to start with.
DIY Diaper Rash Cream Recipe (Safe for Cloth Diapers)
Print Recipe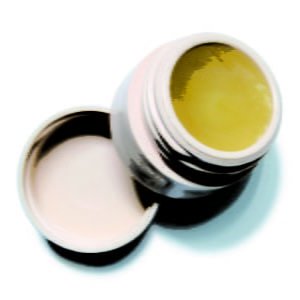 Instructions
Melt all ingredients together slowly in a sauce pan on the stove top.

Pour the mixture into a bowl and place the bowl in an ice bath.

Blend the mixture until creamy and store in a glass jar at room temperature.

Mixture will harden or become a thick cream when cooled.

Lightly apply to your baby's bottom as needed.
Several parents have said that not only did this balm solve their babies' rash issues, they loved making it so much, they got into more DIYs. We'd love to hear about your experience. Let us know in the comments.