The Benefits of Cloth Diapers
It's easy to see why cloth diapers are making a comeback. With the rising concern of toxic chemical exposure in babies and children, and heightened awareness of the environment, cloth diapers make a smart, sustainable choice. But the benefits of cloth diapers don't end there.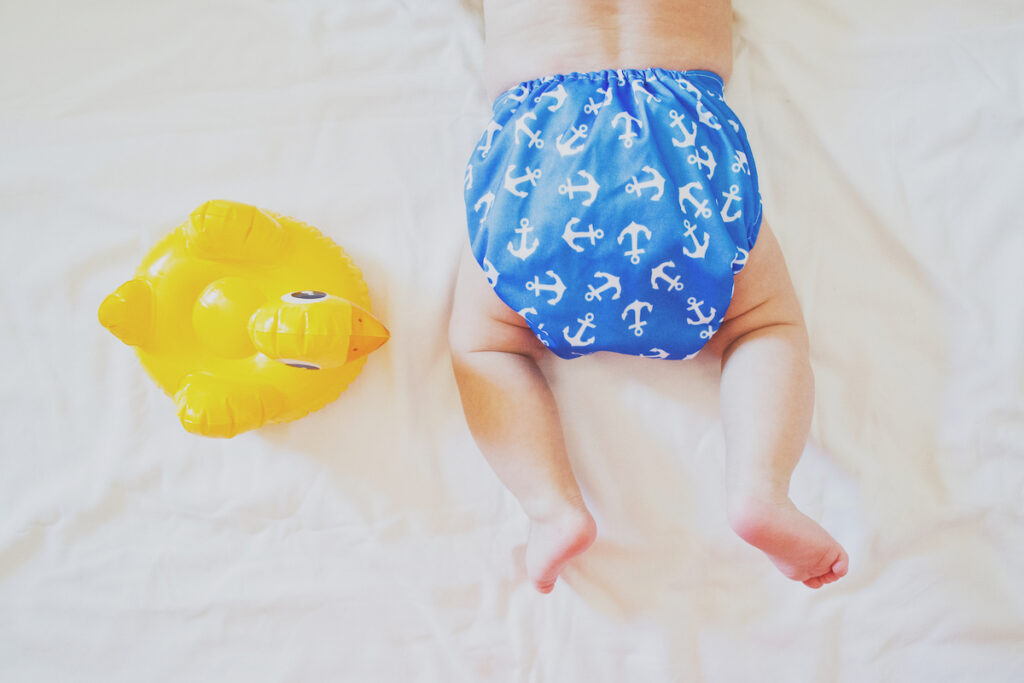 Having a reusable supply of diapers on hand can ease anxiety. You won't have to worry about running out of diapers—or about the stores or online subscriptions running out either.
The Different Types of Cloth Diapers
Kelly Wels, author of Changing Diapers, explains that the industry transformed in 1999 when FuzziBunz brand diapers debuted the innovative concept of a pocket style cloth diaper made with fleece materials. "This diaper made it easy for moms and dads to wash the diapers at home without all the complicated procedures of soaking and swirling." No more need for a diaper delivery service.
Today's cloth diapers are innovative, simple, easy to use, and many are created by moms! Snap or velcro closures replace the much dreaded safety pins. The old rubber/vinyl pants are now replaced with new water-resistant covers made of wool, nylon or polyurethane laminate (PUL). The leg opening and backs are often fitted with elastic making them snug fitting and helping to prevent blowouts.
The pocket style, two-in-one system is comprised of a waterproof outer layer and an inner layer of fleece, suede cloth or organic cotton. These two layers are sewn together in such a way as to leave an opening at the back (pocket) into which you put absorbent material (called an insert) of your choice.
When your baby wets the diaper, the moisture is wicked through the inner cover layer to the insert. Pocket diapers can be compared to disposable diapers in terms of ease of use.
Cloth diaper sprayers also help make cleanup simple and pain-free.
Choosing between the different kinds of cloth diapers is one way to get started. You can also check out other helpful tips for cloth diapers for beginners.
The Health Benefits of Cloth Diapers
Disposable diapers, no matter how green they claim to be, may still contain chemicals. According to the Real Diaper Association (RDA) disposable diapers typically contain chemicals including:
Sodium polyacrylate – found in the fluff layer of the disposable diaper, turns your baby's urine into gel; it can absorb 100 times its weight in liquid. Sodium Polyacrylate has also been linked to Toxic Shock Syndrome in tampon use and has been associated with severe diaper rash.
Dioxin – one of the most poisonous and carcinogenic substances produced on earth, has been associated with birth defects, miscarriage, cancer and genetic damage. Dioxin is banned in most countries, but not the United States.
Tributyl tin (TBT) – a controversial chemical compound. A study by Greenpeace confirmed TBT in major name-brand disposable diapers. Greenpeace found that TBT causes hormonal problems in animals and humans, and they are demanding a world-wide ban.
The Environmental Benefits of Cloth Diapers
In the United States, more than 49 million diapers are disposed of each day. Landfill practices require waste to be buried and then sealed in with clay to prevent contamination caused by rain water mixing with garbage.
This means that soiled diapers are virtually entombed in the landfill without sun, air, and water – key elements to decomposition. The RDA reports a single use disposable diaper can take 200-500 years to decompose.
Cloth Diapering Can Save You Money
Using cloth diapers can run about $2000 less than the cost of disposables. Cloth diapering other children cranks those savings up even more.
Marissa Evans of Growing Green Bums has given us a little math equation to see how the savings add up:
"Over 2 1/2 year period or 130 weeks, average of 70 diapers a week, considering a baby being changed every 2 to 3 hours, and a toddler being changed every 3 to 4 hours. This is a total of 9,100 diaper changes. Using an average of $0.24 per disposable diaper, per week, it would cost $16.80. The total cost of disposable diapers: $16.80 per week x 130 week per diapering period is $2,184.
You can purchase the newest and most expensive cloth diapers out on the market and spend over $1,000 and you will still save money! Some of our highest priced diapers that fit and last you from birth to potty cost $455.76, saving you over $1,700. On the other hand, you can use the basic pre-folds with covers and you will save even more money. The lowest priced diapers and covers, enough to last you from birth to potty cost $278.10. And you can further increase your savings by using the same cloth diapers on subsequent children."
You can save even more money, ensure you're lessening your environmental burden and feel comfortable knowing exactly what's coming in contact with your baby by making your own homemade baby wipes too.