My First Cloth Diapering Experience: The Past Four Months
I thought about cloth diapering my first son but didn't know anyone doing it. And quite honestly, I didn't seek out all of the information to make an informed decision.
That was eleven years ago.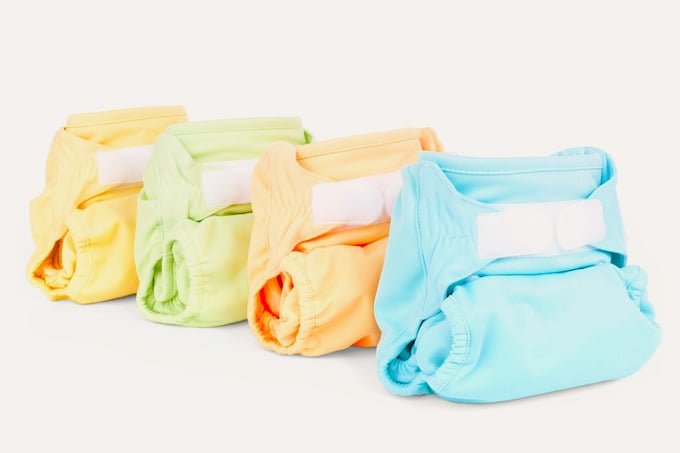 When number two and three came along, again I thought long and hard about switching to cloth but convinced myself I didn't need one more thing to do. I was in grad school, working in my studio full-time, and teaching one to two college classes a semester.
I also gave myself an out, since we were living in the New Mexico and water usage was on the forefront of every environmental discussion in town. (You flush only if the number is higher than a one so don't be surprised when you go into a public toilet and find the water isn't clear.)
When I found out I was pregnant with number four, I had no excuses. I couldn't take the guilt any longer. Our lifestyle was centered around the environment, it always had been, and I needed to Mom-up and figure out how the whole thing worked.
The Truth About Cloth Diapers
Four months into it and I'm kicking myself for not choosing to cloth diaper before. It's not even a "thing", it's so uncomplicated. I'm thankful there are so many cloth choices, yet at the same time, the plethora of options, becomes confusing and that may push some people away. When I was preparing during pregnancy, it all seemed so overwhelming. How can I register when I don't know what size the baby will be? Will I want pockets, AIO's, fitteds, flats, prefolds and covers?
Thanks to The Little Seedling, the amazing cloth diaper store in my area, I am able to try anything out for 21 days and if I'm not satisfied, return it for a full store credit. This has allowed me to decide what works for my little one and what does not. They can then sell the diapers used, which is a great way to buy cloth if you're on a budget. I purchased all of my pre-folds this way for the short newborn stage.
Recently, we went on our first trip out-of-state. Since we were traveling someplace with a washing machine, I didn't hesitate to take our diapers. I threw a little of my own detergent into a container and off we went.
The worst part for me about traveling is that I hate (hate, hate, hate) coming home, unpacking, laundering and putting away everything from the suitcase. The day before we were scheduled to leave for home, I wanted to clean the diapers. So I did myself a favor and washed everything, which was brilliant, if I do say so myself.
When finally home, unpacking was a breeze since all our clothes and diapers went back into the closets and not into a big pile in our laundry room, aka basement. Why didn't I think of this before? Cloth diapering must make you smarter.
Mom Life Lessons Learned
So what have I learned since I put all of my research into action four and a half months ago?
I don't like stuffing pockets, but I do it for our overnight diaper. I hate the feeling of washed micro-fiber, it sticks to my fingertips. I don't need a snappi but my husband does. I absolutely love the way Blueberry Basix fit my little girl. I'm in love Bum Genius freetime diapers but they don't absorb as much as the Blueberry Basix. My absolute favorite diaper is the one diaper I own by Bagshot Row Bamboo. (Unfortunately, I am never home when she stocks her online store, so the chances of me owning another are slim.) Washing is super easy and after the initial rinse, I can throw in dirty towels or sheets so I'm not wasting a load.
And the number one thing I have learned: I would be 100% happy and satisfied to cloth diaper exclusively with flats or pre-folds if I hadn't been gifted a portion of my stash.
I often feel guilty I didn't cloth diaper all of my children but that moment is fleeting. I am doing the best I can and they have each benefited from extended breastfeeding, organic homemade foods, natural and organic fibers on their skin, etc. I'm sure there are parents and caretakers out there who were or are in a similar situation. I hope my experience will encourage them to take the leap and cloth diaper their little ones too.