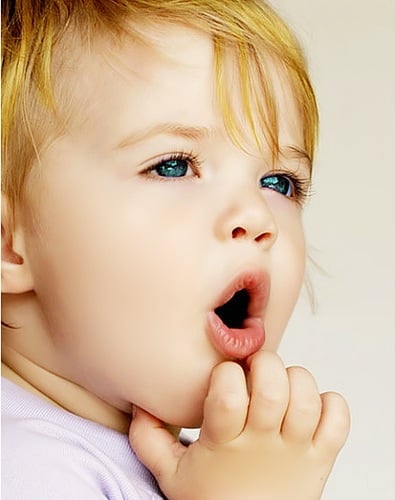 You're in a restaurant or store when all of a sudden your 2-year-old starts kicking and screaming and letting the world know how unhappy he is. As parents, we all endure times when our babies and toddlers have a fit.
Tantrums can be stressful for parents as well as "innocent bystanders." As a result, moms and dads may find themselves tiptoeing on eggshells, trying to avoid whatever it is that triggers outbursts. But few parents understand how a child's frustration over communication can lead to outbursts.
In working with my own children and many other infants, I have found that their ability to learn and understand things often goes far beyond their ability to communicate with words. As the gap grows between what they are able to understand and what they are able to communicate tantrums often result.
But parents who learn to communicate with their little ones through sign language are often able to cut down on the number and severity of tantrums.
Children learn through patterns and repetition. When babies experience disappointment communicating over and over again, it can significantly affect their confidence. This can lead to them throwing tantrums and withdrawing from social interactions.
How Baby Sign Language Helped in Our Family
Ben, my third child, was the most shy and slowest to verbalize. He had a hard time pronouncing things. He struggled to get his mouth to produce the "R" sound, and he frequently omitted the "S", "Th", and "Ch" sounds in many words. The poor little guy got so frustrated when people couldn't understand him. He would either avoid talking and interacting or he'd start screaming and throwing a tantrum
I've worked with many parents who have dealt with similar problems. They tend to feel overwhelmed and confused because they don't know how to help their child.
With Ben, I decided that anytime I discovered what he was trying to say I would teach him the sign language for that word. It was like a miracle! He knew that I could understand him if he used the sign. I was then able to help him learn how to pronounce the words he was verbally struggling to say.
For instance, Ben would say "Ga" for multiple things. He'd say "ga" for water, "ga, ga" for dog, and "gaaa" for book (I have no idea why). I'd picked up on water and dog, because he was already using those signs, thank goodness. One day he was trying to tell me he wanted something and I had no idea what he was talking about. We wandered around the house trying to figure out what he needed. Finally he saw the book he wanted, "gaaa, gaaa, gaaa." I never would have guessed.
Right then I showed him the sign for book, and then I took his hands and had him make the sign. We did it a few times until I could tell he understood. Later that night when I was putting him to bed he said "ga". I asked if he wanted some water, he said no and started signing "book." I grabbed a book and he started jumping up and down yelling, "yeah!" What a relief and pure sense of joy and accomplishment we both felt. That was ten times easier than wandering around the house trying to figure out what he needed.
Ben has continued to build confidence, avoid tantrums, and excel socially. I truly feel that baby sign language has enabled him to progress when he otherwise would have fallen behind and consequently lost confidence.
You don't have to wait until your baby struggles with words to begin teaching basic signs. Babies can begin to learn to sign as soon as they recognize basic cause and effect patterns and have the motor skills to form signs with their fingers.
When you start to notice your baby reaching some of these developmental milestones, this is a crucial time to engage your infant in learning new things. Your baby is just waiting for you to help her learn. Baby sign language is a fun and exciting way to help your little one get a head start in life.

Latest posts by Andrea Ploehn
(see all)