The Best Non-Toxic Car Seats (free from flame retardants) 2023
You choose a car seat to help keep your baby physically safe. But chemical safety matters, too. In this section of our 2023 baby gear guide, we're covering the best non-toxic car seats.
Knowing how to choose a flame retardant free car seat and what to look for when buying it can be a nerve-wracking process for any new parent. Car seat safety is critical and they can be expensive, making this a really important decision. That's why this is one of the longer and more detailed sections of our baby gear guide.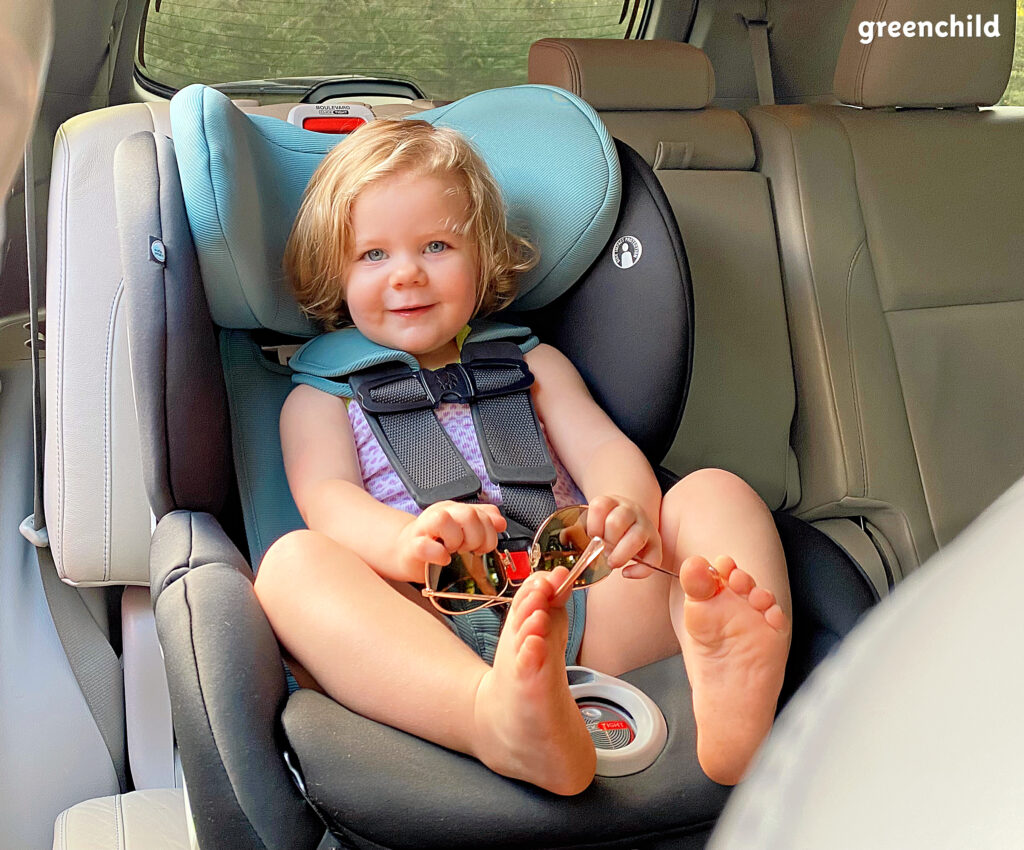 You'll be relieved to know that with the right planning and guidance, choosing a car seat doesn't have to be a struggle.
WHY CHOOSE A FLAME RETARDANT FREE CAR SEAT?
Similar to the dangers of flame retardants in mattresses, car seats are equally concerning. Endocrine disruptors and other chemicals off-gassing (especially in a hot car) are legitimately dangerous to the developing brain, body, and nervous system of a baby.
Children (and adults) are exposed to car seat flame retardants by
Inhaling air particles that contain flame retardants – hot cars can lead to more chemical off-gassing
Direct skin contact with the seat
Touching the car seat and then putting hands in their mouth
"Car seats with added flame retardants put babies and young children in close contact with chemical additives, some of which are known to be carcinogens, hormone disruptors, and developmental toxicants," explains Gillian Miller, Senior Scientist at the Ecology Center. "Babies are especially vulnerable to chemical-laden dust from products like car seats since their systems are still developing."
A handful of flame retardant chemicals including polybrominated diphenyl ether (PBDE) and chlorinated flame retardants (CFR) have been linked to dangerous health effects like endocrine disruption, delayed brain development, decreased fertility, immune suppression, altered sexual development, cancer, lower IQ, and behavioral problems in humans.
Over the past decade, many companies abandoned dangerous fire retardants like PBDEs and chlorinated tris, but in most cases, they simply replaced them equally as problematic chemicals. The Ecology Center published a list of the toxic chemicals in children's car seats. Lengthier descriptions of these chemicals and their dangers can be found here.
Indiana University researchers analyzed more than 300 components of 18 children's car seats using HD-XRF and FTIR. (source) In total, they tested 36 fabric and foam samples from 18 different car seats. They also tested the seats for fabric treatments likely containing per- and polyfluoroalkyl substances (PFAS). These are some of the findings:
34 out of 36 car seats tested for high levels of dangerous flame retardants
83% of seat components studied still contain fire retardants that may be hazardous
4 samples contained decabromodiphenyl ethanes (DBDPEs), which are linked to thyroid issues, oxidative stress, and hormone imbalance.
3 out of 4 car seats contained polybrominated diphenyl ethers in low levels
9 of 18 seats had levels of fluorine at levels suggesting PFAS were intentionally added to the fabric
Sensitive mass spectrometric analyses also found a surprising variety of legacy fire retardants at trace levels. Several PBDEs (phased out of production in the U.S. by 2013) were measured in 75% of the samples at single-digit or sub-parts per million levels, including BDE-28, -47, -49, and others.
Other brominated fire retardants were found at trace levels as well including hexabromobenzene and 2,3-dibromopropyl 2,4,6-tribromophenyl ether.
Chlorinated tris, TDCIPP, was also measured in 20% of the samples at sub-ppm levels.
ARE FLAME RETARDANT FREE CAR SEATS SAFE IN THE EVENT OF A FIRE?
It's pretty clear there are very real dangers to exposure to these chemicals. But it's only logical to question if flame retardant free car seats are safe if exposed to fire. The answer is yes. No car seat can be approved for the market without meeting federal flammability regulations.
Just like with mattresses, foam and synthetic fibers are highly flammable. However, they're less expensive than wool (which is naturally flame resistant), and chemicals are added to meet the flammability regulation. Aside from using wool, manufacturers can use new technology to design fabrics that are inherently fire-resistant.
The brands recommended here meet the federal flammability rules without the use of harmful flame retardants.
THE BEST NON-TOXIC CAR SEATS
Buying a flame retardant free car seat protects your child and gives you peace of mind. Plus every time you buy an eco-friendly baby product, you're casting a vote for a safer, healthier planet.
Editor's note: We list a few options from Chicco below. We've gotten some questions about different styles of their car seats. As long as it states ClearTex fabric in the description, it's a safe option.
This baby gear guide contains affiliate links.
INFANT CAR SEATS
An infant car seat is the handle / bucket type of seat that clicks in and out of a car or adaptive stroller. As a rear-facing car seat, it is the safest position for your baby. At around the first year, (typically between 10-14 months old) your baby will outgrow this seat.
Because babies six months and younger can't sit without support, an infant car seat is a very safe option for car rides and probably the more comfortable option for adaptive stroller travel in the early months.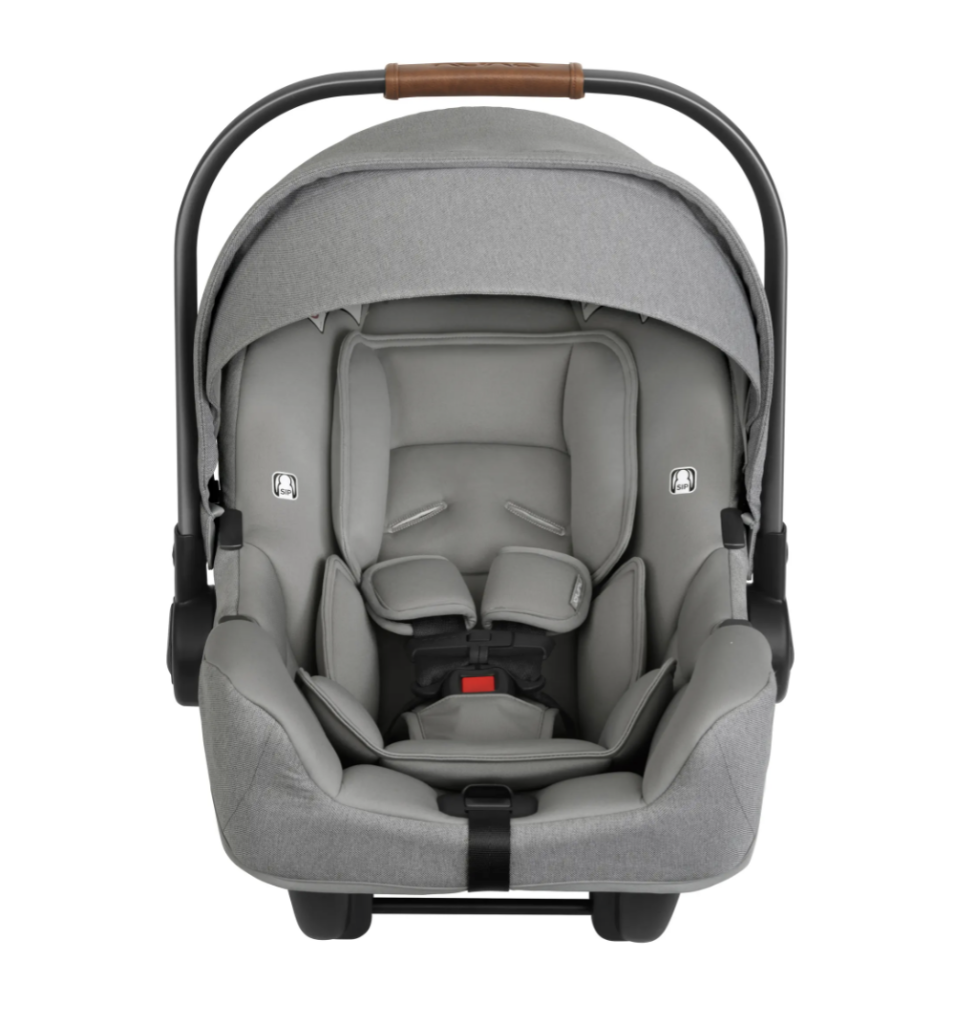 The Dutch baby gear brand Nuna is known for their commitment to safety and high-quality gear. And now Nuna's entire car seat line is now flame retardant free. The Pipa is easy to install, and it features an ergonomic aluminum carry handle making it comfortable to carry.
In addition to being flame retardant free, all the fabrics are organic cotton and GOTS™ certified. Our eco-friendly gear guide panel agrees that Nuna's products are among the most stylish available.
The Pipa is also FAA-certified for aircraft use with or without the base.
Nuna's Pipa is designed for infants 4 – 32 lb. and up to 32″ tall.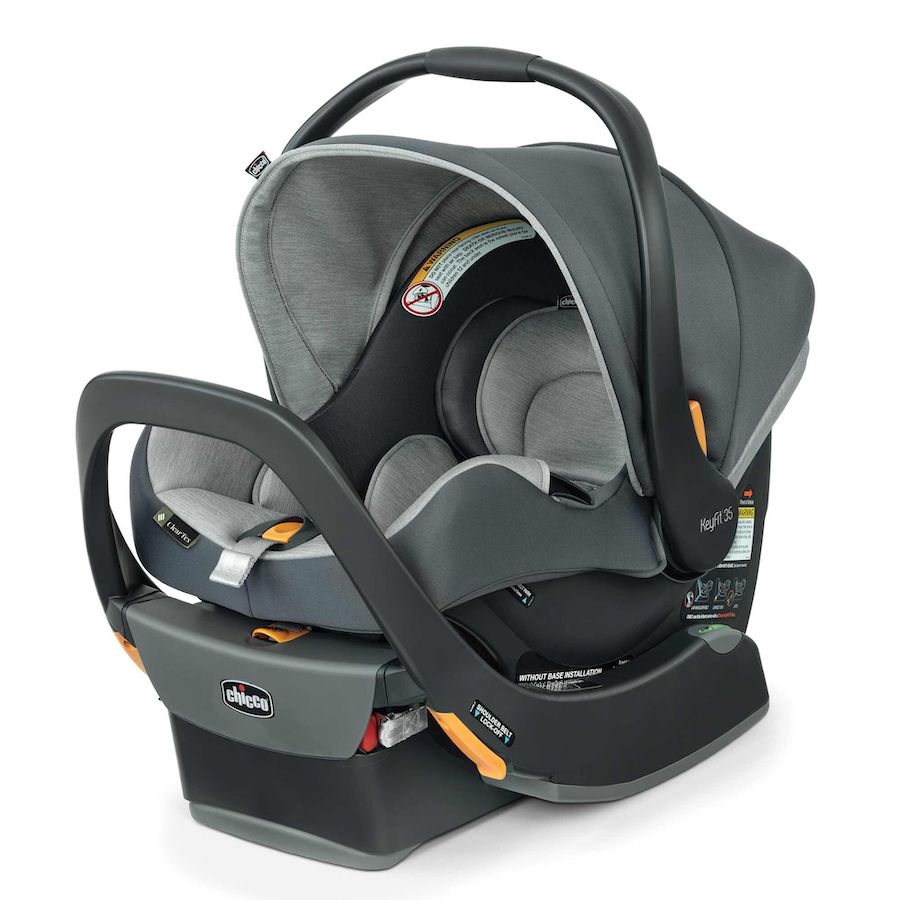 Chicco is a new addition to the fire retardant free car seat category. As part of their Sustainable Parenting Initiative, they're taking major steps to keep pricing affordable for greener products.
Their new ClearTex™ products meet federal flammability standards without added chemical treatments, by using an innovative construction of polyester fibers to produce a fabric that is inherently fire-resistant and gentle on baby. The Chicco ClearTex is also GREENGUARD Gold Certified, meaning the products have been tested to meet standards for low chemical emissions, contributing to healthier air quality around baby.
It comes with a removable ergonomic newborn positioner. And the easy-extend headrest system means you don't have to keep re-threading the harness as your baby grows.
Chicco's KeyFit ClearTex is designed for infants between 4 – 35 lb. and up to 32″ tall. Find it at Babylist, Amazon, or Target.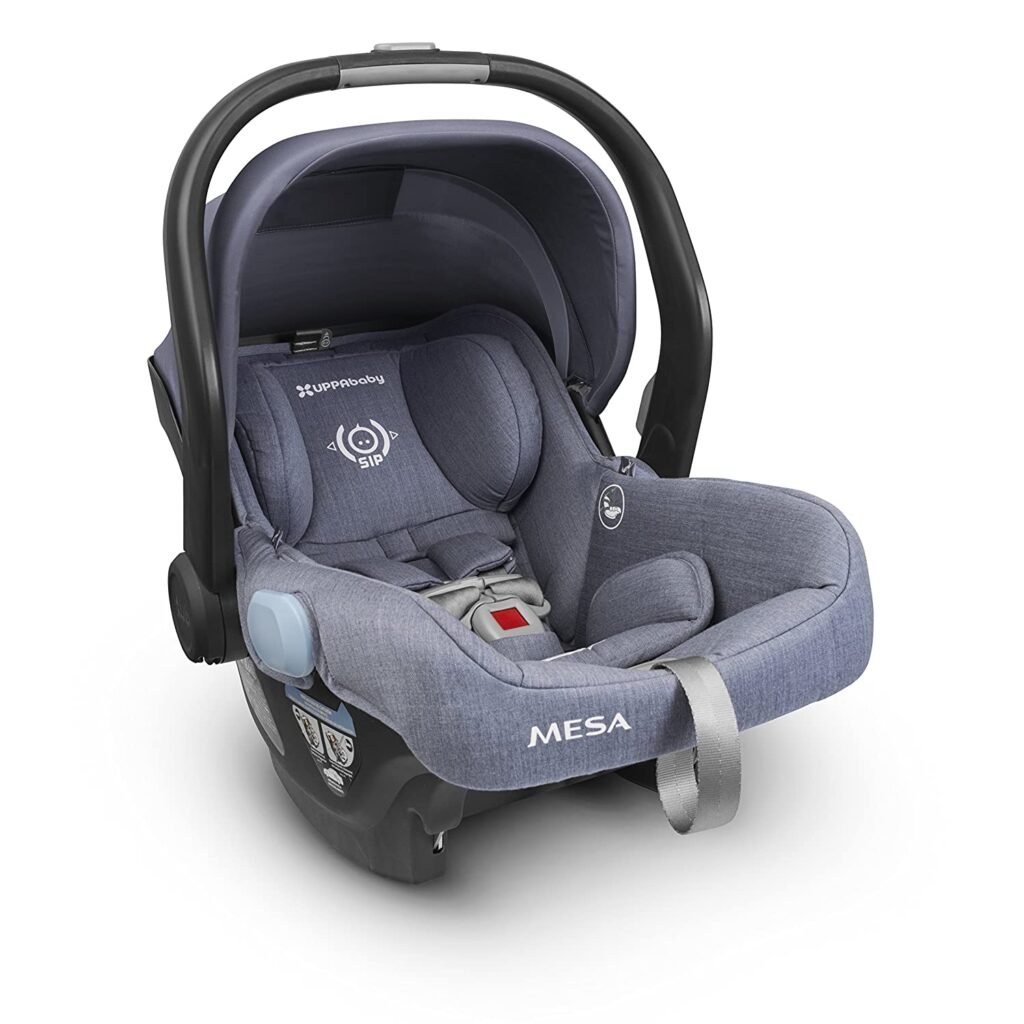 UPPAbaby was the first company to introduce flame retardant free car seats. Two styles of the MESA (HENRY and JORDAN) use wool to pass federal safety standards without the use of fire retardant chemicals. The wicking properties of their Merino wool keep babies cool on hot days and warm on cool days.
The MESA features a tightness indicator and self-retracting LATCH connectors for fast, accurate, and easy installation. An indicator window changes from red to green for visual confirmation the base has been installed correctly every time. It also has a no re-thread harnass.
The MESA is designed for infants 4 – 35 lb. and up to 32" tall. Buy it at Babylist or Amazon.
Britax B-Safe Flexfit+ Safe Wash Infant Car Seat
The SafeWash Cover is naturally flame retardant and safe to machine wash and dry.
The SafeCenter LATCH makes it easy to achieve secure installation in three easy steps: connect the lower anchors, pull straps to tighten and click the carrier into the base. The Quick-Push LATCH Connectors lock into place with a click and are easily released with the push of a button.
The FlexFit+ features a no-rethread harness that moves with the headrest for easy adjustment, a European Belt Guide for increased stability when installing without the base.
CONVERTIBLE CAR SEATS
A convertible seat can be used rear- or forward-facing. You can use most types of convertible car seats from birth, but you may want to add a newborn insert if your seat doesn't come with one.
Many parents transition to a convertible car seat when their baby outgrows an infant seat. But starting with a convertible seat can be an economical and eco-friendlier choice since it limits the number of baby gear items you buy.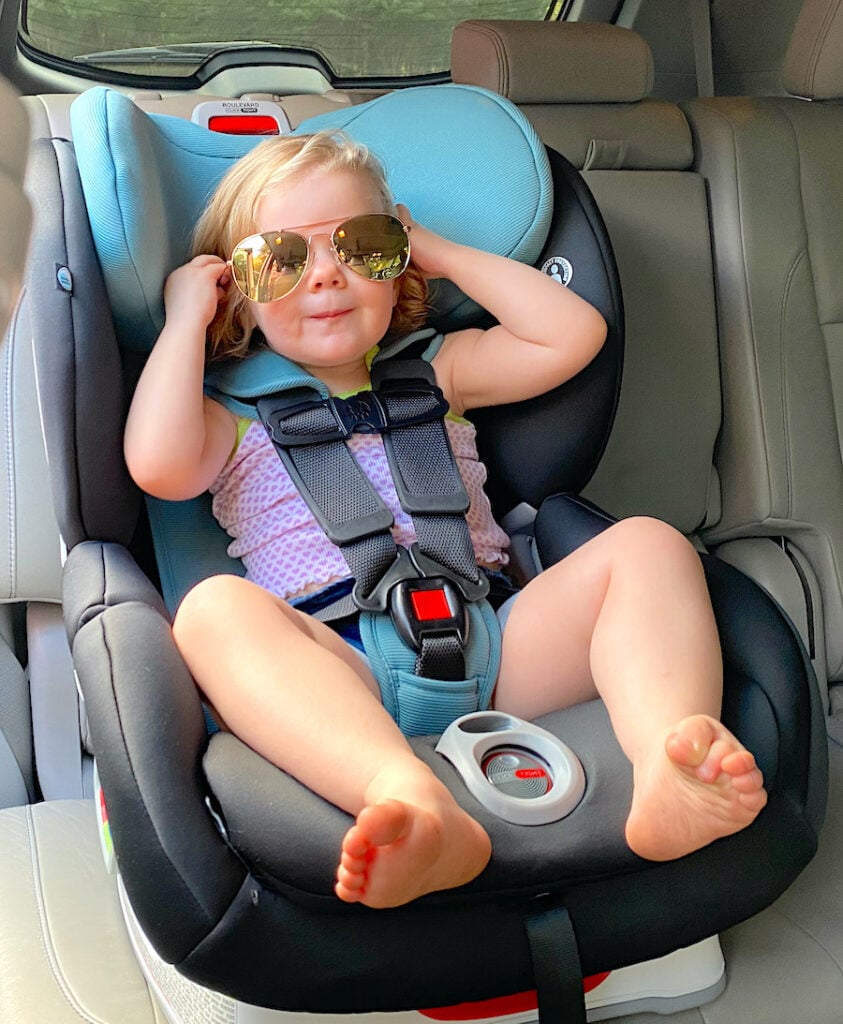 Britax's SafeWash fabric is knit in a way that makes for a naturally fire resistant car seat. And their StayClean fabric protection is free of heavy metals, phenols, phthalates, PFOS, and PFOA.
The Boulevard features their ClickTight® Installation which means unobstructed seat belt paths clear the way for confident installation. An automatic tension features tightens it for you. Britax meets and exceeds all safety standards with a steel frame and two layers of side impact protection surround your child's head, neck and torso.
Clearly their Contour Green color was a hit with our cool little reviewer ?.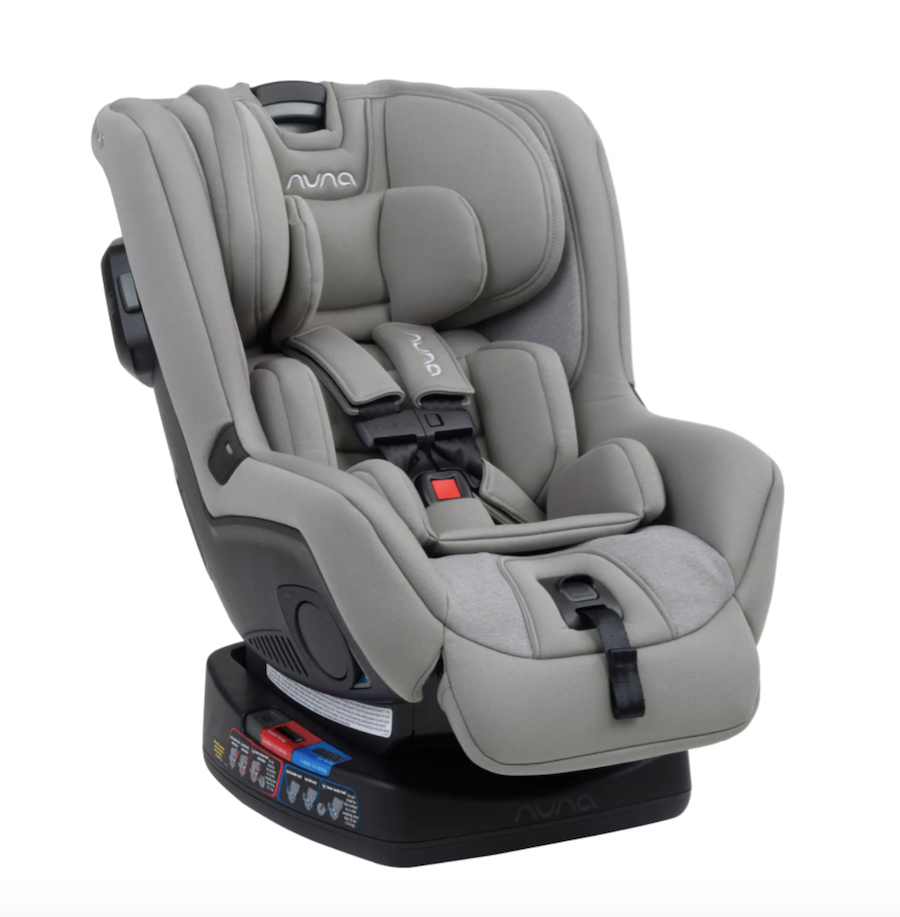 Greenguard Gold certified and made with no fire retardant chemicals, Nuna's RAVA convertible car seat provides a safe, comfortable haven for your little one from birth through toddlerhood. The adjustable style allows kids up to 50 pounds to ride back-facing longer than many other seats do.
It also features a no rethread, five-point harness that adjusts with one hand. The seat offers 10-position recline and head support, so it's easy to find just the right position. Ventilation panels help to ensure baby doesn't wake up sweaty during long trips.
The RAVA is designed for children 5 – 50 lbs rear-facing; 25 – 65 lbs. forward-facing; up to 49″.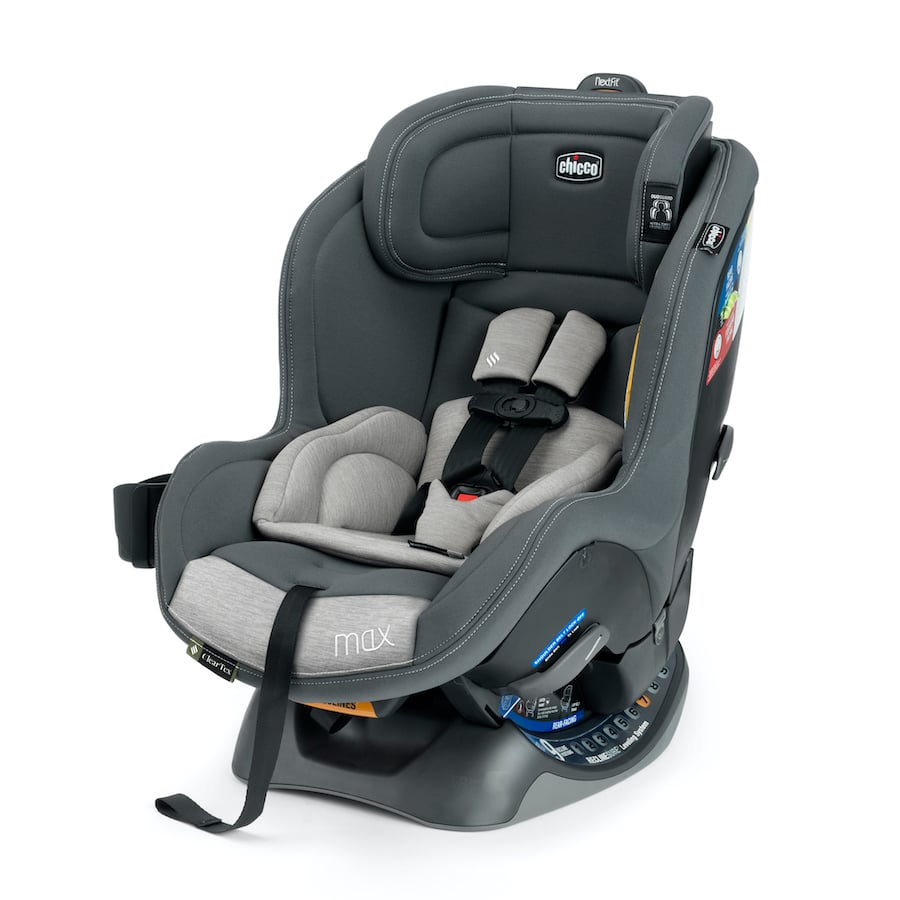 Chicco's NextFit Max offers 25% more legroom compared to other NextFit car seats and a 50 lb. weight limit to comfortably maximize time in the rear-facing position. From textiles to tags, ClearTex features no added chemicals for gentle, child comfort and parent peace of mind. GREENGUARD Gold Certified, the NextFit Max ClearTex fabric has been tested for low chemical emissions, contributing to healthier air quality around baby.
This convertible seat also provides more calf support in forward-facing mode and a 65 lb. weight limit. A 9-position, Easy-Extend Headrest System raises with the harness to effortlessly accommodate growth throughout both modes and a removable newborn positioner, provides support for infants weighing 4-11 lbs.
Designed for children between 4-65 lbs. and up to 49″ tall. Find it at Babylist or Amazon.
Britax Advocate ClickTight SafeWash Convertible Car Seat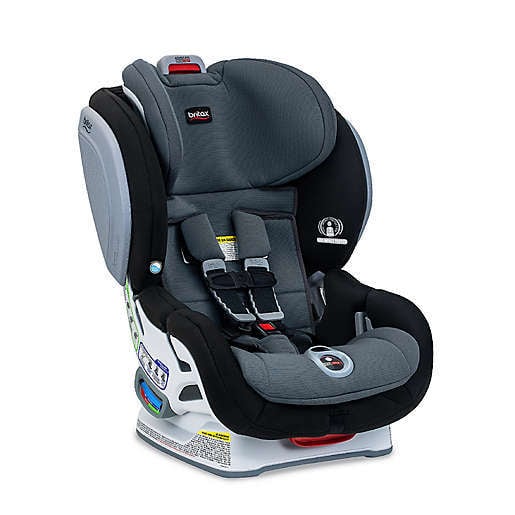 Britax convertible seats are extremely popular and this is another seat in their safe wash formula. The knit construction is naturally flame retardant.
Easily transitions from rear-facing harness mode to forward-facing harness mode as your child grows from baby to toddler.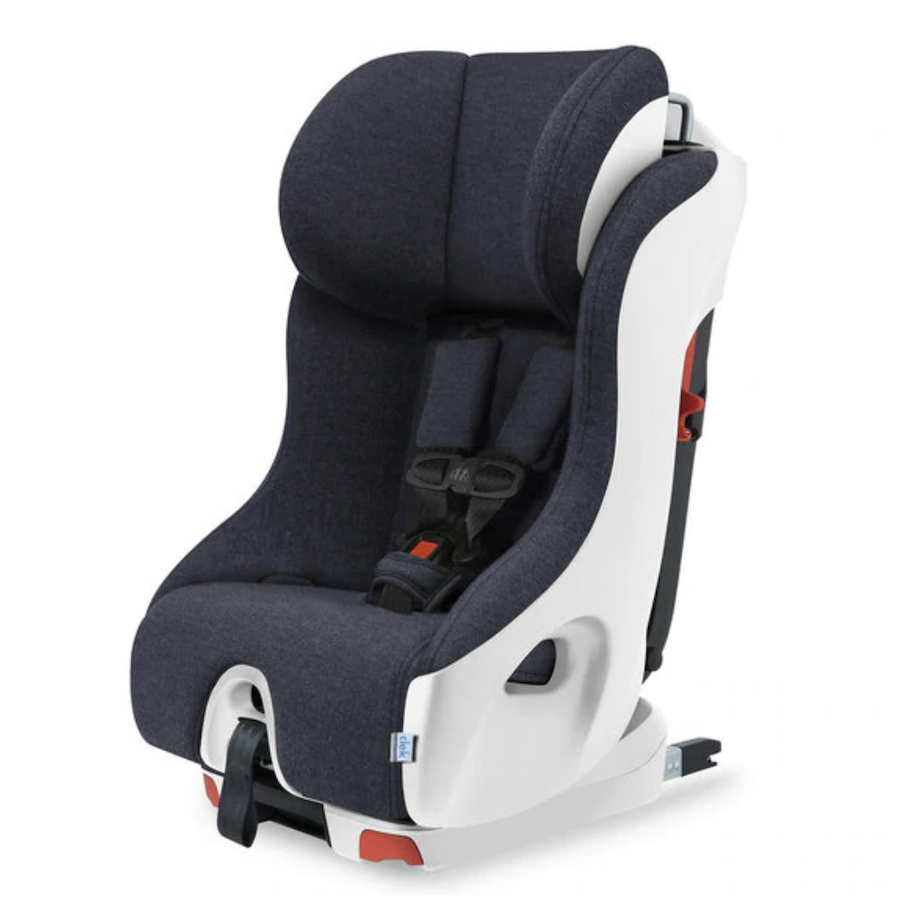 Clek's Foonf was designed for extended rear-facing use allowing for most kids to remain rear-facing until their fourth birthday. Clek's safety features include a patented energy management system, a steel anti-rebound bar, rigid-LATCH for an effortlessly secure installation, and advanced side-impact protection, with deep side wings, energy-absorbing foam layers and an adjustable structural headrest.
Like all Clek car seats, Foonf is free of brominated and chlorinated flame retardants, and the fabric is GREENGUARD Gold Certified.
Clek also offers a recycling program for not only their car seats but other brands as well. See below for details.
At less than 17 inches wide, Foonf's narrow design makes it easy to ride 3-across. Designed for children 5 – 65 lbs (with infant insert sold separately) and up to 49″ tall. Find it at Saks or Amazon.
BOOSTER SEATS
A booster car seat is the one you'll have the longest. You'll use it from the time your child outgrows a convertible car seat and until they're big enough to fit an adult-sized seat belt. The booster seat transition is typically when your child is between 40 and 65 pounds. Some kids may still need a booster until age 10. Find out more by checking the car seat laws by state guidelines.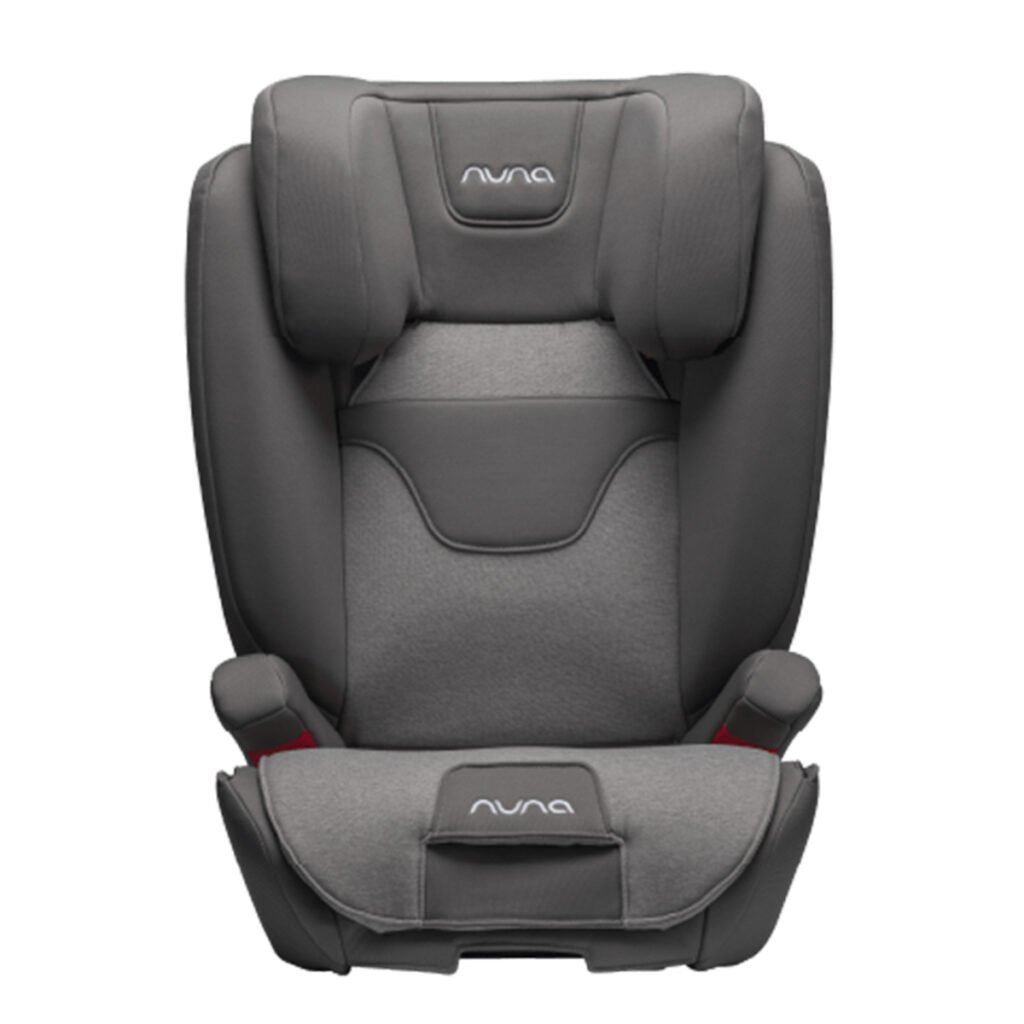 The Nuna AACE is a highly rated sleek and comfortable booster seat with a 9-position adjustable headrest, a shoulder system that works simultaneously with the headrest, and a seat with three depths that gives growing legs plenty of space.
This non-toxic car seat is safe due to energy absorbing foam and side impact protection pods. AACE is extra comfy too, thanks to eight recline positions, ventilation panels within the shell and breathable, washable knit fabric. It securely attaches with lower anchors. It also features a belt positioner that helps with correct shoulder belt routing, along with colored belt path indicators.
AACE converts from a high back booster (40 lbs to 110 lbs) to a no back booster (50 lbs to 120 lbs). Find it at The Tot, Nordstrom, Pottery Barn Kids, or Neiman Marcus.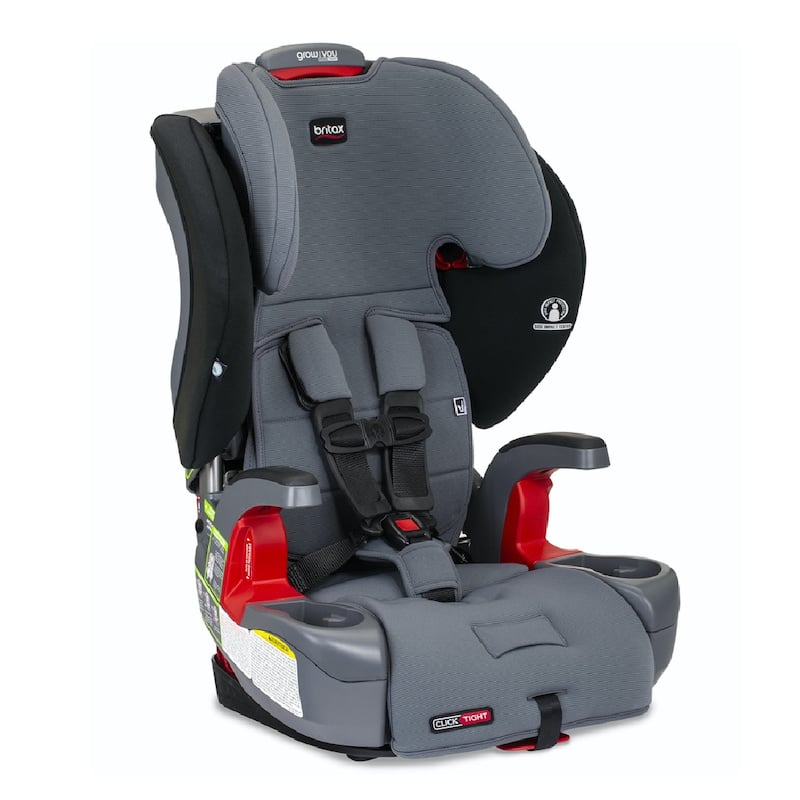 Two in One Booster Seat: Easily transitions from forward-facing harness mode to backless belt-positioning booster mode as your child grows from toddler to big kid.
SafeWash Cover: Soft to the touch and safe to machine wash and dry; knit construction is naturally flame retardant.
No rethreading: 9-position, quick-adjust 5-point harness & headrest move together using one hand for the proper fit.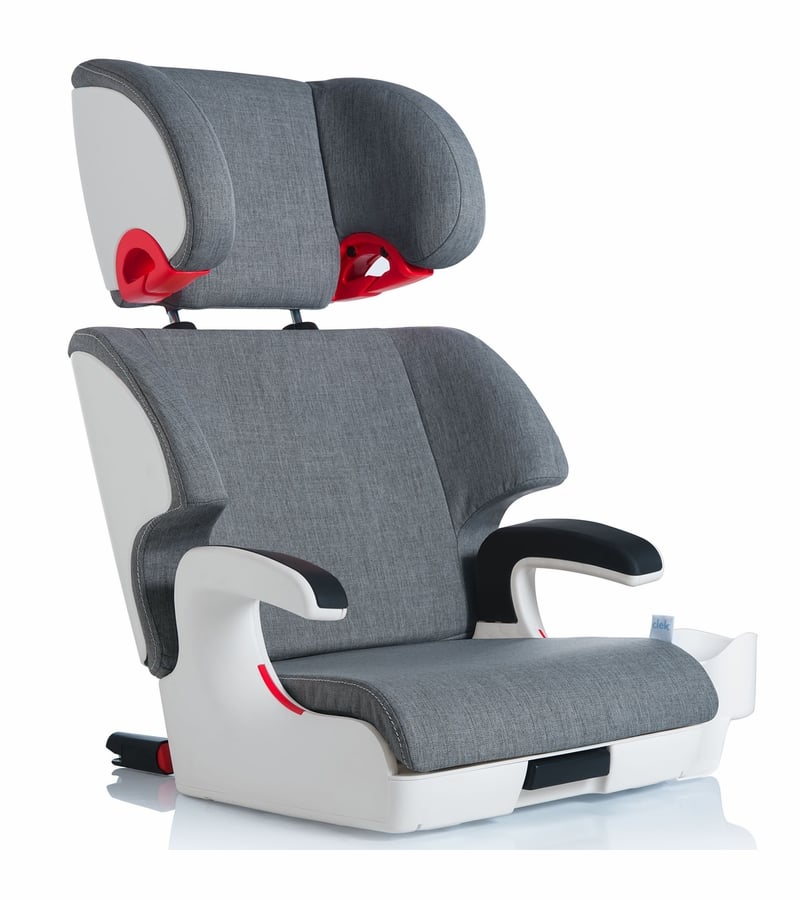 Clek's high back booster seat includes a magnesium seat frame, rigid-LATCH for enhanced seat stability, a structural headrest with deep side wings, and an energy-absorbing EPP foam layer. Rated a "Best Bet" by the Insurance Institute for Highway Safety eleven years in a row, the Oobr offers the comfort and flexibility to grow, with a fully removable reclining seat back. Oobr is designed, engineered and made in North America.
Like all Clek car seats, Foonf is free of brominated and chlorinated flame retardants, and the fabric is GREENGUARD Gold Certified.
Clek also offers a recycling program for not only their car seats but other brands as well. See below for details.
Similar to Clek's Foonf, the Oobr's narrow design makes it easy to ride 3-across. Designed for children 40 – 100 lbs and up to 57″ tall.
SAFETY SHOULDN'T COME AT A PREMIUM
The Ecology Center's Healthy Stuff Lab tested more than 600 components of 25 car seats. The study highlights the flame retardant-free products on the market and highlights the inequity in the marketplace. ZERO flame retardant-free cars seats priced less than $100 dollars are currently available. An outdated U.S. federal flammability standard is unnecessarily exposing lower-income children to toxic chemicals.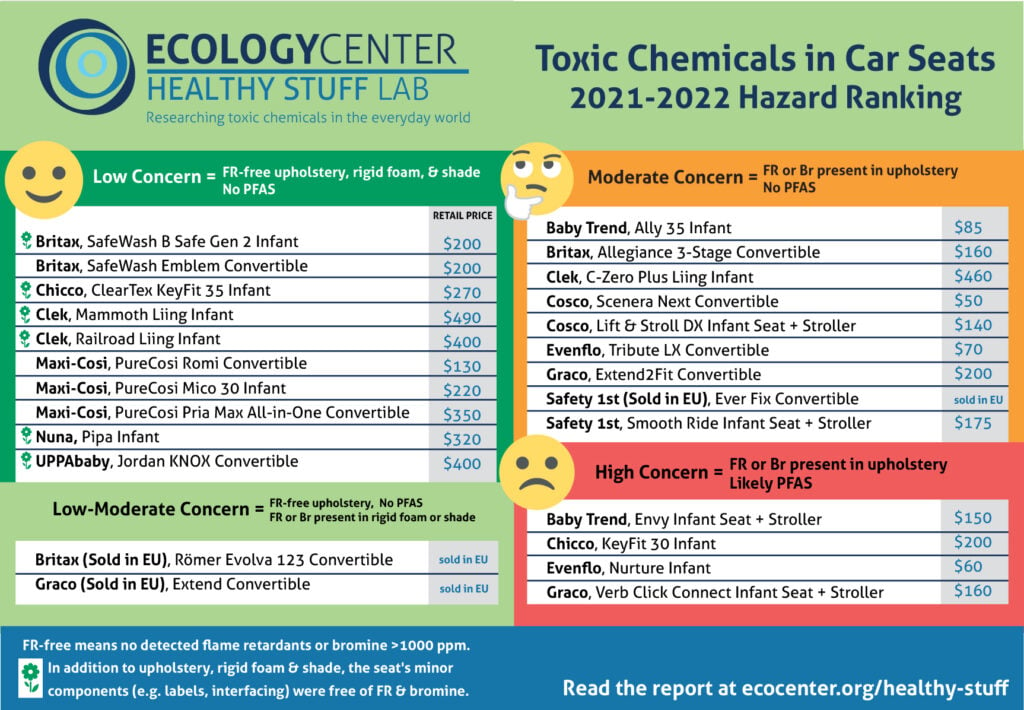 WHAT IF YOUR EXISTING CAR SEAT IS ON THE TOXIC LIST?
If it's in the budget, we suggest getting a new non-toxic car seat to help lessen your child's chemical body burden. Target offers an annual car seat trade in program where they'll take your old car seat and you'll get a 20% off coupon for a new seat, stroller, or select baby gear.
If you can't replace your existing seat, you should regularly vacuum and damp dust the seat and the inside of your car. As we mentioned above, flame retardants aren't strongly bound to the foams and fabrics and can easily migrate out of the car seat and build up in dust inside the car. Regularly removing the dust decreases the chances of your car riders inhaling or ingesting the toxic dust.
WHAT TO DO WITH YOUR OLD CAR SEAT
First things first – do not donate or sell your used car seat if it is expired, recalled, or has been in an accident. But as long as you know the seat's history, it's fine to use for your next child. See the section below on using a secondhand car seat.
Most Target stores participate in their annual car seat trade in program where they'll give you a coupon for 20% off a new car seat, stroller, or select baby gear in exchange for your old seat. They recycle the seat into items like plastic buckets, pallets, and carpet padding. Since the program began in 2016, Target has recycled almost 30 million pounds of plastic.
Clek will recycle any brand of car seat through their car seat recycling program. You purchase a shipping label from the site ($25-$39) and use your own box to send the seat back to them. Then you'll get a credit for the amount you spend on shipping to use toward a new Clek purchase.
You can find more recycling options at Recycle Your Car Seat. Currently, 12 states have recycling options for car seats.
IS IT SAFE TO USE A SECONDHAND CAR SEAT?
Never use a secondhand car seat if you don't know its history – if it's has been involved in a crash, has missing pieces, etc. But you can reuse or pass along the seat if it's still in good condition and doesn't fall into any of those categories. To find out if your car seat is safe to reuse, answer the questions on Consumer Reports' car seat decision tree.
HOW TO INSTALL A CAR SEAT
Once you've selected the right non-toxic car seat, it's important to install it properly. Be sure to register your car seat to make sure you're notified in the event of a recall.
Read the manual
Your car seat manual will identify the proper weight ranges for your baby, the right direction to place the seat – depending on weight and height – among other important instructions. Your vehicle manual is another great resource for details specific to your car's make and model.
Inspect the seat
Make sure your car seat, booster seat, or seat belt is in good condition and appropriate for your child's age, height, weight and developmental levels.
Know the right location
It's important to place the car seat or booster in an appropriate location in your vehicle. For example, if you regularly parallel park, you'll want to take baby out on the curb side of the road and not the street side, so your car seat should be installed appropriately. The rear center is generally the safest location in most vehicles.
Install according to the manual
Again, the car seat manual is the best source of guidance. Firm installation is key. It's important to make sure there's less than 1 inch of movement left to right and front to back in the belt path. Also make sure your non-toxic car seat is properly reclined in order for your baby to maintain an open airway. And be sure the seat doesn't interfere with the driver or passenger seats.
Double check the harnessing
Again, a snug harness is key. For rear-facing seats, the harness should be at or below your child's shoulder. For forward-facing seats, the harness should be at or above your child's shoulder.
The more we support these brands offering flame retardant free car seats now, the more this category will grow!