The Best Breastfeeding Supplies
While the true breastfeeding essentials are mom and baby (and a great lactation consultant in those early days), there are some breastfeeding supplies that can help make nursing easier.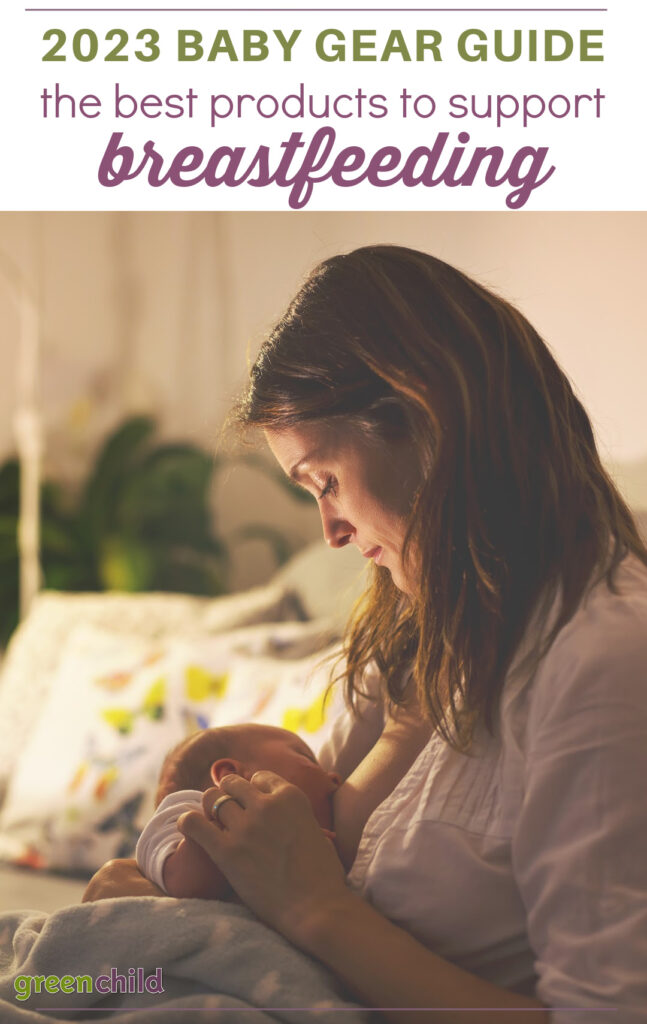 Don't fall into the trap of thinking a lot of stuff = successful parenting. Once you tune in and learn to trust your instincts, you'll probably find parenting to come a little more intuitively.
Sometimes a little tweak or tool can make all the difference to you and your baby. When you're looking for breastfeeding supplies, opt for non-toxic materials and organic ingredients whenever possible. Many companies are women-owned, so you can feel extra good about supporting them.
Because breastfeeding is good for you, good for baby, and also good for the planet, it only makes sense that your breastfeeding supplies should be green and healthy, too.
From years of working with some of the most ethical and effective brands in the natural parenting space – and from breastfeeding our own little ones – here are the best eco-friendly breastfeeding supplies we've found.
This new mama gear guide contains affiliate links.
Pumps and Milk Storage
If you'll be staying at home with baby, you may not need a pump at all. But it's nice to have at least a manual (they're very affordable) to create a backup stash of milk or to help control your supply from time to time.
Expressing or pumping a little bit from engorged breasts can help make it easier for baby to latch on. If you need more comprehensive info on choosing a breast pump, see this guide.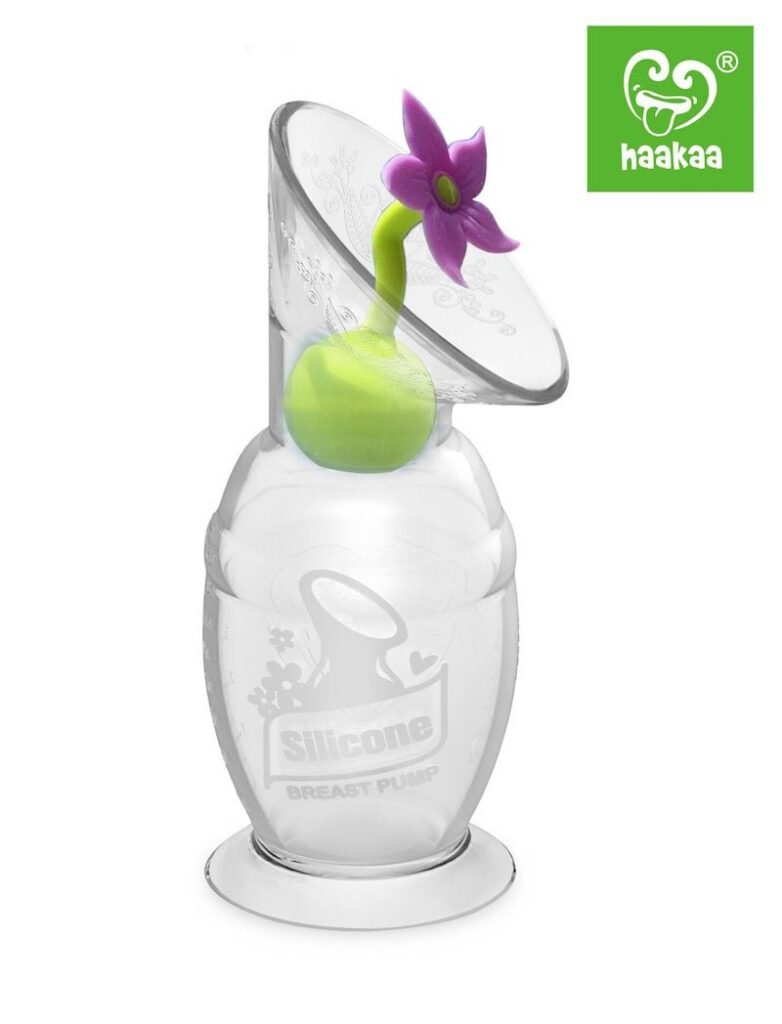 Our readers rave about this manual pump. The Haakaa silicone breast pump can be used as a manual pump or attached with suction to passively collect milk from the opposite breast while you nurse. Both the Milk Saver (see below) and the Haakaa are extremely helpful in the early days when your supply needs regulating and leaking is most common. The Haakaa is free from BPA, PVC, and phthalates so you don't have to worry about exposing you or baby to endocrine disruptors.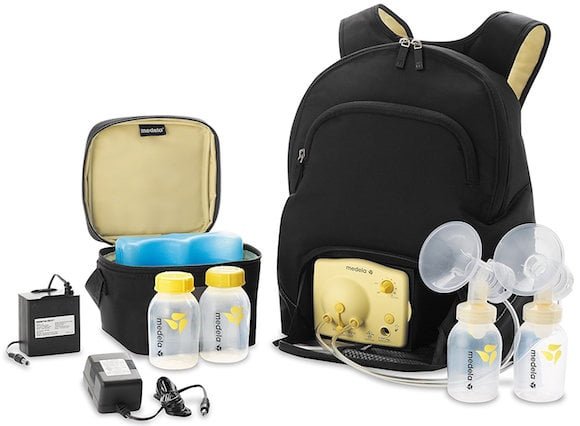 Medela's Pump in Style Advanced Breast Pump has been one of the top-rated breast pumps for years. It's a great option for mothers returning to work. The 2-phase technology includes a one touch let-down button so you can effectively get the most milk. Built in bottles help prevent spills and a removable cooler bag can hold up to four breast milk bottles.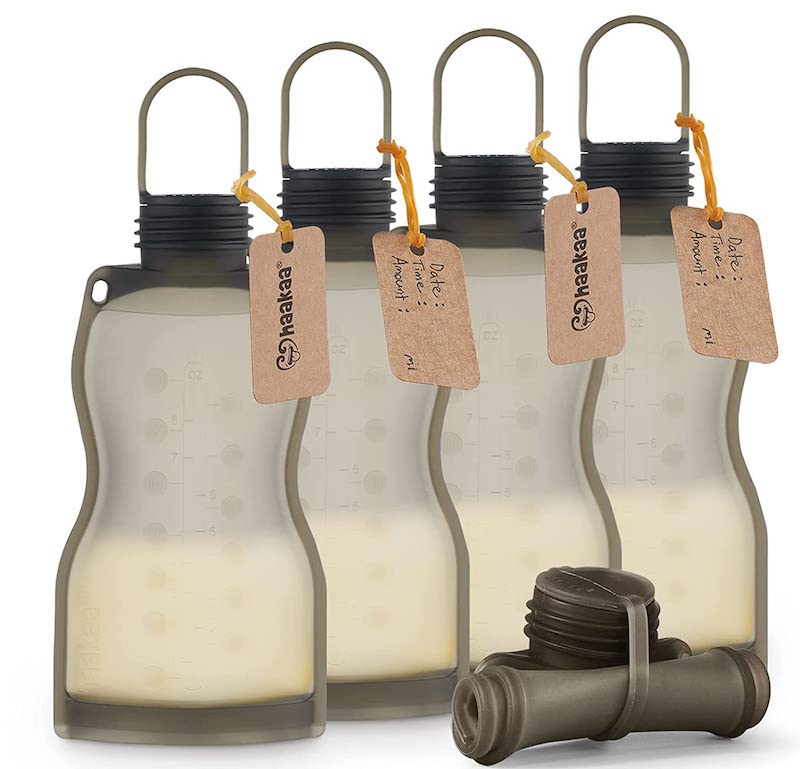 Thank goodness the years of disposable plastic milk bags are behind us! These reusables are made from food grade silicone and can be used over and over again, reducing the impact of single-use plastic.
You'll feel safer knowing they are free from endocrine disruptors like BPA, PVC, and phthalates.

Dishwasher, fridge, and freezer safe, these bags can be filled and stored laying down or standing up. Pour expressed milk into the bag and firmly push in the leakproof stopper. When you are ready to use it, place the bag in warm water to heat the milk for baby.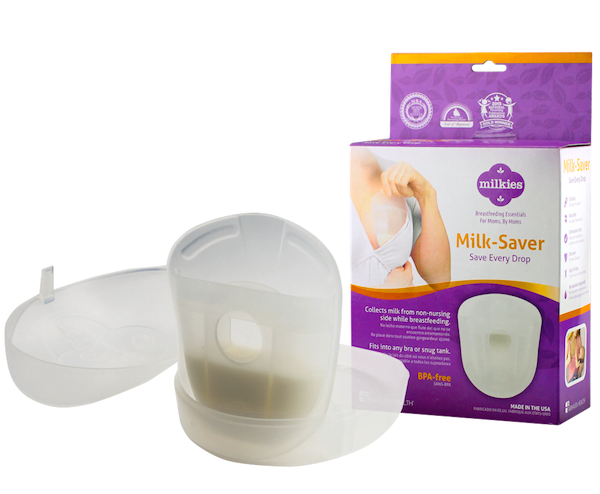 Our readers swear by Milkies Milk Savers to never waste of drop of precious liquid gold. This discreet milk-saver tucks into the opposite side of your bra to collect leaking breast milk, allowing you to store extra breast milk effortlessly. They're rigorously tested to ensure zero chemical leaching and contains no BPA or phthalates.
Nursing Pillows
In the early days, positioning is key to establishing a successful breastfeeding relationship and routine. You need to be comfortable for your milk to let down. Sleepy newborns may need to be adjusted often to keep them from falling asleep at the breast, so arranging and rearranging your couch pillows is less ideal than a nursing pillow.
Some mothers use a nursing pillow less frequently as baby gets bigger… while some of us could have been found walking around the house wearing a nursing pillow the entire first year.
Naturepedic Organic Nursing Pillow
Winner of both the Good Housekeeping's 2023 Parenting Award and 2023 National Parenting Product Award, Naturepedic's organic nursing pillow is our new favorite! Naturepedic has been crafting toxin-free mattresses for 20 years. Their knowledge, certifications, and transparency are the best in the industry.
We love the soft organic cotton cover. It's filled with PLA made from non-GMO sugarcane and contains no polyurethane foam, flame retardants, or harmful chemicals. Naturepedic consulted the International Board Certified Lactation Consultants (IBCLC), infant feeding educators, and nursing parents in designing this nursing pillow. Plus it fits a wide range of body types, supporting babies and parents long after the newborn days. And it comes with a waterproof, machine-washable cover.
Deal alert – Use Greenchild15 to get 15% off the purchase of their certified organic products.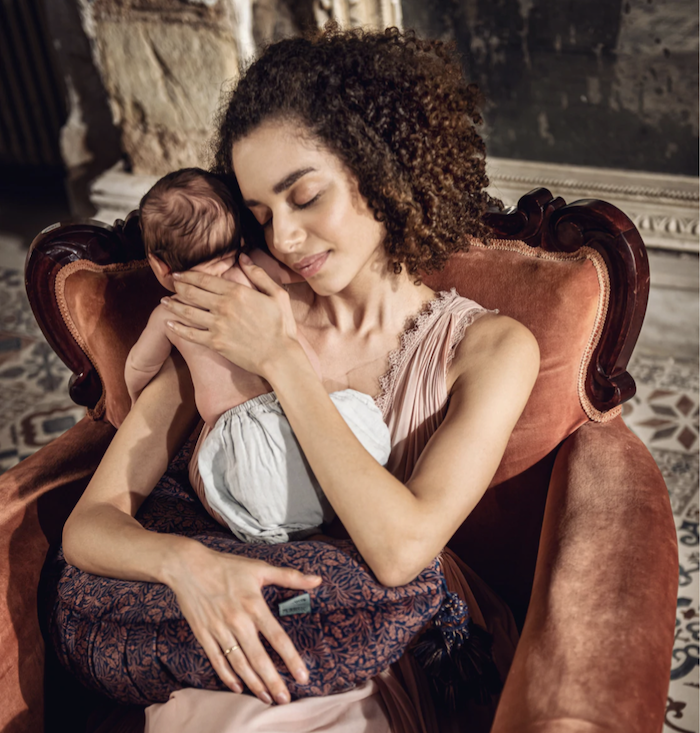 Baby bonding time gets taken to new heights with this cradling pillow that curves around the body to support baby or mom's arms during nursing sessions. You won't mind leaving this chic nursing pillow out on the couch when company stops by.
REACH compliant for chemical safety
Additional testing for the presence of harmful phthalates and heavy metals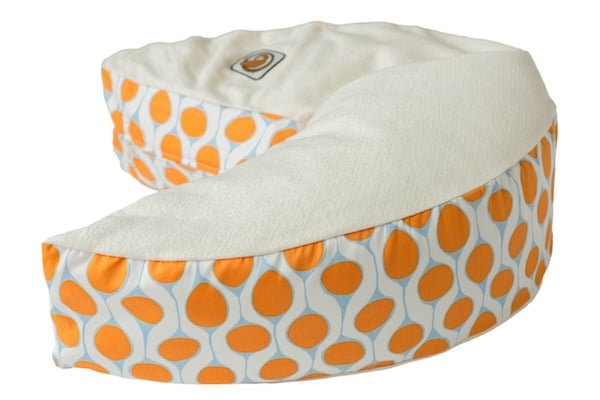 Filled with buckwheat hulls, this structured nursing pillow allows you to get your baby in a proper position and help him stay there. The Organic Nesting Pillow gives extra support when needed no matter the size, shape, or position. The pillow and cover are made with 100% GOTS organic cotton.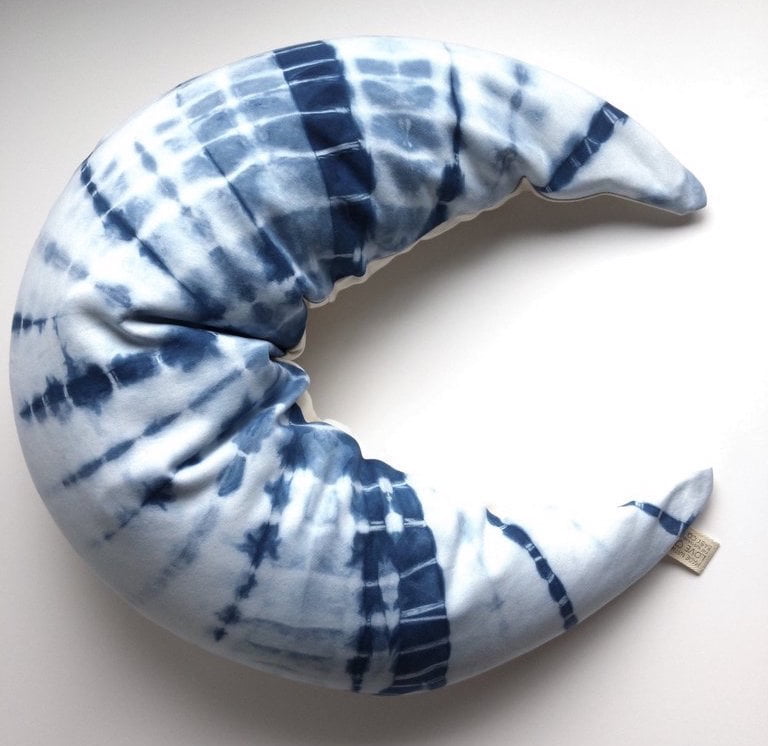 We're pretty much in love with the new natural Indigo Shibori organic cover for MoonWomb's organic buckwheat hull pillow. Buckwheat hulls are movable yet stable so you and your baby both feel supported. The less structured shape of this nursing pillow supports and encourages many breastfeeding positions from cradle to football to even side-lying.
Nursing Bras
If your budget allows, invest in two or three really good nursing bras. Comfort is your top priority. Easy access is next on the list. Skip the underwire (this can lead to plugged ducts) – especially in the early months of breastfeeding. You may want to start with a yoga style nursing bra and move into one with more shape as your supply regulates.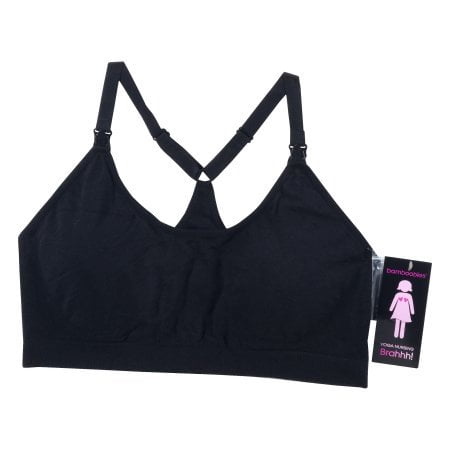 The Bamboobies Yoga Bra is made with super-soft, eco-friendly bamboo rayon fabric. The breathable and moisture-wicking properties of bamboo fabric are perfect for an active mom or warm weather. It features nursing clasps and drop down cups for easy-access breastfeeding. The seamless design stretches to fit your changing body, while still offering light support.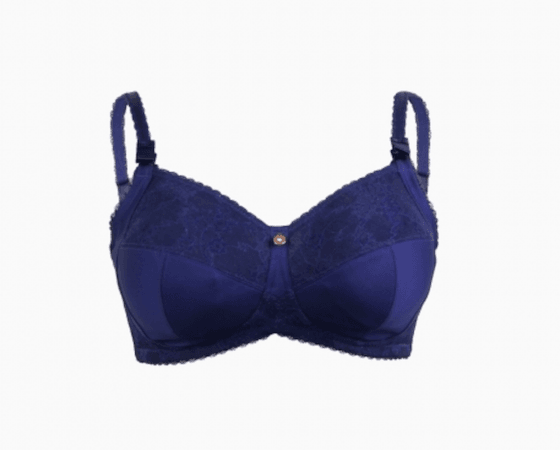 Who says nursing bras have to be bland or shapeless? Cake Maternity is challenging the nursing bra with their daring and sexy designs. This full cup wireless maternity and nursing bra was designed with femininity and comfort in mind. Featuring a cotton A-frame for breastfeeding and fully adjustable straps, this nursing bra is as pretty as it is functional.
Nipple Care Support
Especially if you're a first-time mama, your nipples will need a little time to adjust to breastfeeding. Coconut oil can be extremely helpful for soothing and its anti-fungal properties can help prevent thrush. Here are a few other products you may find helpful early on or throughout your time as a nursing mother.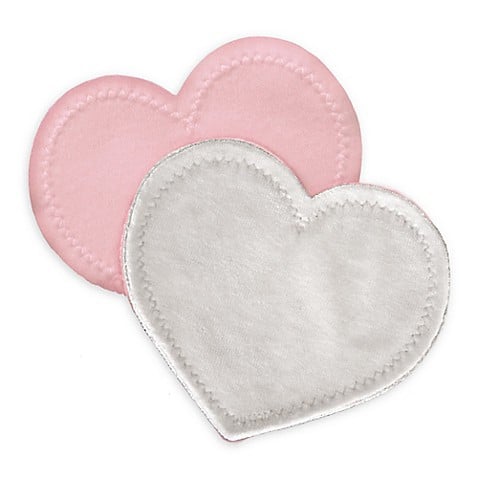 Some of us can tell horror stories about disposable, plastic-backed nursing pads. The short version is: we don't recommend them. Washable, super soft, thin Bamboobies nursing pads are discreet for everyday wear. (Meaning they don't make it look like you're wearing a cone bra.) And the best part for the planet and your budget is – they're reusable.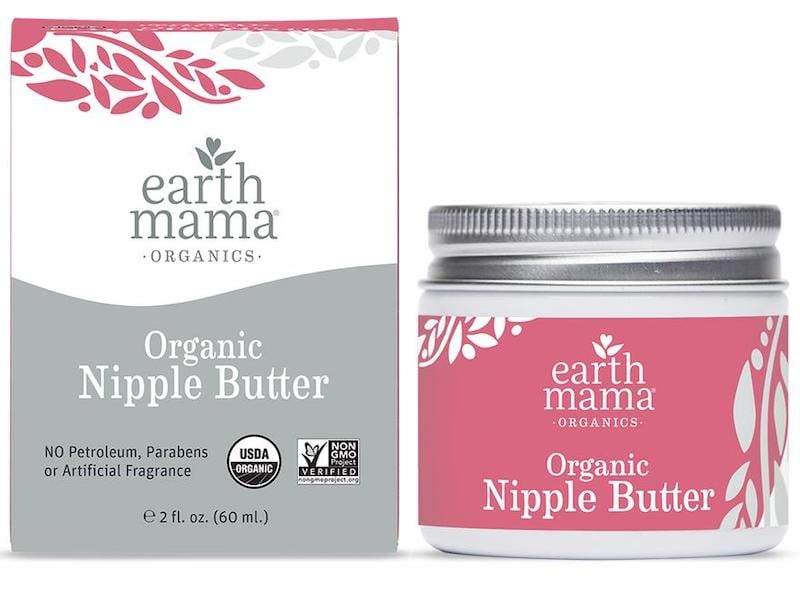 Earth Mama's Soothing Organic Nipple Butter is a favorite among natural mamas because of its versatility. Buttery and botanical-rich, lanolin-free and non-sticky, it moisturizes dry skin, and brings your nipples back to their happy place. No need to wash it off before nursing your baby, because it's Non-GMO Project Verified. And for vegan mamas, they now have a fully vegan formula. Use code GCLove20 for 20% off your purchase at EarthMamaOrganics.
Milk Supply Boosters
Getting into the supply and demand swing of breastfeeding can take a few weeks. Your baby's needs will fluctuate (hello, growth spurts!) but your body will learn to adjust. It's always reassuring to know how to increase your milk supply safely and naturally if needed.

While you're finding the most nutritious foods to fuel your milk-making body, it's always fun to have a treat. Healthy lactation cookies are both useful and delicious. You can find pre-made organic lactation cookies online. If you're up for making your own, we love Mama Natural's lactation cookie recipe.
With fenugreek, fennel, milk thistle, nettle, and raspberry leaf, Organic Milkmaid Tea is comforting and soothing to the mind and body. Organic and Kosher, this tea was created to help encourage milk production and continued lactation.
Use code GCLove20 for 20% off your purchase at EarthMamaOrganics.
Malunggay and Shatavari are two certified organic herbal supplements from Motherlove. These nutrient-dense herbs have been found to help increase breast milk production and balance the female hormonal system. Motherlove offers a variety of pregnancy and breastfeeding supplies to help you navigate the new waters of motherhood.
When Is It Worth It To Spend More?
As with any eco-friendly baby gear, how much you spend is really up to you. From an Attachment Parenting perspective, you and your baby will reap the bonding benefits of breastfeeding with or without extra gear.
But if you're experiencing a discomfort or challenge (especially one that threatens your ability or affinity for breastfeeding) it's definitely worth trying a product or tool to help.
When your budget allows, try to choose organic and toxin-free baby gear whenever possible. It makes no sense but many baby products contain endocrine disruptors and a host of toxic chemicals., which can negatively affect children's developing brains, lungs, and nervous systems.
What To Do When You're Finished With These Breastfeeding Supplies
If you're planning to have more children, save your current items (including breast pump) for when you'll need them again. Even if you can get a second pump for a subsequent child, it's handy to save your original one as a backup or to keep one at work.
While the consumable items can't be passed down, be sure to reuse or properly recycle the containers.
If you're certain you are finished with your pump forever, selling or donating your used breast pump may be an option. Closed system pumps are candidates for reuse by someone else. Open system pumps are not.
According to Exclusive Pumping, "Closed system pumps have a barrier between milk and the pump motor, while open systems do not. It's not possible to sanitize an open system pump, even if you buy all new tubing and parts." You can find a list of open and closed system pumps at Exclusive Pumping.
Some nursing pillows continue to have a use around your home or can be easily gifted to another expecting mama. Wear those nursing bras as long as they fit and feel comfortable. Otherwise, give them to a friend or donate if they're in good shape.
Reusing or donating an item can help make any baby gear eco-friendly. You're keeping it out of a landfill and helping someone else avoid buying new.
More Breastfeeding Resources
Find more articles and resources to support your nursing journey at the links below.
Breastfeeding 101 for New Moms
10 Breastfeeding Myths (and the truths behind them)
Herbs for Increasing Your Milk Supply
How to Choose a Breast Pump
The Benefits of Breastfeeding
How to Avoid Nipple Confusion
Low Milk Supply: The Causes and The Misconceptions
The Benefits of Breastfeeding for You, Baby, and the Planet
Breastfeeding Rates & How to Make a Difference
Tips for Breastfeeding Your Preemie