How to Choose a Breast Pump: 2023 Baby Gear Guide
Figuring out how to choose a breast pump and determining which will work best for you might feel challenging. Especially when you consider how many options there are. But don't worry – this advice on how to choose a breast pump plus several trusted recommendations will help!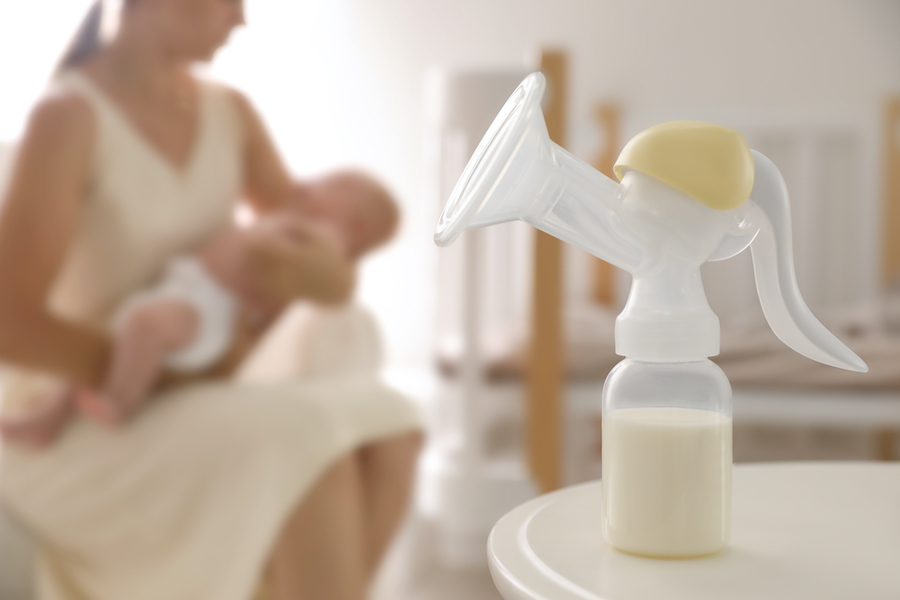 While breast milk has all the nutrients a baby needs during the first six months of life and offers protection against several illnesses, breastfeeding has many benefits for the mother, too.
If you're expecting and have decided to breastfeed your baby, you have probably added a breast pump to your hospital or birthing center packing list already. However, not all moms need to invest in a breast pump; and since all breast pumps are different, choosing one to suit your needs is important.
WILL YOU NEED A BREAST PUMP?
Generally, breast pumps are used in cases where the baby is sick or premature to breastfeed or has trouble latching onto the breast, or where the mother has milk supply issues. In cases where the mother will be away at work or elsewhere for long periods of time, breast pumps can be used to express milk to be fed to the baby when mom isn't around.
So if you're on a budget, don't consider spending on a breast pump if you know that you're going to be with your baby all the time. If your baby has trouble feeding, you can always make use of the hospital pump and think about buying one later.
UNDERSTANDING THE DIFFERENT TYPES OF BREAST PUMPS
As mentioned, all breast pumps are different, and what works for one mom may not work for another. So here's the lowdown on the types of breast pumps.
Electric Breast Pump
Electric pumps have a motor attached to them that runs on electricity or a battery. They can be either single or double meaning you can use them to pump one or both breasts simultaneously. If you pick a double electric pump, you can also configure it to pump one breast at a time if need be.
Hospital-Grade Breast Pump
These pumps are electric powerhouses and come with sensitive controls allowing you to regulate suction intensity, rhythm, and pressure. Hospital-grade pumps can be used to pump one or both breasts at the same time, and can greatly reduce pumping time due to their efficiency.
Manual Breast Pump
As the name suggests, manual pumps are hand-operated and comprise a flange and lever that create suction. They are small and lightweight, and express a decent quantity of milk. That being said, manual pumps are labor intensive and time consuming. If you're exclusively pumping or working long hours, an electric pump will be much more efficient and time-saving than manual.
Wearable Electric Pump
This is a hands-free, completely portable breast pump that you can wear inside your bra. It includes pump "cups" that fit over each breast as well as flanges and milk bags. Wearable pumps let you pump discreetly and in many different positions.
HOW TO CHOOSE A BREAST PUMP THAT'S RIGHT FOR YOU
Choosing a breast pump that meets your needs requires you to assess your needs first. Take these factors into consideration to help you decide.
Frequency –

A small manual breast pump will be just fine for moms who need to pump only occasionally. Working moms who need to pump twice or more each day can find using a manual pump tiring. Since they are also slower than other pumps, buying a manual pump is not advised if you're looking for shorter pumping sessions and larger milk volumes.
Weight – As a working mom, you certainly wouldn't want to lug around a big and heavy breast pump to work every day. if you're looking for a lightweight pump, a compact-sized manual or electric breast pump will be the best choice.

Discreteness –

Small manual and electric breast pumps can easily fit into your handbag, so you won't have to worry about being discreet. Medium-sized electric pumps usually come with a carry case that won't draw much attention to you. On the other hand, hospital-grade pumps are large and difficult to carry around without drawing attention. Most importantly, electric pumps make some noise when they're operating, so you might want to look for a quieter model or go for a manual pump.

User-friendliness –

Breast pumps can be easy to use once you know how to pump the right way. But before you buy a breast pump, make sure that it is easy to assemble, take apart, and clean.

Efficiency –

Double hospital-grade pumps and electric pumps are your best bet if you want your pumping sessions to be short. In addition to this, they are also suitable for moms looking to increase their milk supply.
This baby gear guide contains affiliate links.
Spectra S1 Plus Electric Breast Pump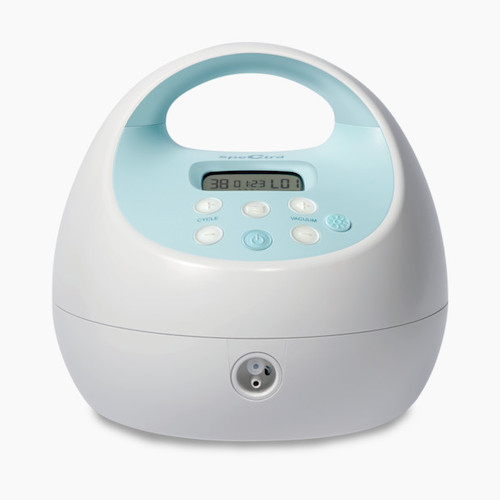 Spectra's hospital-strength breast pump is powerful without the bulk and noise of other pumps. Digital controls let you adjust speed and suction to maximize output, and the pump uses a closed system, which keeps milk completely separate from the pump pieces (ensuring better hygiene and performance).
You won't be stuck pumping near an outlet with its rechargeable battery that lasts up to three hours. Extra features include a timer and nightlight for night pumping sessions. Buy it at Buy Buy Baby, Amazon, or Target.
Medela Pump in Style Advanced Breast Pump with Tote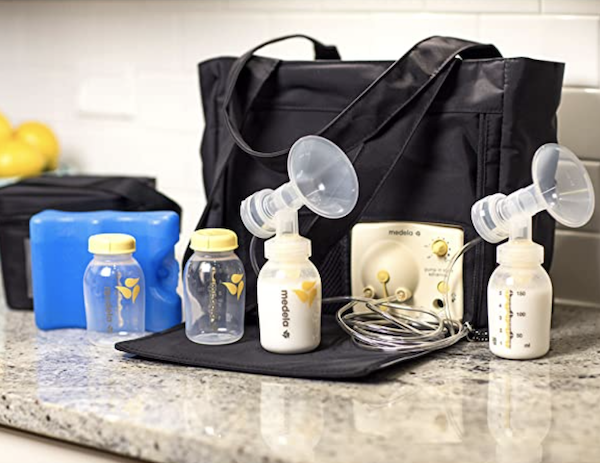 This is the pump most of the moms on our team have used. The powerful double electric pump is built into the bag. Extra compartments hold the useful accessories – making it simple to set up and pack away in no time.
Two-phase pumping technology simulates the way a baby nurses. With adjustable speed, it also features a letdown option to help you pump efficiently. The Pump in Style also comes with a power cord and a battery pack, for pumping without a nearby outlet. Be sure to keep batteries on hand!
The only drawback on this pump is the motor, which can be a bit loud. Find it at Amazon.
Medela Harmony Manual Breast Pump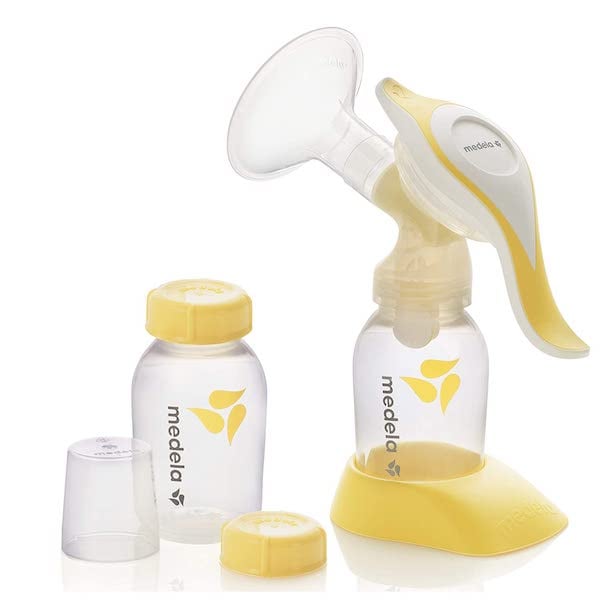 Medela's manual pump is small, silent, and doesn't involve any cords. The angled design allows you to sit comfortably when you pump, ensuring milk flows naturally into the container. The included bottle stand helps to prevent accidental spills.
It's a great tool for when you need to express a few ounces quickly and without the hassle or bulk of a full size pump. Note – your hand can easily get tired from manually pumping. Buy it at Amazon.
Willow Generation 3 Wearable Double Electric Breast Pump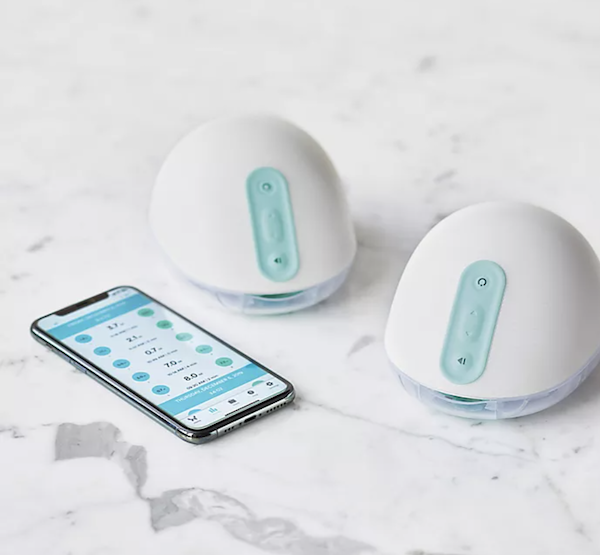 Hands-free pumping at its easiest. With no cords or attachments, everything including the motor is right in the pump cups. Simply slip the cups into your bra and go about your day as you pump.
The Willow is quiet, ultra discreet, and spill-proof. You can pump and store your milk in the same bag and pump in any position without worrying about leaks. You can also download their app that tracks milk volume, pump sessions, and time.
The drawbacks to the Willow are the price of the pump and the bags that go with it. Find it at Buy Buy Baby, Target, or Amazon.
IS IT SAFE TO USE A SECOND HAND BREAST PUMP?
Buying a second-hand breast pump or using a hand-me-down is less expensive and can be better for the planet, but it should only be an option with certain pumps. Breast milk can carry pathogens that can contaminate breast pumps, passing infections on to you and your baby.
A closed system pump has a barrier between the milk collection kit and the pump mechanism to prevent contamination by bacteria/mold/viruses/etc. An open system pump has no such barrier.
It isn't possible to completely sterilize the inside of an open system pump. You would have to dismantle the pump to get to all the parts that could be affected, plus some of these parts are impossible to completely sanitize. Buying new tubing, new parts, and cleaning every cleanable part does not sanitize the motor of the pump, which (in an open system pump) is, by definition, open to the new milk you are pumping (source).
Hospital-grade pumps are designed to prevent milk from getting into the motor. So if you rent a hospital-grade pump, you'll just need your own collection kit.
WHAT TO DO WHEN YOU'RE FINISHED WITH YOUR BREAST PUMP
Giving a second life to your old items can help make any baby gear item eco-friendly. When your breastfeeding experience ends, you may be able to sell or donate your used pump. If it's a closed system pump as described above, you can sell it or hand it down to a friend or relative. If it's an open system pump, check with the manufacturer to see if they offer a recycling program.