30 Merry-Making Things To Do On Christmas Eve and Christmas Day With Kids
It's the time of year when we get to spend time with family and create memories. But all the holiday hustle leading up to Christmas day⁠—the wrapping of gifts, prepping of meals and cleaning the halls⁠—can get in the way of that special time to bond.
Make it a point to focus on fun this year and get everyone involved in making new traditions with these merry and festive things to do on Christmas Eve and Christmas Day.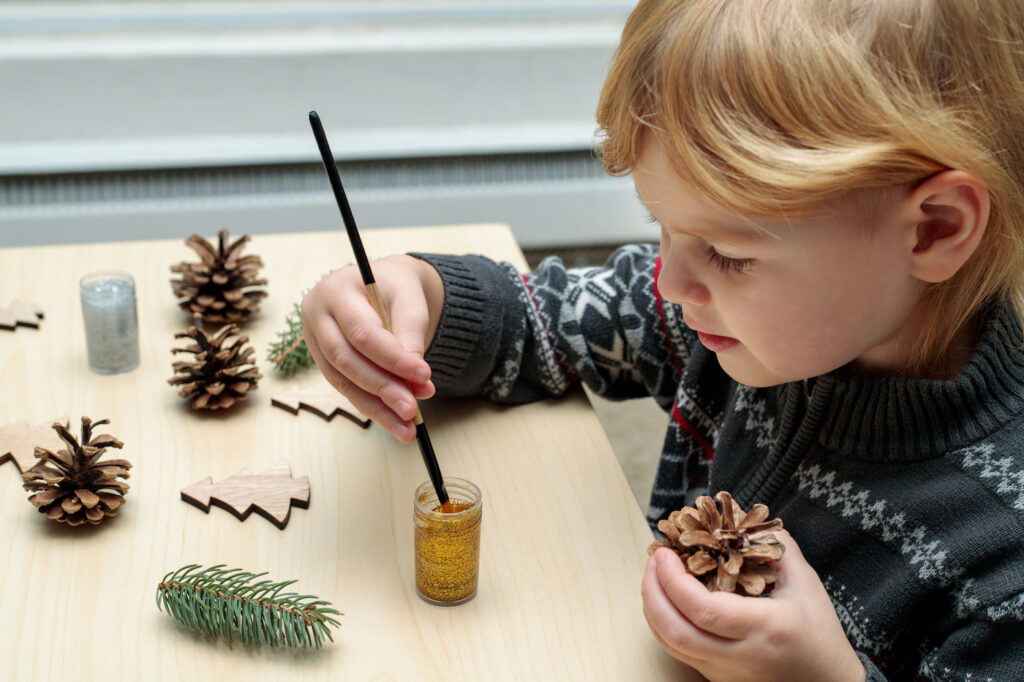 Things to do on Christmas Eve indoors
Get everyone in the holiday spirt with these Christmas Eve activities perfect for any age to partake in and enjoy.
Bake cookies for a classic Christmas Eve tradition that never gets old. With big kids, you can let everyone pick out their own recipe and have a cookie swap party or bake off. With little ones, you can keep it simple with a basic sugar cookie or gingerbread cookie recipe and let them go crazy with the shape making and decorations.
Set up a Santa station. Once the cookies have been baked, it's time to set some aside for Santa and his reindeer. For a sweet and reflective tradition, include a thank you card to Santa, the reindeer and all of the elves who helped make and deliver their gifts. You could read The Thankful Turtle, a guided meditation for gratitude, to help get everyone in the right mindset.
Act out "A Night Before Christmas". Reading this holiday classic as a family is one of the Christmas Eve activities that you may have enjoyed yourself as a child. Embrace the tradition, but make it your own by play acting out the parts as a family.
Make ugly sweaters. Why just wear ugly sweaters when you can make them?
Host a movie night. Holiday movies are some of the best feel-good flicks available. Decide on the night's lineup as a family and get cozy in matching pajamas. You could even take some of the popcorn you pop for snacking and string some up to use as festive decorations.
Create an ornament that represents the year. Make a DIY craft that can be both fun to create and sentimental. Have any ticket stubs lying around? Did your child outgrow their favorite pair of socks? Collect items from around the house that are bound to turn into clutter and craft some reflective, one of a kind ornaments that will always remind you of the fun times you had that year. Plus, you can have fun recalling the memories together as you make the ornaments.
Embellish wrapped presents. Let the kids get in on the wrapping fun by adding artwork, stickers, or embellishments. Turn them loose with a stash of upcycled and natural elements like our team did at a homeschool co-op gift wrapping party and let the creativity soar! They'll love that when you hand grandma her present, they can say they helped wrap it.
Make a festive snack board. Have the kids help you make a holiday snack platter that looks as good as it tastes!
Find toys to donate. Reaffirm that this is the season for giving and not just getting by asking your child to choose three toys that they want to donate to a child in need, and you can make some room for the new toys they'll be getting soon enough.
Make a photo booth. 'Tis the season for picture taking. Make a backdrop using leftover wrapping paper or seasonal blankets and craft a few fun festive props to use in the "booth".
Things to do on Christmas Eve outside
If you're thinking about what to do on Christmas Eve that will be fun and get you out of the house, check out the below ideas:
Go on a holiday light tour. Weather permitting, get everyone outside for some fresh air and take in the sights by looking at your neighbors' house decorations. You can even vote on the family's favorite and leave a card or surprise for the winning house in their mailbox.
Make an igloo. You can make an igloo, no snow required! If you did some online shopping this season, make use of all of those boxes by stacking them up to create a DIY igloo house. Bring out hot chocolate and enjoy your little structure for a bit before heading inside.
Build your own Jack Frost. If you live in an area where it snows, lean in to the season and create your own snow people!
Have a snowball fight. If athletics are more your thing, have a family snowball fight, winner gets to open one present early!
Go on a holiday scavenger hunt. Create a list of festive or nature items that you can spot around the neighborhood and head out in teams to find everything on the list. And, perhaps the winner for this game could pick the movie for the night.
Spread holiday cheer. Santa, isn't the only one who can spread holiday cheer, give out handmade holiday cards, ornaments or home-baked cookies to your neighbors.
Attend a service or watch a performance. Connect with the true meaning of Christmas and celebrate the tradition by attending your Church or a holiday performance.
Things to do on Christmas Day at Home
And if you are also looking for things to do on Christmas Day with family, here are some ideas:
Make crafts out of leftover wrapping paper.
Get creative with holiday coloring pages.
Make yummy waffles and let everyone chose their own topping.
Take photos in your homemade photo booth using a quick print camera. You could turn these photos into ornaments too!
Make a gingerbread house.
Have a hot cocoa topping party.
Create a holiday card keepsake book or album.
"Camp out" by the tree and make an indoor tent with boxes and leftover wrapping.
Sing carols around your neighborhood.
Volunteer at a local soup kitchen.
Or donate your leftovers to an organization in need.
Package cookies and drop off to friends.
Make paper snowflakes and hang them up outside if it didn't snow!
Remember that the memories that you make together will last a lifetime! Enjoy your holidays and don't let them fly by too fast.
Have any Christmas traditions of your own? Let us know about them in the comments!