Holiday Book Spotlight: A Polar Bear in the Snow
If your seasonal traditions include adding to your child's holiday book collection, Mac Barnett's darling new children's book, A Polar Bear in the Snow, makes the perfect addition this year.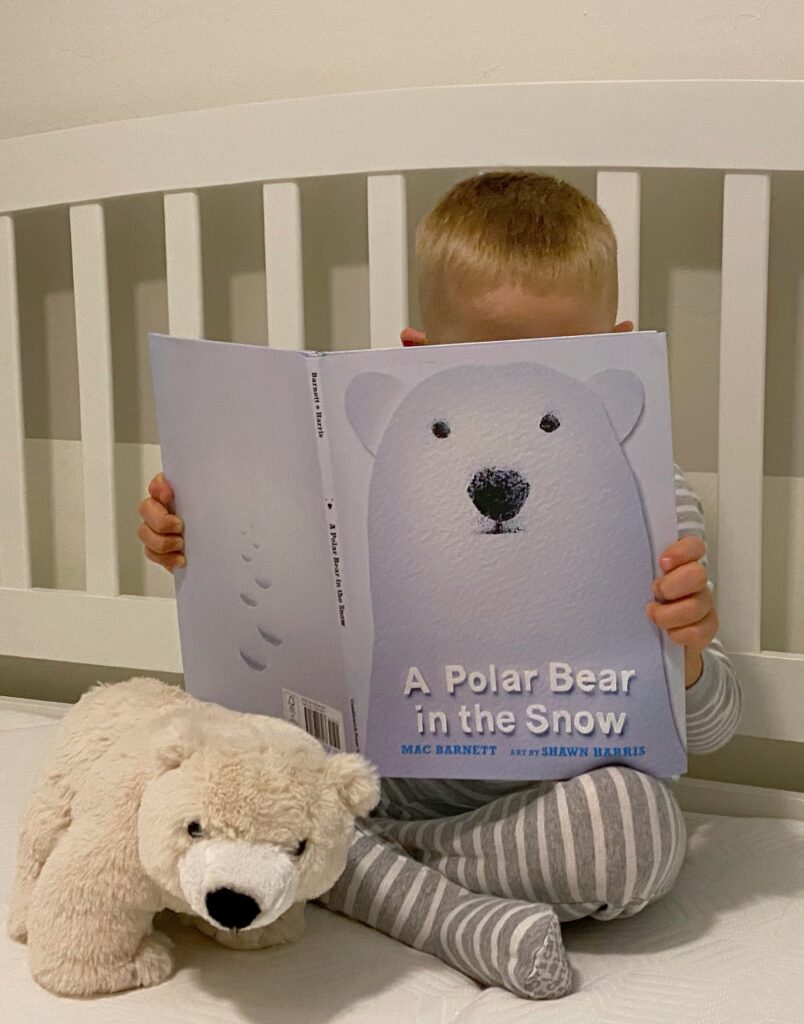 Our little readers were fascinated by this majestic polar bear and his journey around his frozen habitat. You might wonder if it's challenging to depict a white polar bear against a snowy background. This book adorably answers that question from the first page. Your little one will love seeing the polar bear's nose and eyes emerge from the snow.
Written by Marc Barnett and illustrated by Shawn Harris, A Polar Bear in the Snow features a creative cut paper style for kids to follow the bear as he moves through the snow, changing in perspective of size as he appears quite small as he crosses the Arctic terrain.
The book draws you in as the text encourages you to guess where this enormous bear is going. Over the ice, through the water, past Arctic animals and even a human . . . where is he going?
What does he want?
He eventually plunges into the ocean to swim and play in a beautiful mixture of vibrant blues. These colors feel especially rich after pages of soft neutrals.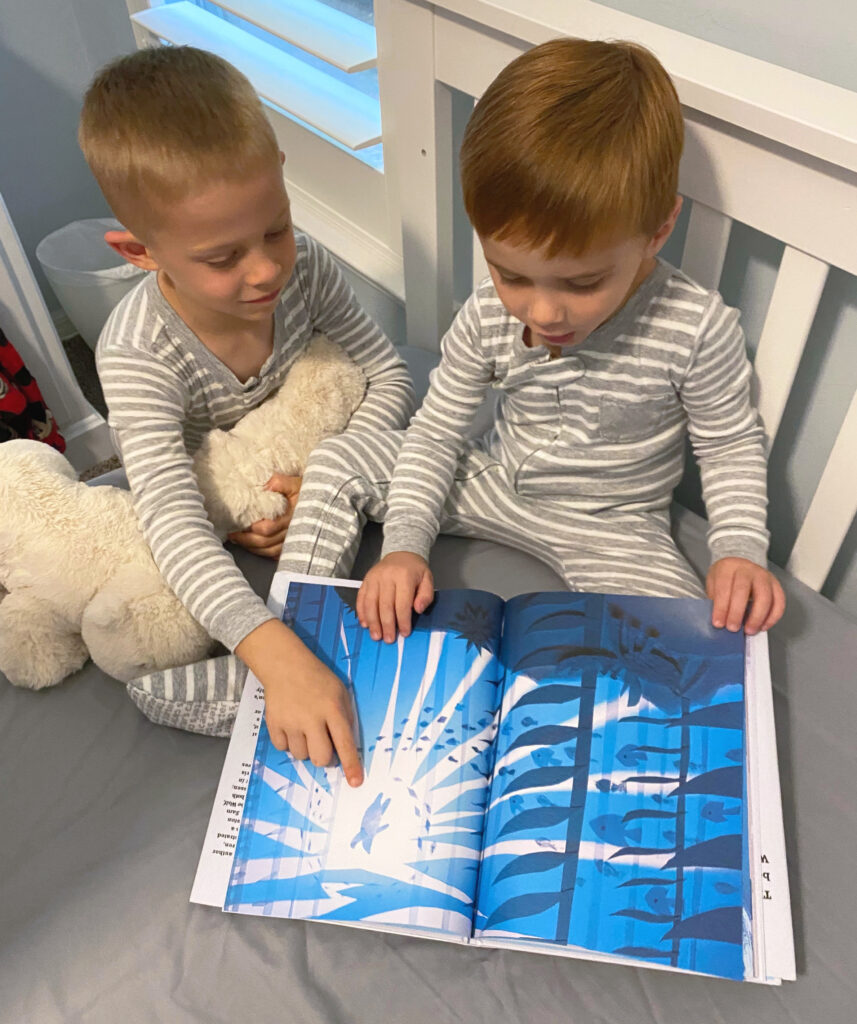 As the bear returns to land, the final pages show him heading off for parts unknown. Our little readers enjoyed counting the paw prints he left behind in the snow.
You can learn more about the inspiration behind A Polar Bear in the Snow in this video with the author and illustrator.
Make Reading Part of Your Holiday Traditions
We all want our children to grow up with great family memories. Most of us can look back fondly on holidays in the past. Reading a holiday book together fits the bill and, of course, encourages a life long love of books in your child.
Similar to an advent calendar, reading a different book each night is a fun way to count down to the holidays. Add to the excitement by creating holiday crafts (perhaps a paper craft inspired by the wintry shapes in the book) and baking North Pole cupcakes.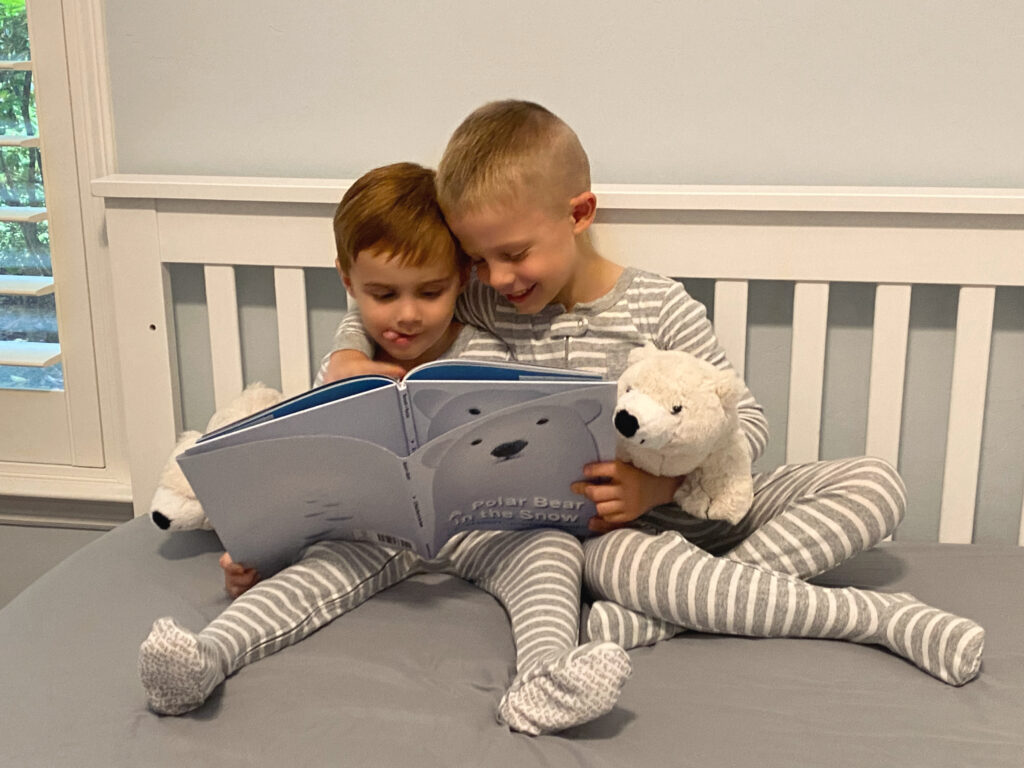 Books also make great gifts for kids, especially if you follow the Want Need Wear Read philosophy of gift giving. When our kids fall in love with a book, we often buy extra copies to keep on hand for birthday parties or holiday gifts since we already have a pretty good idea that it will be a win!
If you'd like to add this to your holiday book list, you can find A Polar Bear in the Snow from Candlewick Press at their website, on Indie Bound, Amazon, Better World Books, BookShop, or your local bookstore.
This article is part of a collaboration with our advertising partner, Candlewick Press. All thoughts and opinions shared are strictly our own. Thank you for supporting the brands that make it possible for Green Child to share free natural parenting and healthy living content.