Tips for Holiday Baking With Toddlers and Kids
Sugar cookies and gingerbread houses draw my kids to the kitchen during the holiday season. Rolling, pouring, and sifting, they join me in my annual baking marathon. Then they linger, hoping for a sweet treat. Holiday baking with toddlers and kids can be so much fun.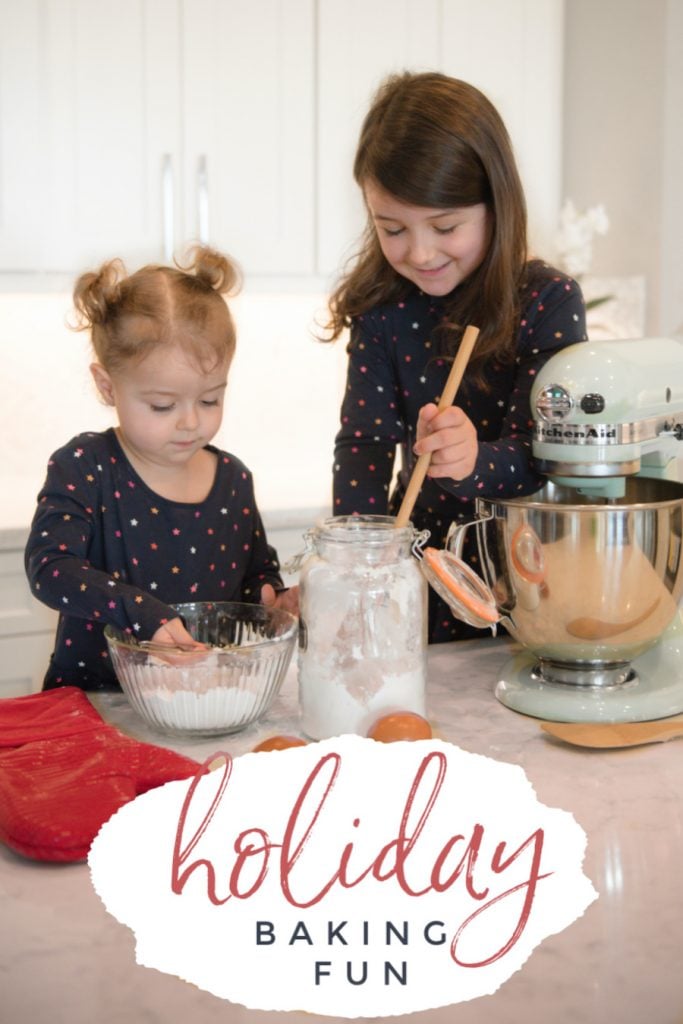 There are so many benefits to cooking with toddlers. The best way to dip a toe in is to start with baking. And what's more fun than baking during the holidays?
Invite your little one to join you for some holiday baking and have some kitchen-table fun between recipes.
SPOON SIZING
Gather up an assortment of spoons and have your tot line them up from shortest to longest or see if there are enough to span the length of the kitchen table.
HOW HEAVY?
Pull out the kitchen scale to see how much various food items weigh. To really get scientific, pour equal amounts of water into two different containers of different shape and size.
Ask kids to guess which container has more (they'll likely choose the higher water level). Show them how the same amount of water looks different depending upon the container it's in.
OIL & WATER
Fill a clear plastic bottle half-way with water and add several tablespoons of vegetable oil. Shake gently and then watch as the oil and water separate, again and again.
LITTLE HELPERS
Let your child measure flour. Use a one-half cup dry measure and show her how to mound the flour on a plate; this makes it easy to see if the amount is correct. If you need eggs for your recipe, crack an egg into a deep bowl, offer a whisk, and ask her to beat the egg for you.
CANDY BAR
Let kids set chocolate chips, nuts and mini marshmallows on a sheet of waxed paper; microwave until melted, then freeze into a homemade candy 'bar'.
COOKIE PRACTICE
While the sugar cookie dough is chilling, let your child practice using cookie cutters on some old Styrofoam trays. Baking with toddlers can be educational and fun.
PLAY DOUGH
Let each child roll a bit of leftover dough (pie dough works well) into a circle, then sprinkle with cinnamon sugar. Bake it with the next batch just until it's browned and let them enjoy the treat.
EASY HOLIDAY RECIPES WHEN BAKING WITH TODDLERS
If you need inspiration for your holiday baking fun, here are some recipes your little ones will love to help with.
Easy Gluten-Free Peppermint Brownies
Old Fashioned Persimmon Cookies
North Pole Cupcakes
Gluten-Free Gingerbread Bites
Easy Fresh Ginger Cookies
Whole Grain Apple Cinnamon Bars
Holiday Snowball Cookies
Grain Free Banana Bread