The holidays are here, and one of my favorite ways to celebrate includes this rich, comforting raw vegan eggnog.
As the holidays approach, so do cookie exchanges, extra visitors, and festive gatherings. And as much as I love creating healthy, nourishing meals and treats for my loved ones I also want to maximize the amount of quality time I actually spend with them both in and out of the kitchen.
That's why I tend towards creating recipes that are extremely forgiving so little hands can help out measuring, mixing and making and so we both can enjoy the satisfaction of making sweet treats that everyone, of all ages, can savor together.
The smell of gingerbread and raw vegan eggnog make me feel nostalgic for the holidays of my childhood. Gingerbread is one of my favorite wintry flavors, but I prefer not to spend hours fussing over and rolling out the more traditional dough.
Instead these raw gingerbread bites whip up in less than 10 minutes, require no baking and easily store in the fridge or freezer to pull out when expected (or unexpected!) guests arrive. They're gluten, dairy, and refined sugar-free and packed full of protein and healthy fats. My young children love them and I love that although we still consider them treats they don't result in the sugar highs and lows of the more processed, sugary cookies that tend to be served at this time of year. The ginger will even help soothe upset tummies of all ages.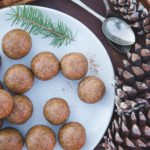 Print Recipe
Gluten-free, Raw Gingerbread Bites
Ingredients
1/2

cup

almond meal

3/4

cup

rolled oats

1 1/4

cups

pitted medjool dates

1

teaspoon

vanilla

1/2

teaspoon

sea salt

1

tablespoon

cinnamon

1

teaspoon

ground ginger

1/2

teaspoon

nutmeg

1/4

teaspoon

cloves
Instructions
Blend the oats in a high speed blender or food processor until it forms a floury meal (resembling the almond meal).

Add all remaining ingredients, except for the dates and vanilla, to the oat meal and process until fully combined.

Add half of the dates and process until well combined, then add the remaining dates until you have dough that sticks together.

Roll approximately 1 tablespoon of dough at a time in between the palms of your hands to create your raw gingerbread bites. Store at room temperature for up to 3 days or in the fridge for up to two weeks. These also freeze well.

Enjoy!
Come December festively decorated cartons of eggnog have always been a mainstay in our fridge. But when our family slowly started to make changes towards a healthier, whole foods diet I began experimenting with what has turned out to be a completely delicious experiment that, dare I say given that I used to be a store bought egg nog die hard, is even better than the 'real' stuff.
And – here's the clincher – you can even enjoy this sinfully rich egg nog smoothie for breakfast! It's that good for. It's chock full of potassium from the bananas, the turmeric adds amazing anti-inflammatory healing properties, and anti-microbrial cinnamon strengthens the immune system on chilly winter days.
This homemade raw vegan eggnog takes a short 2 minutes to blend up and has become a huge hit in our home with family and friends.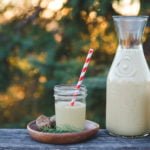 Print Recipe
Raw Vegan Eggnog Milkshake
Ingredients
1

frozen banana

1-2

medjool dates or 1 tbs maple syrup

1

cup

milk of choice

1

teaspoon

vanilla

1/2

teaspoon

ground cinnamon

1/4

teaspoon

fresh or ground ginger

pinch

of nutmeg

pinch

of turmeric

little squeeze of lemon
Optional
Add 1 tablespoons of tahini or almond butter
Instructions
Place all ingredients in a blender and blend on high until completely smooth.

Enjoy!


Latest posts by Kylah Dobson
(see all)