Tips for Cooking With Toddlers
You can say what you want about toddlers — and there surely is a lot to say — but little kids really want nothing more than to help. So if your three-year-old is causing a fuss while you're trying to cook, the best solution could be to get them involved. Yes, this may seem like the absolute worst recommendation, but hear us out.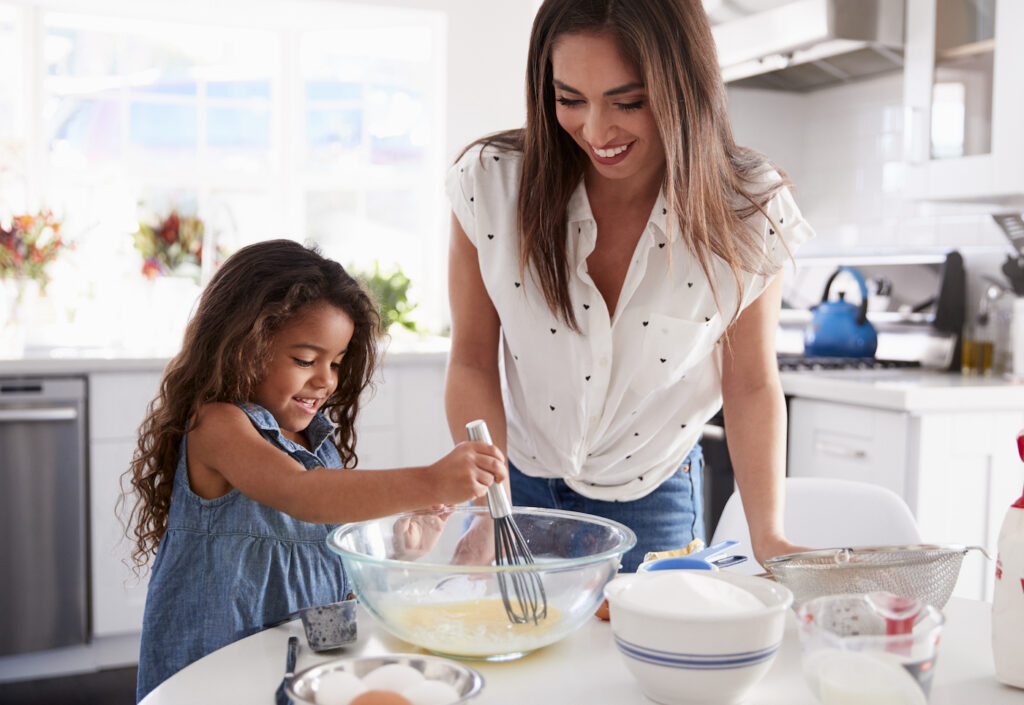 The Benefits of Cooking With Toddlers
If the idea of cooking with toddler sounds like a disaster waiting to happen, you might be right. At least one egg will probably break on the floor and they're bound to end up wearing a few ingredients, but trust us, it's worth the mess.
Cooking with your toddler can help encourage picky eaters to try new foods.
If they are involved in the making of their meal, they will feel proud and invested. This can help entice picky eaters in a healthy way without so much pressure. Plus, cooking with a toddler can reenforce the sense of togetherness, if they enjoy cooking with you, they may also be inclined to enjoy eating with you.
Cooking can stimulate their mind and senses.
Toy rotations getting old? Will one more viewing of Encanto cause your brain to combust? Stimulate and entertain your toddler while cooking. It's a productive activity that you both can do and enjoy together. Further HealthyChildren.org points out that doing sensory acts like kneading dough, rinsing vegetables, and tearing lettuce all involve touching food and getting comfortable with texture.
Cooking gives them a sense of pride and resourcefulness.
Cooking is a life skill, not to mention toddlers will love the fact that they made something for the whole family to enjoy.
Toddler Cooking Safety and Setup
Of course, there are serious safety measures to follow when cooking with a toddler. Be sure to think ahead and remove obvious hazards before you get started. Take away sharp knives and position an activity tower or sturdy stool near the counter so that they don't end up on a wobbly chair or on the counter where they could potentially get into more trouble than necessary. Also, take some time before the activity to fully explain the danger of fire and the meaning of hot. Be clear that they should no touch or get too close to the flame or electric stove top.
When it comes to cooking with a toddler, you can keep the set up fairly simple. But if you really want to set the scene consider equipping yourself with:
Measuring cups and spoons
Clean dish towels
Cute kiddie apron
I also like to keep wipes handy to clean up small messes along the way. And I keep a spare "garbage bowl" on the counter for food waste like egg shells, kale stems and the like. If possible, I also try to pre-measure ingredients like sugar, milk and water. Doing so can help ensure the actual dish comes out palatable.
Recipes to Make with Toddlers
When cooking with toddlers, you have limitless options, but it's best to start small and work your way up.
Here's some ideas to help you both get started:
Simple side dishes. One of the first dishes I cooked with my toddler was sautéed mushrooms. It helped introduce her to a new food and the ingredients were simple to work with and relatively mess-free. She rinsed and sliced the mushrooms herself, drizzled olive oil, and used her spoon to sauté on her own. She also sprinkled salt at the end and ate the entire serving herself. Sharing is not guaranteed! Doing something similar with broccoli or spinach could be another way to go.
Pasta and mac and cheese. I have found that pasta is another good option for cooking with my toddler. She can split the spaghetti and stir the sauce with little complication. Plus she can slice up mushrooms for the sauce or sprinkle in salt while the water boils. And she can also add in cheese and milk to mac and cheese and watch it melt and bubble, which has been pretty satisfying for her.
Baked-goods. With baking, you don't have to worry about a flame, so a batch of cookies or a cake that your toddler could also decorate once fully cooked are other good ways to start cooking with your toddler.
Once you cook together a few times, consider moving on to some other kid-loved recipes. Remember to have fun with it! And if the meal doesn't quite come out how you expected, force down a few bites with a smile and order in a pizza. The time spent together is what is truly the most worthwhile part of cooking with a toddler anyway.
And if you think cooking with a toddler is scary, how about flying with one? Read on for some tips to make traveling with toddler less intimidating.