The Art of Toy Rotation: Encourage Creativity, Focus & Fresh Fun
Toy rotation helps keep the toys available to your child at a manageable level. Kids are free to flex their imaginations when given fewer toy choices. We're learning Einstein was right when he said, "the true sign of intelligence is not knowledge but imagination."
Despite the notion that lots of toys brings hours and hours of fun, the truth is that kids with too many toys often become overwhelmed, frustrated and even bored. Even if you're not the one buying lots of toys (hello, grandparents!), they have a habit of piling up.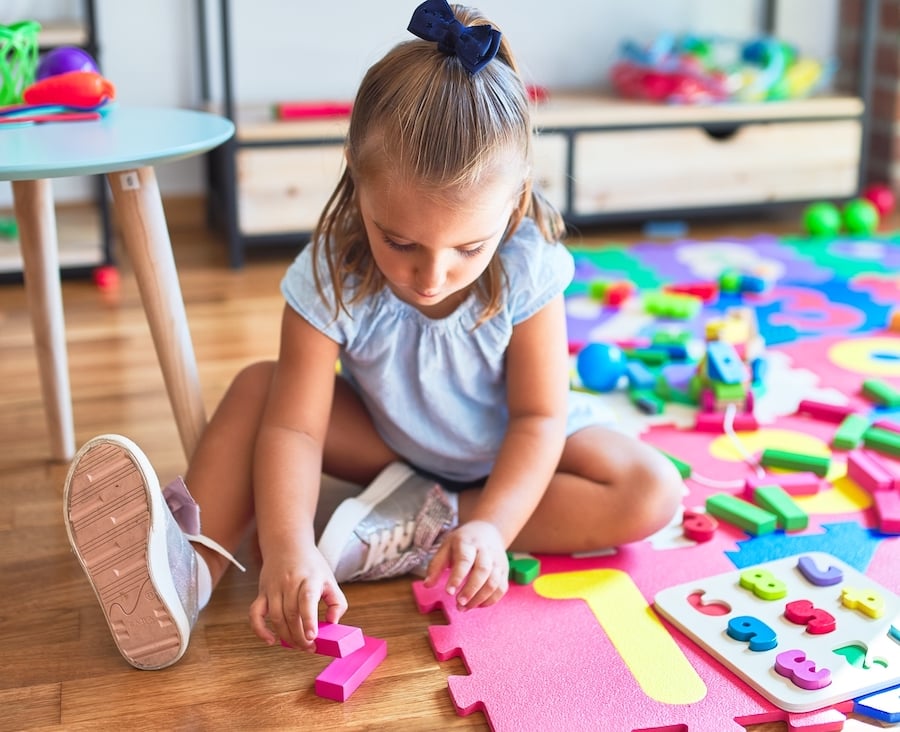 Kim John Payne, co-author of the book Simplicity Parenting:Using the Extraordinary Power of Less to Raise Calmer, Happier, and More Secure Kids says, "As you decrease the quantity of your child's toys and clutter, you increase their attention and their capacity for deep play." Too many toys, too many options, leads to a sense of stress and overwhelm, but a small, manageable number opens up a sense of freedom and pathway for creativity.
Decluttering is one way of reducing, but even then, you may find yourself with just too many toys. Implementing a toy rotation system is the next step in simplifying your child's world and keeping the toys available at a manageable level.
Toy rotation is simple. You choose a small selection of toys for your child to play with and box up the rest.
At regular intervals, you'll swap the current toys for and the ones you stored away. Your child will enjoy the "new" toys, and she'll spend more time actually playing and less time weeding through piles of toys.
The Benefits of Toy Rotation
Having fewer toys available reduces over-stimulation and overwhelm and leads to more creative play and "outside-the-box" thinking.
Your home is less cluttered, and cleanup time is simpler.
Each rotation is like getting a new set of toys, which brings excitement back to play and reduces boredom.
A rotation is an opportunity to weed out toys your kids have outgrown.
Children can lose interest when they see the same toys day in and day out… in the same containers… next to the same toys they always use. Toy rotation gives them new experiences to learn from.
Setting Up a Toy Rotation System
Here's how to get started:
1 – Gather all the toys.
You may want to do the initial sorting while the kids are not around. Don't include your child's lovey or any favorite item they use for comfort.
2 – Sort through and donate what your children have outgrown or recycle anything that's broken.
This is your opportunity to give the B-list players a fresh start, so evaluate each toy with a critical eye to determine what needs to go for good and what might become popular again.
3- Divide the keepers into categories:
Thinking toys

–

These toys target cognitive development and usually encourage development of fine motor skills as well. They include toys like puzzles, games, brainteasers and shape sorters.
Art and creation toys – Paper and crayons, coloring books, paint, clay, play dough, crafts and other art supplies.
Active movement toys – These toys target gross motor movements. They include toys like balls, swings, ride-on toys, tricycles, sports equipment and climbing toys.
Building toys – These toys encourage fine motor development. Stacking blocks, nesting cups, Legos, Megablocks, Lincoln Logs, bristle blocks.
Musical toys – Small pianos, shakers, wind instruments, drums, rain sticks, tambourines.
Pretending toys – These toys target social and emotional development and language skills as your child acts out stories she's made up. They include things like kitchen sets, car sets, fire stations, stuffed animals, or dress-up clothes.
4 – Divide them up.
Then make sets of toys by choosing no more than 2-4 toys per category and putting them into separate "rotation" boxes.
Try to give each box a variety of toy options while keeping the total number of toys manageable. You might have anywhere from two to four rotation boxes. Number the boxes to make rotation easy, and jot down a quick description of what's in each box for future reference. Find an easy-to-access location to store the boxes that are out of your child's sight.
5 – Arrange the first set of toys in your child's play area so they can see what's available.
If he asks about some of the other toys you've stored away, simply tell him those toys are on a vacation and will be back soon.
Other Ideas for Rotating Toys
Create seasonal boxes with toys specific to the season.
A winter box may have snow toys, snowman-making parts and indoor fort-making supplies, while summer boxes may contain water toys, exploring toys for backyard hikes and sandbox supplies.
Create special holiday boxes, such as Halloween, Winter Holiday, or Easter.
Halloween boxes may contain extra costuming supplies, "scary" insect sets and play pumpkins. Winter Holiday sets may include nativity toys, advent calendar kits, mini Christmas trees, dreidels, or holiday-themed craft supplies. An Easter box may include toy bunny rabbits, egg-dying supplies, and plastic eggs. Use your imagination, and make boxes for your family's favorite holidays with toys specific to your traditions and beliefs.
Join a toy rental service.
Like Rent the Runway for toys, there are services that allow your child to get a package of new toys at regular intervals. ToyLibrary rents out toys from popular brands like Lego, Disney, Hot Wheels, and Fisher Price. Every toy is cleaned and sanitized before it's sent to you. If your child falls in love with the toy, there's the option to buy. Otherwise you return them once the novelty wears off.
If you have a lot of children's books, create book boxes to rotate.
Divide books by theme, season, or holiday making sure to include a few favorite characters in each box. While you probably have the old standby books out all the time, this is a useful way to keep bookshelves orderly and not overwhelming. Plus it's really fun to pull out those beloved holiday stories each year to make special memories reading together.