Vegan Chickpea Tikka Masala Recipe
This vegan Chickpea Tikka Masala recipe uses nutritious chickpeas in lieu of chicken. Serve with jasmine rice for a hearty meal.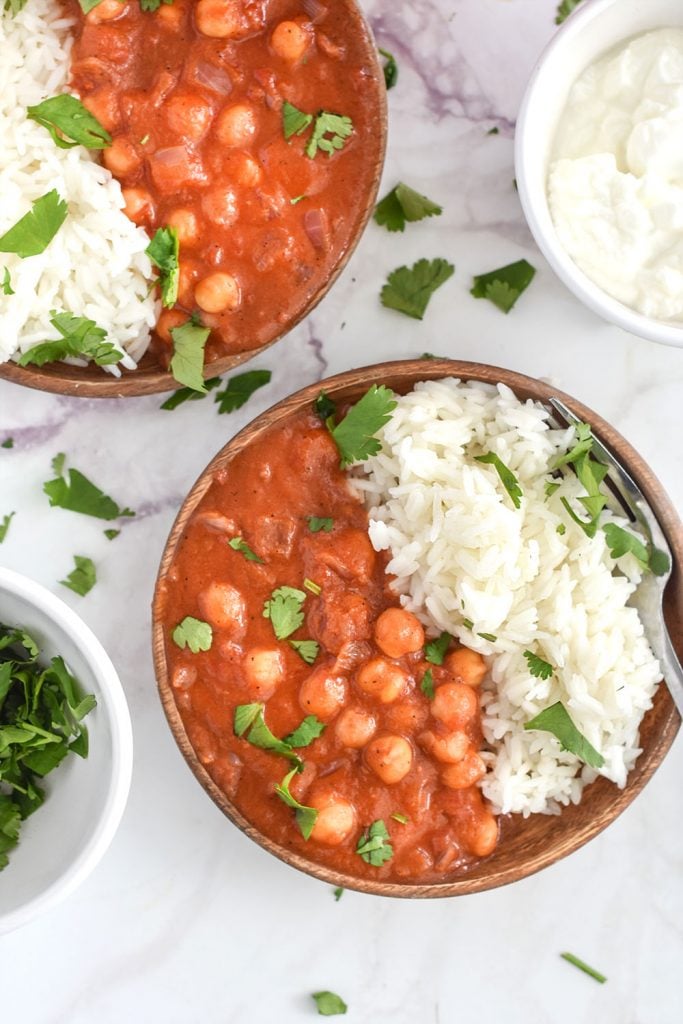 If you love chicken tikka masala, this recipe matches all the flavor without the meat, so it's perfect for Meatless Monday or a vegetarian family.
Here's everything you need to make chickpea tikka masala.
Chickpeas (garbanzo beans) – Use 2 cans of organic chickpeas or 3 cups freshly cooked.
Tomatoes – A 28 oz. can of organic diced (or crushed) tomatoes is easiest. If you prefer fresh, dice about 5 ripe tomatoes.
Coconut milk – We used a can of full fat organic coconut milk to avoid dairy in this recipe.
Onion – One large red onion works best in this recipe.
Garlic – We used 6 cloves. Feel free to adjust to taste.
Ginger – Scrape off the skin and grate 1 tablespoon of ginger. You can also try a microplane or a garlic press.
Garam Masala – The magic of a tikka masala, these warm spices are SO good for your digestive system. This is typically a blend of spices like coriander, cinnamon, cumin, cloves, black pepper, and cardamom.
Cilantro – optional, of course, for anyone who has the cilantro-tastes-like-soap gene.
Lemon juice or red wine vinegar – Our Florida office stays in a lemon juice surplus year round, so we put at least a teaspoon in just about everything. If you don't have lemon (or your own lemon tree), red wine vinegar works great – plus it's also extremely beneficial for your microbiome.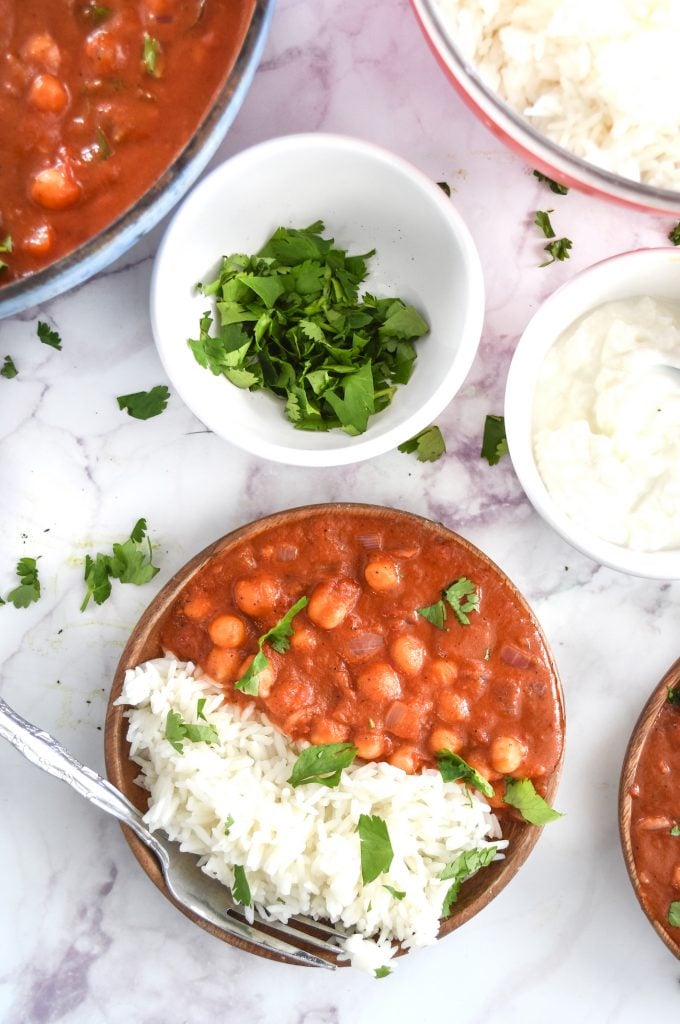 Whether your family prefers Tikka Masala mild, or more spicy, you're sure to love this recipe. Let us know how spicy you make it!
Chickpea Tikka Masala
A hearty and delicious vegan tikka masala
Print Recipe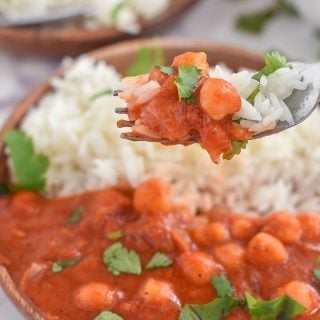 Ingredients
1

tbsp

olive oil

1

large red onion, diced

6

cloves

garlic, minced

1

tbsp

freshly grated ginger

4

tsp

Garam Masala

1 1/2

tsp

salt

2

cans

chickpeas, drained and rinsed

1

28 oz can

crushed tomatoes

1

can

full fat coconut milk

1/4

cup

cilantro, chopped

(plus more to garnish, if desired)

1

tsp

red wine vinegar or lemon juice
Instructions
In large dutch oven, heat oil over med-high heat.

Add diced onion and cook for 3 minutes, until translucent.

Add the garlic and ginger and saute for another 2 minutes, until fragrant.

Add the Garam Masala and salt and toast for 1 or 2 minutes, until fragrant (if needed, add a bit more olive oil to keep the pan from being too dry).

Add the chickpeas to the onion mixture and coat well.

Add the tomatoes and coconut milk and bring to a boil. Simmer until heated through and the chickpeas are your desired softness…at least 12 minutes.

Stir in cilantro and red wine vinegar right before serving.

Serve with jasmine rice and optional additional cilantro for garnish.
Notes
Add a teaspoon of coriander and 1/8 teaspoon of cayenne pepper to up the spice.