16 Doable & Effective Ways to Thicken Your Hair Naturally
If you dream of having thick, shiny, shampoo model hair but don't want to use conventional or dangerous products, this one's for you.
And FYI – most of the products and supplements advertised as a natural hair thickener either aren't safe or don't really work.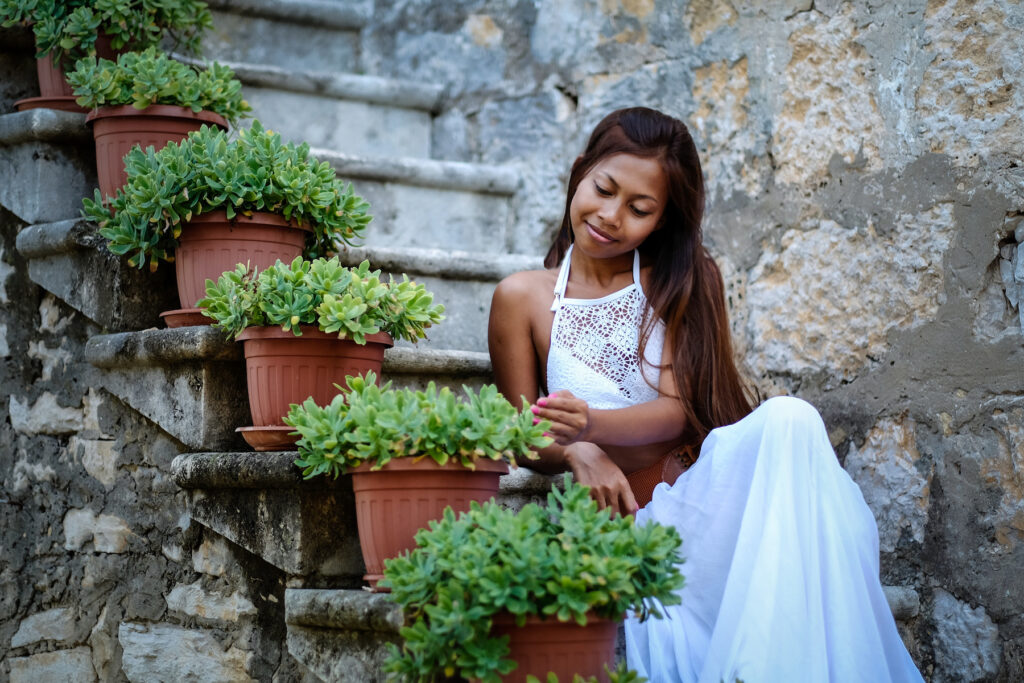 In fact, some of the chemicals in hair growth products can actually cause more damage to your hair. Fortunately there are many longstanding, effective options you can use to promote hair health.
If you've experienced sudden hair loss, talk with your healthcare provider to rule out any underlying medical conditions. The suggestions here are all based in nutrition or holistic health. If you're allergic to any of these foods or oils, don't eat or apply them topically.
Natural Ways to Thicken Fine or Thin Hair
Genetics and lifestyle play a part in hair health.
Rachel Nazarian is a board-certified dermatologist based in New York City. She explains that there can be many triggers for excessive hair loss. Some of these triggers may be stress, poor nutrition, diet, medication, hormonal changes, endocrine abnormalities such as thyroid dysfunction, or mineral and vitamin deficiency.
If you experience prolonged unexplained hair loss, see your healthcare provider or a dermatologist. They can assess the situation and potentially order tests to check hormone levels.
Sometimes the culprit is how hard you are on your hair. Excessive heat styling can damage your hair. Try a heatless hair styling option instead.
And when it comes to nourishing thicker hair, many of these remedies are backed by science. You'll notice that many of these are great for your overall health, too.
Eat More Eggs
The egg aisle in your grocery store might not seem like a resource for hair growth, but pick up an extra carton during your next trip. Eggs contain many essential ingredients that your hair needs to thrive. According to a recent study of alopecia patients, the water-soluble peptides stimulate new hair growth.
Eggs also contain natural protein that fuels your body's biological processes. You'll start noticing thicker hair and feel more energetic when eggs become a routine part of your diet.
If you can't stand the texture or smell of eggs, there are still ways to add them to your meals and snacks. Instead of scrambling or making omelets, you could mix them into cheesy recipes for thicker sauces. Add an egg to your favorite veggie fried rice or make healthier versions of foods like whole wheat pancakes.
Try a Scalp Massage with Olive Oil
A twice daily scalp massage has been found to help people experience more hair growth and less hair loss than relying on supplements alone. The pressure and movement send additional blood to your scalp, which may be what your follicles need to jumpstart your growth.
This hair growth tactic helps to turn over dead skin cells and stimulates blood flow to the follicle. You can repeat scalp massages numerous times daily to have better results and relieve headaches or anxiety.
Apply an olive oil mixture to your scalp to make the massage even more effective. The vitamins and minerals trap moisture in hair follicles that may be too dry to generate growth. Cover with a shower cap to avoid any mess.
Use Safe, Non-Toxic Products for Hair Growth
Many of these options are dietary or DIY, but we know not everyone has the time or patience. There are safe products available that help promote thick, healthy hair. Plantmade is a conscious brand devoted to hair health growth via handmade, vegan, and ethical products. We particularly love their shampoo and conditioner bars, their gentle scalp and beard massager, and their glorious hair oil.
Use Aloe Gel on Your Hair
There's a reason why aloe appears in many costly shampoos and conditioners. Researchers found it to improve natural hair growth for a few reasons. It hydrates dry skin cells and contains enzymes that break down oils and cells clogging follicles.
Massage aloe into your scalp regularly for best results. You can also add it to your preferred shower products to save money.
Aloe is easy to grow at home. Keep it outside in warm months so it gets all that beneficial sunlight. And move it indoors in the winter because it likes warmth. Anytime you need more aloe for your skin or hair, just pull off a part and use the organic gel to add to your beauty routine.
Add More Healthy Fats to Your Diet
As you can probably tell, diet is one of the most powerful home remedies. Healthy fats like avocados, walnuts, and fish (see the seafood section below) contain Omega-3 fatty acids which can serve as a natural hair thickener and so much more.
Enjoy More Seafood
Treat yourself to a delicious seafood recipe at least once a week to thicken hair naturally. The variety of essential vitamins seafood contains can fill the gaps in your diet and lead to overall better health.
Eating more fish and lobster adds nutrients like Vitamin C which your body needs to regulate cell growth that supports bodily functions. Fish also provides biotin, so your scalp retains healthy follicles. Wild caught salmon is an excellent choice for your overall health.
Apply Avocado
Eating avocado is awesome for your taste buds and your health. But did you know the vitamin E, fatty acids, and natural oils make it another great conditioning hair mask?
Apply an avocado and olive oil mixture to your scalp and hair. Let it sit for 30 minutes and then wash thoroughly.
Switch to a Natural Boar Bristle Brush
A quality hair brush with natural boar bristles can help distribute natural hair oils evenly from your scalp down to the rest of your hair. Boar bristles also help detangle hair so you experience less breakage.
Make a Castor Oil Hair Mask
Your grandma used castor oil for loads of health related issues. Castor oil can also be a helpful resource in your journey to thicker hair. It also reduces cellular inflammation when applied topically.
Add a little castor oil to your conditioner for extra moisturizing power whenever you wash your hair. You could also rub castor oil into your scalp and let it soak for at least 10 minutes (cover with a shower cap to avoid a mess) to enjoy a hydrating hair mask that stimulates follicle production.
Eat Organic Legumes
Legumes are an excellent source of biotin because they contain the protein that helps your follicles grow thicker hair. Legumes like peanuts, kidney beans, green peas, and chickpeas are easy to find and make. Your hair health will flourish with the extra protein, and the rest of your body will thrive with additional included nutrients.
Soothe Your Scalp with Coconut Oil
Coconut oil makes hair follicles stronger. Coconuts are natural sources of fatty acids and vitamins. Apply directly to your scalp and let these benefits soak into hair follicles.
Your hair will get extra nutritional support as it grows, whether you add it to homemade hair care products, massage it into your scalp, or find coconut-based hair products that fit your budget.
Make Your Own Shampoo and Conditioner
Conventional hair care products contain sulfates, which can cause inflammation on the scalp and disrupt the microbiome. You can make budget-friendly shampoo and conditioner at home. All you need is a recipe that caters to your hair follicles with ingredients that reduce daily hair loss.
You could combine ingredients like olive oil, castor oil, and aloe vera gel into shampoo bars or squeezable bottles. It depends on which hair products you prefer and the supplies you have at home.
You can also personalize your homemade shampoo and conditioner with other natural ingredients. Washing your hair every day with a conventional shampoo can strip it of natural oils. You'll also want to make sure you don't overuse dry shampoo, which can clog pore and follicles, reducing hair growth.
Make a Honey Hair Mask
If your follicles are struggling due to bacteria, the antioxidant capabilities of honey will reduce or eliminate the colonies.
A recent study also found that patients with injuries in hair-prone areas healed with new hair growth when topical honey treatments became part of their recovery regimen. The antibacterial properties promoted cellular functions for healing and follicle regulation simultaneously.
It might be easiest to massage honey into your scalp during a shower. The warm water soaking your hair will thin it so it's easier to work with. You'll also easily wash it out and follow the massage with conditioner to remove any remaining stickiness.
There are also numerous organic hair products with honey as a primary ingredient. Adding honey alongside natural nutrients like biotin and egg-based peptides offer great results.
Eat Pumpkin Seeds and Use Pumpkin Seed Oil Topically
As with your whole body, your hair health depends on numerous factors. And you have a variety of healthy options when it comes to an organic natural hair thickener like pumpkin seeds.
Pumpkins have oils that nourish the hair follicles. A team of researchers recently found that pumpkin seed oil penetrates deeply into the scalp and fills follicles with niosomes. The niosomes inhibited mRNA production leading to hair loss, ultimately slowing or stopping it for the study participants.
The participants didn't experience scalp irritation from applying the oil topically. We recommend using an organic brand of pumpkin seed oil.
Try a Citrus Scalp Massage
Most people know that orange juice is a great source of Vitamin C. Add some orange slices into a blender with a little water to create a puree. The thick substance is perfect for your next scalp massage.
Embrace the idea of a citrus massage when you're ready to thicken your hair naturally. Even though it may seem odd, the nutrients in oranges could be the missing ingredient your conditioner doesn't provide.
Try Onion Juice
Onions contain nutrients that help follicles thrive, but they also provide natural sulfur content you might not find in store-bought hair products.
Research shows that the sulfur in onions prevents the thinning and breaking of hair strands by supporting follicle functions. You'll gain thick hair by juicing or blending an onion and adding the onion juice to your hair care routine.
Massage the juice into your scalp, or let it sit at the root of your hair while you're in the shower. The smell may be off-putting, but the effects are undeniable.
Fortunately, store-bought products aren't your only resources to combat thinning or fine hair. Treating your follicles with an organic and natural hair thickener. Simple steps like adjusting your diet, treating yourself to a scalp massage, or making DIY hair care products can transform your hair and help it grow faster.