"Every baby moves with more ease and efficiency if allowed to do it at his own time and in his own way, without our trying to teach him. A child who has always been allowed to move freely develops not only an agile body but also good judgment about what he can and cannot do."
Respectful Parenting expert Magda Gerber encouraged letting small children (and even babies) climb and explore. Of course, you should supervise your child in any challenging or dangerous situation. But with solidly-crafted wooden toddler climbing toys from a trusted brand like EZPlay, you can create a safe environment for your little one to navigate and learn new skills.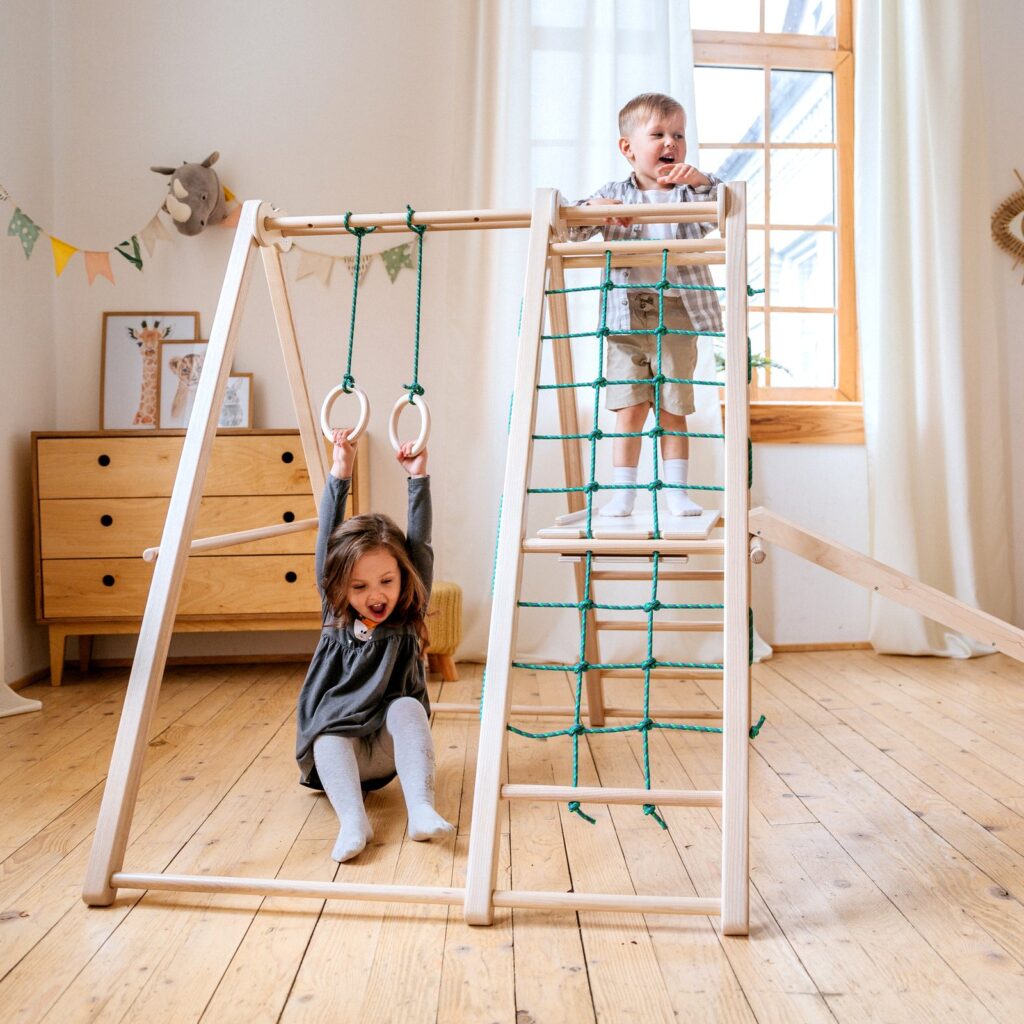 There's rarely a dull moment around your toddler. They're sweet… but love to test limits. They're fun… but exhausting.
As a parent, you might be tempted to enrich your toddler's development by increasing their academic exposure. However, what their brains need most is unstructured time to engage in child-directed play.
[It] is essential to development because it contributes to the cognitive, physical, social, and emotional well-being of children and youth. Play also offers an ideal opportunity for parents to engage fully with their children. Despite the benefits derived from play for both children and parents, time for free play has been markedly reduced for some children. (source)
THE BENEFITS OF TODDLER CLIMBING TOYS
There are a few reasons this time for free play has been reduced. Parents are busier, kids watch more screens, and more recently – playgrounds in some areas are less available due to lockdowns. One simple and fun solution is an indoor climbing set.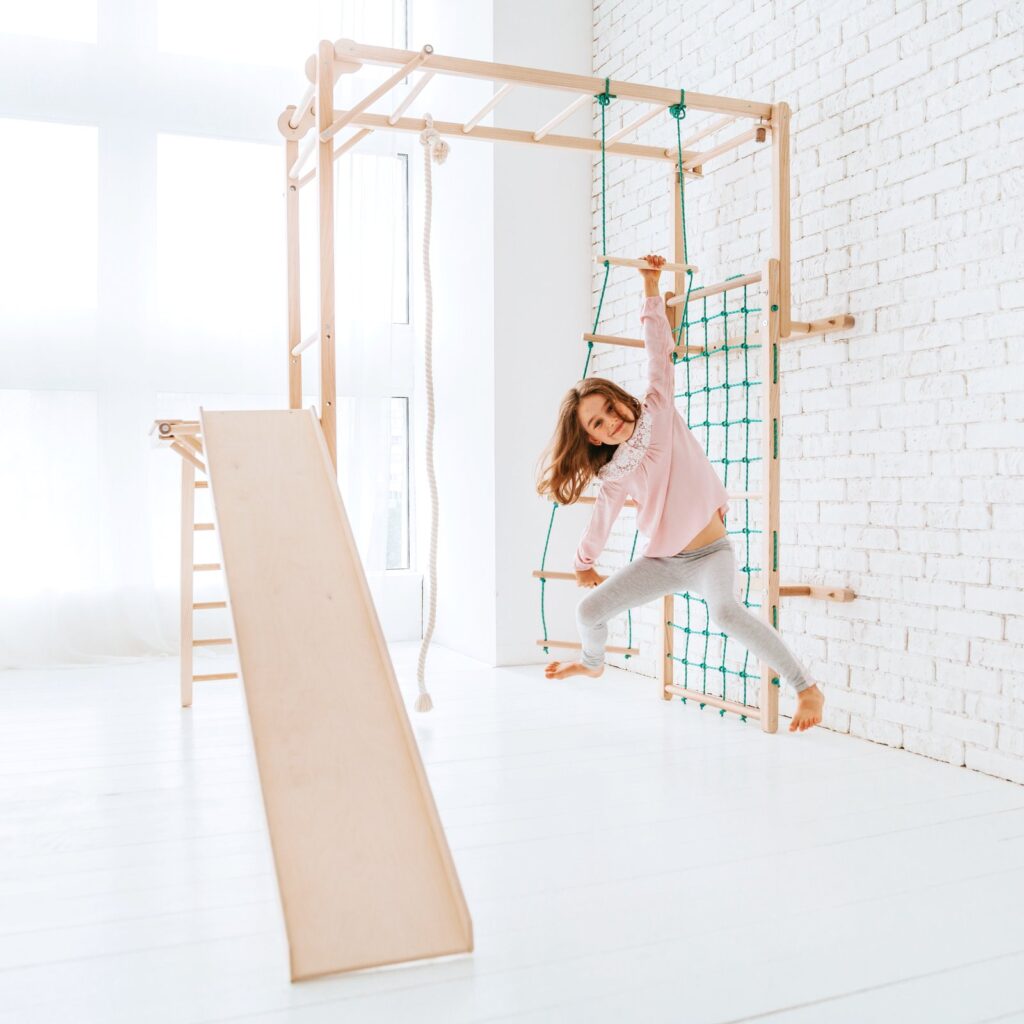 Here are some of the reasons climbing toys are so good for your toddler or small child.
1. CLIMBING TOYS ENCOURAGE HEALTHY PHYSICAL DEVELOPMENT
Small children love to climb. And they love a challenge! The physical act of climbing helps build muscles and strengthen bones. It also helps develop both upper and lower body strength since they need to both climb up and support their body weight. Climbing also improves cardiovascular health, coordination, flexibility, and posture.
These are great habits to begin early. Children who are physically active are more likely to maintain an active lifestyle throughout their lives.
2. THEY STIMULATE MENTAL DEVELOPMENT
Child Development Specialist and educator Maria Montessori believed that "play is the child's work." The toys we surround children with are their tools to achieve this "work" and these tools can give children a chance to practice real life skills. As tools that allow children this playful practice help build confidence, socio-emotional development, independence, problem solving, and an overall understanding of their world, toys actually hold great importance.
Climbing toys help exercise a child's motor activities and sensory experiences. Small children also experience the benefits of coordinated movements.
3. CLIMBING HELPS BUILD BALANCE
As toddlers' vestibular systems and proprioception develop, they gain more balance, understand where their limbs are and how they move, and have more coordinated actions. Hand-eye coordination is important, because it relates to just about any activity little ones do with their hands. But foot-eye coordination is just as important, because it allows children to accurately perform tasks with the legs and feet, like climbing stairs or kicking a ball. (source)
We're learning that a properly balanced vestibular system is more important to overall health than we realized. Many children with underdeveloped vestibular function may not like swinging, climbing, or they may be cautious walking down stairs. On the flip side, kids who sense they need more sensory stimulation may seek out these activities and climb too high, love swings, and love to spin. Find more on this in the fascinating book Balanced and Barefoot.
Monkey bars, climbing ropes, ladders, and gymnastics rings are some of the best ways to develop your child's vestibular system. EZPlay's Koala Adventure Jungle Gym offers all of these activities and then some.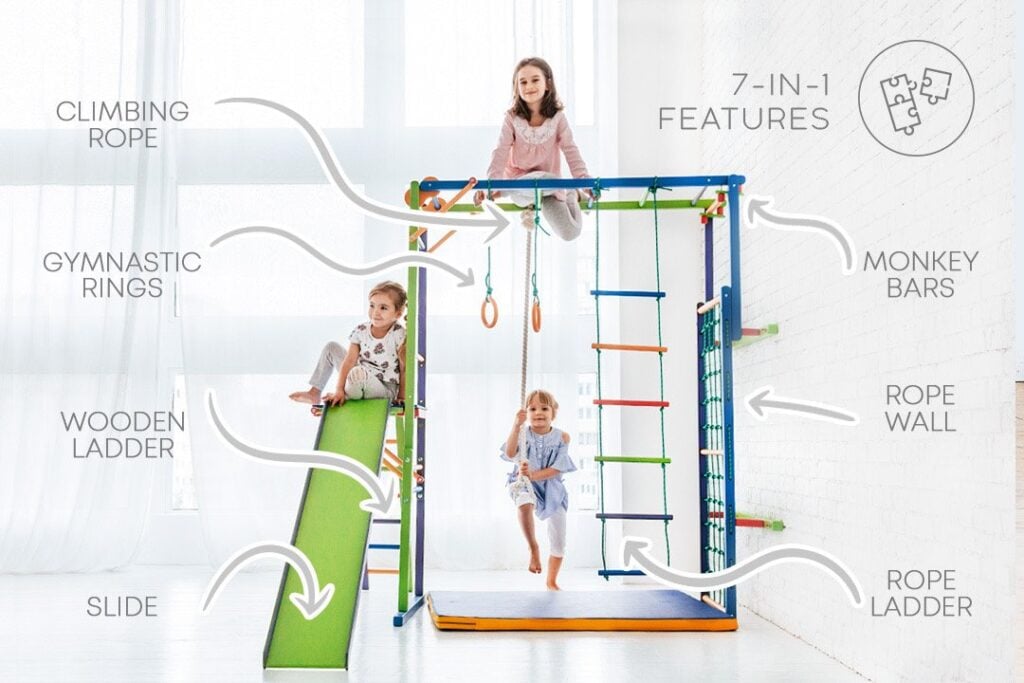 4. THEY INCREASE PROBLEM-SOLVING SKILLS
The only way for kids to be able to answer the question, "How am I going to solve this problem?" is to be in situations in which they need to solve problems. There is more than one way to 'conquer the mountain' of their climbing play set. With many possible routes to choose from, your child will have to decide their next best move.
At first they will probably make their decisions step by step, but as they become more experienced they'll be able to visualize a route all the way to the top with only that first step. This is extremely helpful in building their planning and problem-solving abilities.
MEET EZPLAY! A LEADER IN TODDLER CLIMBING TOYS
With more than 10 years in after school enrichment and daycare, the people behind EZPlay know what kids like. "You don't need to take our word for it – visit any school playground and you'll notice that kids LOVE jungle gyms."
Their indoor jungle gyms and toddler climbing toys allow kids to play all year round. They're foldable and take up minimum space. EZPlay playgrounds are great for kids aged 18 months+ so your family can enjoy them for years to come.
They're also more affordable than many similar wooden climbing toys available.
They offer three types of indoor play structures.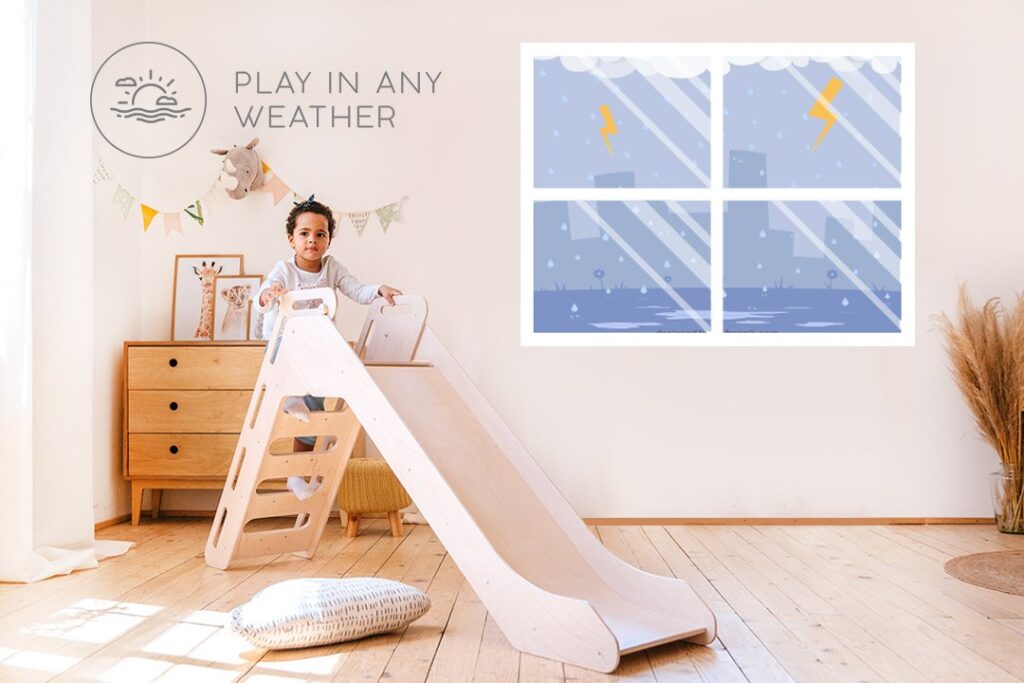 The Penguin Slide Playset also serves as a bed, sled, or just about anything else your little one can imagine when it folds up. As you can see, we're drawn to the natural wood finishes, but EZPlay's climbing toys also come in a multicolor option.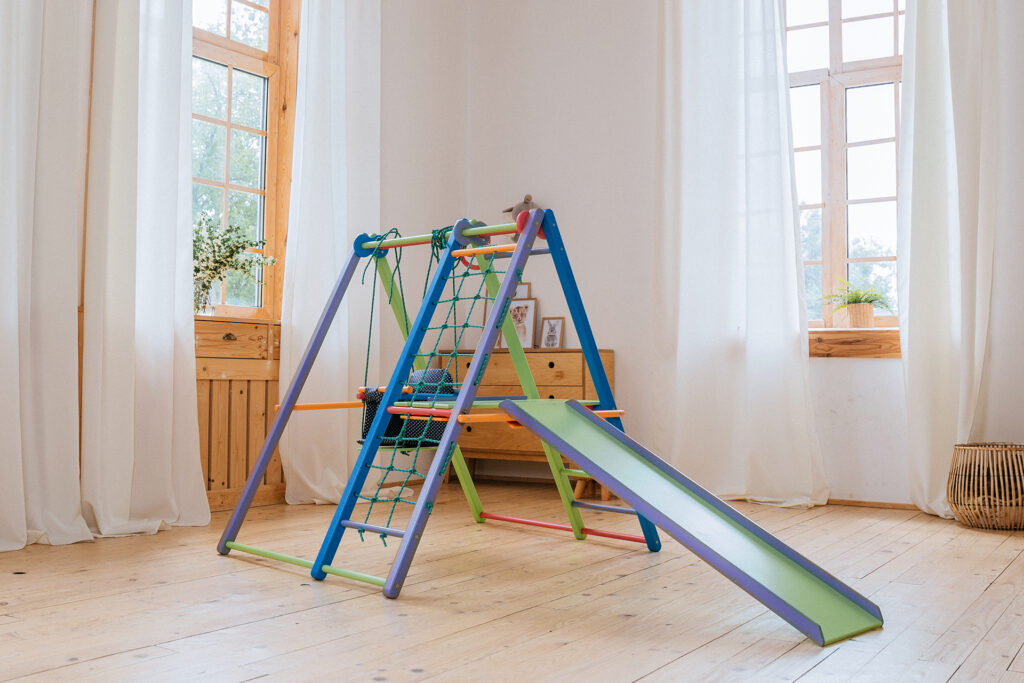 The Panda Playground Toddler Jungle Gym features a slide, swing, rope ladder, wooden ladder, and gymnastic rings. These activities offer the much-needed stimulation to your child's vestibular system we explained above. This toddler climbing toy will provide hours of fun and challenges for your little one. It also folds to save space.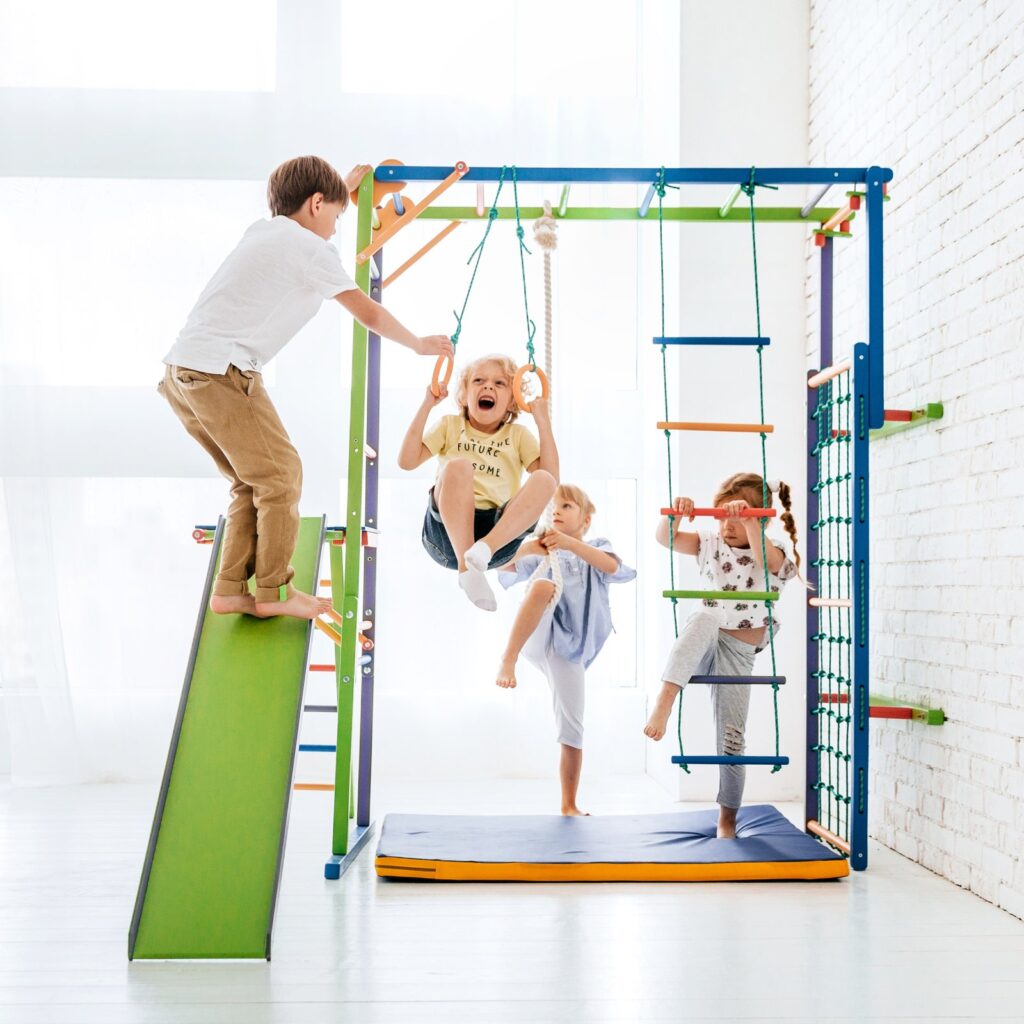 The Koala Adventure Kids Set offers a variety of activities and challenges for kids 4-10. It's spacious enough for multiple kids and includes monkey bars, a rope ladder, wooden ladder, gymnastic rings, rope wall, climbing rope, and slide.
SAFE MATERIALS YOU CAN TRUST
Whether you choose the natural wood or the playful multicolor options, you'll have the peace of mind knowing your child isn't exposed to anything harmful while they play.
EZPlay only uses sturdy ash wood and quality fittings to guarantee that their indoor jungle gyms are 100% safe for kids. Their attention to details ensures that you'll get a long-lasting play structure to use for many years. They also use only water-based non-toxic paint and solvents to work the wood to a high level of craftsmanship.
You can take these wooden play sets outside to enjoy a beautiful day, but it's best to store them indoors to preserve the wood from weathering.
TIME TO PLAY!
Everyone feels better after physical activity. When kids climb, play, and hang, they let off some steam and get some of that wiggly, active energy out. It can make for a calmer dinner time and easier end to the day.
So, let them run and climb. Encourage them to explore, test their own limits, and learn how to maneuver independently. Keep an eye on them for safety but don't instruct. You just might be amazed at what even a toddler can accomplish.
This article is part of a collaboration with our advertising partner, EZPlay. All thoughts and opinions shared are strictly our own. Thank you for supporting the ethical brands that make it possible for Green Child to share free natural parenting and healthy living content.
​
Latest posts by Green Child Magazine
(see all)