Looking for the best climbing toys for toddlers? Here's what you need to know about the many benefits of climbing and how to choose the safest options for your little one to explore.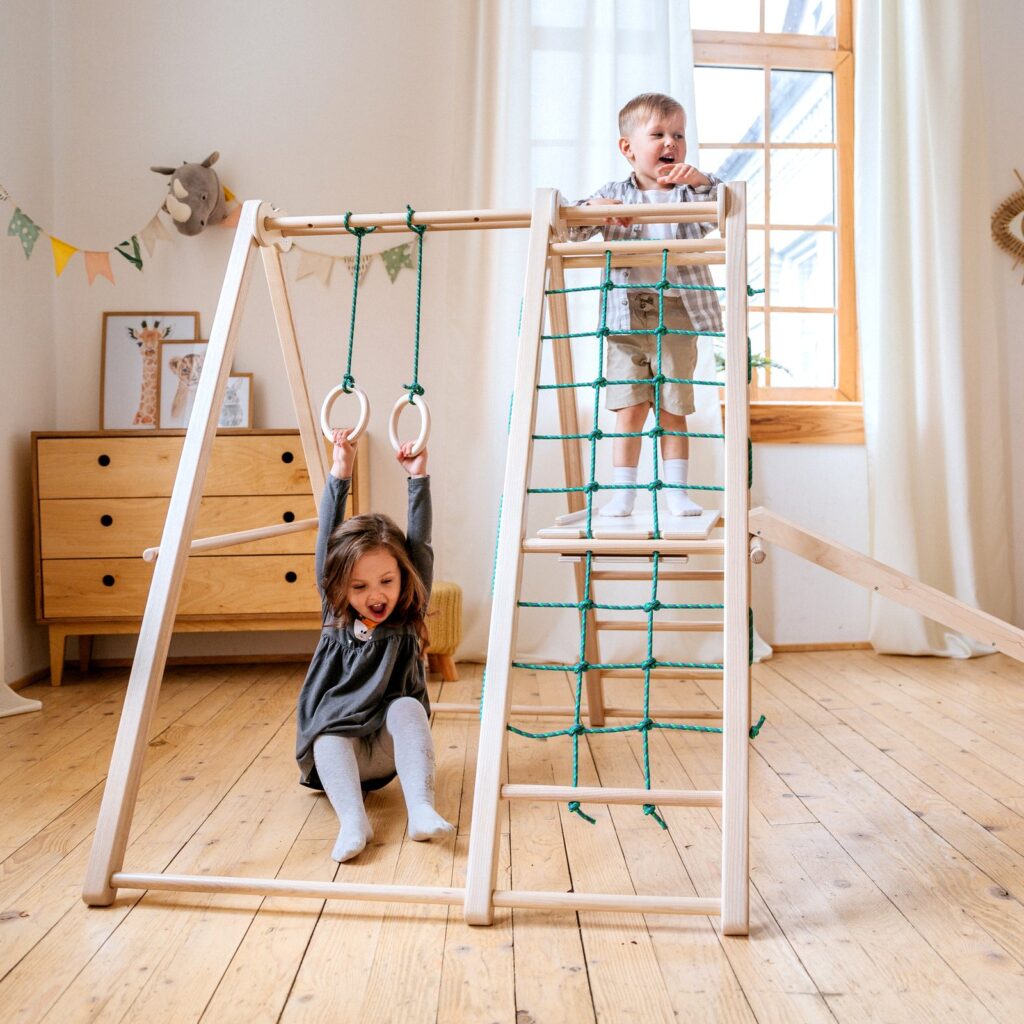 Recently our friends brought their sleeping toddler to a party at our house. When he woke up and found himself surrounded by strangers, he cried and clung to his mom despite all the well-intentioned adults trying to engage him or offer him snacks. His sweet mama knew he was the priority and sat in a quiet area outside to help him get acclimated.
Once everyone stopped fussing over him, he started to play with toy cars and tractors. Soon, he was driving them around on the lanai furniture. Then he started angling the cushions into an elaborate obstacle course of climbing and sliding. I saw his little personality emerging, and it reminded me of how important movement is to helping kids to settle emotionally.
Kids Need to Move, Climb, and Explore
Respectful Parenting expert Magda Gerber encouraged letting small children (and even babies) climb and explore:
"Every baby moves with more ease and efficiency if allowed to do it at his own time and in his own way, without our trying to teach him. A child who has always been allowed to move freely develops not only an agile body but also good judgment about what he can and cannot do."
There's rarely a dull moment around your toddler. They're sweet… but love to test limits. They're fun… but exhausting. And while we can try really hard to understand a toddler's moods, their curiosity is rarely going to contribute to us getting anywhere on time!
As a parent, you might be tempted to enrich your toddler's development by increasing their academic exposure. However, what their brains need most is unstructured time to engage in child-directed play.
[Child led play] is essential to development because it contributes to the cognitive, physical, social, and emotional well-being of children and youth. Play also offers an ideal opportunity for parents to engage fully with their children. Despite the benefits derived from play for both children and parents, time for free play has been markedly reduced for some children. (source)
There are a few reasons this time for free play has been reduced. Parents are busier, kids watch more screens, and more recently – playgrounds in some areas became less available due to lockdowns. Even if you don't have access to outdoor climbing toys and structures, you can buy or DIY great options at home for indoor or outdoor use.
The Benefits of Toddler Climbing Toys
Of course, you should supervise your child in any challenging or dangerous situation. But with safe, solidly-made toddler climbing toys, you can create a safe environment for your little one to navigate and learn new skills.
One simple and fun solution is an at-home climbing set. They come in many sizes and options, and they can be used indoor or
Here are some of the reasons climbing toys are so good for your toddler or small child.
1. Climbing Toys Encourage Healthy Physical Development
Small children love to climb. And they love a challenge! The physical act of climbing helps build muscles and strengthen bones. It also helps develop both upper and lower body strength since they need to both climb up and support their body weight.
Climbing also improves cardiovascular health, coordination, flexibility, and posture.
These are great habits to begin early. Children who are physically active are more likely to maintain an active lifestyle throughout their lives.
2. They Stimulate the Brain
Child Development Specialist and educator Maria Montessori believed that "play is the child's work." The toys we surround children with are their tools to achieve this "work" and these tools can give children a chance to practice real life skills.
As tools that allow children this playful practice help build confidence, socio-emotional development, independence, problem solving, and an overall understanding of their world, toys actually hold great importance.
Climbing toys help exercise a child's motor activities and sensory experiences. Small children also experience the benefits of coordinated movements.
3. Climbing Helps Build Balance
As toddlers' vestibular systems and proprioception develop, they gain more balance, understand where their limbs are and how they move, and have more coordinated actions.
Hand-eye coordination is important, because it relates to just about any activity little ones do with their hands. But foot-eye coordination is just as important, because it allows children to accurately perform tasks with the legs and feet, like climbing stairs or kicking a ball. (source)
We're now learning that a properly balanced vestibular system is more important to overall health than we realized. Many children with underdeveloped vestibular function may not like swinging, climbing, or they may be cautious walking down stairs.
On the flip side, kids who sense they need more sensory stimulation may seek out these activities and climb too high, love swings, and love to spin. Find more on this in the fascinating book Balanced and Barefoot.
Monkey bars, climbing ropes, ladders, and gymnastics rings are some of the best ways to develop your child's vestibular system.
4. Learning to Climb Builds Problem Solving Skills
The only way for kids to be able to answer the question, "How am I going to solve this problem?" is to be in situations in which they need to solve problems.
There is more than one way to 'conquer the mountain' of their climbing play set. With many possible routes to choose from, your child will have to decide their next best move.
At first they will probably make their decisions step by step, but as they become more experienced they'll be able to visualize a route all the way to the top with only that first step. This is extremely helpful in building their planning and problem-solving skills.
5. Physical Activity Helps Regulate the Nervous System
Life is full of things that send kids on a roller coaster of emotions. Many kids naturally know how to move and release stresses from their bodies. But sometimes they hold on to things or don't have the skills to cope.
Most adults are functioning on a less than adequately regulated central nervous system. You can find specific tips for regulating your and your child's nervous systems here.
And there are studies showing the positive impacts of movement on the brain and nervous system. They span from helping cognitive function to boosting the immune system and more.
What to Look in Toddler Climbing Toys
Here is what to keep in mind as you search for the best toddler climbing toys.
Safe materials – Our top choice is solid wood without the use of toxic paints or stains. You also want to avoid sharp edges.
Developmentally appropriate – Check the manufacturer's weight guidelines to ensure it's appropriate for your child's age and developmental stage.
Stability and safety – Look for a stable base to prevent tipping over. You can also add a play mat under or around the climbing area to cushion a tumble.
Size – Think ahead to where you'll keep it. Measure the place you intend to use it (and store it) to make sure it fits your home or yard.
Ease of cleaning – Keep an eye out for any nooks or crevices that will hold dirt. Smooth surfaces are easier to clean.
Recall alerts – Be sure to check for any recalls via CSPC website.
The Best Climbing Toys for Toddlers
You can offer your toddler climbing toys inside or outside. It's a good idea to have both. They can be DIY or pre-made, and the goal of these climbing toys is to give your child a safe space to explore.
Indoor jungle gyms and toddler climbing toys allow kids to play all year round. They're foldable and take up minimum space. Invest in a well made one so your family can enjoy it for years to come.
You can take most of the wooden play set options outside to enjoy a beautiful day, but it's best to store them indoors to preserve the wood from weathering.
Pikler Triangle
In our experience, a climbing triangle is one of the most versatile options. Although it is often grouped with Montessori toys, the Pikler triangle was actually invented by Hungarian pediatrician, Emmi Pikler.
They're safe for babies as young as 6 months (supervised, of course) and up to age 5, depending on weight.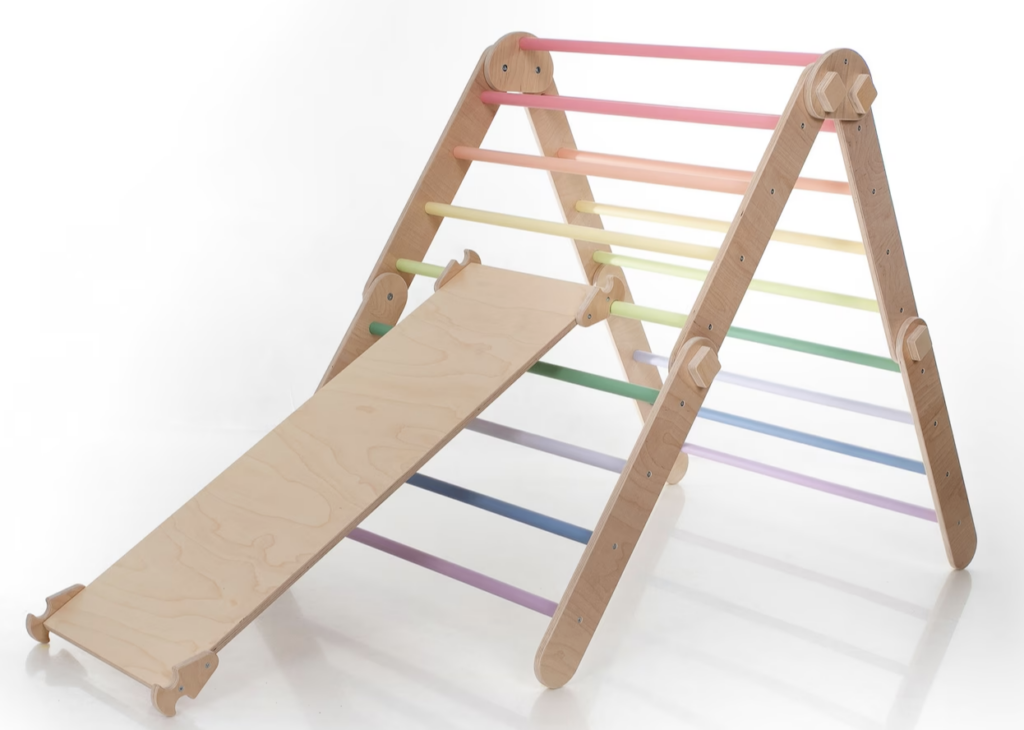 Age range: 6 months to 5 years
Dimensions of arch: 49 x 49 x 32.6 inches
Weight capacity: 110 pounds
Wood Grain Lab's climbing triangle features star type joints to allow for position adjustment by every 30 degrees. Our little testers love creating dozens of different structures to climb on and play under. The optional ramp can double as a climbing wall (see their drop down for more choices).
The side parts are made of premium Baltic birch, pine wood bars, and it's finished with water based, non toxic paint.
And if you care about having an Insta-worthy home, this one makes an aesthetically great addition to any playroom.
Climbing Arch + Balance Board
Some of the most popular items in our gift guides are Wiwiurka's Pikler inspired climbing arches and balance boards.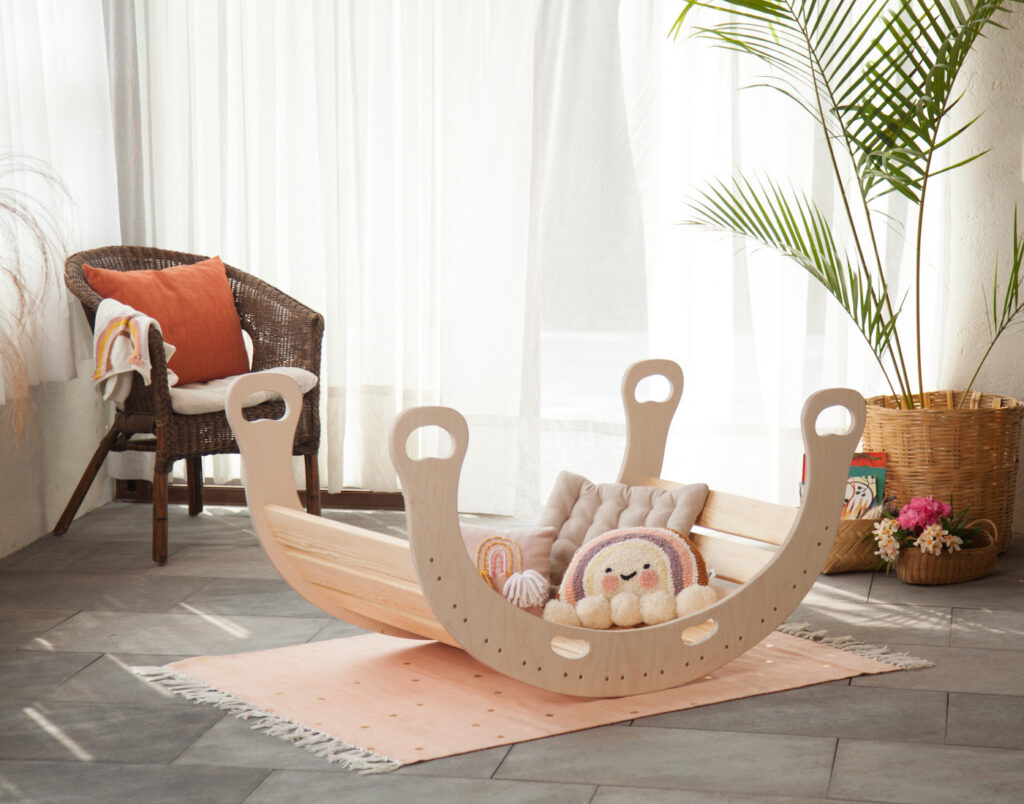 Age range: 2 to 9 years
Dimensions: 24 x 47 x 25 inches
Weight capacity: 150 pounds
Kids can climb, rock, "read", build a fort, put on a puppet show and much more. Seriously, see the photos here for tons of creative uses! In climbing mode, it can help young children build self-confidence, develop fine and gross motor skills, improve balance, and encourage proper muscle growth.
Older kids can increase their independence and self-reliance through as many uses as their imaginations can dream up. This one comes in 14 different color options.
All Wiwiurka products are made with FSC Birch plywood and coated with non-toxic stains and sealants.
Toddler Jungle Gym
Traditional jungle gyms might be too big for younger toddlers. Or your child may be intimidated by bigger kids at a playground. A pint-sized jungle gym can be a great climbing toy to keep in your home.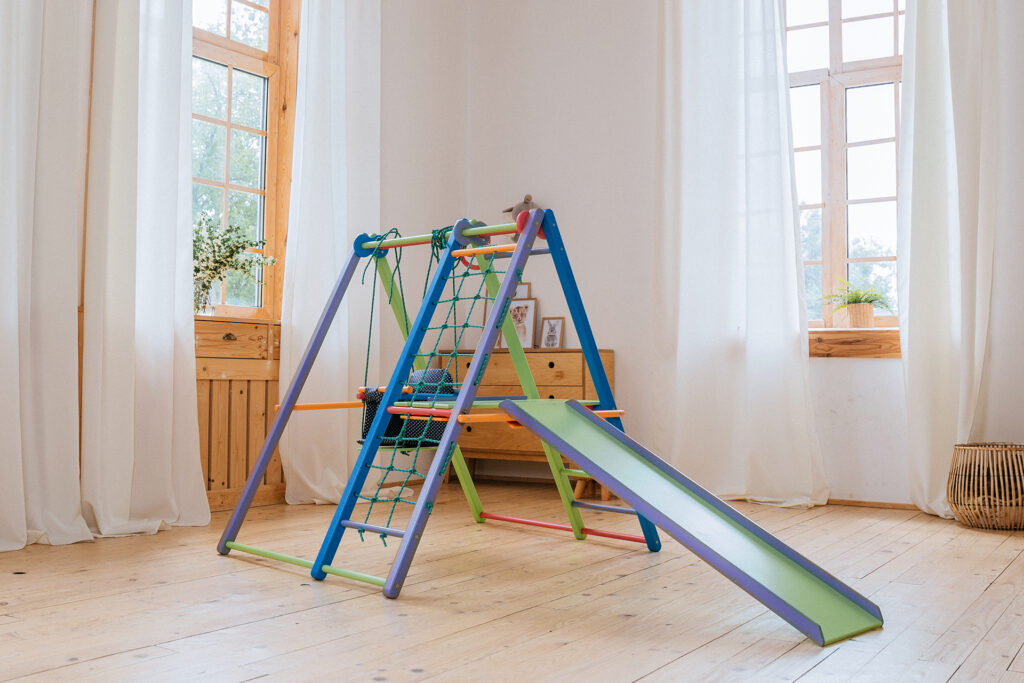 Age range: 18 months to 4 years
Dimensions: 98 x 52 x 52 inches
Weight capacity: 50 pounds per feature
The Panda Playground Toddler Jungle Gym features a slide, swing, rope ladder, wooden ladder, and gymnastic rings. These activities offer the much-needed stimulation to your child's vestibular system we explained above. This toddler climbing toy will provide hours of fun and challenges for your little one. It also folds to save space.
Whether you choose the natural wood or the playful multicolor options, you'll have peace of mind knowing your child isn't exposed to anything harmful while they play. EZPlay only uses sturdy ash wood and quality fittings to guarantee that their indoor jungle gyms are 100% safe for kids.
Folding Wooden Slide
A high quality wooden slide makes a great choice for indoor use.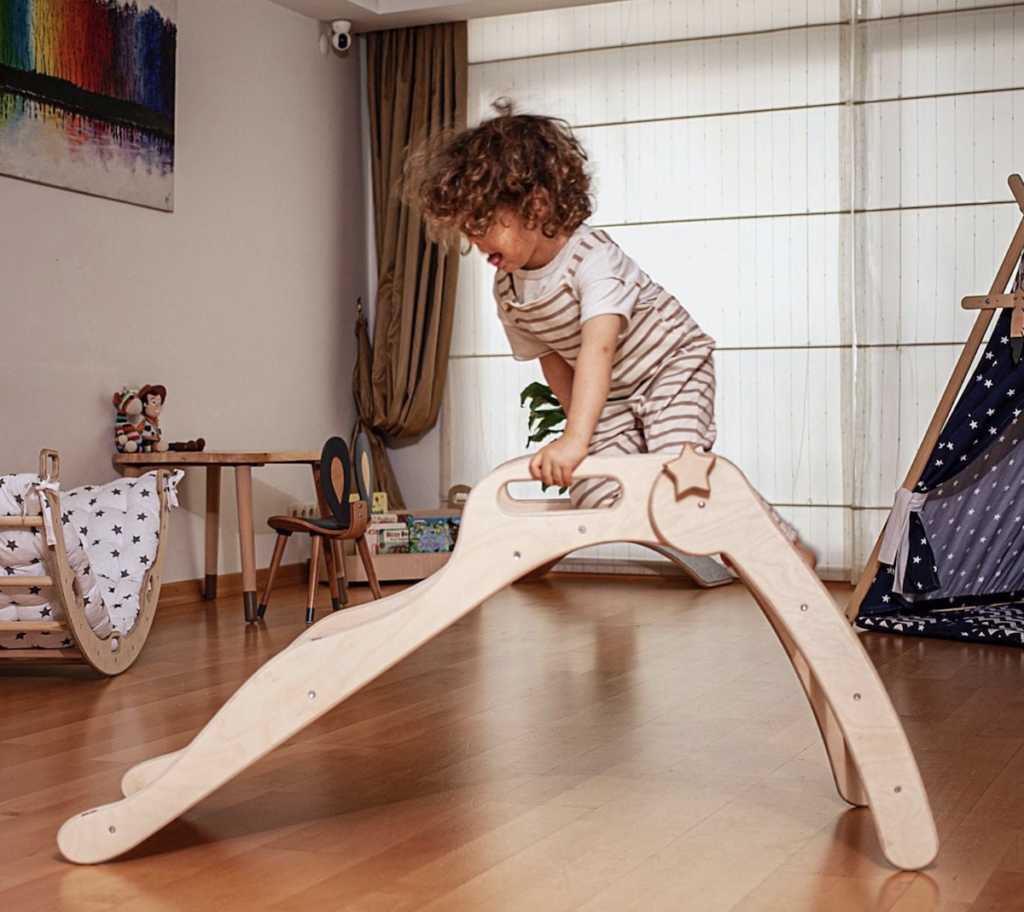 Age range: 18 months to 4 years
Dimensions: 50 x 21.5 x 17 inches
Weight capacity: 100 pounds
Handmade from birch wood, this toddler slide makes climbing safe and fun. It adjusts to three different sizes and folds up easily to be stored away or kept in small spaces.
Stepping Stones
Who says the best indoor climbing toys have to offer much ground clearance? Stepping stones help your child improve balance and offer more fun to living room games.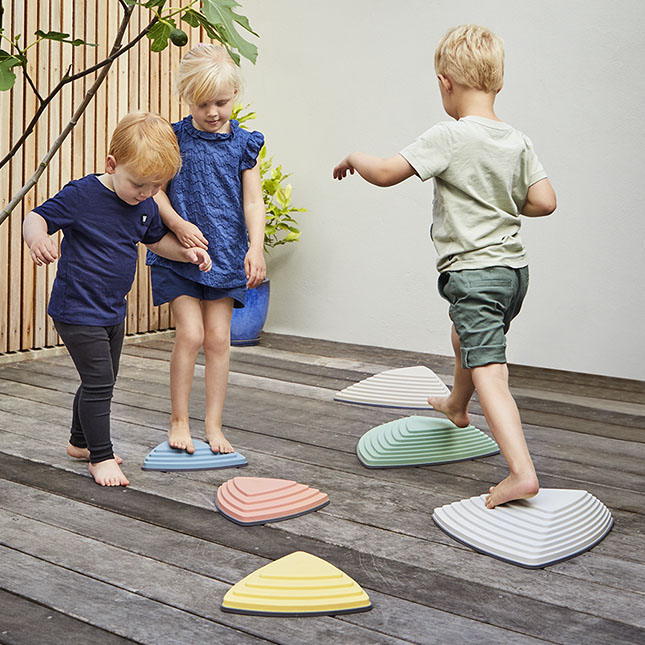 Dimensions: Large stones – 14.17 x 14.17 x 3.34 inches. Small stones – 9.8 x 9.8 x 1.77 inches
Weight capacity: 100 pounds
In earth tones or bright colors, these toddler stepping stones mimic playing by a lake shore or creek bed. Our little reviewers love the different sizes and playing games like The Floor is Lava. And the moms love the non-slip surface, rubber edges, and easy storage.
Play Couch & Climbing Wedge
A kid-sized sofa that doubles as a climbing structure.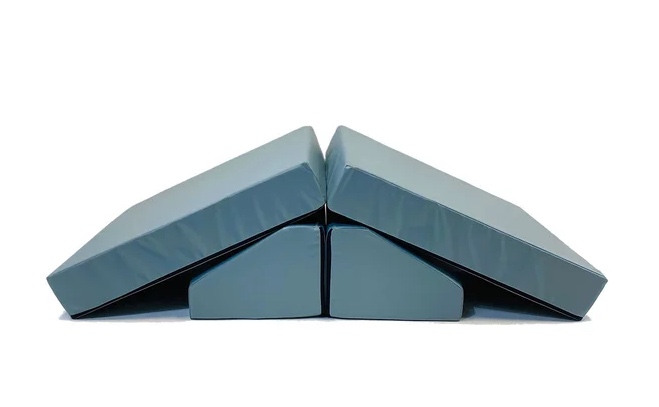 Age range: 6 months to 8 years
Dimensions: 16 x 23 x 23 inches
Weight capacity: 40 pounds
Available in nine great colors, the Blocksy Mini encourages creativity to build, climb, or hide. When they're not using this set for rough and tumble play, it can be configured into a kid sized couch for reading and relaxing. The set includes a foam blocks base and two wedges cushions.
Basic Toddler Slide
We don't typically recommend plastic toys, but the Little Tikes hard plastic slide offers hours of fun for your toddler climber.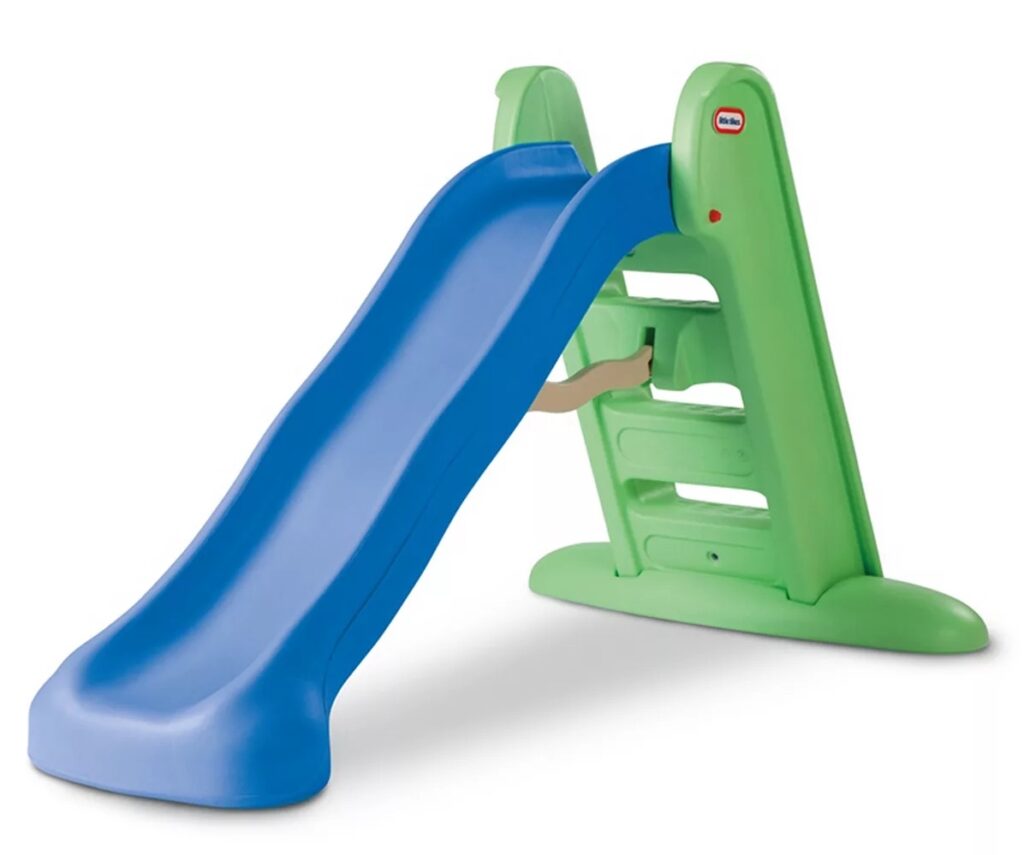 Age range: 16 months to 5 years
Dimensions: 46 x 9 x 20 inches
Weight capacity: 58 pounds
This slide holds up well after multiple kids use. In our personal experience, the kids enjoyed it both indoors and outdoors. It's in great shape and already has plans to be passed along when our reviewers are finished with it.
The Penguin Slide Playset from EZPlay also serves as a bed, sled, or just about anything else your little one can imagine when it folds up.
Play Away!
Everyone feels better after physical activity. When kids climb, play, and hang, they let off some steam and get some of that wiggly, active energy out. It can make for a calmer dinner time and easier end to the day.
As mentioned above, always supervise your child as they play on climbing toys. Don't helicopter. Give them space for imaginative play and to use their problem solving abilities. But always be within view or earshot in case of something more serious than a minor fall or bump.
So, let them run and climb. Encourage them to explore, test their own limits, and learn how to maneuver independently. Keep an eye on them for safety but don't instruct. You just might be amazed at what even a toddler can accomplish.

Latest posts by Amity Hook-Sopko
(see all)