Serene & Enchanting Mermaid Coloring Pages for Kids
Your child can dive into creativity with these sweet and serene mermaid coloring pages for kids.
Welcome to a world where vibrant colors and enchanting creatures come together. Mermaids, the mystical beings of the sea, have captivated the imaginations of children and adults alike for ages.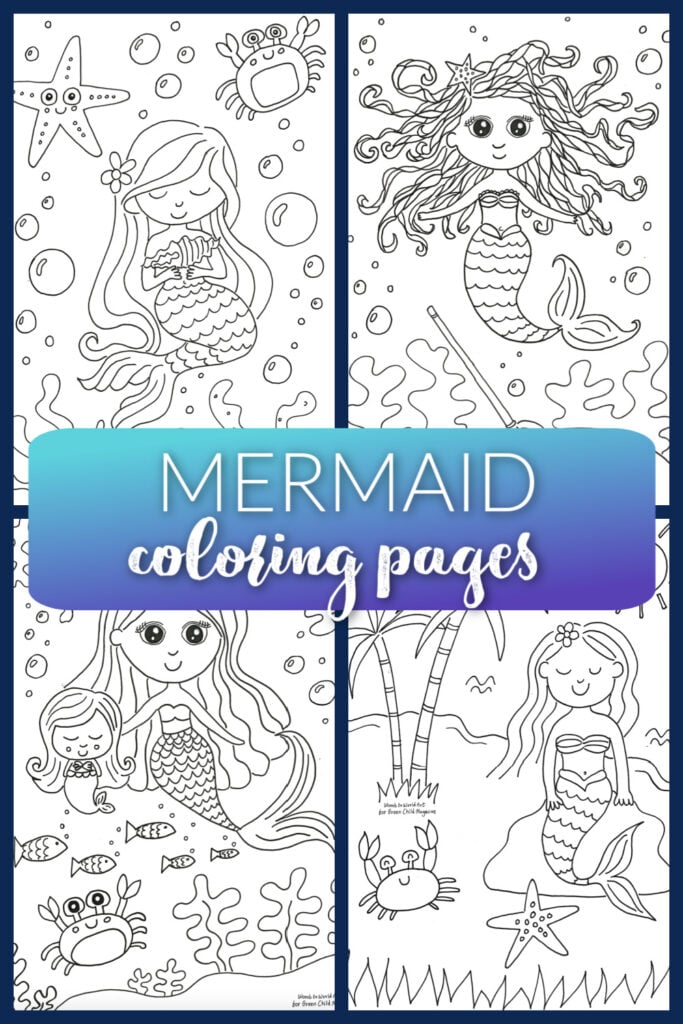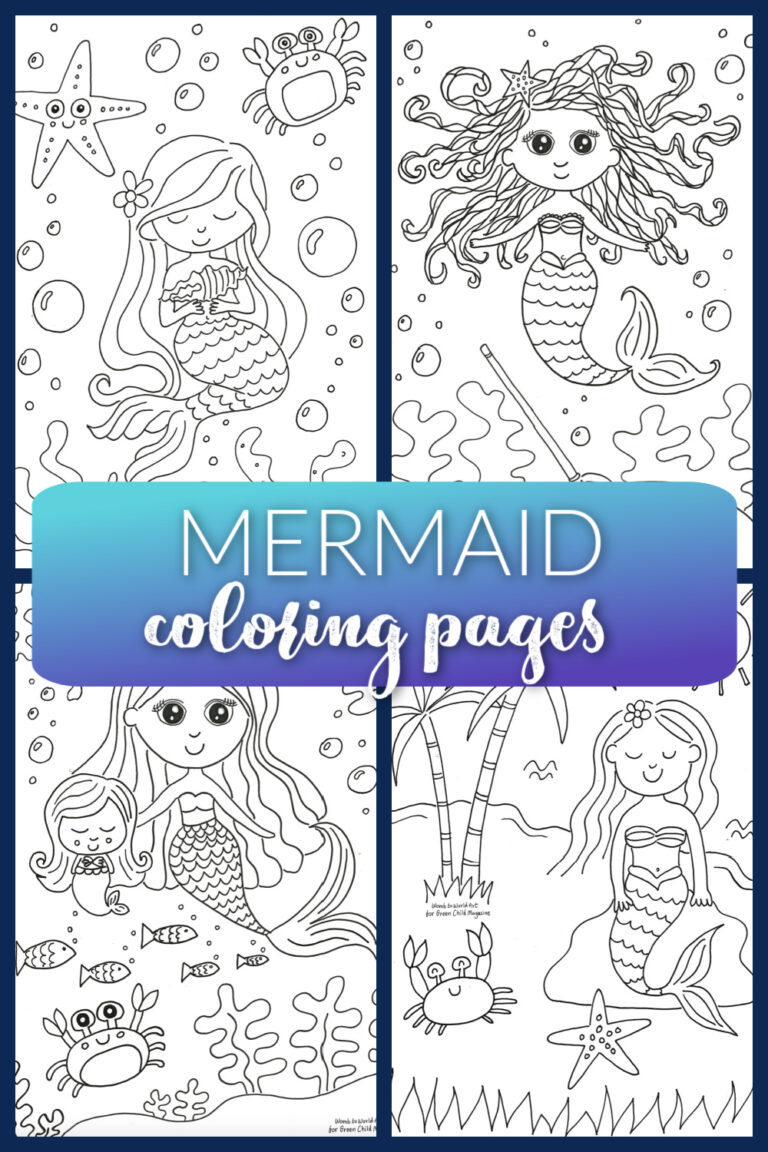 This sweet collection of mermaid coloring pages that will transport your little one to an underwater realm of creativity and imagination. They also make a great companion to our Mermaid Fountain of Joy guided meditation script.
Printable Mermaid Coloring Pages
These lovely illustrations are from Hannah Thomas of Womb to World Art. She's a home-educating, conscious-parenting, childhood-and-birth-trauma-healing, nature-loving, spirituality-developing mummy of two toddlers in Oxfordshire.
With their graceful tails and mesmerizing allure, these mythical creatures make for delightful coloring companions. This collection of printables includes the following magical settings:
Mermaid on Land
This mermaid is out enjoying the warm sunshine. Let your child choose their favorite colors for the mermaid's flowing long hair. Talk about how the sunlight shines and reflects off of her iridescent scales and shimmering tail.
Under the Sea Friends
Mermaids are known for their bonds with other friendly ocean creatures. This coloring page shows a mermaid with some of her aquatic friends – a sweet starfish, a playful crab, and a shy creature in a conch.
Mermaid Magic
Your child can really focus on coloring this beautiful mermaid's hair and tail in detail. Talk about how she's been exploring the depths of the ocean and found a trident on the seafloor. Has she found other hidden treasures there?
Mermaid Castle
This mermaid might be a princess just like Ariel. And there's her castle. Who else lives there, too? Talk about what an underwater castle might look like on the inside and encourage your child to draw it on the other side in their own way.
Mama and Baby Mermaid
Mama and her sweet little mermaid are at home in the ocean among the other sea creatures. Let your child imagine the adventures they have together and what it's like to be a baby mermaid living in the big, beautiful ocean!
They can use a variety of tools – crayons, colored pencils, markers, or paints and watercolors – to create a vibrant scene. Encourage your child to add any details like seashells, starfish, and seaweed to make the scene come alive.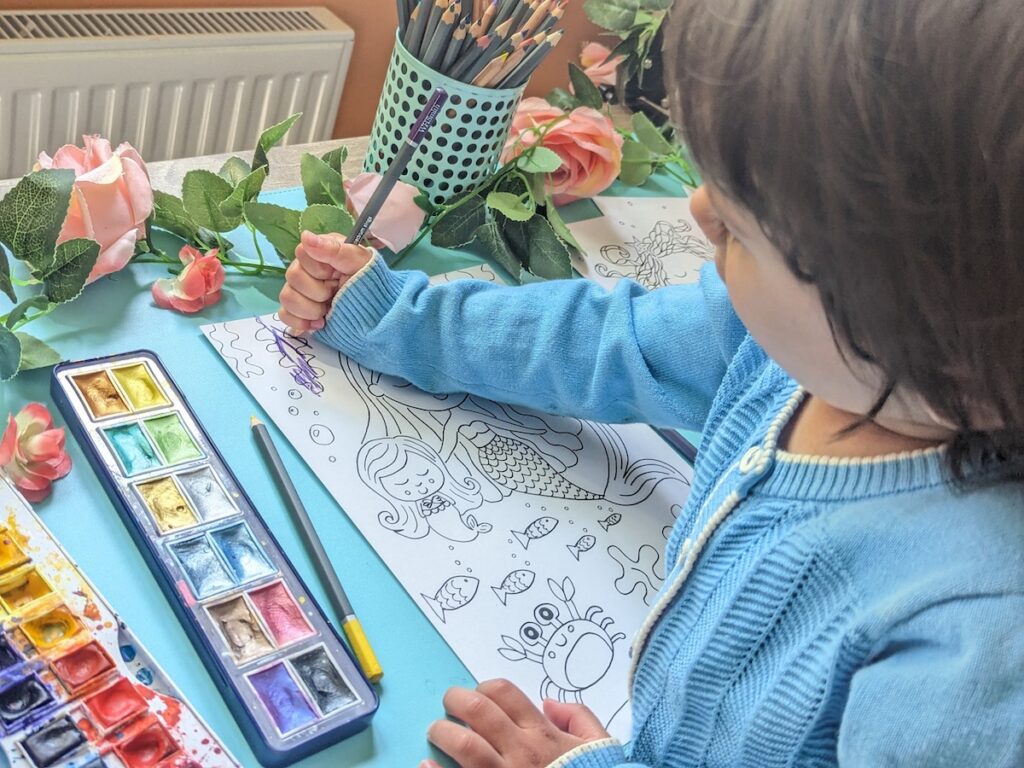 Coloring is a great creative outlet for little kids. It allows them to express their imagination and develop fine motor skills. It's also a calming activity that can help regulate the nervous system due to the way it relaxes the brain and body.
With these mermaid coloring pages, your child can dive into a world of enchantment, exploring the depths of their creativity. So print them and watch as your child's artistic talents unfold in a sea of colors and imagination.
Click here to download your free mermaid coloring sheets.
The link will open as a PDF with 5 free printable coloring pages. Print them all, or let your child choose their favorites. Each coloring sheet fits 8.5 x 11 paper.
Can't print now? Pin this post and come back later.
Looking for more creative ways to engage small children up to older kids? Here are more ideas:
Outdoor Mindfulness Art Activities
These happy mermaid masterpieces will make a great addition to the refrigerator.
Happy coloring!