Playing in the Rain: Get kids outside in almost any weather
A quick search for rainy day activities with kids offers endless lists of indoor projects and games. It made me wonder – who are these lists for?
They're probably not really for kids. Because any kid who's ever spent an hour splashing in puddles or deftly dodging rain drops will choose playing in the rain over building a blanket fort in the living room.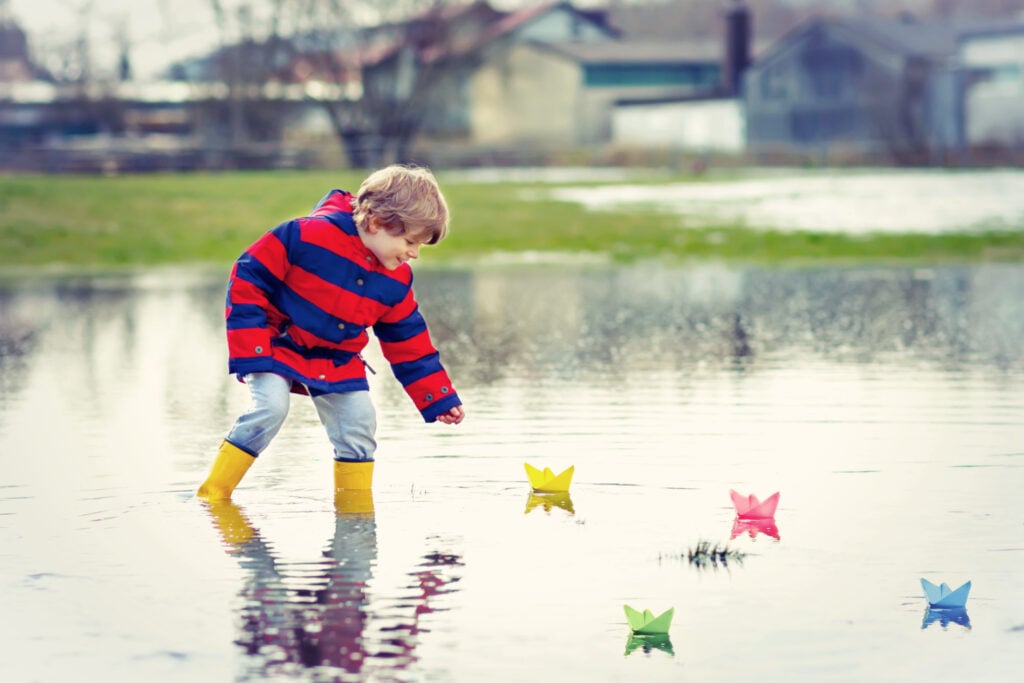 These lists are probably created for parents. So we can keep kids indoors while we work, catch up on housework, or while the whole family is entertained (together or separately) by a screen.
One of my favorite memories of playing in the rain was at my grandma's house with my cousins. We took turns riding our bikes through a huge puddle next to the sidewalk to see who could make the biggest splash. I think I was 9 years old. In my mind, we were unsupervised. But looking back, I'd guess our parents checked on us periodically through the window.
I don't recall anyone stressing out when we asked for towels on the front porch. And if my shoes were soaked or muddy, my mom probably washed them without making a big deal out of it.
Childhood has moved indoors
My kids are teens now. During their elementary school years, we lived on a street with several kids close in age and an empty lot where they played sandlot baseball. If the kids weren't playing there, one of the moms would use the group text to let us know the kids were in her backyard.
I realize that one of the reasons my kids have spent a lot of time outside is because they had friends to play with. If we were the only family with kids that age on the street, it would have been tough. I would have needed to be more involved – if not to entertain, then to referee. And if we add rain to that mix… Well, I can see where building a blanket fort might look pretty appealing.
In fact, the National Wildlife Federation polled more than 1,000 parents about the barriers to getting their kids outside, and weather topped their list of reasons to keep kids indoors. Weather (61%) was more of a concern than strangers (38%), homework (31%), and a busy schedule (5%).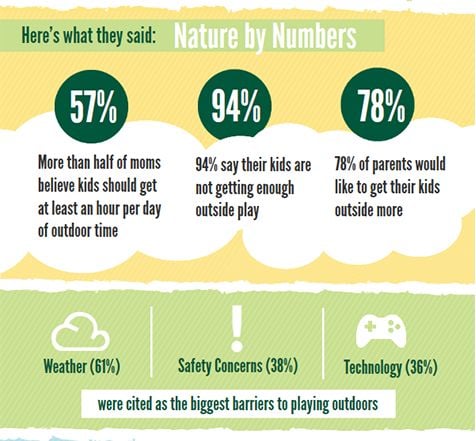 The benefits of playing in the rain
But the truth is – our kids need to be outside more. Year round, they should be getting more exposure to nature and less time on screens. In order to be physically and mentally healthy, kids need:
plenty of open space to feel free and expansive
fresh air
sunshine (and natural Vitamin D)
room to run, move, and get their heart rate up
time away from screens to increase their attention span
contact with dirt to build their microbiome and immune system
daily chances to connect with nature so they grow up wanting to protect it
Playing outside in less than perfect weather also teaches kids resilience, patience, problem solving skills, and an appreciation for the different seasons. And studies prove that more time spent in nature leads to better mental health in the long run.
10 Fun Ideas for Rainy Day Play
With the exception threatening conditions like flooding and storms, children are safe to play outside in most kinds of weather.
Here are some fun ideas to keep your kids active and engaged outside on a rainy day.
Splash in puddles – With your feet, rocks, a bike or scooter… even adults love to see just how big of a splash you can make.
Look for worms – Rescuing worms on a driveway or sidewalk was my go-to activity during or after rain as a kid. It might come naturally to them, but if not, it's a simple way to model compassion.
Float toys in a puddle – Make paper boats or bring the bath toys out to float on a pretend "lake". You can also bring waterproof dolls or action toys out for some water adventure.
Play their favorite sport – H2O adds a whole new element to games and sports. Wiffle ball is especially fun in the rain. Just be careful since it's extra slippery.
Make mud pies – This one's messy, but worth SO it. You might even make a DIY mud kitchen. Keep a hose nearby for making mud on sunny days and for cleaning up!
Bring out the art supplies – Grab the washable paints and thick paper and let the rain help your kids create a masterpiece.
Go swimming – There's something so exhilarating about the feeling of rain falling on you when you're in a pool or the ocean. Fill up the kiddie pool and let your kids enjoy a totally new sensory experience.
Water house plants – This is a great way to teach kids to conserve water. They'll also see how plants thrive with fresh rain water as a change from tap water.
Go for a walk – Some kids are semi obsessed with umbrellas. There will be fewer people out, so your kids will have plenty of space to twirl and open and close their umbrellas.
Teach them songs about rain – Try simple songs like "Itsy Bitsy Spider," "Singin' in the Rain" or "Raindrops Keep Fallin' on My Head." Or bust out into Rihanna's "Umbrella" and let them dance away.
Dress appropriately
"There's no such thing as bad weather, only bad clothes."
Many Scandinavian parents live by this age-old phrase, insisting children spend time outdoors every day. Unless they're sick or the weather is dangerous, there's no reason to keep kids inside when it's raining or cold.
All it takes is a wardrobe adjustment for the kids. And maybe a mindset shift for you. Here's some great playing in the rain gear for kids.
Mess-proof your entry area
The last thing you want after a fun hour of rainy day fun is to lose your cool over a mess. With a little planning ahead, you can prevent muddy footprints or water dripped throughout the house.
Before you go out, place a rug or old towels by the door.
When you're ready to come in, have everyone remove their boots or any muddy items right at the door.
Use the towels to dry off / wipe up anything dirty before kids go take a bath or shower.
If mud gets on rugs or carpet, let it dry so it's easier to vacuum up.
Stay safe in the event of a storm
Check the weather forecast to make sure there's just rain. If your adventures lead to playing in the rain away from your own yard, teach your kids how to stay safe if a storm pops up.
Get out of any water if you see lightning or hear thunder.
Seek shelter in the nearest house or building. You can also wait out a storm in a car.
If you can't get inside in time, don't stand near tall objects as lightning is more likely to hit them.