When you boost your child's gut health, you're setting her up for a lifetime of wellness – plus fewer colds, less severe stomach bugs, and many more benefits we're learning as more research shows the many benefits of a healthy microbiome.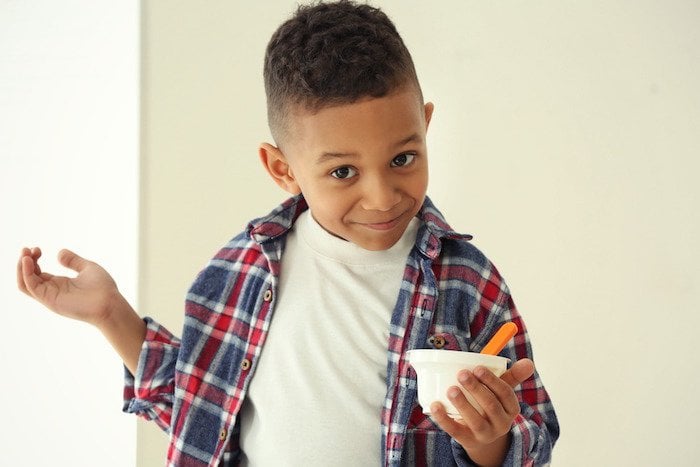 Some kids seem to get sick with every season change. Add in seasonal allergies, and it can seem like a losing battle to stay healthy. To support your child's immune system, digestive system, and for fewer sore throats, ear aches and tummy upsets, you can take steps to keep her microbiome in balance.
Some germs (good bacteria, microbes, beneficial probiotics) are essential for health!
What is the microbiome?
Everyone has a unique microbiome that houses nearly 100 trillion bacteria. They outnumber our human cells by a factor of ten to one. Different kinds of bacteria have different jobs within our bodies. About 85 percent of them are beneficial probiotics. These good guys help kids produce vitamins, absorb nutrients, regulate their immune system, and may even influence their mood.
The first couple of years of a child's life are crucial for proper microbiome development. Although a baby's gut is mostly sterile in the womb (the placenta does contain some microbes), the major microbial inoculation begins as the baby descends through the birth canal, picking up vaginal bacteria along the way. Breast milk also provides tons of microbes.
As a child begins to eat solid foods, their microbiome continues to evolve based upon dietary intake and environmental factors. By about age two, a toddler's microbiome resembles that of an adult.
How to build an infant's microbiome
Making sure your baby's microbiome develops properly starts with nurturing your own microbiome during pregnancy. Because you pass your own microbes on to your baby during delivery and through your breast milk, the health of your microbiome is what sets the stage for your baby's microbiome development and long-term wellness.
If you don't have enough of the good microbes to pass on, your baby won't inherit what they need for proper microbial and immune system development. Taking a high-quality, time-released probiotic formula like Hyperbiotics PRO-Moms will give your gut the fortification it needs to deliver plenty of the good guy bacteria to your little one.
You'll also want to breastfeed for as long as possible. Breast milk is full of beneficial microbes and special nutrients that feed and nourish the probiotics so they can thrive. But, it doesn't stop there! A flourishing microbiome is the result of conscious attention and care through all the childhood years.
Be sure to feed those good bacteria with prebiotics. Mom and kid-friendly prebiotic sources include bananas, oats, honey and jicama.

Moms and kids need their own probiotics
You may be taking a probiotic formula designed for women (and I hope you are!), but kids need their own supplement. The right daily, time-released probiotic supplement can work to continually replenish essential beneficial bacteria to help kids feel and function at their best. Just don't be tempted by child-friendly gummies with added sugars. Look for an effective multi-strain kids' probiotic formula like PRO-Kids that can withstand the stomach acid of the digestive tract, to ensure your kid gets a steady and potent dose of gut-friendly goodness.
There's also an oral probiotic strain called BLIS K12 that's in Hyperbiotics PRO-Kids ENT and is specifically helpful for supporting the good bacteria that live in kids' mouths and throats. This strain has been shown to benefit ear, nose, throat and upper respiratory health and should be taken in conjunction with a digestive formula.
Encourage fermented foods to boost your child's gut health
Fermented foods such as kimchi and sauerkraut are loaded with probiotics, but we all know kids can be picky with such strong flavors. So, encourage them to eat yogurt with live or active cultures.
Kefir and kombucha are also good choices. Kefir can really help with digestion. Kefir's active yeast, good bacteria, and excess digestive enzymes provide more nutritive value than yogurt by helping digest the foods you eat.
Don't be hypervigilant about dirt!
Of course, we know that good hand washing is the best way to prevent the spread of germs. It's not just the visible grime you should be worried about. A good scrubbing physically removes disease-causing germs. Just be careful about over-sanitizing.
There's much to be said about good old-fashioned soap and water. I'm not a fan of antibacterial soaps because they kill the good bacteria as well as the bad. This is such a concern that some companies are now removing the antibacterial ingredients from their hand soaps.
And speaking of dirt, get outside and play in the dirt with your kids! It's one of the best ways to boost your child's gut health and immune system. Whether it's gardening or making mud pies, this is therapeutic as well as healthy. Shielding kids from dirt may weaken their immune systems. Plus play helps to alleviate stress, a well-known microbiome diminisher.
Improve the microbiome of your home
Just like your gut and your skin have their own microbiome, so does your home.
"More than sixty-three thousand species of fungi and a hundred and sixteen thousand species of bacteria" were found in one study's swab of the interior door trim of forty homes in the Raleigh-Durham area. The results varied widely – especially if pets lived in the homes. Many beneficial species of bacteria were found, leading researchers to believe that our environmental microbiome works synergistically with us and may even help protect us from harmful bacteria.
You can improve your home's microbiome by cleaning with mild, natural cleaning agents (no antibacterial cleaners), making sure there's no mold growth, not wearing shoes inside to keep pesticides from disrupting the environment, and actively adding good bacteria with a product like Homebiotic spray, which is designed (and lab-tested) to reduce mold growth and improve the bacterial environment in a home.
The short-term benefits of boosting your child's gut health may include fewer upset stomachs, less skin sensitivities, and fewer allergies. Long-term, you'll be helping to prepare their bodies for a lifetime of better wellness.

Dr. Felicia D. Stoler, America's Health & Wellness Expert™, is a registered dietitian nutritionist, exercise physiologist and expert consultant in nutrition and healthful living. She was the host for TLC's reality show, Honey We're Killing the Kids. She is the author of Living Skinny in Fat Genes™: The Healthy Way to Lose Weight and Feel Great (Pegasus 2011). She specializes in integrating behavior modification to influence positive health outcomes.

Latest posts by Dr. Felicia D. Stoler (see all)