How to Make Your Own Herbal Iron Syrup
This homemade herbal iron syrup is an effective way to boost iron levels and ward off anemia. It's also helpful to get things moving again during pregnancy when the digestive system has a tendency to slow down.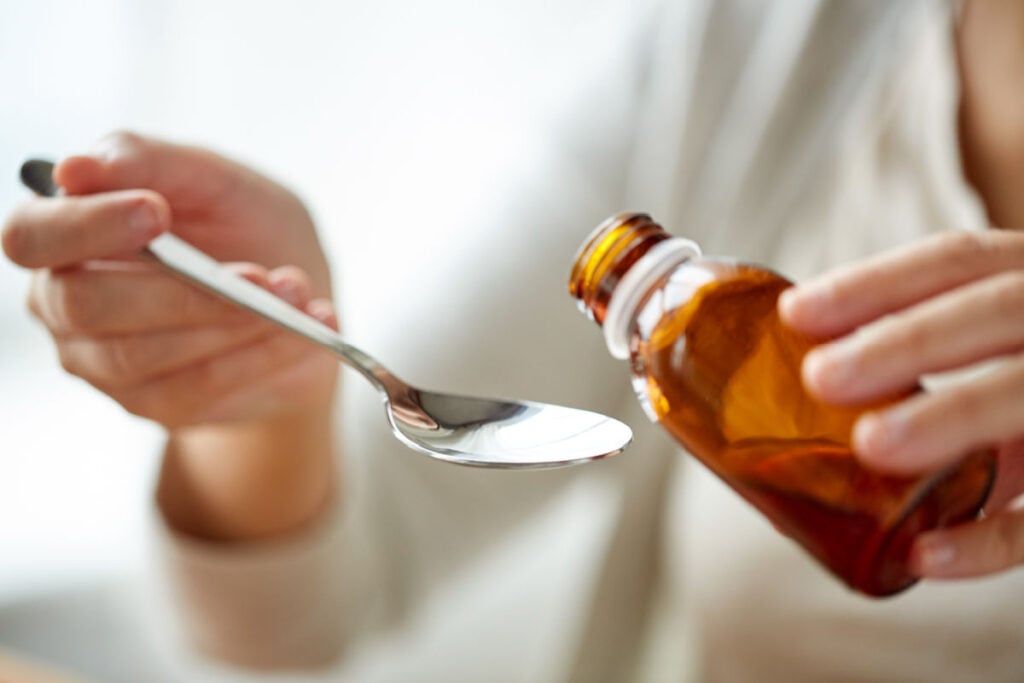 During pregnancy, we tend to study labels more carefully than ever before. You're likely looking at healthier alternatives to the glucose test drink to avoid all those nasty ingredients. Making your own herbal remedies safely is another way to avoid questionable additives.
Iron deficiency is the most common nutritional deficiency in the U.S. However, it can be a particularly difficult ongoing issue for many pregnant women.
The expectant mother's intestinal tract slows down dramatically from her changing hormone levels. To add insult to injury, iron supplements often cause or increase constipation.
If you're pregnant, be sure to drink lots of water, eat dark leafy greens, and exercise. If that doesn't help, an herbal remedy is available. Iron syrup is effective and can easily be made at home.
Increase Iron Levels Naturally
The best part of the herbal allies in this iron syrup recipe is that they are probably growing in your backyard or within walking distance and you may not even know it. Learning the art of foraging is worthwhile when you make your own home remedies.
Yellow dock (Rumex crispus) and dandelion root (Taraxacum officinale) are considered by many to be common weeds, however, they are both edible and medicinal.
These herbs are often found alongside highways, in abandoned lots, in meadows, and alleyways pretty much everywhere in the world. Learn more about foraging for yellow dock and dandelion roots here.
These weedy wonders are much more than meets the eye. Their taproots are best harvested from late Fall through early Spring when the plants are dormant and have stored up nutrients in their roots.
If you can't harvest them yourself, you can buy the dried roots.
Substitute Iron Pills with Iron Syrup
The syrup we make from these plants provides a fully absorbable source of iron that helps ease constipation. It gives a powerful one-two punch of herbal healing.
Although yellow dock is widely recommended by herbalists and midwives the world over, many people will warn pregnant women to steer clear of it because of its laxative effects.
The key, however, to this herbal remedy (as with all medication) is the dosage. The suggested dose is one to two tablespoons of iron syrup daily. Taking more may cause diarrhea.
Too much iron can also cause liver issues. Discontinue any iron pills before starting this iron tonic syrup.
Talk to your health care provider and follow the guidelines for iron supplementing. Pay attention to your digestion and how you feel. The iron in herbs could vary, so it is important to listen to your body.
Why This Iron Syrup Works
Herbal remedies have been used for centuries, and the benefits of the plants around us have been passed down for generations. When you make your own remedies – even your own herbal tea – you carry on these ancient rituals.
There are two powerful main herbs we use in this iron tonic recipe. And we add organic blackstrap molasses, which adds sweetness and also imparts its own benefits.
Yellow Dock Root
Herbal medicine often uses the roots of the yellow dock Rumex crispus plant. The fresh roots are a bright yellow color, which is the same color as the bile produced by the liver. Studies have found yellow dock stimulates the liver to release ferritin into the blood when iron levels are low.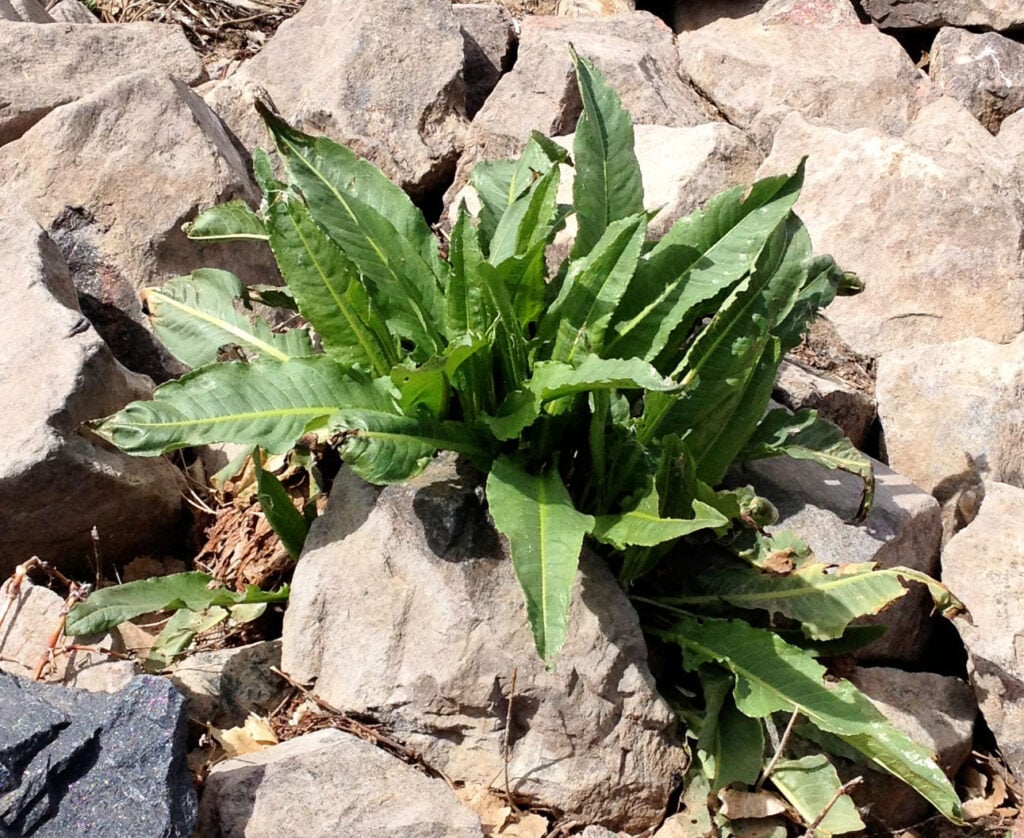 Dandelion Root
Dandelion root contains fiber, vitamin K, vitamin A, vitamin C, and antioxidants. It supports healthy liver function and supports bile production. It also tones the digestive tract, boosts kidney health, strengthens bones, and has antiviral properties. So, it can help keep your immune system strong.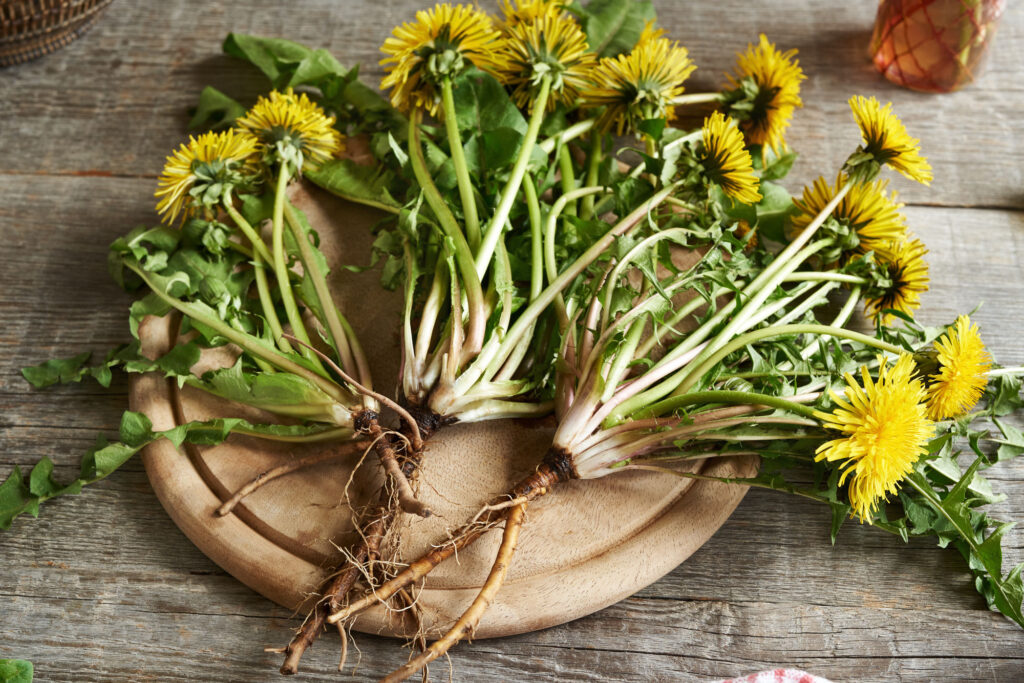 Blackstrap Molasses
With nutrients like vitamin B-12, B6, manganese, iron, carbohydrate, selenium, potassium, calcium, and copper, blackstrap molasses is a health food on its own. It's a great addition to a woman's diet because it builds bone health, reduces the likelihood of PMS symptoms, and helps prevent anemia.
Homemade Iron Syrup Recipe
This natural recipe is simple to make and uses herbal ingredients. You can forage and dry the yellow dock root and dandelion root. Or buy them at a health food store or online.
Ingredients
Make the Syrup
First, boil a quart of water. Then place the chopped roots into a pot and pour the boiling water over them.
Put a cover on the pot, and let the roots steep for at least 4 to 8 hours.
Once the herbs are steeped, strain the roots out and heat the liquid until it begins to steam. Then turn the heat down to low.
Let the liquid steam until it is reduced to 1 cup, then add the blackstrap molasses. You may choose to add a little more molasses if preferred, as these herbs can be pretty bitter.
Remove the pot from heat and stir the liquid until everything is fully incorporated.
Pour the syrup into a jar and label it with contents and date. Put a cap on it and let it cool, then store it in the refrigerator.
Your DIY iron syrup should stay good for a few months in the refrigerator.
Always be cautious with any natural or conventional remedies during pregnancy. To be on the safe side, see this list of herbs that are safe to use during pregnancy. It also contains a section on what to avoid.
This article is not a replacement for medical advice from a licensed OBGYN, Naturopath, physician, or healthcare provider.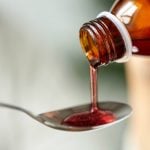 Print Recipe
Homemade Iron Syrup
This homemade iron syrup is an effective way to get things moving again during pregnancy when the digestive system has a tendency to slow down.
Cost:
$2 (if dandelion and yellow dock are foraged)
Equipment
Medium pot

Strainer

Jar with cap
Ingredients
1/2

ounce

yellow dock root

1/2

ounce

dandelion root

1

quart

water

1/4

cup

blackstrap molasses
Instructions
Place the chopped roots into a pot and pour a quart of boiling water over them.

Cover the pot and let it steep for at least 4 to 8 hours.

Strain the plant material out and heat the liquid until it begins to steam, then turn the heat down very low.

Steam until the liquid is reduced to 1 cup.

Add the blackstrap molasses. You may choose a little more, as these herbs can be bitter.

Remove from heat, and stir until fully incorporated.

Pour into a jar, label with contents and date, cap well, let cool, and refrigerate.
Notes
This DIY iron tonic will keep for a few months in the refrigerator.
Avoid taking within two hours of calcium supplements or dairy products.
This herbal iron syrup can be taken on an empty stomach, but if you have any trouble take with food or consult your health care provider.
More Herbal DIY Recipes for Families
Homemade Elderberry Syrup
DIY Herbal Salve
Homemade Herbal Vapor Rub