Creative Mud Kitchen Ideas
As a natural-minded parent, you're always looking for fun ways to engage your child in outdoor play. Mud kitchens add creativity and experimentation to nature play. Here, you'll find great ideas for a mud kitchen.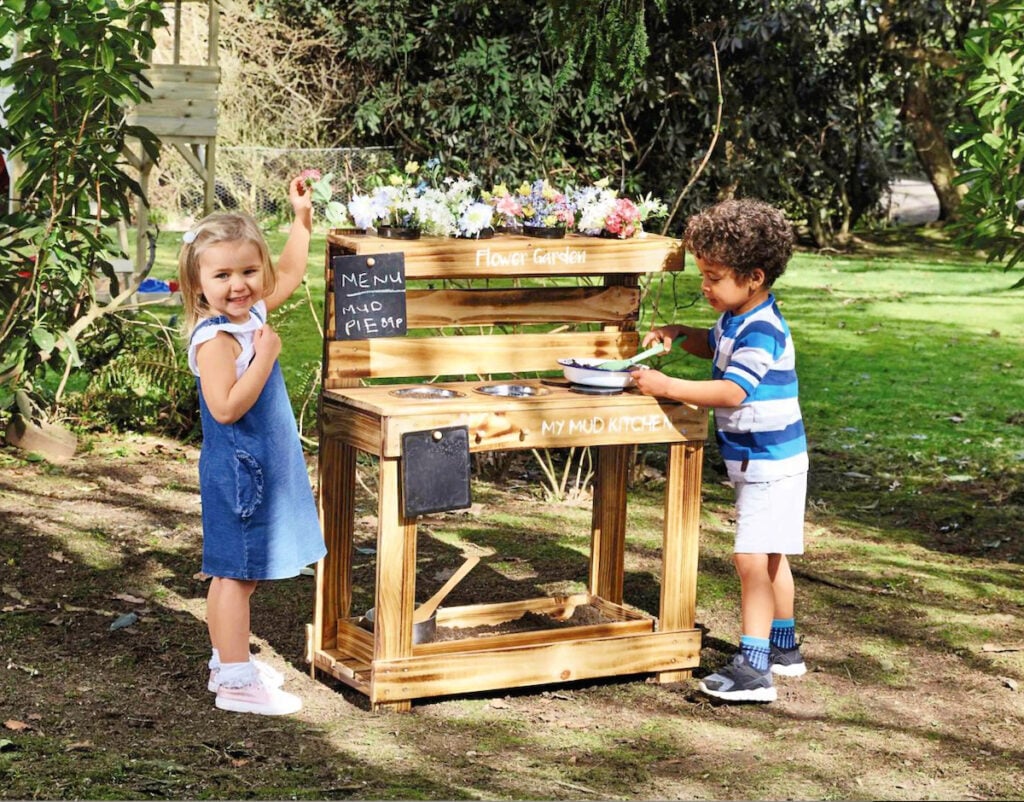 Mud play offers many benefits for kids. It fosters a strong connection with nature, inspires creativity, promote sensory play, builds their immune system, and even boosts mental health. A mud kitchen can also keep kids busy and engaged outside, all while keeping the mess outside.
Free play is how small children learn. Creating mud pies and sculptures improves their gross and fine motor skills and builds math and science skills.
The great thing about a mud kitchen is that it can be as elaborate or simple as you choose.
The Case for Keeping it Simple
Here's a quick reminder before you dive into these ideas. While you can find extremely elaborate mud kitchen setups, less is usually more.
It's kind of like watching a child play with blocks vs. a toy that flashes and makes noise. The child finds endless ways to build and play with the blocks. With the toy that does all the entertaining for them, they become more passive and less creative.
Fewer toys and tools outside will encourage your child to use their imagination more. They'll have to be more resourceful to figure out how to make whatever mud creation they have in mind. Follow their lead and see what type of utensils or tools they choose to include in their outdoor kitchen. It might surprise you.
Creative Ideas for a Mud Kitchen
With simplicity in mind, know that you can choose just a few of these options. Or cycle them in and out so the options are never overwhelming.
All of these benefits make a backyard mud kitchen an ideal way to help little ones entertain themselves in nature. Whether you buy a premade mud kitchen or opt for DIY, here are some ideas on how to make it a fantastic area for free play.
1. Access to water
You can't make the best mud cakes without lots of water. Set up the garden hose, a bucket, an old pitcher, or a refillable water jug to provide running water to the mud kitchen sink.
Easy access to water also makes cleanup from all that gooey mud easier. And speaking of cleanup, be sure to establish some rules in advance to avoid frustration when messy play time is over.
2. Include a pretend oven or stovetop
Any type of setup works for mud play. But the best mud kitchen… actually looks like a kitchen. Buy or create a pretend oven and hob or stovetop area for all those mud pies. You can use tree stumps, old furniture, or scrap wood. Just make sure it's safe with no sharp or splintery edges.
3. Gather mud kitchen accessories
Old pots and pans, bowls, muffin tins, measuring cups and spoons, mason jars, flower pots, and ice cube trays can offer hours of messy play. Gather up more natural materials like pine cones, twigs, leaves, and flower petals for embellishing whatever they make in their play kitchen.
4. Use what you already have
As always, it's best to use what you already have on hand rather than buying new. Give the kids some old kitchen utensils or maybe grab a few items from the thrift store. By its very nature, a mud kitchen is dirty, so there's no reason to buy shiny new items.
5. Gather items from nature
Leaves, twigs, pebbles, colorful stones, and flowers can all add color. Go on a nature scavenger hunt to find more items for their mud creations and spend even more quality time outside.
6. Make mud pies
Every mud chef is famous for their mud pies! You can use old pans or just let your child form the round shape freestyle. Be sure to supervise small children to make sure they don't actually eat their mud kitchen creations.
7. Make mud muffins
Bring some spatulas and a muffin baking pan outside. Mix up some mud and water "batter" and bake mud muffins.
8. Start garden seeds
This is one of my favorite ideas for a mud kitchen. Inspire a little gardener by turning the mud kitchen into a seed starting station. Use these DIY upcycled seed starter ideas to get your garden going.
Kids will feel like an important part of the process and they'll be invested in the results. Studies show that kids who had a hand in growing vegetables are more likely to eat them.
9. Go barefoot
Some kids love the feel of mud squishing between their toes. Others really don't like it, and that's ok. Since your child will definitely take a bath after mud play, it's a great time to reap the many benefits of going barefoot.
10. Paint rock food
A mud kitchen can be the spot for other messy projects like painting. Paint rocks to make any variety of foods to serve up.
11. Play with slime
Exactly zero of my mom friends have been enthusiastic about slime or kinetic sand play in the house. But just like mud, they make great sensory activities for toddlers. Take advantage of your designated messy place for these activities.
12. Make nature imprints
Press leaves and flowers into mud, clay, or play dough to see pretty nature imprints.
13. Create mud sculptures
Sculpt and create anything your child desires. Add twigs and pebbles for embellishment and decorations.
14. Paint a mud masterpiece
Nature is inspiring for outdoor mindfulness art activities. See how different types of mud can serve as paints. Make your own nature based paints.
15. Construct roads
Bring out the construction toys and build roads or even a mud city for toy cars to drive around.
16. Make a fairy house
Craft a tiny fairy house out of mud and decorate it with colorful leaves and stones. Bring some fun crystals outside to add to the whimsy.
Remember, it doesn't have to be perfect. There will be dirt and mud everywhere, so these ideas for a mud kitchen should easily inspire without overwhelming you.
When you provide a creative environment, you can help your child develop valuable skills while fostering their lifelong love of nature.