Going on a nature scavenger hunt is a great way to spend time outside with your kids. These activities can be educational, encourage creativity, or just plain fun.
If you have a child who needs something to keep them busy outside, look no further. Especially for kids who are new to spending time outside, having a project to focus on can keep them engaged for hours. It can also open their eyes to the wonders of wild spaces!
Long term studies show kids who spend time in nature become happier, more well-adjusted adults who experience more stable mental health. These nature scavenger hunt ideas offer something fun for little ones and big kids alike.
Planning a Great Scavenger Hunt
You can easily make your own list of nature finds to hunt for. Make sure they are items you've seen in your yard or local park like a pinecone, a feather, something a deer could eat, etc. Then you can talk about how each item relates to animals, plants, or our environment.
For little ones –
keep items simple and extremely safe
limit list to 5 – 8 items (small kids = short attention spans)
consider laminating the list to keep it dry and clean enough to read
For bigger kids –
include harder to find items to make it challenging
make it a competition or set a timer if that motivates them
try the iNaturalist app to help identify the plants, trees, tracks, and creatures they discover during their nature scavenger hunt
Leave nature the same or better than you found it
Follow the same principles of no-trace camping during your nature scavenger hunt. You'll be setting a positive example for your kids of treating nature with care and respect.
Be careful not to disrupt animal habitats
If a flower is on your list, just observe it or snap a photo – don't pick it unless there's an abundance of them
Don't leave trash behind (including your list)
Leave the area the same or better than you found it
Nature Scavenger Hunt Ideas + Printables
From traditional scavenger hunts to nature walks, you're sure to find the perfect outdoor activity for kids here!
This printable from Free Kids Crafts is super simple and cute.
What's better than raising kids who love and protect nature? Encouraging an attitude of gratitude at the same time! This activity from All Natural Adventures is all about finding gratitude in wild spaces.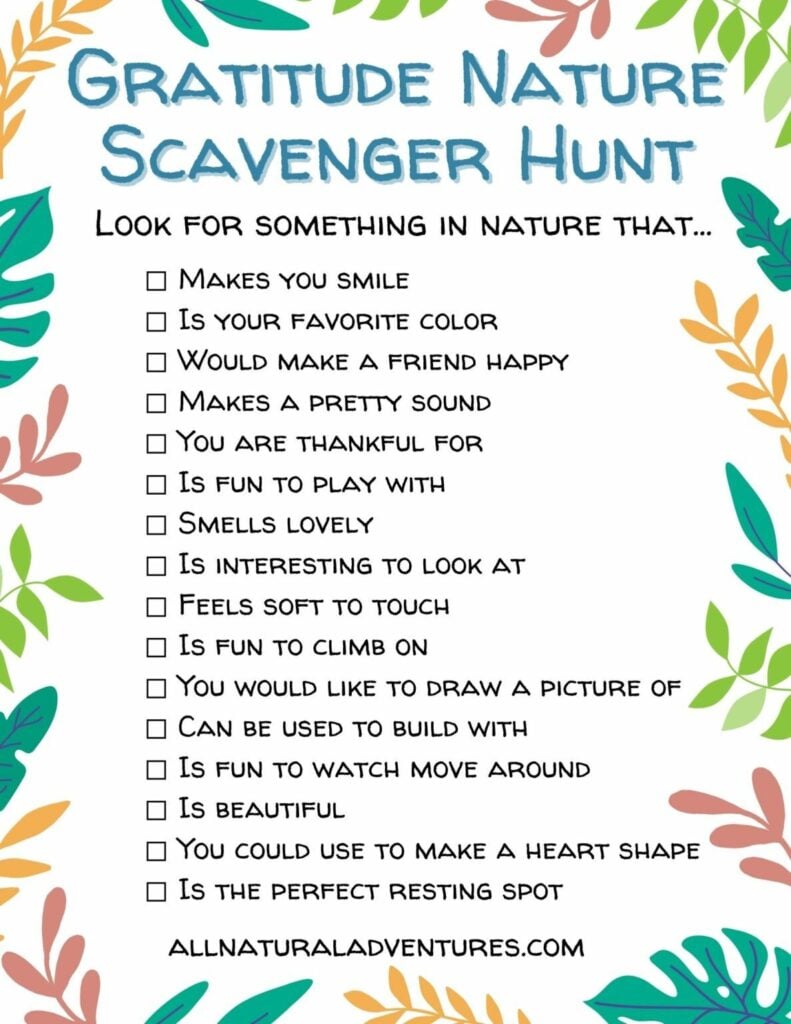 Another unique idea for a nature scavenger hunt is this one from Childhood 101 focusing on all five senses. Your little one will see, smell, hear, touch and even taste (talk about this one in advance and make sure young kids are supervised).
If you're planning to explore nature trails or visit a state or national park, bring along this printable from For the Love of Food. It includes a few things you won't find in your own backyard or neighborhood green space.
Each season brings so many new things to find in nature. Get the Kids Outside offers four seasonal printables so you and your little one can enjoy all kinds of weather outside.
What's better than a trip to the beach? Keeping your kids occupied with an ocean themed scavenger hunt! Your little ones will love this printable search from Sarah Finn Design on Etsy.
For those abundant items that are ok to collect, Winter Kids shows a fun way to use an old egg carton to organize and study what your child finds
Other Fun Nature Projects with Kids
Here are some other exciting ways to get your kids involved in the great outdoors:
Get Growing with a Garden Science Kit
Latest posts by Green Child Magazine
(see all)