Celebrating the First Day of Spring (Vernal Equinox) with Kids
Celebrating the first day of Spring is wonderful way to get kids outside during a time of new possibilities, revived energy, and wild delight.
As my family's first harsh Minnesota winter drew to a close, the old Beatles song Here Comes the Sun sang out of our car's speakers. The first day of spring was still a few weeks away, but I found myself deeply touched by the song I had heard the song countless times.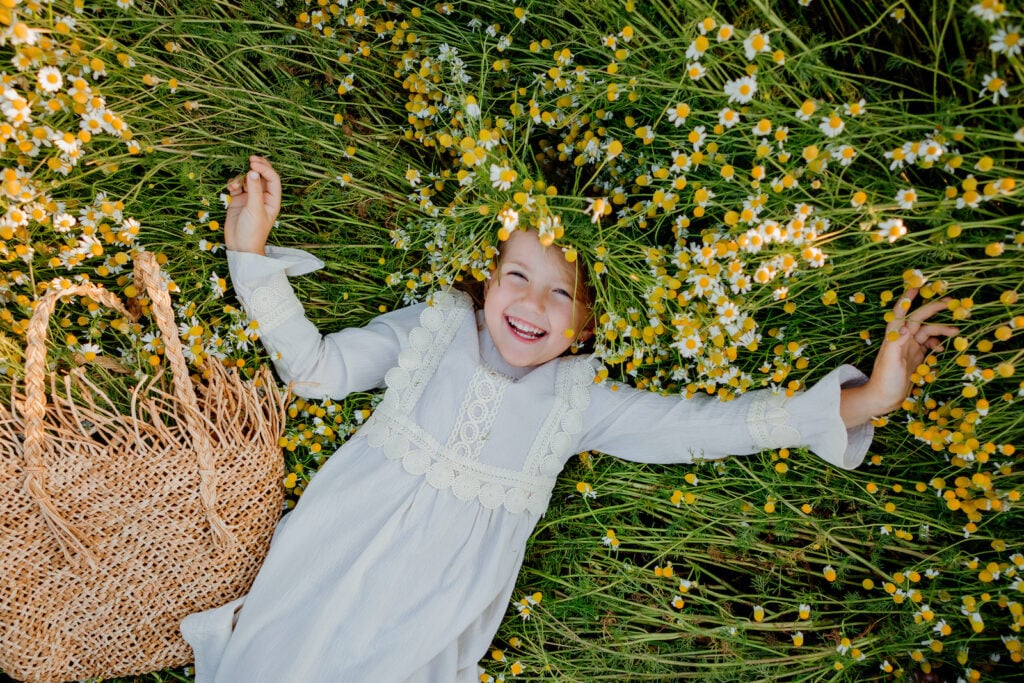 Relief, joy, and yearning surged inside me, in response to the past months' bleak sharpness, the sun's new warmth, the drip-drip-drip of ice and snow, and the song's sweet lyrics. I felt like weeping and laughing all at once.
The vernal equinox, or first day of Spring, is a time of new possibilities, revived energy, and wild delight. This springtime moment and its autumnal twin are also times of balance, in contrast with the summer and winter solstice's extremes.
Tipping from Darkness Into Light
On the vernal equinox, the sun is at zenith (it appears to be highest in our sky) over the Earth's equator. The Earth's axis tilts neither toward nor away from our sun, and the sun's center is directly over the equator.
After the northern hemisphere's vernal equinox, the subsolar point—the point on our planet's surface that's directly underneath the sun—travels into the northern hemisphere, gradually casting us into longer and warmer days.
Our vernal equinox occurs around March 20th each year; the southern hemisphere's takes place around September 22nd (our autumnal equinox). On both equinoxes—all over the Earth—we experience roughly equal daytime and nighttime hours.
The sun has been in its usual place all along, of course. But from our perspective, it seems as though the sun is finally coming back to delight and nourish us. Celebrating the first day of spring with kids can help you feel like you are ushering in this vibrant new season.
In many places and historical times, new beginnings have been celebrated around the equinox. Spring festivals and personal observances of the solstice often involve these contrasting themes:
life from death, light from darkness

growing and planting

balance and opposites
Festivals including Ostara, Easter, Nowruz, Holi, Passover, Qingming, and Earth Day fall on or around the vernal equinox.
Celebrating the First Day of Spring with Children
Play the "How tall is my shadow?" game
My favorite hands-on activity for understanding the seasons involves a yard stick and a whole year. Around noon on each equinox or solstice (or on the closest sunny day when you're together), measure from your child's toe to his or her shadow's top.
Have the child measure your shadow, too, and record the numbers. After gathering data on all four holidays, you can ask your child to guess which shadow was longest, compare your shadows' changing heights with your own heights (when did it come up to your knee? when was it about as tall as you? when would it be too tall to stand up in your living room?), discuss the changing angles of the sun, read up on our solar system and the Earth's seasons, and experiment with a flashlight and a globe.
Plant seeds together
What better way to acknowledge spring growth than to nurture a seedling? If you garden, you can help children start seeds indoors and transplant them later. If not, it's great fun to observe beans sprouting: just add moist cotton balls or wadded paper towels to a glass jar, placing a few beans between the wet material and the jar wall.
A tablespoon of wheat berries sprinkled over a small pot of soil is particularly fun for young children, who can enjoy spraying it with water each day and trimming the 'grass' once it grows tall. While these projects unfold, you might talk about how plants grow and reproduce.
Read Spring-themed books together to celebrate the Vernal Equinox
A New Beginning: Celebrating the Spring Equinox (Wendy Pfeffer) introduces the science, history, and cultural traditions surrounding the vernal equinox. This book also includes projects and recipes to try at home.
From rich, softening soil comes beautiful plants! Mud (Mary Lyn Ray), A Handful of Dirt (Raymond Bial), And the Good Brown Earth (Kathy Henderson), Planting a Rainbow (Lois Ehlert), and City Green (DyAnne DiSalvo-Ryan) explore these themes with exuberance.
If you'd like to introduce the science of oviparous or egg-laying creatures, Two Blue Jays (Anne Rockwell), Chickens Aren't the Only Ones (Ruth Heller), and An Egg is Quiet (Dianna Hutts Aston) offer fascinating starting points. For a companion story focused on the magic and beauty of new life—the miraculous quality of springtime—try Rechenka's Eggs (Patricia Polacco).
Make flower art
Drawing or painting flowers, sketching garden plans and dreams, and making floral greeting cards to share with friends, and creating flower garden collages with shapes cut from glossy junk mail are lovely ways to welcome new life and color back into our lives. Make it an even greener project by crafting your own paints and brushes from nature.
Color eggs
I associate egg-dying with wonderful Easter celebrations at my grandmother's house, along with the rather odd smell of store-bought dye. My own children have different associations: the first hints of spring, simmering brews of vegetables and spices, and annual experimentation.
Our preferred method is to hard boil the eggs and then soak overnight in jars of dye in the refrigerator, adding about a tablespoon of white vinegar to each jar first. Here's how to dye them with elements from nature. Our favorite is red cabbage, because of its surprising and beautiful results.
Spring cleaning
Freshen and declutter your home for the warmer, more open months ahead. Make your own natural cleaners. Working together can make big cleaning tasks faster, easier, and more fun.
Go on a "Signs of Spring" walk
Take a scrap of paper or a nature journal on a walk around your neighborhood. How many signs of spring can your family find? Can you see, hear, smell, and feel hints of the shifting balance? Children may enjoy illustrating the list after you get home.
This is also a great chance for a nature scavenger hunt. There are several different themed nature seek and find activities at that link for your family to enjoy.
Enjoy maple syrup
As sugar maple trees wake into new growth each year, they give us the sap that becomes delicious maple syrup. Enjoy a pancake supper after reading a picture book like Ann Purmell's Maple Syrup Season as you celebrate the first day of spring.
Looking forward, looking back observance
This observance can take place with your family or alone. On paper, out loud, or simply in your thoughts, reflect on these questions or others that suit you better:
What are your spring plans and dreams?
What parts of the past months' darkness, cold, and quiet reflection would you like to carry forward with you?
At this time of shifting balance, what would you like to change or let go?
As the year goes on, here are other ways to celebrate the changing of seasons:
Stretch into the Sun: Celebrating the Summer Solstice
Giving Thanks Together: Celebrating the Autumnal Equinox
Light Amidst the Darkness: Celebrating the Winter Solstice