DIY Organic Nuts & Seeds Bird Feeder Craft
This DIY organic bird feeder craft only takes a few minutes, but it combines everything children love – getting their hands dirty, having a little snack, making something fun, and nature.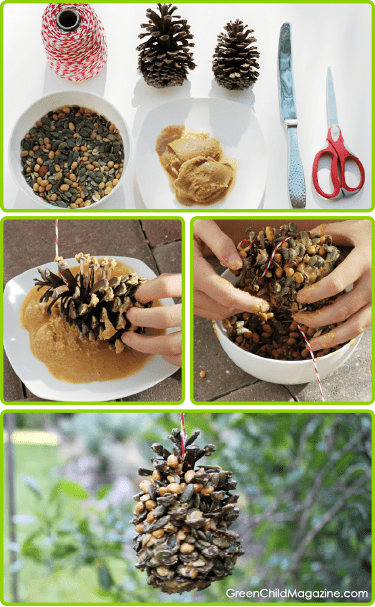 Life can get pretty complicated with kids. Often we look for new ideas to entertain them, when the simplest activities can bring the most joy. And if we want kids to grow up with a desire to protect the environment, we need to encourage their love of nature.
Time in nature at an early age is also associated with better mental health later in life.
Our backyard is a huge nature preserve, and one of my son's favorite spring time activities is to sit on our patio and watch the birds darting in and out of the trees. Throughout the seasons we feed the birds and make them feel welcome in our yard. Old fashioned pinecone bird feeders are quick and easy to create, and you probably have ingredients on hand.
After a few days of minimal visits from our feathered friends, we decided to entice them to visit our backyard. We grabbed a couple of pinecones from the front yard, a huge scoop of organic nut butter, some baker's twine, and a bowl full of nuts and seeds and headed outside to make them a little treat.
DIY ORGANIC BIRD FEEDER PROJECT
Read on for the full directions and enjoy an afternoon making simple, spring organic pinecone bird feeders for your backyard.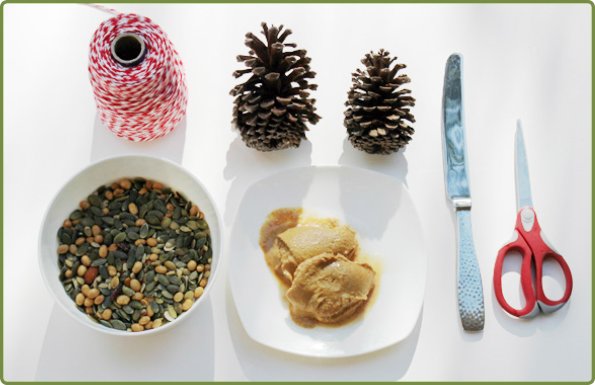 Materials:
Pinecones
Organic nut butter (or ghee or shortening if your child has nut allergies)
Organic nuts and seeds
Scissors
Instructions:
Tie a piece of baker's twine around the pinecone near the top. This would be the perfect time to reuse a large piece of ribbon, string, or yarn you have lying around the house.
Add organic nut butter.
Roll the pinecones in the nut butter until it is completely coated. Let your child dig right in with her hands to get the nut butter in every nook and cranny.
Add the nuts and seeds.
Roll the nut butter covered pinecones in the nuts and seeds until the entire surface of the pinecones are completely covered. Push pieces into the folds of the pinecone for an added bonus.
Choose a place in your backyard where you have seen birds visit before. Hang your bird feeder. Enjoy listening and watching the new feathered friends it brings!
Another fun project during the holidays is decorating an outdoor edible tree for birds and other wildlife.
We were inspired with this idea from a book called Night Tree in which a young boy and his family decorate their favorite outdoor tree with popcorn, apples, tangerines, and sunflower-seed balls as a gift for the animals of the woods.
It's such a fun way to decorate in nature (without all the artificial bling humans tend to bring to the holidays). If there's a tree you can see from a commonly used area of your house, choose it so everyone can enjoy your efforts and watch for wildlife.
Find other great ways to spend time in nature with your kids:
Get Growing with a Garden Science Kit