Stargazing with kids is a fun way to enjoy the night sky, plus it may encourage their love for science.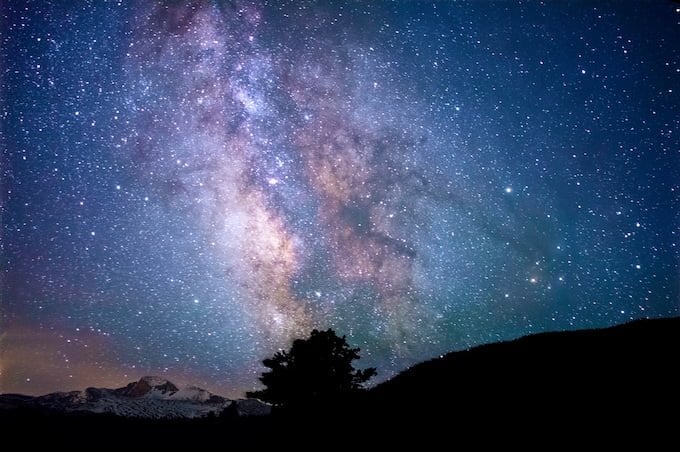 Orion. Andromeda. Pegasus. Ursa Minor.
The night sky is full of stories, adventures, and curiosities. Not only is gazing into the sky one of many ways to encourage your child's natural love of learning, it's also a step toward raising thoughtful, introspective, universe-conscious people.
We always say that if we want to raise kids who grow up to protect our environment, we have to get them outside early on so they can fall in love with nature.
Why not take the family out and turn your heads to the sky this summer?
Scout Out a Good Spot for Stargazing with Kids
The most important factor in pinning-down a good stargazing spot is to get as far away from light pollution as you can. Light pollution is an overabundance of artificial light. For the purposes of stargazing, it's a real bummer because it drowns out the natural luminescence of the stars.
On the surface you'd think light pollution is fairly harmless, so long as you and your family are able to escape it every once in awhile. But the environmental issues presented by light pollution can be serious.
City lights confuse hatchling sea turtles. They mistake the city glow for the moon, and instead of adorably toddle-flapping their way to the ocean, they make a beeline for urban streets.
Enjoying activities like stargazing that shun light pollution can help teach your kids the importance of respecting the balance of nature.
You can escape the city lights a number of ways.
Load the family into the car and drive to the mountains
Ride your bicycles deep into the desert
Make your next vacation destination a tropical island where nature is the main attraction.
The options are endless! Once you've found your spot, here are a few simple tips to make your family stargazing adventure fun for everyone!
Bring Stargazing Provisions
As it is with any activity that lets you introduce your child to a new learning adventure, half the fun of stargazing is watching your kids cultivate a sense of curiosity and wonder for the world around them. Bringing along just a few simple items for stargazing with kids will help get the ball rolling.
A kid-sized telescope transforms those bright blobs in the sky into magical celestial objects. Many kids telescopes double as microscopes, too — a great tool for all kinds of exploring.
Download a children's stargazing app onto your phone so that your kids can start investigating the sky before the sun goes down.
Activity books and cosmic coloring pages are another great way to keep kids engaged while everyone's waiting for the stars to come out — and there's nothing wrong with bringing one for yourself.
Make up some space-inspired snacks for the trip — meteorite rice krispie treats, lunar phase sandwiches, constellation cookies, and so many more!
Make yourself a simple star wheel to help with identifying the constellations.
Don't forget to bring along a red flashlight to see by (making one at home is really simple).
And of course remember to pack pillows, soft blankets, stuffed animals, and any other bedtime comforts. Let's be honest, there's a good chance the stars will lull younger kids to sleep.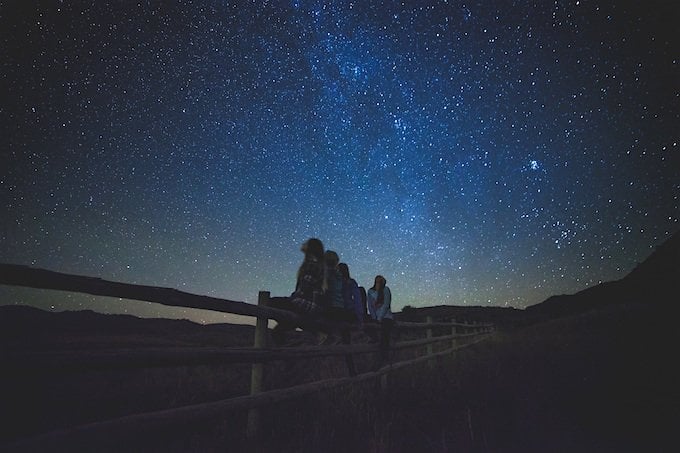 Related: Kid-Friendly Books About the Night Sky
Slow Down and Relax
Unplugging, both physically and figuratively, is a proven way for both kids and parents to slow down and breathe-in life. Stargazing can be the perfect opportunity for just that.
Plan to arrive and set up at or before dusk. Turn off your phone. Give your eyes the chance to properly adjust to the darkness as it falls.
Then allow your own curiosity to blossom. Which constellations can you see? Do the stars make any patterns to you that you've never seen "named" or outlined before?
Set Age-Appropriate Goals
Stargazing with a young child is a completely different than stargazing with an older child. Children ages 8 and younger are unlikely to be interested in looking up at the sky for more than 15-20 minutes at a time.
Help them out by telling or reading stories about how the constellations got their names and mythology from around the world. While looking at the stars might not keep their attention for long periods, stories will.
Your purpose there is not so much to make them memorize shapes and connect dots in the sky; you're there so they can feel a part of something bigger than themselves. Whether that "thing" is science, spirituality, nature, or some combination of the three is entirely up to them. You're there to introduce them to the expanse of their own imaginations.
Keep Exploring
As young stargazers grow, the questions they ask will help you determine how to direct their interests. If they frequently ask questions about the science of space, it's a good idea to take a visit to your local planetarium or science center to help them draw connections between the abstraction of stars in the sky and the planet we inhabit.
If they ask about the stories, take a trip to the library and check out books about space for them to learn the history themselves.
Your kids' curiosity might outpace your knowledge. That happened to us, and we had to add in some planetarium visits at our local community college. They offer a wonderful mix of presentations inside the planetarium and outside nighttime viewing events.
After one of the planetarium presentations, our kids noticed how many character names from the Harry Potter series kept cropping up. Sirius, Draco, Bellatrix, Andromeda, Orion, Regulus Arcturus, and Cygnus to name a few. Sirius is the name of the star that serves as the nose of the dog-shaped constellation Canis Major. The kids were fascinated that in the book series, Sirius Black's animagus is a black dog.
This prompted them to run to the internet as soon as we got home and read up on the Black family tradition of using star or constellation names. One account explained that if a member disgraced the family, their name was taken out of rotation.
As you can see, there are so many doors that open to learning when you allow a child's curiosity to blossom. Gazing into the sky is only the beginning of the adventure, after all.
Related Articles
Outdoor Nature Scavenger Hunt Printables for Kids
Worldschooling – Benefits, Real Stories, Curriculum, Resources + How to Afford It
15 Most Impactful Ways to Go Green