20 Best Celery Snack Recipes for Kids & Adults
Celery sticks are an easy-to-eat, refreshing staple. They're healthy, packable, and hand-sized. Celery snacks are great for kids, and there are so many healthy celery recipes that can be enjoyed by adults, too!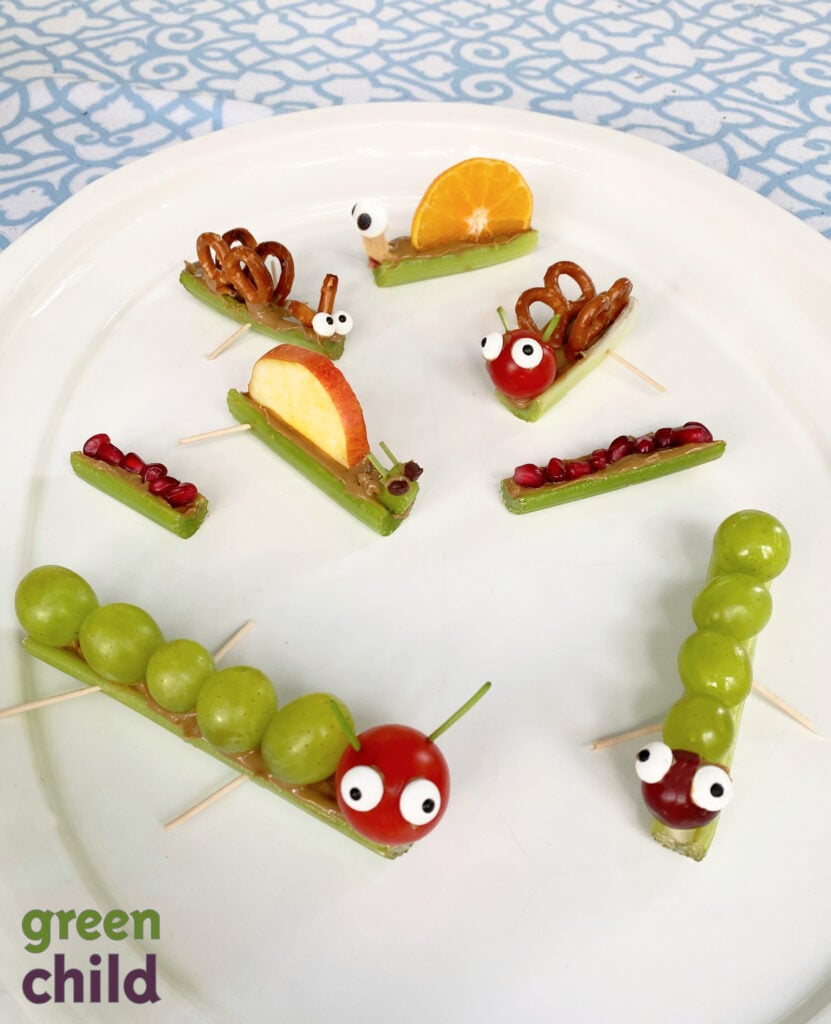 If you're looking for celery snack ideas, this is the round-up for you! Celery can be plain and simple or dressed up as appetizers and super flavorful sides. Most parents will agree, anything you can make that will be enjoyed by kids and craved by adults is a win!
Celery Benefits
Aside from being snack-sized and perfect for tiny hands, celery is healthy and great for snacking. Celery has tons of vitamins and minerals, is low in sugar, and is supportive of the digestive system. Celery is also a great source of antioxidants and can help reduce inflammation.
Best part? It's delicious, has a neutral flavor, and is shaped like a tiny boat you can fill with so much deliciousness!
Celery Stick Snacks for All
If you have lots of fresh celery to use up, there is a solution for everyone here! From basic ants on a log and stuffed celery, to more fancy celery recipes, these will keep everyone satisfied and put your celery stalks to good use.
Celery hearts are milder in flavor and are what we are used to eating when bought from a grocery store. However, you can use all of the celery on the plant as long as they are not wilted and in good shape.
Prepare celery by breaking the stalks off the stem and giving them a rinse. Cut off the leaves and small stems which can be saved to use in bone broth for soups, and then cut into desired size for the celery snack recipes you are using.
Another great option for leftovers is to make celery juice. Just throw the extra ends or less-pretty celery stalks into the juicer and enjoy all the healing and anti-inflammatory properties.
Celery Snack Hacks
These creative little snacks aren't hard to make, but here are some tips and hacks to save time and avoid a mess.
Start with organic celery and rinse it in cold water to get any extra dirt (or actual bugs) out.
Slice each piece of celery to your desired size. Snails will be short. Caterpillars will be longer.
Make sure whatever you'll be using as filling has been refrigerated. Nut or seed butters, cheese filling, or dressings will all "hold" the grapes, pretzels, etc. better if they're cold.
If the celery boats start to tip over, use toothpicks to prop them on both sides. (See top photo.) Or make a thin slice along the bottom to give each piece a more balanced base.
Add whatever your family likes – red or green grapes, cherry tomatoes, apples, oranges, cucumbers, blueberries, green olives, raisins, pomegranate seeds, poppy seeds, nuts – use what you already have on hand.
If you're adding pretzels or a wider fruit, choose the wider section of the celery stalk. If you use a narrow end, two pretzels won't both fit inside to make "wings".
For eyes, add mini chocolate chips or these edible candy decorations to your critters. Spread something thick and sticky (like nut butter) on the back of the "eyes" with a butter knife and carefully attach.
For antenna, poke two holes in a grape or cherry tomato and insert the cut stems from spinach or any leafy green or herb with stems. You can also peel celery into thin strips to make antenna.
Get creative with poppy seeds, dried herbs, lemon zest, or bacon pieces for extra flavor or to create a more earthy look.
Don't stress over making them look perfect. It's cute when the eyes are off center or every butterfly is unique. Just like any high-maintenance food, traveling with them can be a little tricky.
Healthy Celery Snacks
A healthy snack that's easy to make and packable? YES, please! Try these celery recipes for the most healthy celery snacks out there.
This Everything But the Bagel Stuffed Celery recipe only uses 4 ingredients and is super simple to whip up. The basic ingredients are celery, bagel seasoning, a cream cheese mixture, and Greek yogurt, but the variations are nearly endless.
These Fruit and Vegetable Bug Snacks incorporate other vegetables and fruit for a super healthy and cute snack! I love these because you can use what you have available to make them, and they're really motivating for kiddos to eat healthy foods.
Dressed-Up Celery Recipes
Is fancy celery sticks a thing? If it wasn't already, it is now! Try these recipes and ideas for appetizer worthy, great for kids and adults, dressed-up celery.
Bacon Ranch Stuffed Celery will add a perfect kick to your appetizer menu. Easy to make ahead and filled to the brim with cheese, bacon, and ranch, these are a crowd-pleaser!
With a less complex flavor, this Stuffed Celery sticks recipe includes cream cheese, ranch, and mozzarella for a delicious and filling appetizer or a great snack all around.
How to Make Celery Pretty
Celery has a basic look to it, with its little boat shape seemingly waiting to be filled with delicious goodness. It might not always look, well, exciting. If you are feeling creative or need to motivate your little one to eat healthy foods, these pretty celery snacks should do the trick.
Up-leveling the basic ants on a log recipe with a pretty look, these Celery and Peanut Butter Butterflies will win the hearts of any butterfly lover!
These Peanut Butter Snails add a bit of protein, extra fruits, and a super cute look to snack time. You can make the snail shells from apple slices or orange slices.
Kids can easily make these Celery Animal Snacks, which is a great way to get your kiddos in the kitchen and involved in making their own food. Plus, they're adorable!
For another easy-to-make snack that the kids can help with, try this Caterpillar Grapes Recipe. It's a celery snack that is just as easy to eat as it is to make.
Easy Snack Ideas with Celery
Sometimes, as parents, we just have to keep it simple. Mornings are busy. Afternoons are busy. Dinner is busy. Evenings are busy. We can't always do ALL the things. Take a shortcut with these super simple, healthy, quick-to-make after-school snacks that are filling and fun.
Nutritious, basic, and a simple way to get your kiddos involved in the kitchen, make these Ants on a Log celery snack. This recipe gives tons of variation ideas, which is perfect for using what you have already in your kitchen.
Another easy and simple way to customize Ants on a Log for each child, there are great ideas here for really tasty variations to please even the pickiest of eaters.
Celery Snacks for Holidays
There is no time more than holidays when we all need an easy grab-and-go snack that will also check all of the health boxes too. These celery snack ideas have a great spin for the holidays!
Before trick-or-treating, it's really important for kids to have a protein-rich meal or snack. It keeps their blood sugar balanced and can help keep their immune system stronger than when it encounters lots of sugar on an empty stomach. These Halloween veggie tray ideas are a great place to start.
These 5 Minute Spider Snacks are a Halloween variation of ants on a log. They are a perfect way to celebrate with a healthy snack before the kids go out trick-or-treating!
Another cute and creepy option is to make Halloween Mummy Celery Sticks for snacking! These call for mozzarella cheese, but you can use your family's favorite option.
For winter holidays, these Rudolph Celery Snacks are seriously cute! They make perfect adorable appetizers for kids, but also fun and healthy appetizers for adults to snack on, too.
What to Dip Celery In
There are so many options when it comes to what to dip celery in. Make these tasty, and healthy dips for a crunchy, delicious snack with variation in every bite!
My very favorite homemade butter to dip celery in is Roasted Pumpkin Seed Butter. Perfect as a dip, this recipe is also a wonderful alternative to peanut or other nut butter for any of the recipes above. You can also try sunflower seed butter for a good source of protein.
Don't forget hummus! Possibly one of the best and most loved vegetable dips of all time, full of fiber and protein, make these hummus variations to please any family or crowd of all ages: Easy Hummus Recipe, Roasted Red Pepper Hummus, and chipotle flavored Deliciously Spicy Hummus.
Try this Tzatziki Recipe for a cool, refreshing cucumber and Greek yogurt sauce to pair with fresh and crunchy celery sticks!
How to Eat Celery Snacks
As you can see, there are so many easy recipes and creative ways to eat celery snacks! When it comes to this nutritious, crunchy, refreshing vegetable, almost anything tastes good with it. Whether for game day, family gatherings, to complement a holiday meal, or a simple party appetizer – one of the best things about celery is how versatile it is.
These celery snack ideas are great for getting kids in the kitchen, teaching them to count, giving them a positive sensory experience, using fine motor skills and hand-eye coordination, and letting them be involved in their own food-making and snack choices.
Most of these celery snack recipes will keep in an airtight container in the fridge for a few days.
Simple celery recipes are perfect for snacking, packing, and setting out as appetizers. There is nothing better than healthy and easy snack ideas that will have your kids gobbling them up in no time!