Easy Halloween Fruit & Veggie Tray Ideas
Whether you're hosting a Halloween party or want to offer a healthy snack to fill little tummies before trick or treating, these Halloween veggie tray ideas are easy, fun, and festive.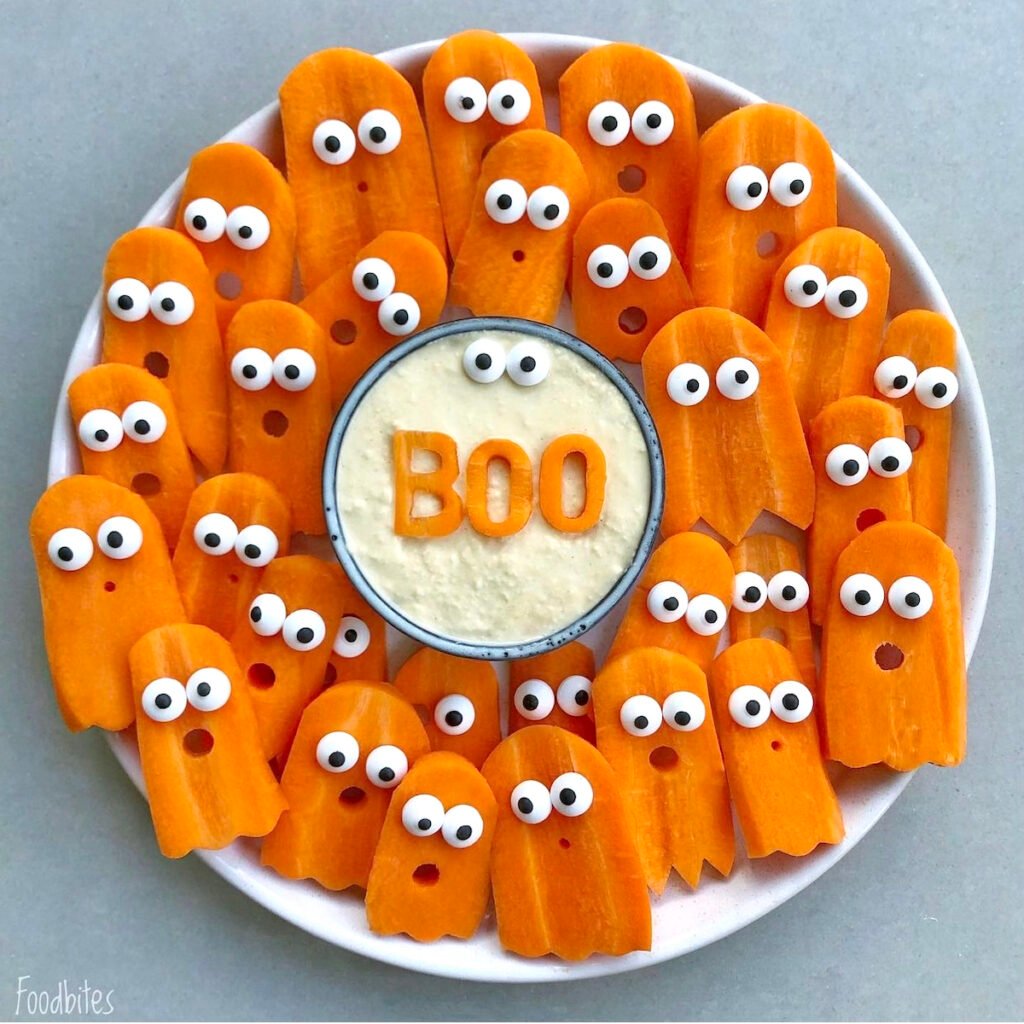 And an extra bonus on a busy evening – most of these fun Halloween snack trays don't require any cook time.
Why Have a Healthy Meal or Snack Before Trick or Treating?
One logical reason to have dinner before you trick or treat is that you'll be more satisfied and less likely to overindulge on candy.
My favorite meal to make on Halloween is chili. I like to start it early in the day so the flavors meld and it can simmer all afternoon. That warm, hearty smell also entices my kids to be in the mood for a big meal.
The other reason to eat before the candy rush is something not a lot of people know.
Sugar – especially sugar on an empty stomach – depresses the immune system. In fact excess sugar can reduce the ability of white blood cells to kill germs by 40 percent. The immune-suppressing effect of sugar starts less than thirty minutes after ingestion and may last for five hours.
Trick or treating is a sugar fest, so anything you can do to offset the effects may help keep your child from getting sick. In studies, eating protein and vegetables before carbs or sugar was found to help lower post-meal glucose levels.
To see loads of fascinating examples of blood sugar tests after certain foods, check out Glucose Goddess on Instagram. This graphic is pretty relevant to Halloween.
A Healthy Halloween Snack Tray Can Help Offset the Sugar Fest
If you work and Halloween happens on a school night, it's hard to get home in time to make a full meal while helping the kids into their costumes (plus all the other last minute things) before trick or treating.
A Halloween veggie tray or charcuterie board encourages your family to graze on the good stuff. Plus they're cute and festive! You can slice the veggies ahead of time and then arrange them on Halloween night. Kids won't be able to resist these, and maybe they'll even take a handful of carrots on their way out the door.
These veggie trays are also a huge hit for Halloween parties. Here's everything you need to know to make them easily and adorably.
Serve Vibrant, Kid-Friendly Vegetables
If your Halloween veggie tray is for kids, be sure to use plenty of kid-friendly vegetables like baby carrots, bell peppers, mushrooms, cherry tomatoes, celery stick snacks, sugar snap peas, and cucumber slices.
Get as adventurous as you like. Special occasions sometimes entice kids to try something new.
Add Some Fun Fruits for Picky Eaters
Yes, these are veggie tray recipes, but fruits add pops of color and flavor. And yes, fruits contain more sugar than vegetables, but they also pack fiber, potassium, and Vitamin C.
Fiber helps regulate the way the body uses sugar, helping to keep hunger and blood sugar in check.
Don't Forget the Dip
Adults love dips. And sometimes they can make kids more likely to eat veggies.
Vegetable dips, jams, mustards, spreads, salsa, and hummus can all be made or found in the grocery store. Look for real-food ingredients – organic when possible – and no seed oils for the healthiest Halloween appetizer.
Halloween Veggie Tray Ideas
Now, let's get to some of the most fun and creative Halloween platter and tray ideas our kids love to enjoy and sometimes will even help make!
Monster Halloween Veggie Tray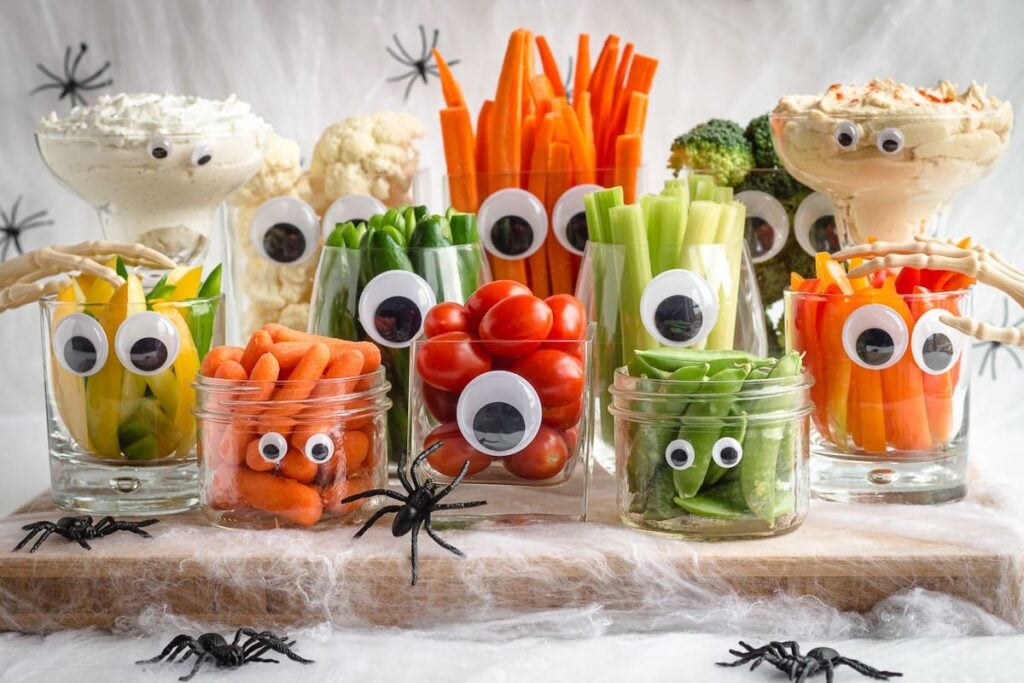 Vanessa at Maple and Mango used stick-on googly eyes and a variety of clear glassware to transform veggies and dip into a spooky and adorable Halloween appetizer. You can use any veggies your family enjoys. Get all the details here.
Skeleton Veggie Tray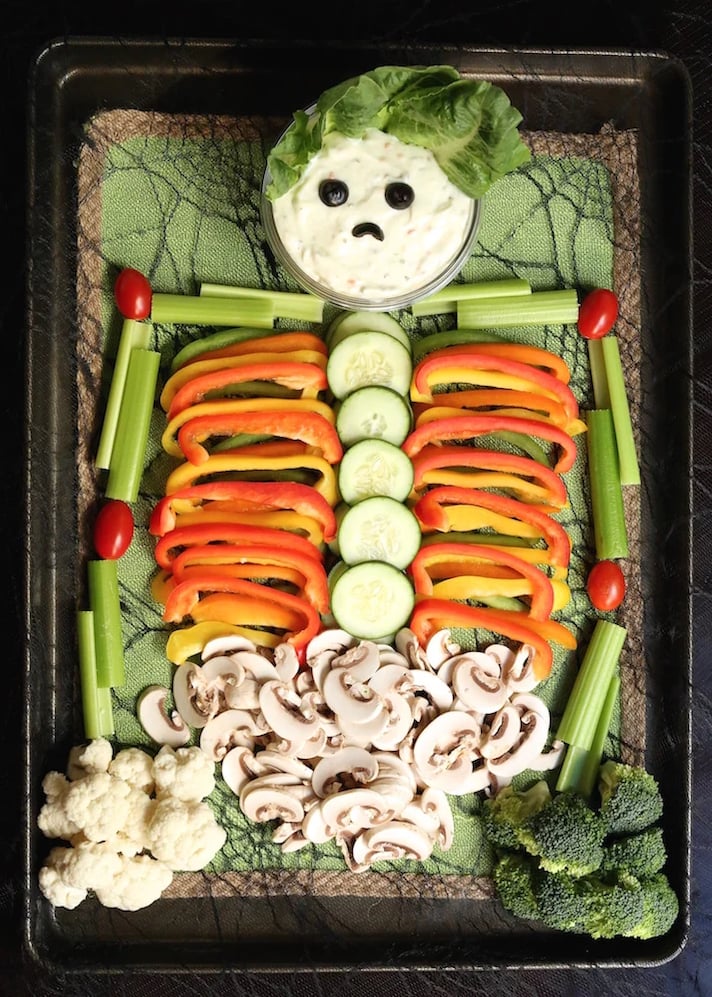 This skeleton tray from Cooking with Janica is super cute and super healthy. Mr. Skeleton has a bowl of veggie dip for his head with lettuce leaves, red pepper ribs, a spine made from cucumber slices, a cherry tomato for each joint, broccoli florets or cauliflower hands, and a pelvis made from sliced mushrooms.
Pumpkin Veggie Tray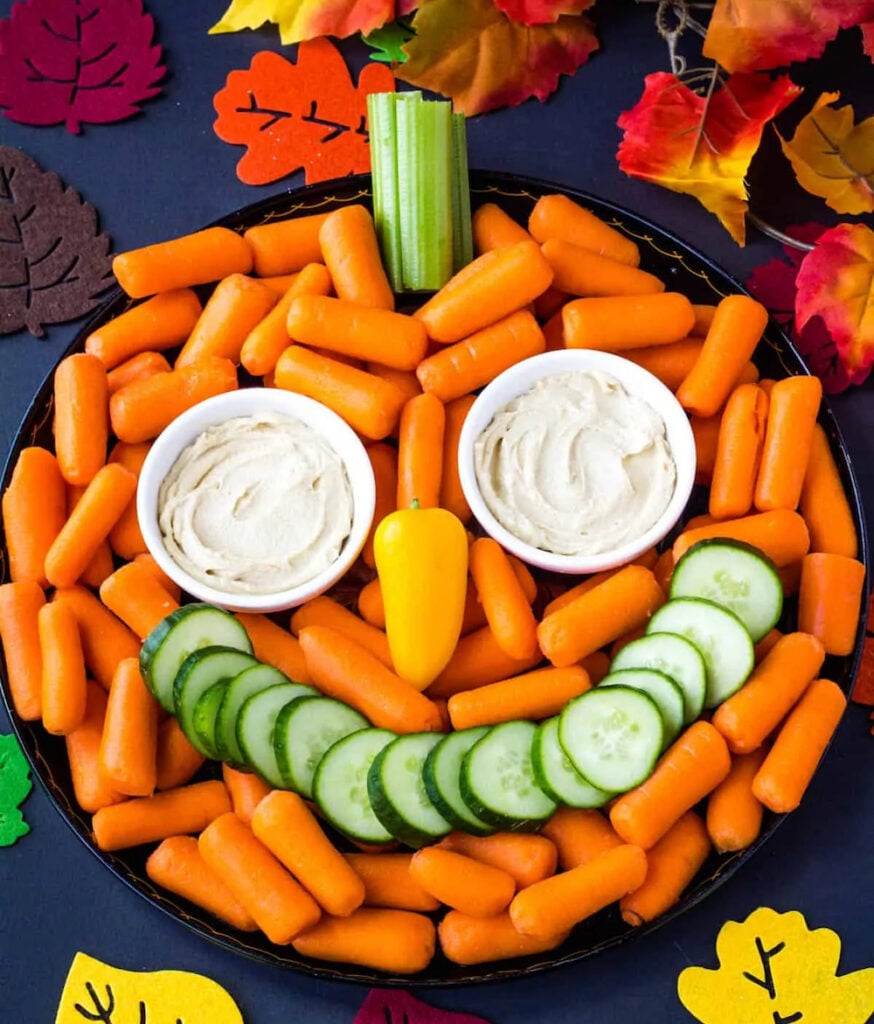 This pumpkin veggie tray from Alison at Keeping the Peas is 100% vegan, sugar free, and full of nutrients. It includes loads of baby carrots, celery, a mini bell pepper, and gluten-free hummus.
My son saw a similar Halloween themed veggie tray a few years ago and made his own pumpkin snack from fruit with some of his favorites. He used oranges, green apples, red apples, grapes, and a banana for the smile.
The moral of this one is to let kids help. Let go of perfection and enjoy their creativity!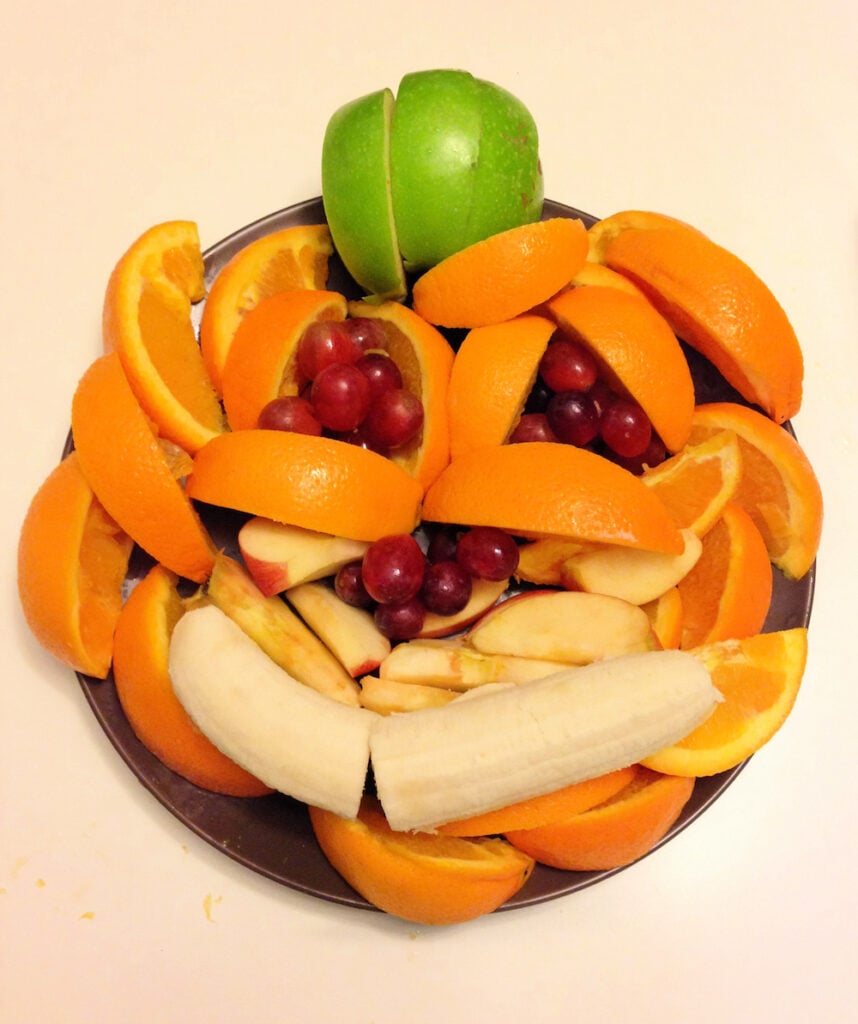 Halloween Fruit + Veggie Ghosts, Goblins, Mummies, and More
Ok, so maybe these don't classify as easy, but there's all kinds of creative inspiration you can use here.
These collections from Food Bites on Instagram are unbelievably detailed. They've transformed ordinary peppers, berries, kiwis, mandarins, watermelon, carrots, pears, pretzels, and more into Halloween works of art.
Orange, Green, and Purple Fruit + Berry Tray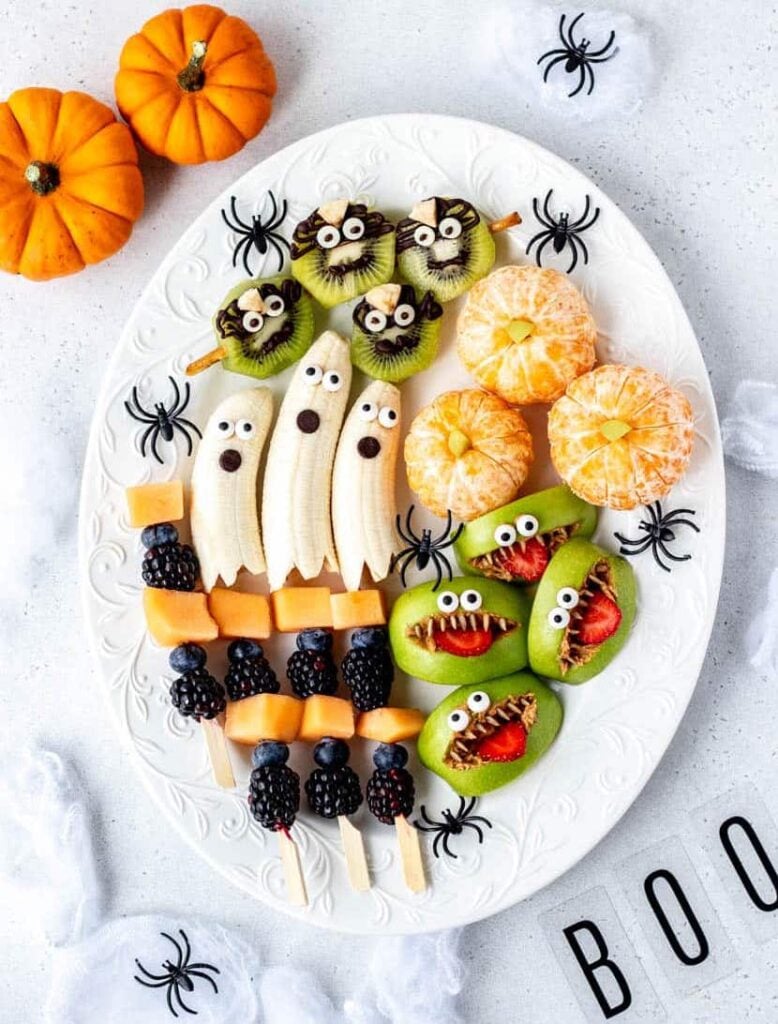 This fruit tray from Haute and Healthy Living features simple skewers in festive Halloween colors. We love how she uses strawberries for the apple monster tongues.
Which Halloween veggie tray is your fave? Do you have a traditional meal or snack before trick-or-treating? Tell us in the comments.
More Halloween Fun Ideas
If you're looking for more ideas to celebrate the spooky season, try these:
40+ Healthy Halloween Treats for Trick or Treaters
DIY Halloween Costumes Inspired by Nature
Eco-Friendly Halloween Decorations