A Halloween costume swap is a genius way to keep your Halloween affordable and eco-friendly. You're probably already doing a version of it by passing along outgrown costumes.
This article was originally published in 2011 and updated in Sept 2022.
Here's how to make it a bigger (or small but still impactful) event.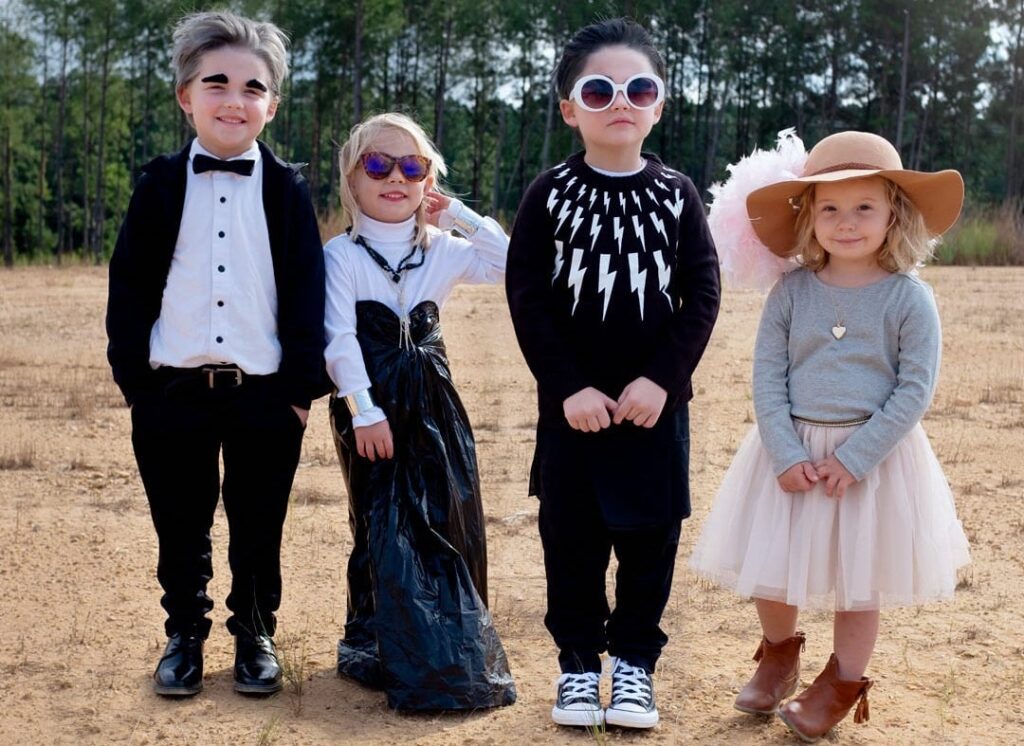 HALLOWEEN BACK IN THE DAY
Growing up in the early 80's, Trick-or-Treating was pretty different than today's Halloween. Most years, we wore homemade costumes, but one year my brother was store-bought Batman and I was Casper the Friendly Ghost – complete with vinyl costumes and smelly masks. I'm still wondering why I didn't just wear a white sheet with holes for eyes….
Most of my favorite autumn memories are wrapped up in simple pleasures like homemade popcorn balls, peanut butter logs, and the hit of the night – a trip through the general store owned by the nicest old man in town where each child got to pick out a whole candy bar for their treat!
My parents knew just about everyone in our community, so the only safety issue we had to deal with was not getting molasses all over your treat bag. Because it was also your pillowcase, and your mom expected it to come home presentably.
FAST FORWARD TO TODAY'S HALLOWEEN
Hitting the Halloween circuit as a parent can be a bit of a culture shock if you've been out of the loop for a decade or two. Sometimes "over the top" is the only way I can describe it.
Giant inflatables, elaborate decorations, and the candy… as if today's kids needed a day devoted to even more sugar than they consume on a daily basis.
That doesn't mean celebrating big isn't fun occasionally – it really can be. But in the long run, I've found simple celebrations tend to be the most meaningful.
HALLOWEEN FUN WITHOUT ALL THE WASTE
As a longtime advocate of simplifying our holidays and green gift giving, I've been delighted and relieved to meet other moms who care about celebrating the holidays meaningfully. And to me, the most meaningful way to use a special occasion is as a chance to give back.
There are many ways to simplify and green your Halloween, but when it comes to saving money, the costume is huge. Store-bought costumes typically run between $20 and $60. A DIY costume often saves a lot of money, but can involve a pretty big time investment as you run from Goodwill to thrift shops looking for all the necessary elements. (Be sure to check out these amazing nature-inspired DIY Halloween costumes.)
When you take part in a Halloween costume swap, you're limiting waste by even greater lengths than you realize. It not only mean less resources are used to make new product, it also means less packaging, less transportation of the product and less waste from costumes being trashed.
HOST A HALLOWEEN COSTUME SWAP
Costume swapping is a brilliant idea. If you're like me, you've probably never thrown last year's costume in the garbage. Instead you pass it along to a younger relative, friend, or donate it to Goodwill. And while that's the responsible thing to do… your child still needs another costume when October 31st rolls around. Costume swapping is the win-win solution for kids, parents, and the planet.
Here's how to manage a small group costume swap.
Set a date & time – the first Saturday in October typically gives everyone enough time before Halloween
Secure a location – a park, your living room, sometimes your local library already has a costume swap planned but if not, you may be able to use a meeting room
Collect & organize costumes – spread the word that you're looking for costumes and some families will donate without needed a swap.
Set the rules – everyone brings the costumes they're willing to part with. Decide in advance what you'll do if there aren't enough sizes for everyone to take a costume home. Sometimes bigger costume swaps are more effective for everyone to find something.
DIY HALLOWEEN COSTUME INSPIRATION
You don't have to bring only store bought costumes to the swap. If you got creative with DIY in years' past, bring those too! Or bring outgrown elements from your child's dress up cache to share with other parents. Your daughter's outgrown dance recital tutu might be the piece another child needs for her fairy costume.
Mom of three Lauren Mancke began creating adorable DIY Halloween costumes for her kids in 2015. Her Instagram is a fun one to watch this time of year. (Here's her Ted Lasso costumes from last year!)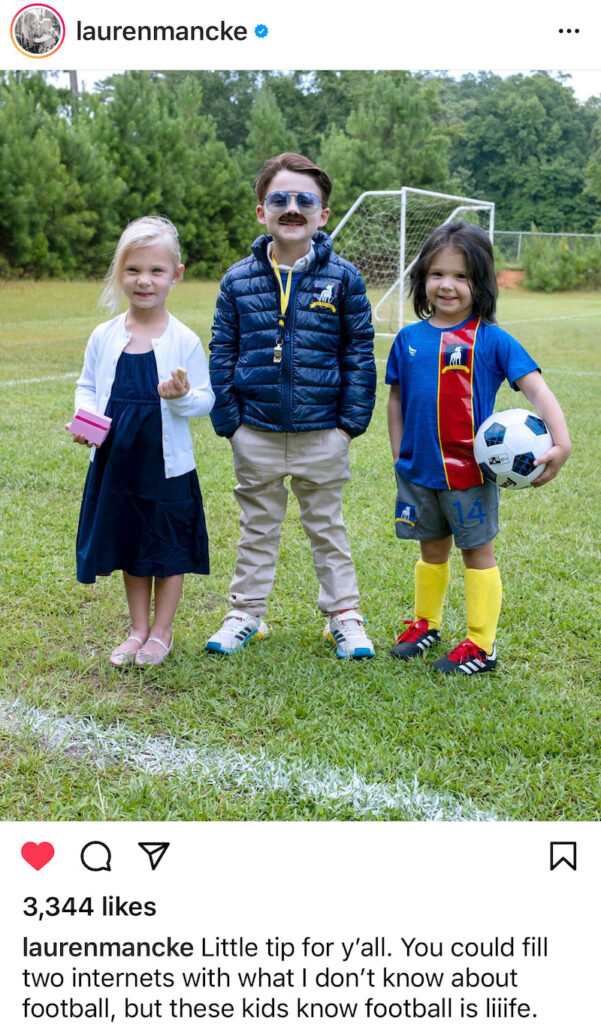 If you can't do a costume swap in person, trade in your old costume and look for a traded one at Swap.com's Halloween section.
Find more Halloween fun here:
40+ Healthy Halloween Treats for Trick or Treaters
DIY Halloween Costumes Inspired by Nature
Eco-Friendly Halloween Decorations
Easy & Healthy Halloween Veggie Trays

Latest posts by Green Child Magazine
(see all)