How to Have a Green Halloween – Sustainable Halloween Tips
With so much emphasis on sugary treats and pretty much disposable costumes, it can be difficult to plan a healthy and green Halloween while keeping the kids happy. But what if we flip this holiday into something that teaches our children the art of simplicity and the value of moderation?
We have just the right sustainable Halloween tips to help.
This article was published in 2011 and updated in September 2022.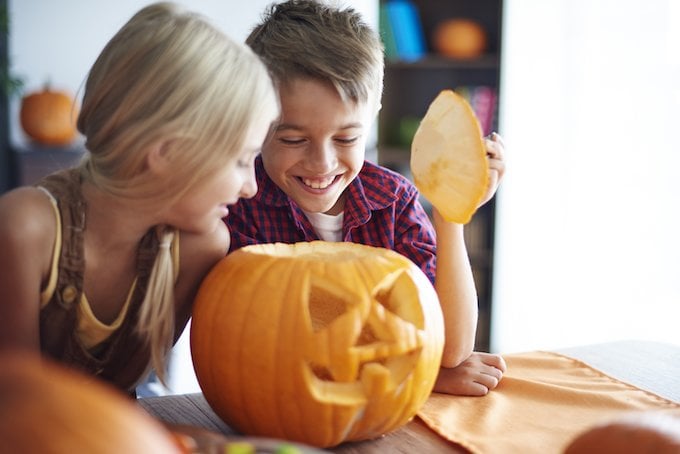 Halloween is big on fun but, unfortunately, it's also big on unhealthy traditions and waste. Many moms worry about the impact of this holiday on the health of their kids and the planet.
And for good reason.
Nearly $9 billion a year is spent on costumes, candy, décor, and other Halloween accessories. These are often made from unhealthy, unsustainable materials, by people who may not be paid living wages or treated fairly. Most of the stuff (or what isn't eaten) ends up in landfills. Add in the frightening facts about high-fructose corn syrup, and the concern about lead-laden accessories and you'll really fuel parent's concerns.
But our goal is to show families that it's easy and affordable to keep the fun, while losing the unhealthy traditions. It's not about telling parents how they should celebrate. It's about inspiring them to make choices that make sense to their families, their budgets, and their schedules.
And when many families make healthier and more sustainable choices for Halloween – taking even the smallest of steps – big impacts can be made for the short and long term.
A HEALTHY AND GREEN HALLOWEEN ISN'T HARD
Busy parents need greening to be simple. Adding an eco-friendly twist shouldn't increase stress and chaos to an already hectic holiday season. But making healthy and green choices is, in fact, easier than it seems.
See also: Nature Inspired DIY Halloween Costumes
The key is thinking outside the conventional candy box.
PLAN AHEAD
Halloween is a fairly last minute holiday, resulting in a lot of choices that aren't good for kids or the planet. But if you make a habit of thinking ahead, you can find exactly what you want while saving time, energy and reducing stress.
Create an annual appointment in your calendar on October 1st (or earlier if you're a major planner advance). Decide what you are going to give away this year and order it online or pick it up. If you have the bandwidth to coordinate with a few friends or co-workers, you can save money by buying in bulk. If nontoxic temporary tattoos were a hit last year, make it easier on yourself by giving away the same thing this year.
BUY OR MAKE HEALTHY HALLOWEEN TREATS
When it comes to parties and gatherings, think seasonal and colorful for a green Halloween. Plus, check out these eco-friendly Halloween decorations!
As you select snacks, desserts, and treats for the kiddos, look for organic and pesticide-free foods made from whole ingredients without artificial colors or flavors. Limit the amount of salt, sugar, and caffeine as much as possible, and opt for locally made foods when available. Here are some fun ideas.
Toasted pumpkin seeds
Air-popped popcorn and popcorn balls
Jack-o-lantern faces drawn on clementines
Shredded carrot salad, shaped like a pumpkin with raisins for eyes
Baked apples with raisins and cranberries
Mini broomsticks with pretzel sticks for the handle and string cheese for the broom
Mini pizzas made into mummies using mozzarella cheese as "bandages" and black olives as eyes
Hot apple cider or 100% organic apple juice and cinnamon sticks
THINK OUTSIDE THE CANDY BOWL
Who said trick-or-treating is just about junk food? (Well, just because it normally is, that doesn't mean you can't buck the trend.) Running to the grocery store the night before Halloween to pick up that 300-piece bag of candy will land you with enough artificial ingredients to scare adults and kids alike!
Some of the biggest offenders are:
High Fructose Corn Syrup (HFCS)
Artificial colors, flavors, sweeteners
Partially hydrogenated oils
Monosodium Glutamate (MSG)
Preservatives – including: sodium benzoate, sulfites (sulfur dioxide), polysorbate 60, 65 or 80, nitrites, TBHQ, and BHT/BHA
Children with gluten and dairy sensitivities should also avoid maltodextrin, modified food starch, caramel coloring or flavoring, citric acid, and "natural flavorings", milk fat, and lactose.
What to give out instead? Opt for candy made from higher quality ingredients from brands like Glee Gum, Surf Sweets, or Yum Earth. If you'd like to forego candy altogether, try some of these non-candy options…
DIY glider planes
Super useful carabiner clips
Halloween themed stickers
LEGO minifigures
Play-Doh mini packs
Maybe boring but always needed Pencils
Playing cards with magic tricks or Halloween jokes (from a local bookstores, or even better you can DIY them.)
INCLUDE THE KIDS
Going green is a family affair, so make it easier on yourself and include the kids by asking for their ideas. When they're involved from the get-go, they're more like to stay involved and to have positive attitudes. Let them help with crafts or natural Halloween decorating.
RELAX
Creating a healthy and green Halloween isn't an all or nothing deal, and busy moms have a lot on their minds and plates. So start with simple green steps that will work for your family this year. You can always add more the next time around. Holidays should be about the fun, not about the stress.
Green choices that stress you out won't be sustainable over the long haul.
BUY, MAKE, OR SWAP SUSTAINABLE COSTUMES
Lots of costumes available in stores contain toxic dyes and petroleum-based materials. Look for costumes made of 100% cotton, wool, or silk. Or try your hand at some of these DIY nature-inspired Halloween costumes. Don't just think about costumes for use for one night — a high-quality costume can be used all year long for kids to play dress-up.
See also: How to Host a Costume Swap
If you're crafty, consider making your own costumes using items from around the house, recycled boxes, and old clothes. If you're not into DIY, shop secondhand at thrift stores and online sale sites, or swap last year's costumes with a friend. Many costumes are only worn once on Halloween, so you can score a like-new costume at a fraction of the cost.
SUSTAINABLE TRICK OR TREATING TIPS
If you're heading out to trick or treat, here are some tips to increase the exercise and decrease the sugar overload.
Make sure to eat a good, healthy dinner before trick or treating. Kids (and parents) are far less likely to binge on candy if they've already had a full meal.
Encourage kids to walk from house to house to trick or treat instead of asking parents to drive them.
When your kids get home, spread all the goodies on the kitchen table. Ask them to pick out their favorite 10 pieces (or however many you choose) to keep and bag up the rest. The candy they keep can be parceled out as after-school treats for the next week or until it's all gone.
Greening your Halloween means trying one new tradition–or trying them all. By going green for just one part of your Halloween, you'll be making a difference you and your family can be proud of.
And here's where your can find more Halloween fun:
40+ Healthy Halloween Treats for Trick or Treaters
DIY Halloween Costumes Inspired by Nature
Eco-Friendly Halloween Decorations