If you enjoy Halloween decorating but want to avoid wasteful inflatables and disposable items, there are plenty of ways to incorporate eco-friendly halloween decorations into your holiday.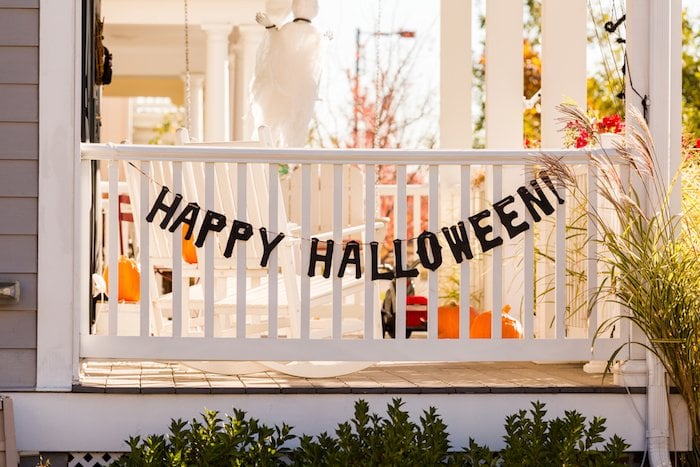 "Mom, this is not very much decorating," our youngest declared as we set out our Halloween decorations.
Compared to his favorite Halloween house with a lawn full of inflatable witches, pirate ghosts, Frankenstein, and a giant grim reaper… I suppose our little skeletons sitting in a fall-themed wreath and one string of orange spider web LED lights is less than "spooktacular" in his eyes.
But how do you tell a 6-year-old that conventional Halloween is harder to pull off when you're trying to live more eco-consciously?
Although conventional Christmas is pretty consumerism-heavy, at least it provides an opportunity to show kids how wonderful it feels to give.
BUT WHAT IS HALLOWEEN'S WORTHY CAUSE?
Getting sugar into the hands of needy kids?
The school lunch fruit cup is already swimming in syrup. And these days it doesn't take a holiday to warrant picking up a king size Kit-Kat in the grocery checkout.
We're convinced you can find a way to balance the fun of this holiday without all the frightful waste and overindulgence.
SO, BACK TO THOSE INFLATABLES…
Our little guy still has stars in his eyes when he sees the giant black cat down the street. So I try to explain… "Yeah, they are cool and scary! But you know why they just stay in a heap on the yard most of the day? Because to keep them inflated, they have to run an electric pump all the time, and that wastes a lot of power and isn't good for the earth."
He nods. Maybe he understands. Maybe he's planning to call Grandma for a secret trip to Target. I remind him he has a real black cat, and she's the most authentic decoration of all. He smiles. All is well… for now, anyway.
Out of curiosity, we asked our readers what they think of inflatable lawn decorations for Halloween. A few answers were…
"We have lost creativity." ~ Valerie T.
"Wastes electricity. And all that PVC that goes to the landfill after a couple of years!" ~ Elizabeth P.
"I like them. Being cynical and unpleasant about something that many people enjoy is nasty, and the world doesn't need more of that." ~ Celeste K.
"Tacky and wasteful." ~ Diane K.
"I'd rather see cornstalks and pumpkins." ~ Grace F.
ECO-FRIENDLY HALLOWEEN DECORATIONS WITH A NATURAL FLAIR
So, what options do we have for keeping things green and still having a festive front walk on the big night? We always look for ways to use things we already have for decorating — like our oldest son's idea of dressing up our homemade scarecrows as a dementor and the other in last year's Harry Potter costume with wand at the ready to cast "Expecto Patronum!"
Other ideas for natural decorating include:
Don't buy new – head out to the thrift store to see what you can find for setting the mood at home. Things like candles, ghost or scarecrow parts, and gourds can often be found in secondhand stores.
Rather than buying once-a-year decorations that require storage, choose things that can be repurposed for something else after the season is over.
For Halloween parties, instead of one-use dishes and cups for treats and drinks, choose reusable cups and plates and real silverware to cut down on party waste. It usually ends up being one extra load in the dishwasher – practically nothing compared to a bunch of plastic plates, cups, and utensils going to our already crowded landfills. Buy neutral colors and you can use them for all your parties.
If you are buying new items, look for eco-friendly characteristics like soy candles, recycled content streamers, and items that will be either compostable or recyclable when the big night is over.
DIY FLYING HALLOWEEN GHOSTS
When it comes to eco-friendly Halloween decorations, the greenest option is to use what you have. These DIY Halloween flying ghosts are whimsy so small kids will think they're fun… not frightening.
Here's what you'll need to make DIY Halloween Flying Ghosts:
Materials:
Sheet
Scissors
Wire hanger
Marker
Instructions:
Cut sheets into squares that are the size that you want your ghosts to be. We made ours large, and we were able to get 3 out of a full size sheet.
Take a piece of wire and punch one end through the top of the sheet (which will be the head), then twist it to make a loop to hang the ghost.
Stuff the head with either leftover sheet pieces, scraps of fabric or even a small ball.
Tie underneath the head with twine before twisting it tight, enter the hook for the cloth hanger at the neck, then tie the neck together super tight holding the hanger in place.
Have someone hold the ghost by the wire hook while you use scissors to cut the bottom of the ghost. The more jagged, the spookier it will look.
Finally, use a permanent marker to draw a ghost face (if you desire) on the head.
Hang on your front porch, and you'll have the greenest haunted house on the block.
Got more ideas to green your Halloween decorations? Let us know in the comments, or come tell us on Facebook.
Latest posts by Amity Hook-Sopko
(see all)