2-in-1 Recipe: Spiced Mini Muffins & Apple, Squash, Raisin Puree Baby Food
The fall air is crisp, and the harvest of the season brings us foods that are meant to boost our immunity. We love to enjoy all the flavors of fall with these delicious spiced mini muffins.
Fall squashes, pumpkins, pomegranates, crisp apples, and tart cranberries all play a special role in feeding our bodies what they need during this bountiful season.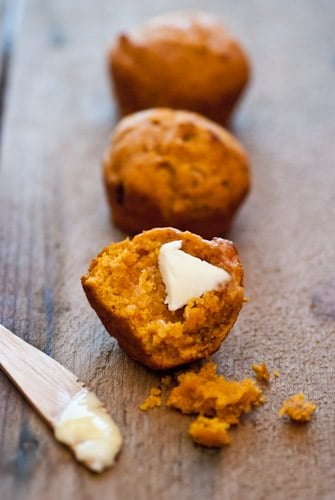 If you have a baby lucky enough to start eating her first foods during the fall, then she will be blessed with fall flavors that are not only easily digestible, but naturally sweet and delicious.
What we love about this season is the spirit of harvesting what we have grown both in our lives.. and in the ground. And of course, bringing our loved ones together in the spirit of community and gratitude.
Anni Daulter's book Bountiful Baby Purees does double duty for parents with 2-in-1 recipes… Feed your baby and use the left over puree for some tasty dishes for the rest of the family!
Apple, Squash, and Raisin Purée for Baby (7+ months)
Both apples and butternut squash are wonderful first foods for baby. They are easily digestible, high in vitamins A and C, and offer a sweet flavor combination that babies love. Adding the raisins to these spiced mini muffins gives this recipe a special touch and an extra boost of fiber.
Apple, Squash, and Raisin Purée for Baby (7+ months)
Print Recipe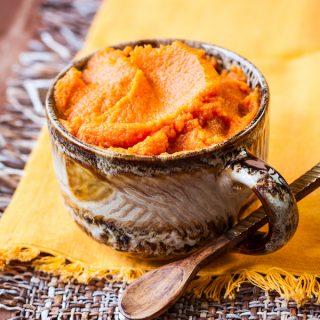 Ingredients
3

Fuji apples

1/2

butternut squash

1/4

35 g cup raisins
Instructions
Peel, core, and cut the apples into 1-inch (2.5 cm) pieces.

Peel and cube the butternut squash into 1-inch (2.5 cm) pieces.

Steam the apples and butternut squash together for 10 to 12 minutes, or until soft. Add the raisins and steam for 2 additional minutes. Reserve the liquid from the steamer.

Purée the apple, butternut squash, and raisins in a food processor with 1⁄2 cup (120 ml) of the reserved liquid. Add more liquid as needed to obtain the desired consistency.
Spiced Mini Muffins for the family
These spiced mini muffins are perfect for toddlers' little hands and are packed with the same goodness they got when they were babies. These are also a great cupcake alternative for a one-year-old's birthday party or as a mid-day snack.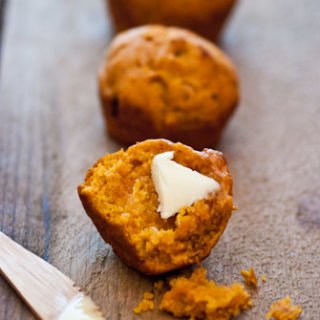 Ingredients
2

cups

250 g whole wheat pastry flour

1

teaspoon

4.6 g baking soda

2

teaspoons

4.6 g cinnamon

1

teaspoon

2.2 g fresh nutmeg

1/4

teaspoon

0.5 g ground cloves

1/4

teaspoon

0.47 g allspice

1/2

teaspoon

3 g sea salt

1

cup

340 g raw agave nectar

1/2

cup

112 g unsalted butter, softened

3

eggs

1 1/2

cups

Apple

Squash, and Raisin Purée for Baby

Fresh fruit and raisins

for serving
Instructions
Preheat the oven to 350°F (180°C).

Combine all dry ingredients.

In a separate bowl, using either a handheld or stand mixer on medium speed, beat butter with the agave nectar.

Beat in the eggs, one at a time.

Add in the purée.

On low speed, add the flour mixture a little bit at a time until you have added it all and you have a cake-like batter.

Line a mini muffin pan with cupcake liners and distribute batter equally, filling each about three-quarters full.

Cook for 18 to 20 minutes, or until a toothpick inserted in the center comes out clean.

Cool and serve warm with fresh fruit and raisins, if desired.