DIY Nature Halloween Costumes You Can Make At Home
A DIY nature Halloween costume is a fun way to way to show off your family's love of the outdoors.
From a Child of Nature to the Loch Ness Monster, photographer Alana Beall has created these beautiful nature inspired Halloween costumes. They're simple enough you can create from what you already have on hand… or from a quick thrift shop or craft store trip.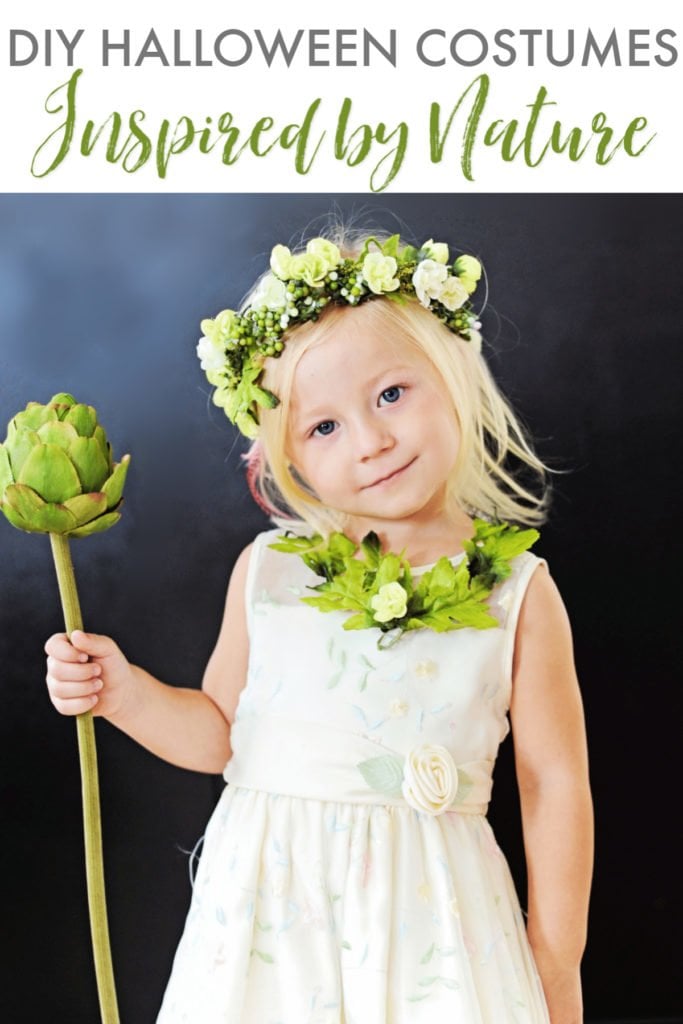 There are many ways to simplify and green your Halloween, but when it comes to saving money, the costume is huge. Store-bought costumes are more expensive than ever..
A DIY costume can save a lot of money, but sometimes also involves a pretty big time investment as you run to thrift stores or craft stores looking for all the necessary elements. Or host an in-person or online costume swap to help source items.
So when you can use elements from the natural world or those inspired by nature, it allows you to be creative and eco-friendly.
DIY Nature Halloween Costume Ideas
If you're looking for Mother Nature Halloween costume ideas, check our Halloween Pinterest board. You're sure to find the perfect fabulous Mother Nature costume for moms, expecting moms, and kids.
If you're pulling together a last-minute Halloween costume, raid your closet, kids' closets, toy chests, and home decor storage areas with an eye for any of the following:
clothing in earth tones – a solid green outfit or a black dress is a great base for many of these ideas
accessories – natural jewelry, a straw hat, gloves, a tiara you can wrap with leaves or other nature elements
wigs – some of these are pretty basic, so a wig can help add some mystery to the costume
Here are the DIY Halloween costumes for kids our team and photographer Alana Beall created.
Loch Moss Monster
He's green, but this monster is not so mean. You can use a variety of green items you find around your home or yard to make the moss.
For this adorable DIY costume we used:
green t-shirt
toxic-free kid safe makeup in green colors
ferns and greens from the craft store or dollar stores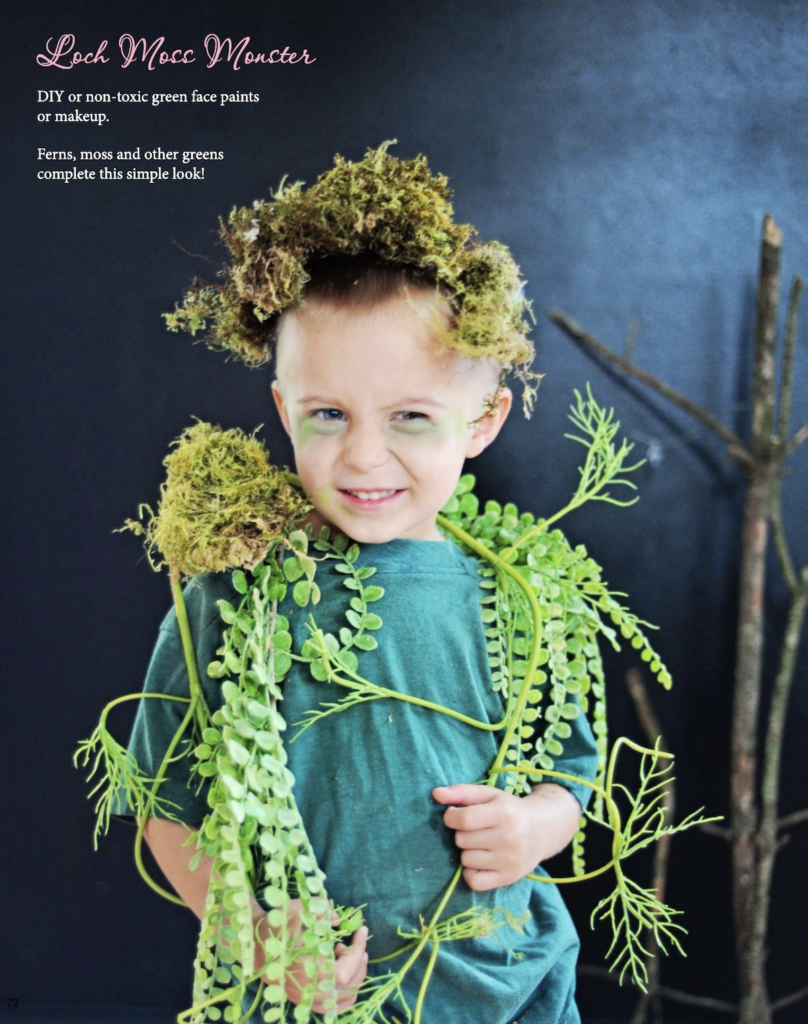 Butterfly DIY Halloween Costume Ideas
When it comes to nature related Halloween costumes, a butterfly theme can make a simple costume. Butterflies are nature's most beautiful pollinators, and they're pretty appealing to kids! Here it is adapted for a toddler and an older girl.
If you have a set of wings in your child's dress up trunk, this is the time to use them. But a simple mask can be a fun and easy way to achieve the same look.
In these two butterfly costumes we used:
butterfly mask, sticker, or printable butterfly attached to a chopstick
pipe cleaner hair wreaths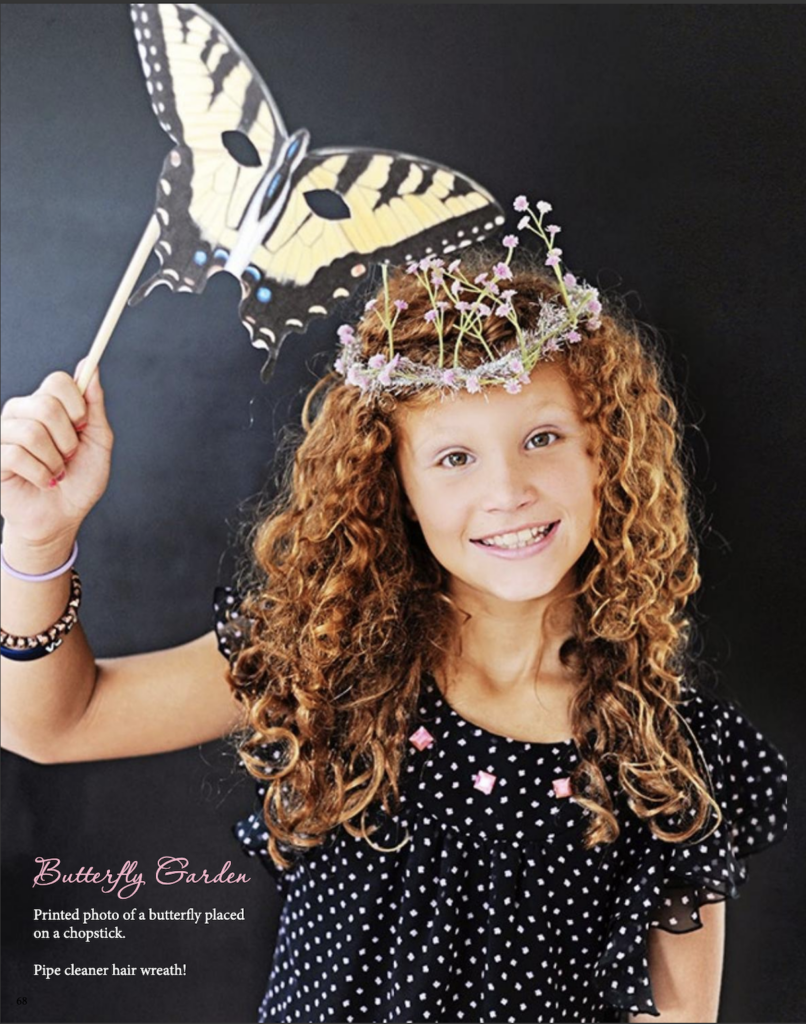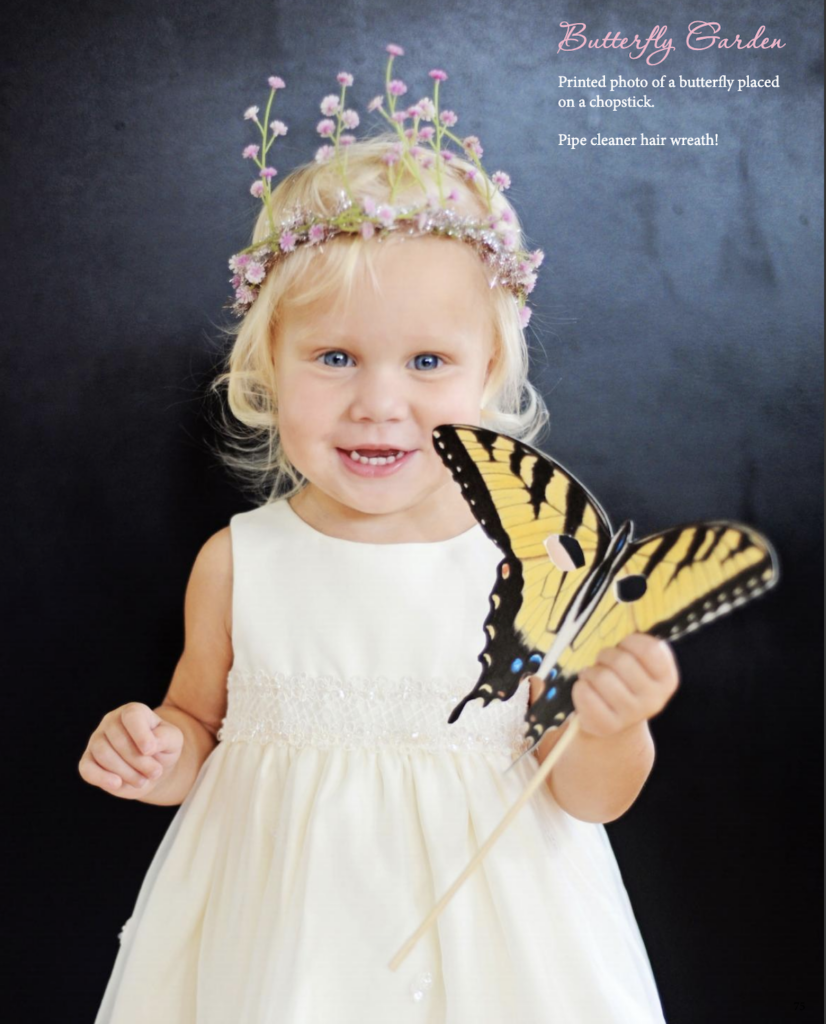 Child of Nature
This is a fun mother-daughter costume idea – you as Mother Nature of course!
You could use a white dress or any simple, solid outfit along with
pipe cleaner and hot glue gun for the hair wreath
artichoke wand and flowers from the craft store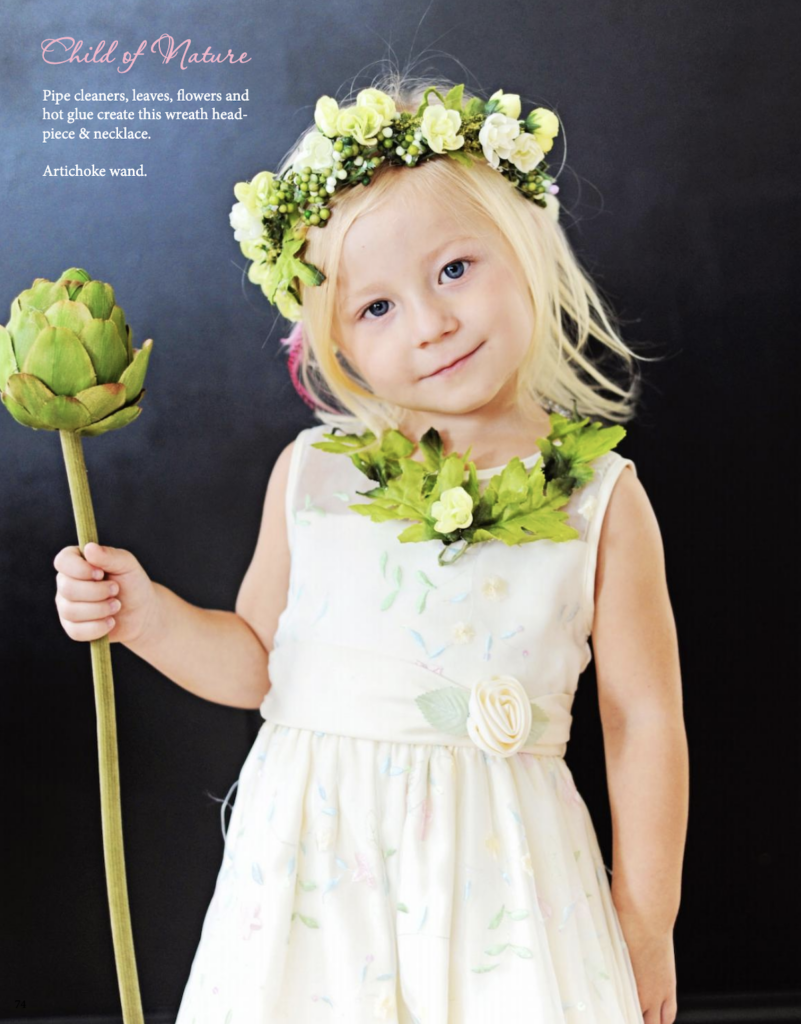 The Shining Sun
The gold in this costume really adds a fun pop of color. The more natural the hair in this one, the better!
We used
an old hat box lid painted gold and orange
golden ribbon for the headband / way to fasten the head piece on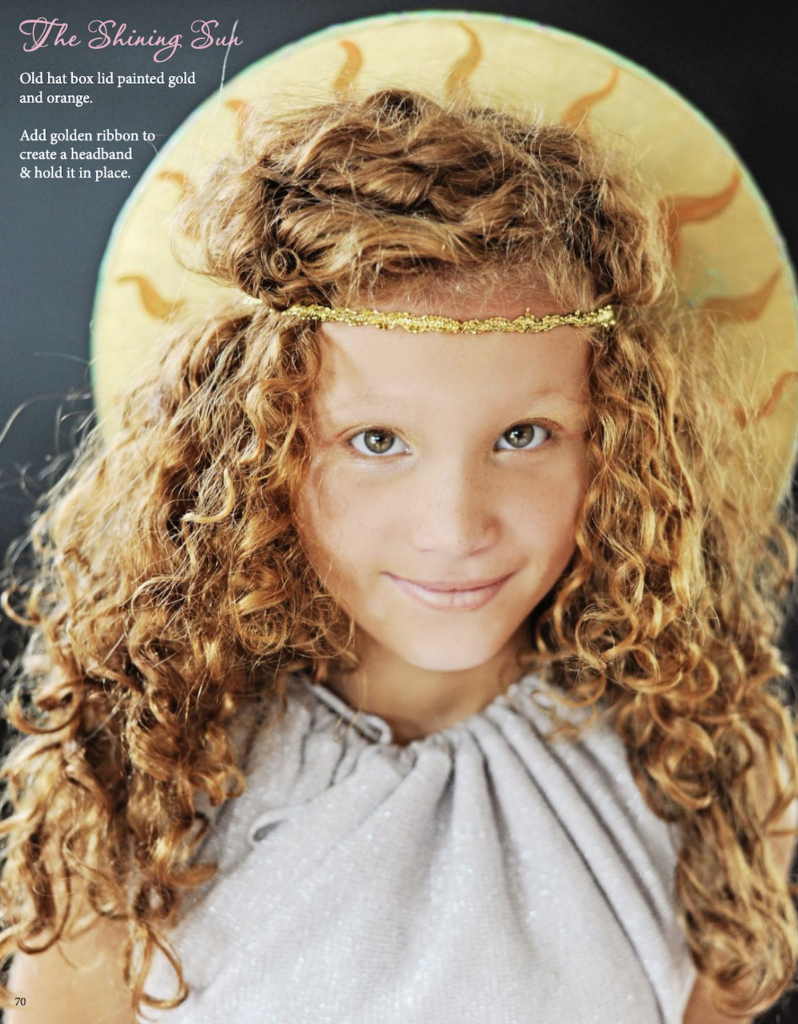 Rain Cloud Costume
An idea for a group costume or for siblings – one can be the sun and the other can be a rain cloud.
We had blue seersucker which came out really cute for this sweet costume, but you could go with gray, blue, or white. We also used
clear umbrella with tulle held in by fishing line
toxic-free kid safe makeup in blues to make raindrops on her face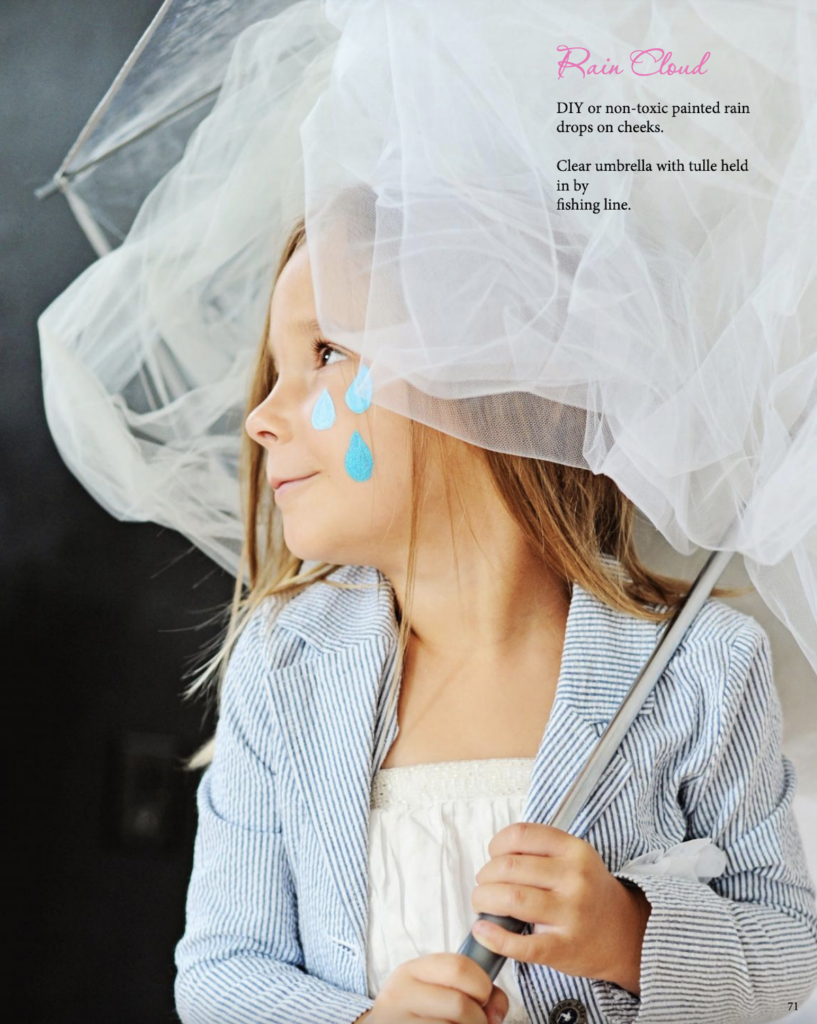 Scary Tree
Some kids would prefer to go full on Radagast from The Hobbit. But if you're all about keeping it simple, this one's a winner.
For this DIY kids costume we used
a black dress with a feather necklace / collar
headband with vine-wrapped stick
ravens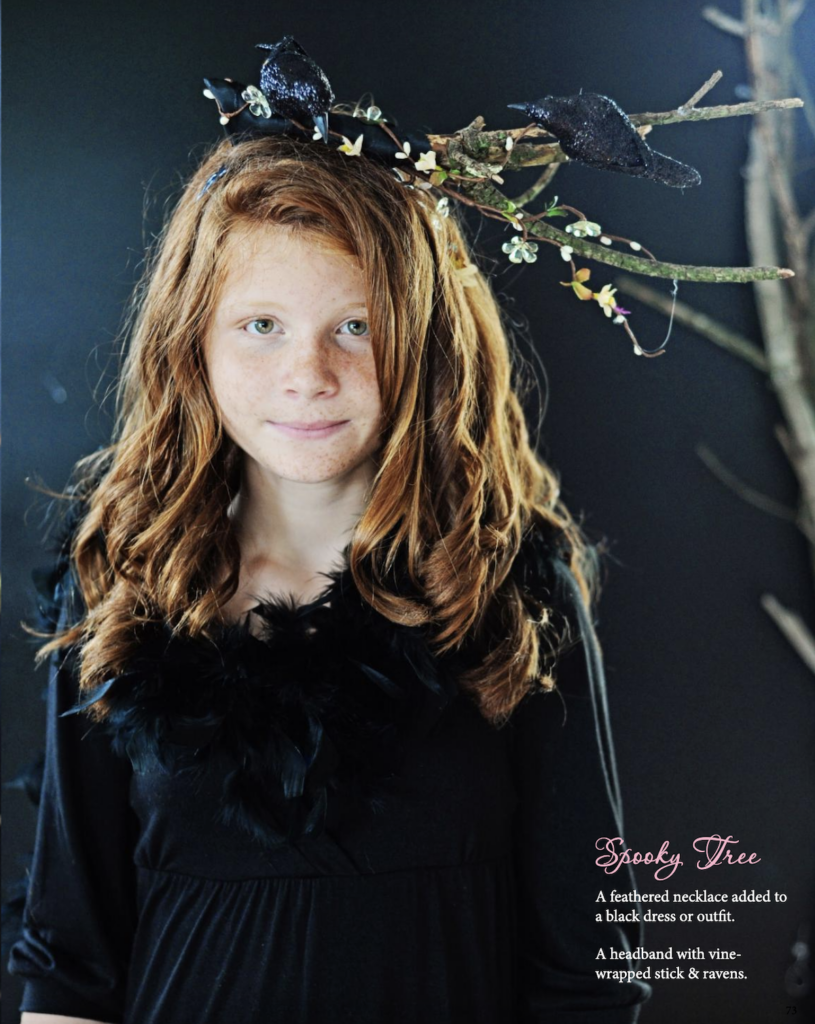 If you try one of these or come up with a great nature Halloween costume idea, be sure to share photos. You can tag us on Instagram or use the hashtag #greenchild.