LEGO Transitions to Plant-Based Bricks & Recycled Plastic
If your child is like ours and no birthday wish list is complete without a new LEGO set, we're sharing some happy green news. LEGO is transitioning their bricks to plant-based plastic… and they have more green initiatives in the works.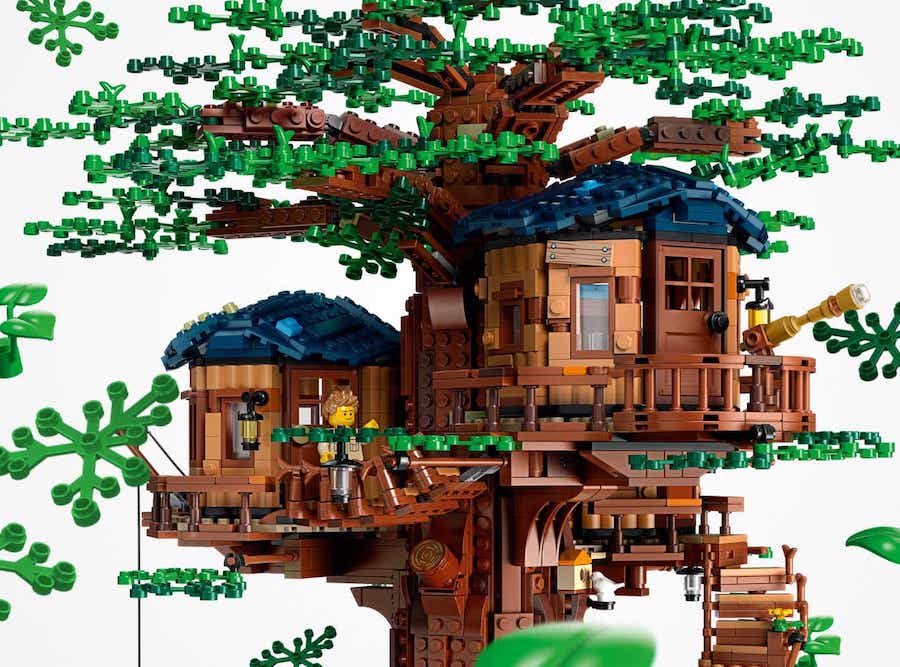 These new sustainable LEGO botanical elements (leaves, bushes, and trees for now) are made from plant-based plastic sourced from sugarcane.
"At the LEGO Group we want to make a positive impact on the world around us, and are working hard to make great play products for children using sustainable materials," said Tim Brooks, vice president of environmental responsibility at the LEGO Group, in this month's press release.
Is LEGO going to stop using plastic?
A new recycled prototype, which uses PET plastic from discarded bottles, was announced in June 2021. The recycled prototype brick is the latest development in making the LEGO Group's products more sustainable. In 2020, the company announced plans to remove single-use plastic from its boxes. In 2018, it began producing elements from bio-polyethylene (bio-PE), made from sustainably sourced sugarcane.
These changes are part of the LEGO Group's commitment to use sustainable materials in their core products and packaging by 2030.
We're still advocates of buying gently used LEGOs (retired sets make awesome gifts), but this helps ease our green guilt about the excess plastic in our environment when your child (or their friend) really wants a new one. And you'll have fewer worries when it comes to the safety of the plastic toys your child handles.
"Children and parents will not notice any difference in the quality or appearance of the new elements, because plant-based polyethylene has the same properties as conventional polyethylene," explained Tim Brooks, vice president of environmental responsibility at the LEGO Group.
LEGO has also partnered with WWF to support and build demand for sustainably sourced plastic, and has joined the Bioplastic Feedstock Alliance (BFA), an initiative of WWF, to secure fully sustainable sourcing of raw material for the bioplastics industry. The plant based plastic used to make the botanical LEGO elements is third party certified following global standards for responsibly sourced sugarcane.
"It is essential that companies in each industry find ways to responsibly source their product materials and help ensure a future where people, nature, and the economy thrive," said Alix Grabowski, a senior program officer at WWF, in the press release.
About LEGO plant-based elements
Polyethylene elements are 1-2% of the total amount of plastic elements produced by the LEGO Group; The sustainable product range covers LEGO botanical elements such as leaves, bushes and trees made entirely from plant-based plastic.
Plant-based polyethylene used in LEGO elements is made from ethanol produced from sugarcane.
The sugarcane used is sourced sustainably in accordance with guidance from the Bioplastic Feedstock Alliance (BFA) and is certified following global standards for responsibly sourced sugarcane.
All suppliers must comply with the LEGO Group's Code of Conduct, which specifies strict requirements for ethical, environmental and health & safety standards based on leading global guidelines.
The LEGO Group works closely with its suppliers to ensure life-cycle assessments are conducted, which map the environmental impacts from the production of the bio-based material.
"Millennial parents are more aware than previous generations of their impact on the environment," explains Jackie Breyer, editorial director of The Toy Book and The Toy Insider. "They feel the need to teach by example that they can make the world a better place.
About LEGO's recycled plastic bricks
The prototype is made from recycled PET sourced from suppliers in the United States that use US Food & Drug Administration (FDA) and European Food Safety Authority (EFSA) approved processes to ensure quality. On average, a one-liter plastic PET bottle provides enough raw material for ten 2 x 4 LEGO bricks.
It will be some time before bricks made from a recycled material appear in LEGO product boxes. The team will continue testing and developing the PET formulation and then assess whether to move to the pilot production phase. This next phase of testing began in 2021 and was expected to take at least a year.
LEGO Replay Program
Through LEGO Replay you can pass along the bricks your child no longer uses. Using their Give Back Box, you can pass on your much-loved LEGO bricks to share the power of play with kids involved with Teach for America and the Boys and Girls Clubs. Visit Give Back Box for more information and to print out your free shipping label.
New USA-Based Brick Plant
And in more LEGO sustainability news, the company announced plans to invest more than $1 billion in its first United States factory. The plant will be carbon-neutral, to shorten supply chains and keep up with growing demand in one of its largest markets.
The new factory will use renewable energy produced at an onsite solar park. It will be operational in the second half of 2025 and will employ more than 1,760 people. The U.S. market is currently supplied from a factory in Mexico.