Solar Eclipse Activities for Kids
A solar eclipse is a great opportunity to teach kids about the sun, moon, earth and their relationships to one another. Here are some fun and educational solar eclipse activities for kids.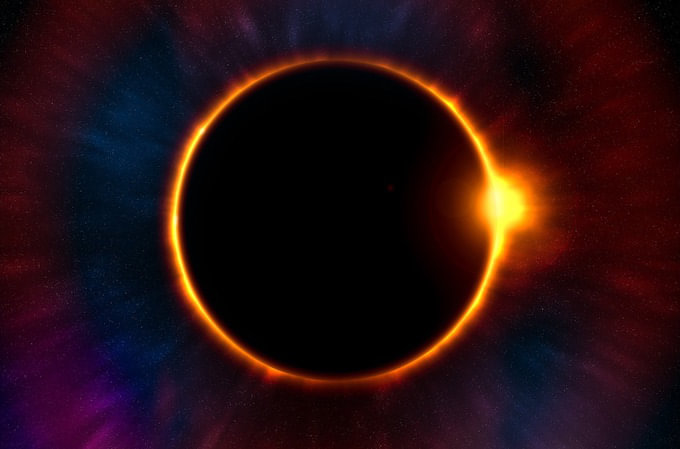 There are two types of eclipse. One happens in the night sky, an eclipse of the moon, or lunar eclipse. The other is best seen on a sunny day, an eclipse of the sun, or solar eclipse.
There have been lunar eclipses in America throughout the last century, but prior to the total solar eclipse on August 21, 2017, the last coast to coast continental United States eclipse was in 1918. That's just shy of a hundred years!
The total solar eclipse on April 8, 2024 will cross the United States from Texas to Maine. See the map below for the 2024 solar eclipse path.
The entire eclipse will last a few hours, but totality will last just a few minutes. Because the eclipse will move across the country, crossing time zones, it will occur at slightly different times depending on your location. Here's the projected timeline using Universal Coordinated Time (UTC):
Partial eclipse begins: 15:42 UTC
Total eclipse begins: 16:38 UTC
Greatest eclipse: 18:17 UTC
Total eclipse ends: 19:55 UTC
Partial eclipse ends: 20:52 UTC
You can make this a memorable and educational event with these creative solar eclipse activities for kids. Below is the path of the eclipse in April 2024.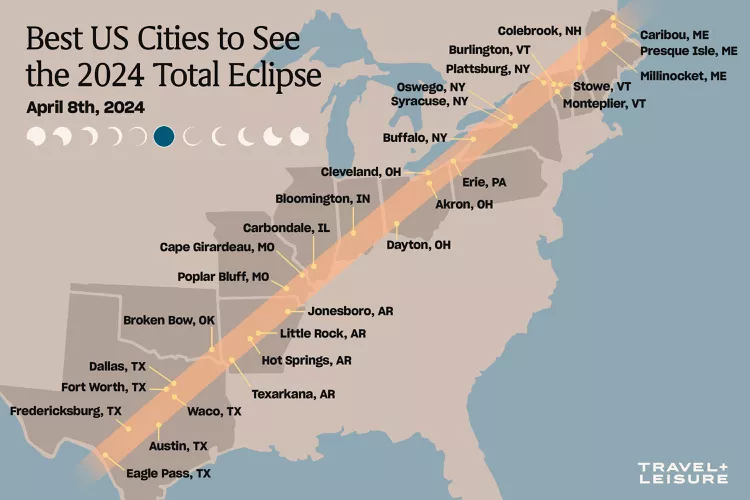 Watch with NASA Approved Glasses
If making the camera isn't your idea of fun, you can buy solar eclipse glasses to make sure you're observing the sky safely. Looking through the glasses, you will see only a tiny sliver of sun left – but be sure to keep the glasses on. If it still looks like an ambient daytime light, the full eclipse hasn't occurred yet.
NASA and the American Astronomical Society (AAS) advise you to use solar eclipse glasses or other solar filters from recommended manufacturers. Make sure you view the company's published certification stating they are a TSE 17 manufacturer and approved by NASA and the AAS.
Make a DIY Pinhole Camera
Short on glasses? Well, you won't have to worry about experiencing a tantrum that's even more memorable than the eclipse. NASA's pinhole camera activity is super simple and super safe. All you need is aluminum foil, stock cards, tape, and a paper clip or pin.
Assemble following NASA's instructions to make a solar eclipse viewer from common materials you have on hand. And no, you don't need to be a rocket scientist, but your kids will have a safe way to watch the eclipse with this pinhole projector.
Try a Cereal Box Camera Obscura
Remind your child not to look directly at the sun, even during an eclipse. Protective eyewear or a safe viewing device is necessary. A camera obscura is another safe solar eclipse viewer, and it's a fun way to recycle a snack box or cereal box. It's a little more complex but makes a great craft project. Find the full DIY here.
Create a Flashlight Eclipse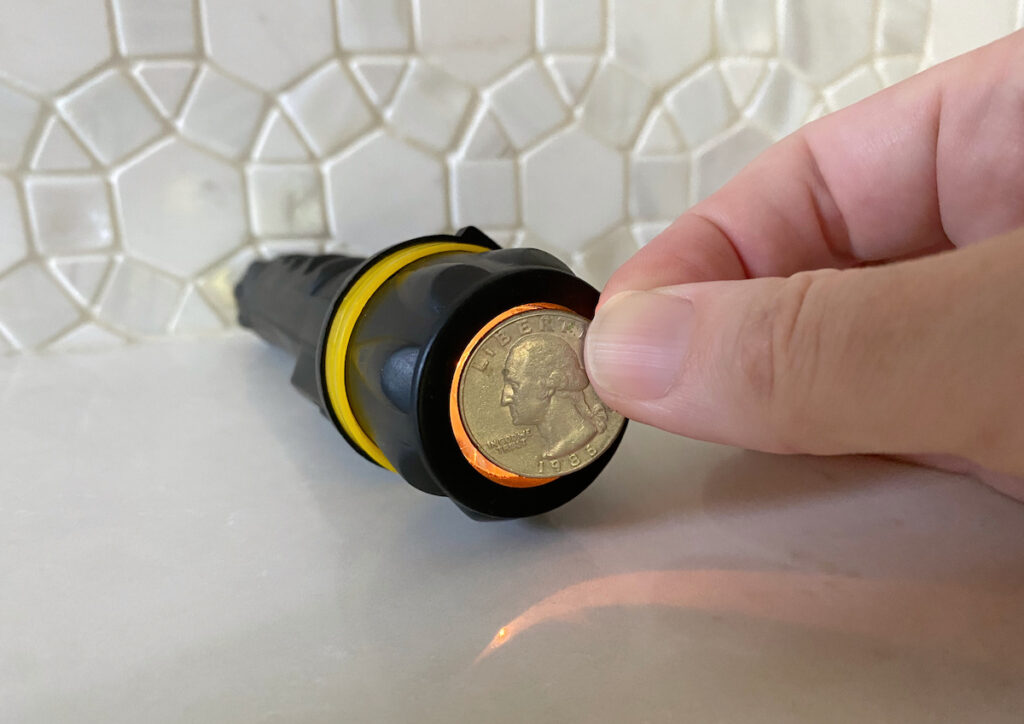 All you need is a flashlight and a quarter to help your child understand that a solar eclipse occurs when the moon gets between the Sun and the Earth. The moon's shadow can be quite a powerful force on the sun's rays.
In this experiment, the flashlight is the Sun, the coin is the Moon, and you (or a paper your child holds up) are the Earth. It's one of the easiest solar eclipse activities for kids.
NASA also offers a PDF that explains how the moon, which is much smaller than the sun can hide the giant sun. You can also help kids understand the difference in the shadows, umbra and penumbra, here.
Mold Your Own Clay Moon
Since the moon is part of the action, this is a great time to teach kids about moon craters. This clay moon STEM activity teaches about moon craters. It can also be paired with a flashlight to demonstrate moon phases and eclipses. You can also hang this solar eclipse craft from a window as space themed decor.
Or, if you're really feeling crafty, you could keep the art session going and whip up some stars or planets to make a DIY moon mobile. Magic mud or air dry clay are recommended for making your moon, but if you're anything like us, you'll be making a last-minute-moon out of a long-lost tub of play dough.
Make Sun Prints
Sun prints are a creative way for kids to understand ultraviolet light. Human eyes can't see it, but we can see its effects by observing how sunlight bleaches paper. This project is a great way for older kids to make unique art.
Go on a scavenger hunt for nature items like leaves and flowers. Take some construction paper (dark colors will show the most contrast) outside and tape the items to the paper so they don't blow away. Leave them in the sun for 4-6 hours. Remove the taped nature items and look at the patterns the sun's UV rays have left behind as they broke down the dyes of the paper.
Get Artsy with a Suncatcher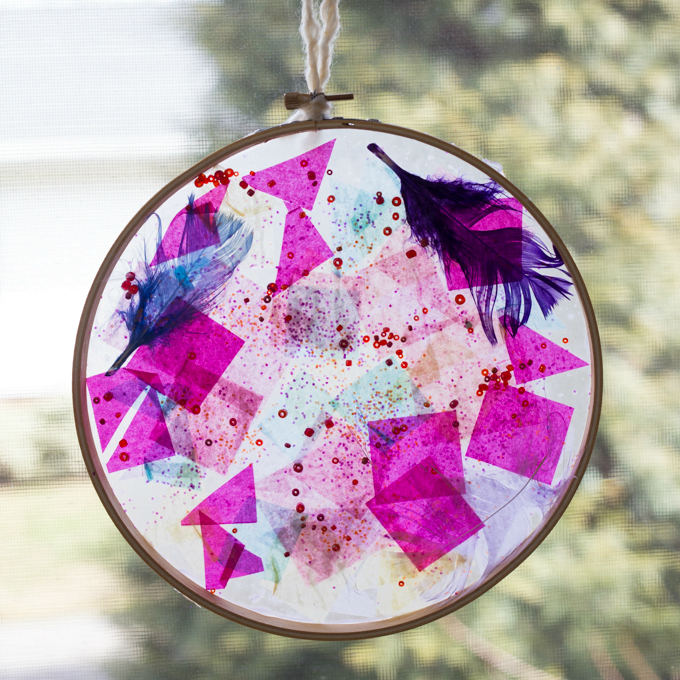 This tissue paper suncatcher project is a simple and lovely way to commemorate the eclipse. There are so many different ways you could make these sun catchers for the eclipse.
You could create a suncatcher and a separate mooncatcher which can hang in front of the sun to mimic an eclipse. Or you could make an eclipse suncatcher using circle-shaped tissue paper, with reds, oranges, and yellows for the outer part of the sun, and greys and blacks for the eclipse.
Make Eclipse Pancakes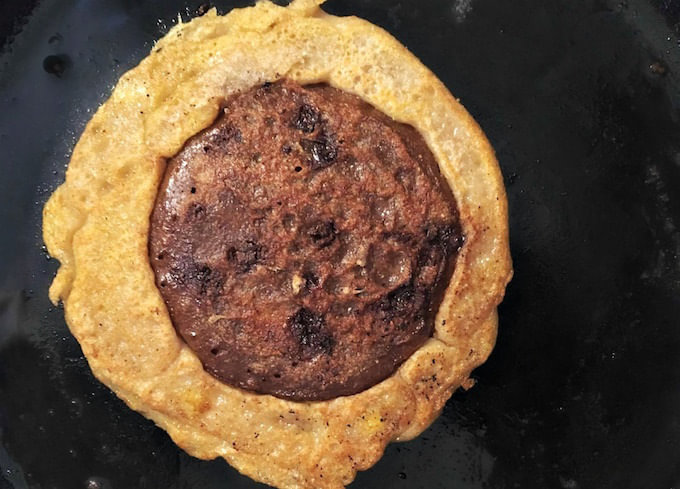 Set the big event mood early with these creative solar eclipse pancakes. Nothing turns a day into a celebration better than food.
Make your favorite pancake batter recipe and set aside ⅓ of it. Take the remaining ⅔ of batter and stir in cocoa powder until it's your desired color. This cocoa powder batter will make the dark or eclipse section. Pour the cocoa batter on to your pan or griddle and let it cook long enough for the edges to form. Then pour the plain batter around the edges.
Any messy edges can be considered sun rays, so don't worry about it being perfect. Another fun food idea is to use Oreos to demonstrate the phases of the moon.
You can find more educational information in NASA's 2024 Total Eclipse Resources.
Since we still have a month to go, you have time to stock up on those eclipse glasses. A total eclipse is safe to view but locations across the U.S. won't experience "totality" for more than 1-2 minutes.
Actually, very few locations are in the path of totality, so unless your location is on the total eclipse list, you'll want to make sure you and your family either has eclipse glasses (or a nifty pinhole camera!) at all times.
Tell us which fun activities you try on the big day of the next solar eclipse. Happy (and safe) eclipse-watching! And if your family loves these, make sure to plan some lunar eclipse activities during the next full or partial lunar eclipse.