10 Things You Can Recycle or Repurpose Around Your Home
Whether you're looking for eco-friendly ways to declutter or just trying to find out what you can recycle at home, there are plenty of practical and creative ideas for recycling at home or giving new life to old items.
In fact, your home is probably a treasure trove of items you can reuse, recycle, repurpose, or upcycle. When you change your perspective of throwing things away (where is "away" anyway?)… you'll find yourself looking at everyday objects in a different light.

What to Recycle Around Your Home
These are the household items most cities include in their recycling programs If you don't have curbside pickup, you can find your nearest recycling center via Earth911.
Paper, cards, junk mail, magazines, newspaper
Brown paper bags, shoe boxes
All paper products as long as they are clean and without embellishments like glitter, etc.
Shredded paper
Egg cartons – paper / cardboard or plastic
Cardboard boxes – flattened and broken down into manageable sizes
Aluminum cans / steel cans
Plastic & glass bottles
Plastic & glass jars (make sure glass and plastic containers are free from food residue)
Yogurt containers
Aerosol cans
Clean foil
When it comes to going green, reducing is the most important of the 3 R's. Cut back on what you consume, and you'll have less stuff to worry about recycling.
10 Things You Can Recycle or Repurpose at Home
Here you'll find 10 everyday items you can breathe new life into and are great for recycling at home.
1. Plastic Water Bottles
Most importantly, REDUCE your use of water bottles by installing a water filtering system (find out why drinking filtered water is best) and drinking from real glasses or mugs at home. Carry a reusable water bottle for water on the go.
If you don't have a low-flow toilet, you can add plastic water (filled with water so it doesn't just float to the top) to your tank to offset excess water flow.
Cut off the bottoms of water bottles and plant seedlings in them.
Check Pinterest for upcycled bottle craft ideas.
If you have to use a plastic water bottle, make sure it ends up in the recycle bin rather than contributing to the single use plastic waste crisis.
2. Plastic Bags
Just as you're reducing all your plastic consumption, refuse plastic bags whenever possible. Carry your own bags to the grocery and farmer's market – once you get in the habit of using them, it's a simple switch.
But sometimes you still end up with a plastic bag – like when your local newspaper drops off a free trial or set of sale ads wrapped in a plastic bag. There are ways of reusing them or recycling at home.
Line your wastebaskets instead of buying plastic bin liners.
For projects like painting, slip a plastic bag over the paint can lid before replacing it so dirt or flakes of dried paint on the lid's underside won't fall into the liquid.
Save them to wrap fragile items for storing or shipping.
Recycle them at supermarkets and at certain curbsides.
Find upcycled plastic bag craft ideas on Pinterest.
3. Aluminum Foil
Using aluminum foil for food storage has some health risks. But there are loads of ways to reuse clean aluminum foil.
Reflector: Place foil behind plants in the shade to reflect light on them.
Utensil sharpener: Fold used aluminum foil over to 6 layers thick. Sharpen scissors or knives by cutting through the foil several times.
Jewelry cleaner: Line a small dish with foil. Add hot water and one tablespoon of powder laundry detergent and mix together. Swirl jewelry in the mixture for 1-2 minutes, then remove and air dry.
Dryer ball: Crumple foil into a 2-3 inch ball and place in the dryer along with your wool dryer balls to help remove static cling and wrinkles.
4. Old TVs
Our editor likes to share how she's never had more than two TVs in her home. And her husband is even more proud of how many times he repaired their 10-year-old TV. As tempting as it is to upgrade, TVs contain harmful chemicals…up to 8 pounds of lead and other heavy metals.
Goodwill and other donation stores don't typically accept TVs. We've actually been in the drop off area and watched a young couple heave a set into the dumpster.
Try to fix your TV before getting rid of it. Just type the problem into the search on YouTube, and you'll find an answer that may just involved removing some screws and cleaning something off.
Best Buy recycles television sets. Call or check their website for electronics recycling details.
Search Earth911.com to find facilities in your area that recycle televisions.
5. CDs, DVDs, VHS Tapes
Did you finally transfer all those old home movies to digital? When you're ready to purge old media items, check with your local recycling center to see if they'll take them. That's the easiest option for recycling at home. Otherwise, here are some interesting ways to make sure they don't end up crowding the landfill.
Make a creative scarecrow using CDs. The light reflected will keep birds and some daytime critters away from your garden. Or if you have an outdoor pet, it helps keep the crows from eating the food you put outside for the animal.
Recycle them at a local arts and crafts center, where they use them to make gift bag bases or drop spindles for spinning wool.
Create a collage of reflective CDs for your wall or ceiling.
Use old VHS tape to bind posts together in your garden instead of buying plastic rope.
6. Wine Corks
Do you have a wine cork collection? They're just waiting to be turned into something creative.
Make amazing art.
Cut wine corks to make notice board trivets out of them.
Decorate your fridge with cork magnets.
Use them to cork bottles of homemade sauces, oils, and preserves.
You could pay up to a dollar a piece for plant pot risers. They're designed to aid drainage and keep pots from staining your patio or deck. But wine corks work just as well – and they're free.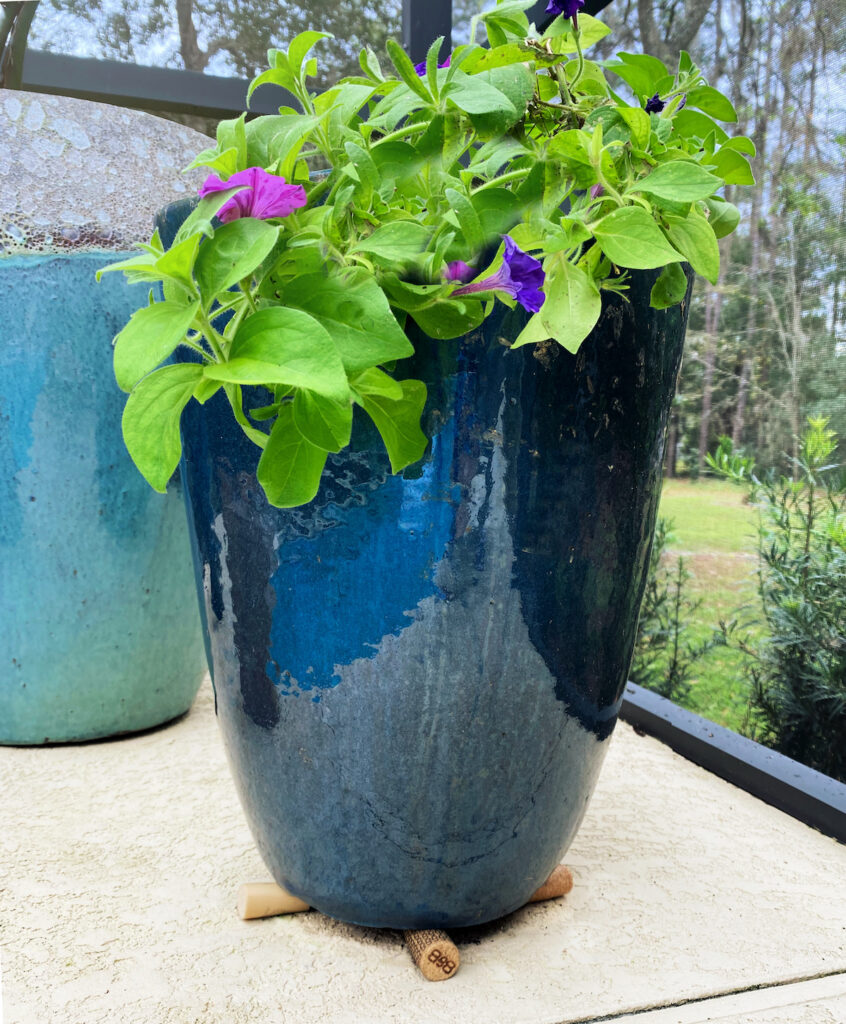 7. Old Cell Phones & Devices
Since this article was originally published, electronic devices have multiplied to the point we needed a whole article on reducing your e-waste.
Check Earth 911 for how to recycle a cell phone in your area.
If it's still an in-demand model, sell it on eBay.
Clean up your old phone, get a new cover, and gift or donate it to someone who needs it.
Disassemble the phone. Recycle the battery and other parts at computer or electronic recycler units.
Use the manufacturer's Take Back program when you upgrade to a new phone.
8. Junk Mail & Envelopes
If reply envelopes are in good condition, reuse them to send your own mail. Cover any logos or return address with your own return address labels.
Keep used envelopes on hand to keep garden seeds, or tape them below drills to catch dust.
Shred the envelopes and use them to create organic mulch in your garden or to fill pillowcases to keep outdoor pets warm in the winter.
Be sure to recycle all paper you aren't repurposing.
9. Old Trophies
Are you ready to say goodbye to those old trophies? Take a photo so you'll always remember them, then send them to a company like Lamb Awards & Engraving or Total Awards & Promotions, Inc., who will donate your old trophies, plaques and medals to charitable organizations or recycle their parts to create new awards.
10. Miscellaneous Items
Use hair elastics to bind creepers to support poles in your garden.
Turn old clothing or jeans into bags, aprons, skirts, patchwork quilts.
Save old mascara brushes and toothbrushes for cleaning in small, hard-to-reach places. Or donate them to Wands for Wildlife to groom animals.
Donate torn jeans to the rag bin at your local household waste site. The cotton in the jeans will be reclaimed for industrial use.
Re-doing your floors? The Carpet America Recovery Effort (CARE) provides solutions for recycling carpet.
Mail in your worn-out flip flops to receive an exclusive coupon for an in-store purchase at Old Navy.
Electronics and office supply stores also accept a variety of equipment to recycle, including computers and mobile phones, so don't forget to check locally, as well. Visit TerraCycle to get more information on any of its collection programs.
Take old printer ink cartridges for recycling at office supply stores like Staples or Office Depot.
Turn your old eyeglasses case into a sewing kit.
When old crayons are too small or broken to use anymore, don't throw them out: give them new life by sending them to the Crayon Recycle Program. This national initiative will collect the crayons and turn them into Crazy Crayons – old crayons melted into fun shapes and swirled colors – which you can then order for your kids to enjoy.
CFL light bulbs are items you'll want to be cautious about recycling at home. Because compact fluorescent lamp (CFL) bulbs contain small amounts of mercury, you can't dispose of CFL bulbs in your curbside recycling or in the trash. Instead you can drop them at any Home Depot or IKEA store for safe disposal. If you don't live near one of those stores, your local recycling service should be able to tell you (or should list on their website) info on where to find local hazardous waste facilities.