Looking for eco-friendly ways to declutter? There's no shortage of things you can recycle at home.
In fact, your home is probably a treasure trove of items you can reuse, recycle, repurpose, or upcycle. When you change your perspective of throwing things away (where is "away" anyway?)… you'll find yourself looking at everyday objects in a different light.
We've highlighted 10 everyday items you can breathe new life into…
Plastic Water Bottles
Most importantly, REDUCE your use of water bottles by installing a water filtering system and drinking from real glasses or mugs at home. Carry a reusable water bottle for water on the go.
CFL Light Bulbs
Because compact fluorescent lamp (CFL) bulbs contain small amounts of mercury, you can't dispose of CFL bulbs in your curbside recycling or in the trash. Instead you can drop them at any Home Depot or IKEA store for safe disposal. If you don't live near one of those stores, your local recycling service should be able to tell you (or should list on their website) info on where to find local hazardous waste facilities.
Aluminum Foil
There are loads of ways to reuse aluminum foil. Just make sure it's clean and free from any food debris.
Old TVs
Our editor is extremely proud that they've never had more than two TVs in their home, and her husband is even more proud of how many times he repaired their 10-year-old TV. As tempting as it is to upgrade, TVs contain harmful chemicals…up to 8 pounds of lead and other heavy metals.
Goodwill and other donation stores don't typically accept TVs. We've actually been in the drop off area and watched a young couple heave a set into the dumpster.
CDs

, DVDs, VHS Tapes
Did you finally transfer all those old home movies to digital? When you're ready to purge old media items, check with your local recycling center to see if they'll take them. That's the easiest option. Otherwise, here are some interesting ways to make sure they don't end up crowding the landfill.

Wine Corks
Do you have an impressive wine cork collection? They're just waiting to be turned into something creative.
Plastic Bags
Just as you're reducing all your plastic consumption, refuse plastic bags whenever possible. Carry your own bags to the grocery and farmer's market – once you get in the habit of using them, it's a simple switch.
Old Cell Phones & Devices
Since this article was originally published, electronic devices have multiplied to the point we needed a whole article on reducing your e-waste.
Junk Mail & Envelopes
Miscellaneous Items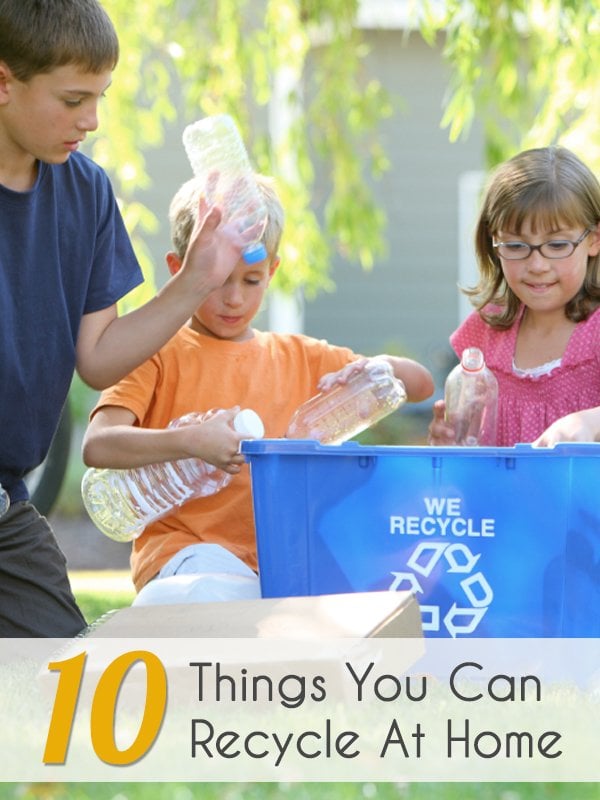 Since 2010, Green Child has published a digital magazine devoted to natural parenting and conscious living. Hailed as "good for a green mama's soul," Green Child has grown into a resource valued by parents who care about bringing simplicity, compassion, social responsibility, and instinctual intelligence back to parenting.

Latest posts by Green Child Magazine (see all)