10 Ways to Reduce E-Waste
Millions of tons of e-waste winds up in landfills each year. We're looking at some of the ways you can reduce your e-waste.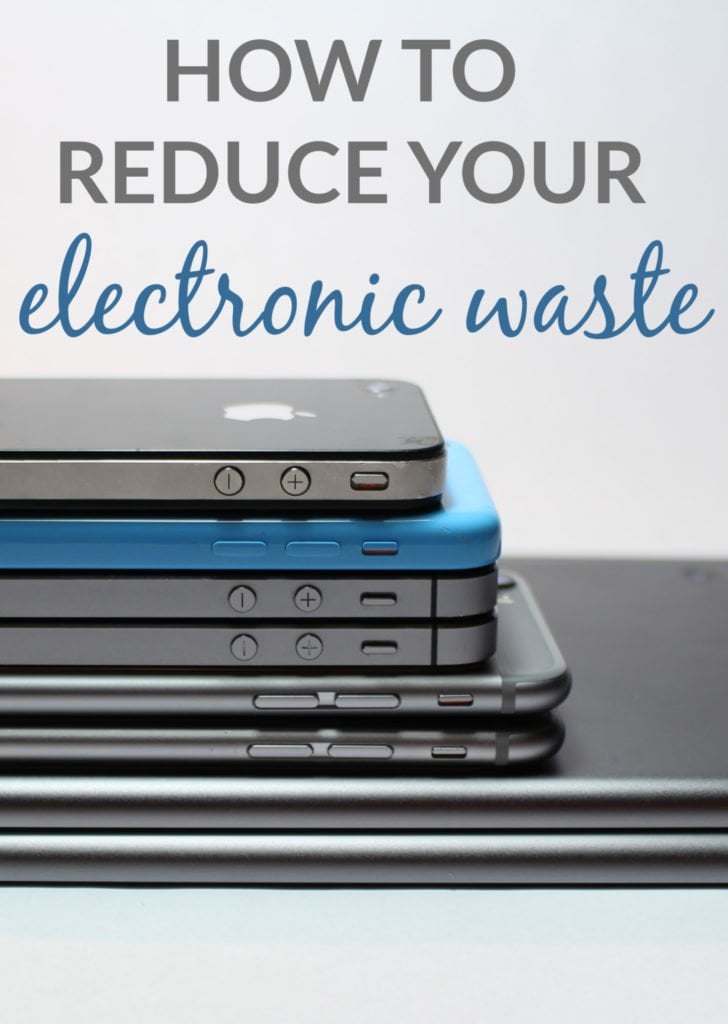 This article was published in 2017 and updated in Sept 2022.
There are mountains of e-waste in China. Some of it is there to be recycled, but most is waiting to be shipped off to e-waste landfills in Africa or other parts of Asia.
While reusing plastic, glass and metals has become the norm, far less thought is given to recycling electronic items. The term electronic waste refers to any electronic device that is no longer wanted or has become obsolete. Electronics classified as e-waste can either be in perfect working condition or be unusable.
When e-waste is not recycled properly, this leads to the contamination of air, soil and water, which can then eventually affect humans and wildlife. 80% of the world's e-waste is left in this state, while only a mere 20% of it is recycled annually (source).
Think about how many people ditch their old mobile phones for the newer model or how frequently they discard an old TV for a sleeker, more powerful one. Owing to rapidly changing technology, the rise of disposable income, and availability of electronic products, it's no surprise e-waste has become a major concern.
How to Reduce Your E-Waste
Do Something points out that between 20 to 50 million metric tons of e-waste are disposed every year. Unfortunately, only about 12.5% of it is recycled. Even more unfortunate is the fact that most of these consumer electronics can be reused or are in perfect working condition. Most devices such as cell phones, laptops, memory sticks, TVs, tablets and batteries end up in landfills and contribute to air and water pollution.
Minimizing electronic waste is one of the best ways to keep our environment safe. The good news is that it's fairly easy to reduce your e-waste.
Donate or Sell Working Electronics
One simple way to efficiently manage e-waste is to simply sell your working electronics. You may find a buyer via eBay or Craigslist. Many of these buyers will use them, resell them, or use / sell the parts. Otherwise, there are recycling websites and comparison websites that will give you a price for your old gadgets and allow you to send them off, to be repurposed or recycled effectively.
Another great option is Cell Phones for Soldiers. Since 2004 Cell Phones For Soldiers has recycled more than 20 million cell phones, reducing the impact on landfills.
Consume Less
Of the 3 R's (Reduce, Reuse, Recycle) REDUCE is the most important. It's so easy to purchase a sleek TV, the latest mobile phone, or a brand-new laptop. Most people don't even stop to think if they really need them. Before buying anything, ask yourself whether you really need it.
If you're buying a new device even though your old one is in good working condition, why not simply upgrade the software? Your local computer repair shop can fix your old laptop. Being a sensible consumer will go a long way in productively managing your household's e-waste.
Use Your Old Mobile Phone for Music or GPS
Most people swap their old phones for a new one every year. Instead of letting it sit in the desk drawer, or worse, throwing it in the trash, consider using it for some other purpose. You can keep it in your car and use it as a GPS device or music player.
Boat owners often keep an old smart phone on board as a backup GPS. Old phones can be converted into universal remote controls or used to monitor security cameras.
Recycle via a Retailer
Major retailers and brands have in-store, online, and drop-off site recycling options. They recycle computers, mobile phones, and TVs. In fact, some will allow you to trade your obsolete equipment for gift cards. Before purchasing electronics, ask the store if they have a buyback program. Most large retailers give that option to customers.
Check E-Cycling Centers in Your State
One way to reduce your e-waste is to give all your electronics that can't be donated or resold to free sites. They have local groups that are moderated by local volunteers. Membership is free. Alternatively, you can collect all your e-waste once a month and give them away at an e-cycling center in your state.
Organize Your Electronics
Given the number of electronics we stash away in drawers and cupboards, it's no wonder we forget what items we have in our house. Instead of buying new devices, organize your existing ones to see if you really need to replace them.
For example, you may be in need of a memory stick but after organizing all your electronics, you may discover that you already have an unused one. Try to share gadgets, cords, and connectors with family members rather than buy the same device or charger multiple times.
Know Your State's Laws About Battery Disposal
Rechargeable batteries contain hazardous waste which is why some states have made it illegal to throw them away in the trash. The good news is that these types of batteries contain lead, plastic, and metal which can be easily recycled.
Safely Store Your Data Online
Why use a memory stick or device when you can now easily store significant amounts of data on the Internet? There are many different types of clouds storage available online such as Dropbox and Google Drive (free). Some of the paid services will provide a free 30-day trial so you can see what will work best for you.
Buy Energy Star Rated Appliances
The Environmental Protection Agency offers an Energy Star Program that gives rebates when you recycle old appliances and buy new Energy Star models. Energy Star appliances are not only environment-friendly but consume less electricity thereby saving money on your electric bill. Next time you purchase a washing machine, refrigerator, microwave or air conditioner, opt for
Energy Star models.
Educate Yourself on the Materials Used in Electronics
Last but certainly not the least, research about the raw materials being used to manufacture your mobile phone, dishwasher or laptop. Some raw materials are easy to recycle while others aren't. Gadgets also contain a number of toxic materials. The more you educate yourself, the better you'll be able to purchase items that will not harm the environment in the long term.
Also, remember to wipe the memory on the device and factory reset your mobile device before selling, donating, or giving it away. Being more mindful of the electronics we consume and the role we can play in reducing e-waste can go a long way in helping the planet.
What to Do With Old Hard Drives
When it comes to old hard drive disposal, these are the three most viable options:
Repurpose – if the hard drive is still in good condition, you may be able to reuse it as an external hard drive. Here's a video explaining how:
Sell – As with any other devices that might contain your personal information or photos (or your company's information), wipe it clean. Make sure to delete all files or restore to original status. Contact your local computer repair shop to see if they buy and refurbish old hard drives. Or try an online service for a quote.
Recycle – According to Cohen USA, all hard drives are recyclable, whether they're internal or external. You can separate the hard drive from the device (in some cases) or bring in the entire device for recycling.