Sometimes we make green living more complicated than it should be. The concept is simple – a natural lifestyle should come "naturally," shouldn't it? And shouldn't it be simple to celebrate an eco friendly birthday party?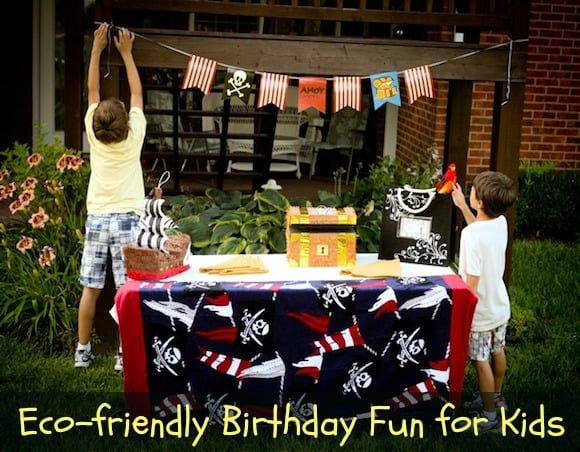 But our culture's disposable mindset and obsession with consumerism can make it tough to live simply. Especially when it comes to kids' birthday parties.
Think of the last child's party you attended.
Chances are – the cardboard, paper, plastic, and heavy-duty tie wraps filled a garbage bag or two. And that's just wrapping paper and packaging! Most people don't realize that with all the laminates, dyes, and glitter… most wrapping paper is not recyclable.
Then there are all the toys and favors. What is the long-term impact of batteries and all the indestructible molded plastic?
So many of those toys will never, ever break down in a landfill. And many of them came from China and are loaded with plastic toxins.
Add in the fact that an over-the-top birthday party reinforces the notion that "bigger is better." Not exactly the message you want to send to your child, is it?
So, what's a parent to do?
Host an Eco Friendly Birthday Party
It all comes back to keeping it simple. These tips might turn the conventional birthday party upside down, but they'll set you free along the way. Here's how to host an eco friendly birthday party everyone will enjoy.
Adjust Your Mindset From Disposable to Reusable
The best party decoration is one that doesn't end up in a landfill. Etsy sellers, online retailers and shops like Eco Party Time have cloth birthday banners, sustainable party favors, and games. You can use them again, swap with other parents on your birthday party circuit, or resell them.
Consider making your own piñata, and stock up on real plates, cups, and silverware from your local flea market or Goodwill. Plastic plates are safe as long as you're not serving hot food. Or choose compostable plant-based plates. At the very least, be sure to avoid Styrofoam.

Ditch the Goody Bags
From one parent to another, does anyone really need another sheet of tattoos and a tiny plastic jug of bubbles? Experience parties (pottery making, tie-dyeing a t-shirt, touring the local fire station) leave a memory that doesn't get lost in the bottom of the toy box.
Spare a Tree, Save a Dime on Wrapping Paper or Gift Bags
Aren't we all tired of spending $4 on something that gets torn and tossed? Wrapping paper is just plain wasteful.
If you have paper gift bags left over from gifts you've receive, by all means use them.
Rather than buy new paper, try wrapping gifts with your child's artwork, old travel maps, the comics, or any box, bucket or basket you have on hand. We've got dozens of ideas here on how to wrap gifts sustainably. Another unique, reusable alternative is a fabric gift bag.
Blow off the Balloons
If you've never thought of where balloons could end up after the party is over, take a look at the photo gallery at BalloonsBlow.org. One look at the birds, seals, sea turtles and other marine life who are strangled, tangled, or choked by balloon ribbon or bits of balloon and you won't find those balls of latex so festive.
Serve Healthier Treats
Your child's birthday only comes once a year. If she loves cake and frosting, this is the time to let her have it! But there's no need to have an entire table full of sugar-laden junk. Balance it out with fruits, veggies, and lean protein. And instead of sodas or conventional fruit juice, serve water in your reusable cups or compostable cups.
Opt for a Nature Theme
Go beyond the traditional superheroes and princess parties. For some gorgeous ideas for parties inspired by nature, check out Naturally Fun Parties for Kids. And of course, there's the no-theme birthday party. Let the kids use their imaginations to celebrate the special day.
Still need inspiration?
Here's a look at some party themes that are nature-inspired or you could easily tweak to make greener by not including plastic or making a healthier menu.
An Aloha themed party from LayBabyLay
A Disney Moana Themed Birthday Party from Catch My Party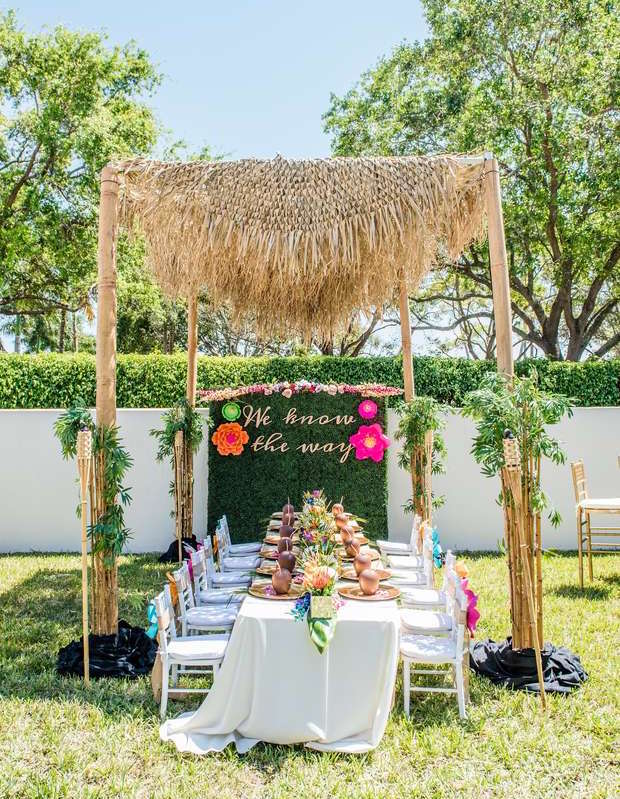 Endless ideas for Harry Potter themed parties from Buzzfeed

And we're pretty much obsessed with this Bright Boho party from InspiredByThis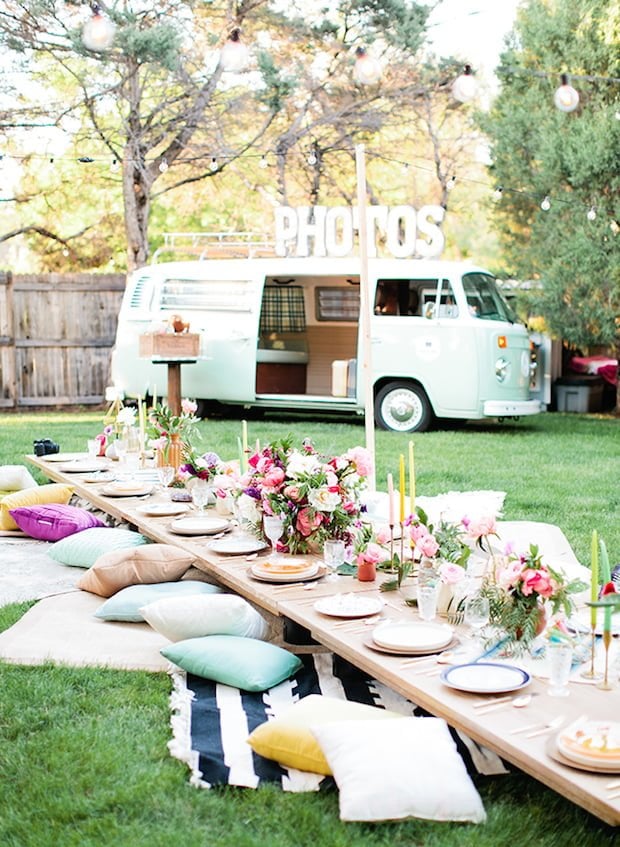 Amity is the executive editor here at Green Child. She feels it's the perfect blend of her journalism degree, background in corporate marketing, and her passion for attachment parenting and natural living. In her free time, you'll find Amity on a baseball field with her family, paddleboarding on the gorgeous Florida springs, volunteering at the Humane Society, or outside enjoying nature.

Latest posts by Amity Hook-Sopko (see all)