Outdoor Mindfulness Art Activities to Calm Kids
Are you looking for a fun way for your kids to relax outside? Art is healing, and so is connecting with nature. When children create while surrounded by the beauty of nature, they can feel happier, more relaxed, and inspired.
Award-winning environmental writer Sandi Schwartz shares how outdoor art activities can calm kids and promote mindfulness.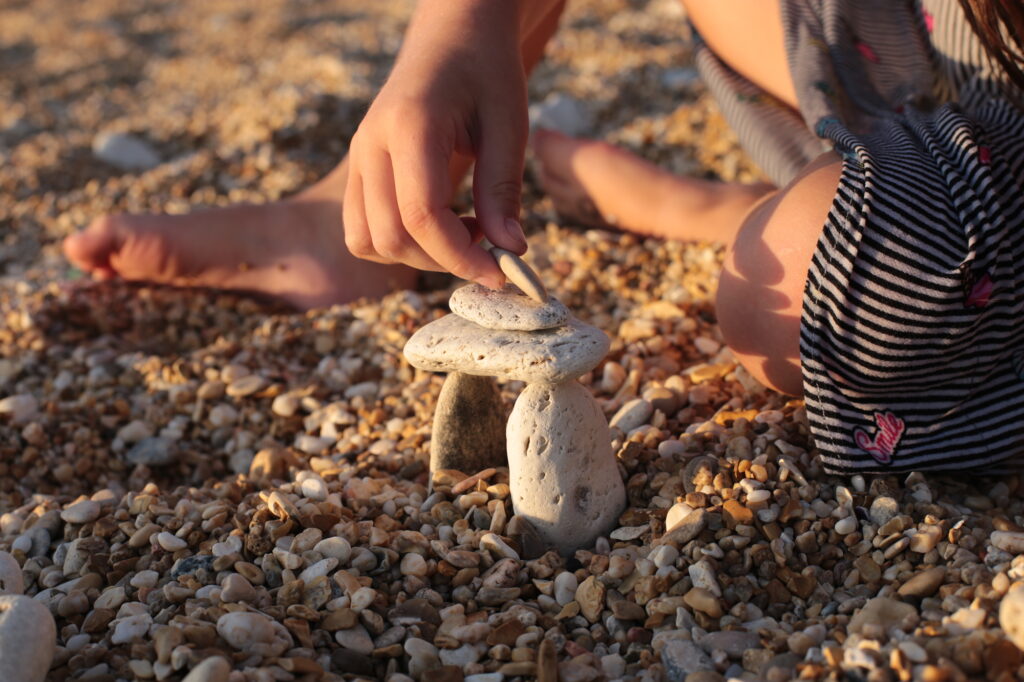 Nature is one of the best ways to stimulate both creativity and mindfulness, as it is filled with so many soothing images, patterns, colors, sounds, smells, textures, and more. Spending time in nature also leads to better mental health outcomes.
As Richard Louv explains in his book, Vitamin N, children soak up what is in their environment, and being around nature increases their creativity. Nature also provides a healthy outlet for kids to express and cope with their emotions in a safe, calm way.
When kids focus on a nature art project, they often become completely absorbed in the present moment. This, of course, leads to being more mindful, which helps reduce stress and boost mood. In fact, spending time in nature, practicing mindfulness, and engaging in art all lead to similar results as far as improving how kids feel.
These activities help kids shift their attention from their worries and other distractions to being in the present moment.
3 Mindfulness Art Activities for Kids
Since mindfulness art activities are such effective (and fun!) stress reduction tools, we can find ways for our kids to connect with nature while making a masterpiece.
Here are some outdoor mindfulness art activities to try with your kids:
1. Draw or Paint Nature Scenes
Kids love to draw and paint, and it is one of the easiest ways to get them creating outdoors. They can just look around and find colorful and uplifting flowers, leaves, trees, stones, shells, animals, and other natural elements to include in their artwork.
It takes a bit of mindfulness to focus on the details of what they are drawing or painting, which helps them relax.
See also: Make Your Own Nature Inspired Art Supplies
To get started, set up their drawing or painting supplies in your backyard or venture out to a local park, beach, or garden. They can snap a picture of what they want to draw or paint or just get creating from what they see in the moment.
You can try a variety of mediums, such as watercolor, oil, acrylic, or just a simple children's paint set. They can also draw nature using crayons, markers, colored pencils, chalk, or pastels. The options are endless since our kids can find inspiration from nature all around them. The trick to stimulating their creativity is to expose them to different types of natural scenery.
2. Create a Nature Mandala
Nature mandalas are another way for children to engage in a mindful art activity. Mandalas are circular designs with concentric shapes that radiate out symmetrically from the center.
Originating in India, mandalas mean "sacred circles" in Sanskrit. They have universal spiritual significance and can be found in various houses of worship around the world. Today, nature mandalas are used during nature therapy to help people relax.
You can show your kids how to build mandalas outside from natural items they collect, so it seems like a creative scavenger hunt and mindfulness art activity all in one. Building a mandala takes a great deal of imagination and focus. Here are some simple steps to get started:
Head outdoors to a natural area like the woods, beach, or local park. Even your own backyard will work.
Gather natural items to make your mandala, such as leaves, flower petals, sticks, rocks, grass, pinecones, pine needles, feathers, sand, shells, soil, etc.
Find an open area to work.
Pinpoint the center of your mandala and mark it with one of your items.
Create one layer of the pattern at a time by building a circular layer around your center item and radiating your design from the center point.
Continue to add on as many layers as you want. Try to alternate colors and textures to make it interesting.
Enjoy looking at everyone's mandalas in a mindful way. Capture the moment by snapping a few photos of the mandalas.
3. Take a Nature Poetry Walk
This mindfulness art activity is such a relaxing, creative experience to try with your kids. Writing colorful prose allows children to reflect on what they encounter outdoors. The main goal of a nature poetry walk is to soak in the beauty of the surrounding environment and then turn that experience into a special keepsake. Writing poetry requires inspiration, and nature is the perfect backdrop for kids to find that spark.
The best way to do this is to have your kids to tap into their five senses. Ask them to slow down during the walk and stop to take in what is all around.
What do they see, hear, feel, smell, and taste? At the end of the walk, pick a place to sit down and let your kids spend some time either writing their poetry or talking about it if they are young and need some guidance from you.
Be sure to bring the following supplies: notebook or journal; pencils and pens; colored pencils, markers, or crayons if they want to sketch the scene they are writing about; and a phone or camera to snap some photos. To add some more creative flair to your nature poetry experience, see if your kids want to turn their poems into song lyrics.
All of these relaxing, mindfulness art activities will get your kids' creative juices flowing while enjoying the great outdoors!