Mindfulness Gifts for Kids
While mindfulness itself is a gift you can give your child early on (with benefits like helping them focus, increasing their self-awareness, and boosting their self-confidence), you can also give physical mindfulness gifts.
Sure, the latest must-have toy is fun, but we also want to give something meaningful. Believe it or not, it's totally possible to give kids something as abstract and powerful as the gift of mindfulness.
Why Give Mindfulness Gifts?
In simple terms, mindfulness is a particular way of paying attention with a positive mind. Your child uses their mind to purposefully bring awareness into the moment. It can help them change impulsive reactions to thoughtful responses.
It may sound like a mature or even complex concept, but it is actually totally attainable at a child's younger developmental stage.
The goal of mindfulness gifts for kids is to develop the skill of being present. Toys that promote mindfulness can also foster an overall sense of calm. Some are designed for the whole family to play together to encourage quality family time.
Mindfulness toys are generally screen-free for babies and younger children. But as they get older, and you set healthy screen time boundaries, there can be mindful gifts that make great use of technology.
This post contains affiliate links. See our disclosure.
Here you'll find our guide of mindfulness gifts for kids. Gift ideas are separated into age groups, but be sure to check out the gifts in adjacent age groups, too.
Mindfulness Toys for Babies + Toddlers
The early months and years are the perfect time to set the stage for mindfulness. This happens mostly in the tone of your home and the way you interact with your child. A quiet, calm home promotes mindfulness more than one with a constantly blaring TV.
If you have older kids, your home is probably pretty active. Babies pick up on the energy and can sense when it's fun or happy chaos verses a stress-filled environment. And while toddlers can have short fuses, toys and activities that help them focus on the present moment can also help calm or distract from a tantrum.
So when it comes to mindfulness toys at this age, look for books and quiet, soft toys for babies. Mostly steer clear of toys that flash and play music or do everything for your child. Find more on the importance of battery free toys here. It's important that they maintain agency in their play, even early on.
A curated toy kit subscription ships every three months and each set is specifically designed for your child's developmental stage. Your subscription includes access to expert research, guidance, tips, and play activities to support your child's development. You can start at any age and continue as long as you'd like.
Your baby may be tasting, mouthing, and feeling everything they can get their hands on. These curated play kits help your baby investigate their world around them through their senses. All toys are made from sustainable and nontoxic materials, recycled materials, soy based inks, and safe silicones.
Wooden blocks have stood the test of time because they're classic toys that promote countless hours of creativity.
This brilliant, practical system of solid wood blocks for building spatial, language, and problem-solving skills. With 70 heirloom quality pieces that work with each other in more than 20 stage-based activities, your little one can engage in open ended mindful play. The solid wood blocks are made from sustainably harvested FSC-certified wood and decorated with water-based paint and finishes.
This meditation board book teaches little ones the basics of meditation with simple instructions that carry profound life lessons.
With adorable illustrations, the Mind Body Baby series is the perfect way for adults and their little ones to create a healthy mind and body connection together.
Introducing this breathing and tracing activity early and through play children can give them a basis for mindfulness, self soothing, and managing big emotions.
As you engage with your baby, model taking the Star Breath and Spiral Breath, showing them how to trace the lines of the shapes to pace their breathing. This is a wonderful exercise for people of all ages because simply taking three deep breaths is so calming and cleansing.
Introduce mindfulness and the alphabet to your little one at the same time. With phrases like "B is for Breathe" and "C is for Calm" this sweet, relaxing book is perfect for enjoying mindful story time with your child.
Mindfulness Gifts for Preschoolers
Preschoolers are little sponges. They pick up so much from their surroundings, so continuing with mindfulness toys and activities will help strengthen the base you've already created. They can also start to understand how their own thoughts and emotions impact themselves and others.
This is the age they can really start to benefit from learning about meditation. Try some of our guided meditation scripts with them before bed time to help them relax into peaceful sleep.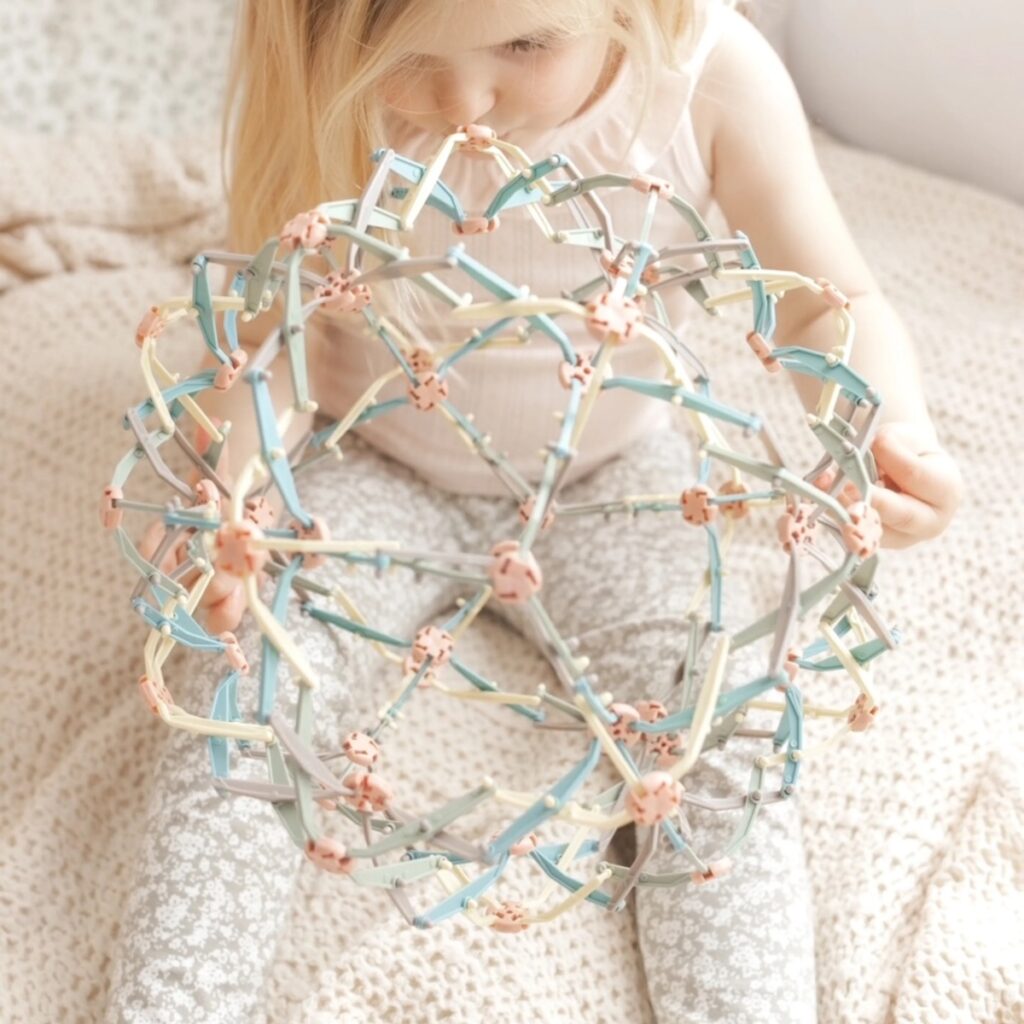 Inspired by the Hoberman sphere, kids are instantly drawn to this expanding ball. You can teach kids mindful breathing when they match their inhale and exhale with the expansion and contraction of the ball.
While we've seen variations of this mindful magic ball, it usually only comes in bright primary colors. So this lovely design feels more calming and matches the decor if you have a natural-themed play area. It's also a great addition to a calm down corner for your little one.
Kids are naturally good at memory matching games. Odds are – they will beat the adults, which probably has to do with a grown up's mind being full of ALL the things.
One of the best ways you can encourage mindfulness and a strong memory is by playing real life games like these and limiting screen time. The nature element of this set is also a big hit with kids. Recommended for ages 3+.
The kids on our team love their Slumberkins. From the narwhal that helps teach independence to the unicorn that teaches authenticity, their cuddly creatures make the perfect lovey item.
Otter reminds us that we are always connected to loved ones no matter the distance between us. This set includes Otter's Introduction Book, "Otter's Heart Family: An Introduction to Connections" and Lesson Book, "Otter's Community Grows: A Lesson in Building Connections."
All of their creatures are machine washable and ultra cuddly.
This set of nature-based mindfulness activity cards seeks to connect children through head and heart to the magic of nature and the world that surrounds them. Each card (printed on recycled paper) contains an engaging educational nature lesson and an experiential mindfulness activity.
Each deck comes with 22 two-sided cards. Twenty of the cards include watercolor illustrations of a nature element with a grounding mindfulness reflection. The set also includes 2 activity cards with background information on mindfulness and instructions on how to use the cards for parents, teachers, and caregivers.
Millions around the world were captivated by the story of how adventurer Dean Nicholson found himself adopted by a willful and loving cat he later named Nala. Together, they have traveled (mostly via his bike) to 30 countries, helping other animals along the way.
Theirs is an inspiring story that teaches kids the many blessings that come from answering a call for help.
Everything you need to introduce mindfulness and meditation to your little ones in a playful way. The Calm Mind Kit has been created by childhood development and wellness experts to provide children with a variety of tools for emotional development and wellbeing that will help them learn how to focus, self-regulate, and build confidence.
Each kit contains three mindful toys, and a deck of activity cards that highlight how to use the toys in a variety of meditation, movement, and breathing exercises.
Small children gain big benefits from climbing toys. And this versatile toy encourages imaginative play, creativity, teamwork, and balance.
Available in 14 colors, your child can climb, rock, read, build a fort, put on a puppet show and so much more. Seriously, see the photos here for tons of creative uses!
This family-owned brand creates toys based on freedom of play. They believe children should have space to learn and develop on their own, in a stimulating environment that allows for free movement and individuality.
Encourage mindfulness of diversity with these nontoxic crayons in 8 skin tone shades.
They're lovingly made with sustainably sourced beeswax, plant waxes, and natural earth pigments and contain no paraffin, soy wax, or chemical fillers.
Montessori-inspired sensory toys can help improve your child's intent-led responses to certain stimuli while keeping it fun. They're also a nice addition to a calm down corner at home.
Made from sanded beechwood, this sensory toy set will help them nurture essential skills through exciting learning activities such as pouring, scooping, and dumping. Use it with rice, beads, or beans.
Mindfulness Gifts for Big Kids
Helping kids practice mindfulness and meditation in a fast-paced, overstimulating world is a challenge. And bigger kids are more tempted by all the distractions of the modern world than little ones.
Keep working with them through guided meditation and encouraging them to meditate on their own. Activities that involve concentration can really help keep their attention spans in tact. Games that involve strategy and focus, physical activities, and hobbies that keep them in the present moment are all great options.
And whenever possible, encourage them to keep screens off and headphones out. If you start to notice them picking up a phone or tablet while the family is watching a movie, encourage the one screen at a time rule.
If your child doesn't already have a favorite chess set, this one is simple and calming.
Chess requires a level of concentration many adults envy. You have to analyze the now moment of the board and then plan your own moves, plus anticipate the moves of your opponent. With so many layers of strategy and acceptance, plus the fact that it's generally pretty quiet, chess is a game that really embodies mindfulness.
Journaling is an amazing mindfulness activity for teens. This gratitude journal includes daily spreads for your child to write three things they're thankful for, one person who brought them joy that day, an emotion for the day, and the best part of their day.
It offers plenty of space to write or draw their feelings and makes a great way to create mindful moments and be thankful for them.