Kids yoga gifts for the holidays are perfect for the aspiring little yogi you know and love. Here you'll find the best gifts for kids who do yoga.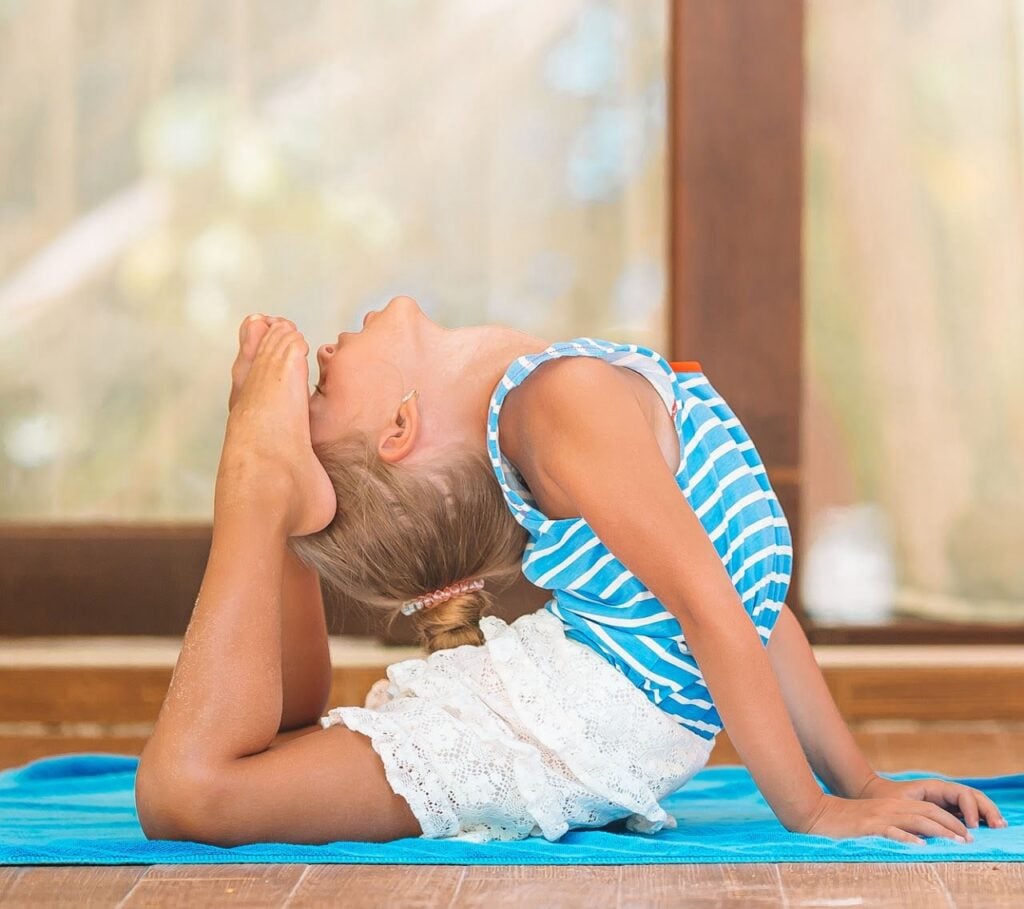 A meaningful and inspiring holiday gift like these can support a child's passion for mindfulness and healthy movement. Encouraging a child to do yoga can set them up for a lifetime of physical and emotional well-being.
Children and Yoga
There are tons of benefits to kids yoga. From as young as toddlers, yoga practice can introduce them to body awareness, confidence building, and using deep breathing as a calming tool.
Yoga for school aged kids has become an increasingly popular way to help children and teens with the pressures that face them in today's world. Evidence shows that yoga can improve self-esteem and reduce anxiety and stress in children.
Kids Yoga Gift Ideas
Kids can start getting the feel of yoga as young as toddlers, and really be grounded in it by the time they are tweens and teens. If you know a child who is interested in yoga, you will find the perfect gift to foster and support their practice in this gift guide.
Yoga Games
Games are a great way to get toddlers or preschoolers interested in the way yoga feels. This is a great way to bond with your child doing yoga!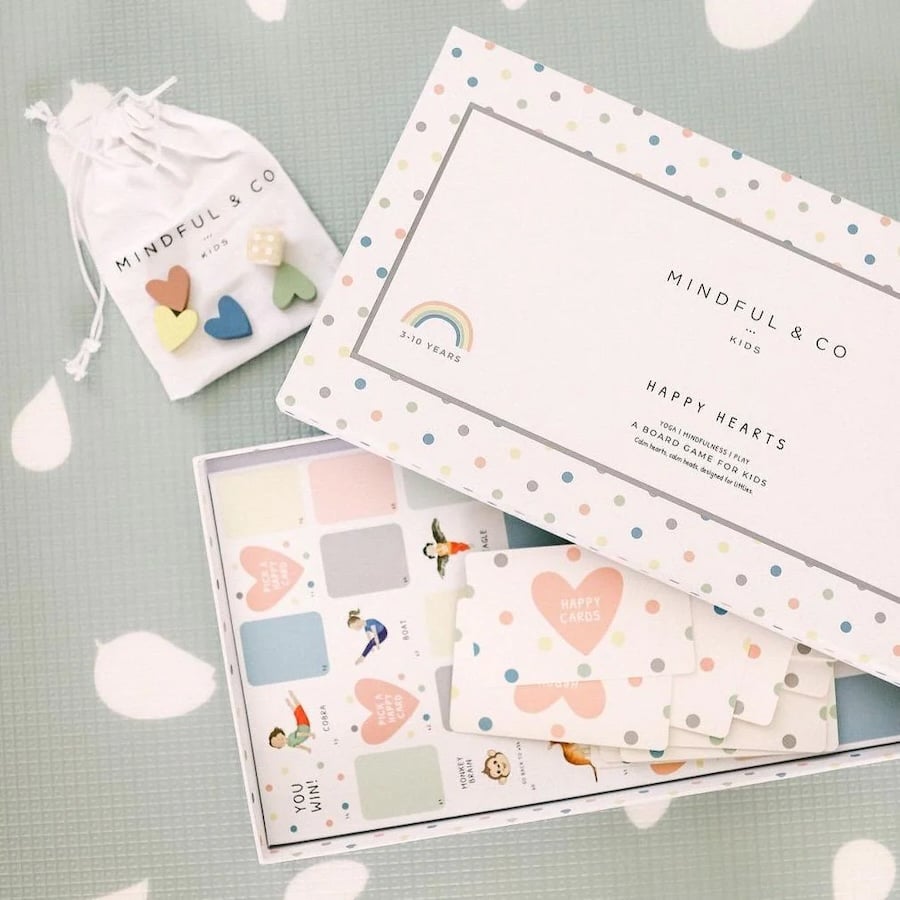 This sweet yoga game incorporates science-backed mindfulness techniques – like gratitude and body awareness with yoga and breathing – into a beautifully illustrated board game.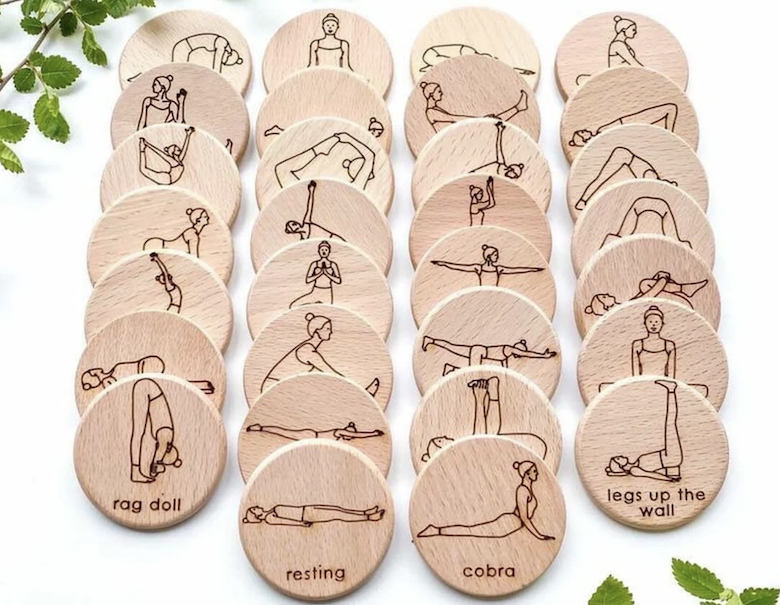 I love these wooden yoga game tokens with kids' yoga poses on them, especially for younger children. There are a variety of simple games to play with these discs:
Take turns pulling a token out and showing each other the pose and how to do it.
Create a yoga flow exercise. Lay the discs out in line with your child and do the poses in order.
Make different groups with the discs, like stretching, standing, sitting, and other poses.
This zoo yoga game is great for kids from 5-10, and for animal lovers! With illustrations of animal poses, the goal is to free animals from the zoo by doing the corresponding pose of each animal.
Yoga Toys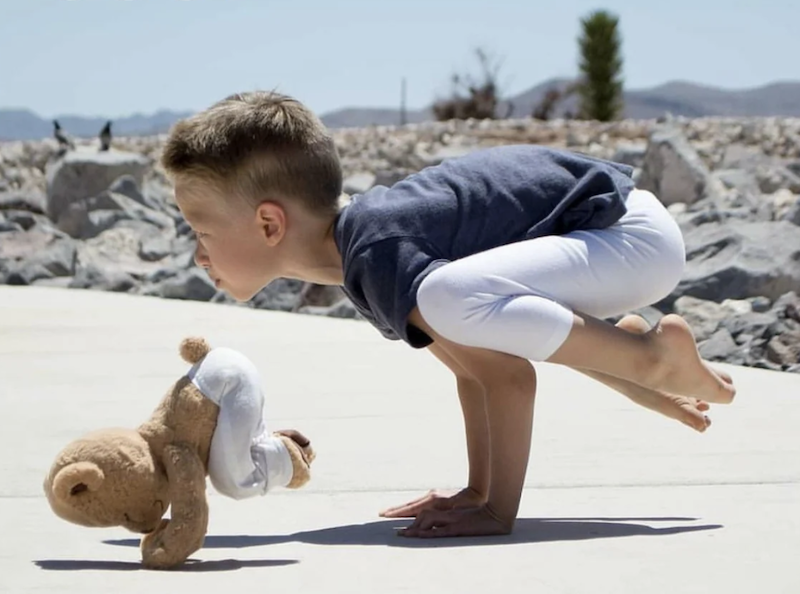 A stuffed animal can be a great yoga partner for your little one. It's fun when their favorite plush animal or doll can do yoga poses along with them. Meddy Teddy is soft and huggable and his internal frame allows him to bend and hold yoga postures.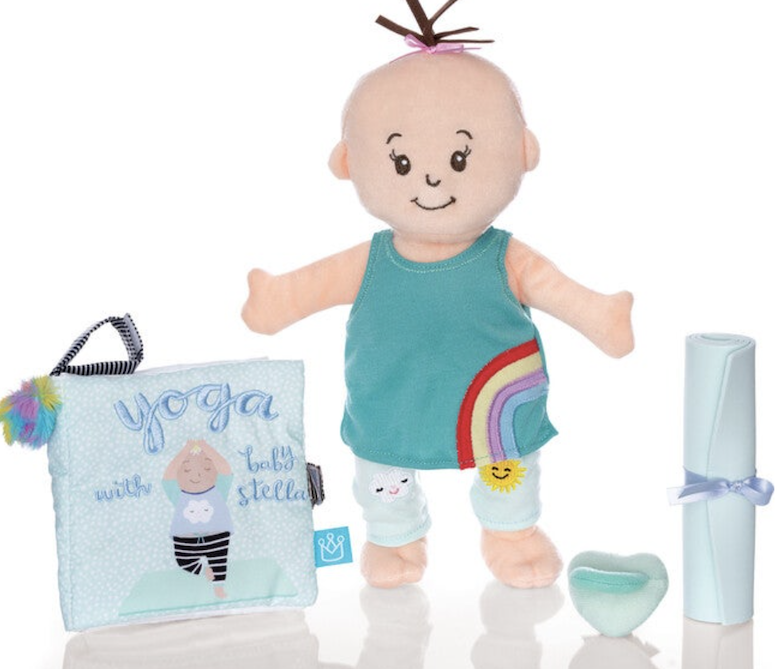 For babies and toddlers, the Wee Baby Stella Yoga set includes a sweet baby doll who comes with her own yoga mat and soft baby yoga book. Baby Stella is a wonderful way to start yoga right from the start.
A yoga sensory swing is a really fun way to increase core strength, flexibility, and balance while relieving stress and tension. Used indoors or outdoors, it helps to support proper vestibular system development in kids. The swinging motion helps to neutralize disruptions and helps calm and regulate the nervous system. It also helps improve body awareness, muscle tone, balance, and coordination.
Yoga Cards for Kids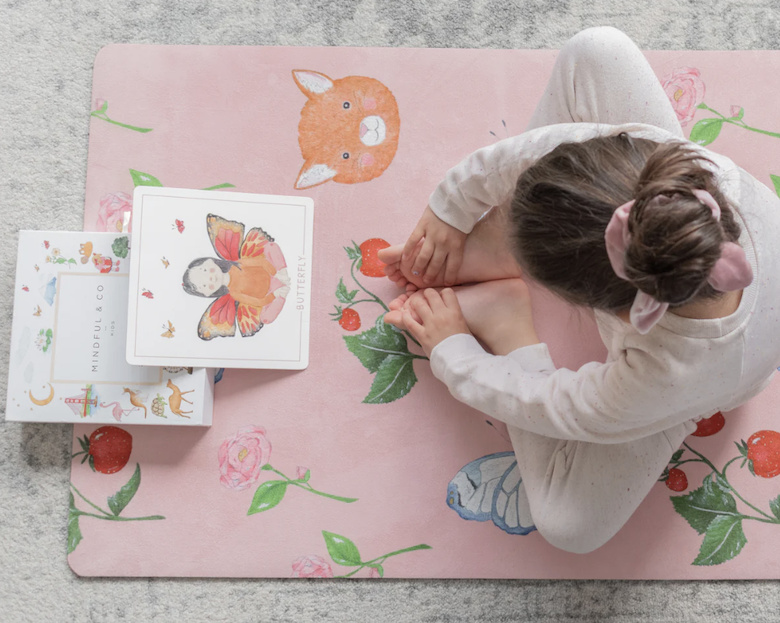 This Beginner Yoga Bundle comes with a lovely printed yoga mat and a gorgeous set of kids yoga cards.
Each yoga flash card features an explanation of each pose and how to achieve it. Your child will not only gain the knowledge they need for their own practice, but the ability to show others how to embrace yoga for themselves.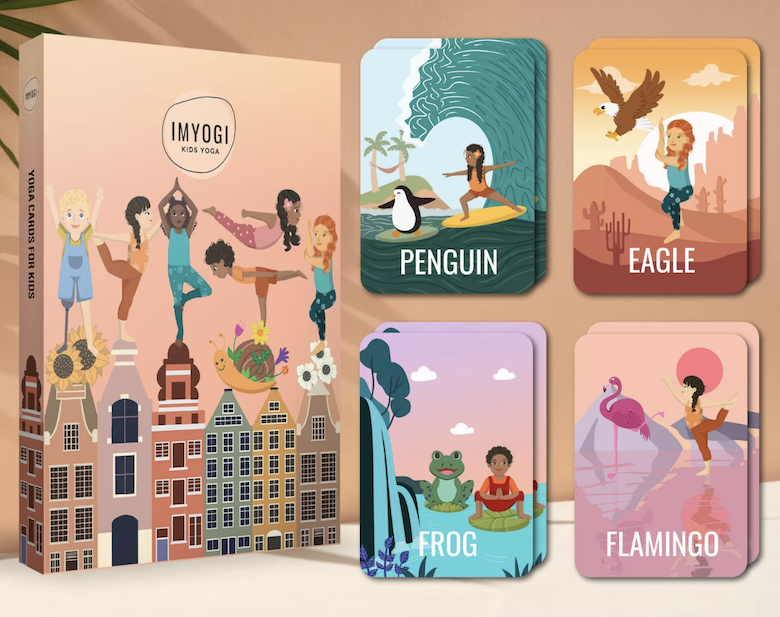 This yoga card deck is beautifully and boldly illustrated, featuring 30 poses that are perfect for children to learn. Some of the cards in this deck have breathing and affirmation exercises too, which makes for a well rounded practice. Categorized to incorporate a yoga session from warm up to cool down, these cards are perfect for preschoolers and up!
A perfect gift for teens, this asana sun card deck is absolutely beautiful. It has large cards that are soft to the touch for a calming experience through and through.
This deck suits beginners and experienced teens, and includes breathing techniques and sequences to start with. Every card has a useful illustration and step by step instructions. This deck also includes modifications for a yoga experience to fit everyone.
Yoga Videos for Kids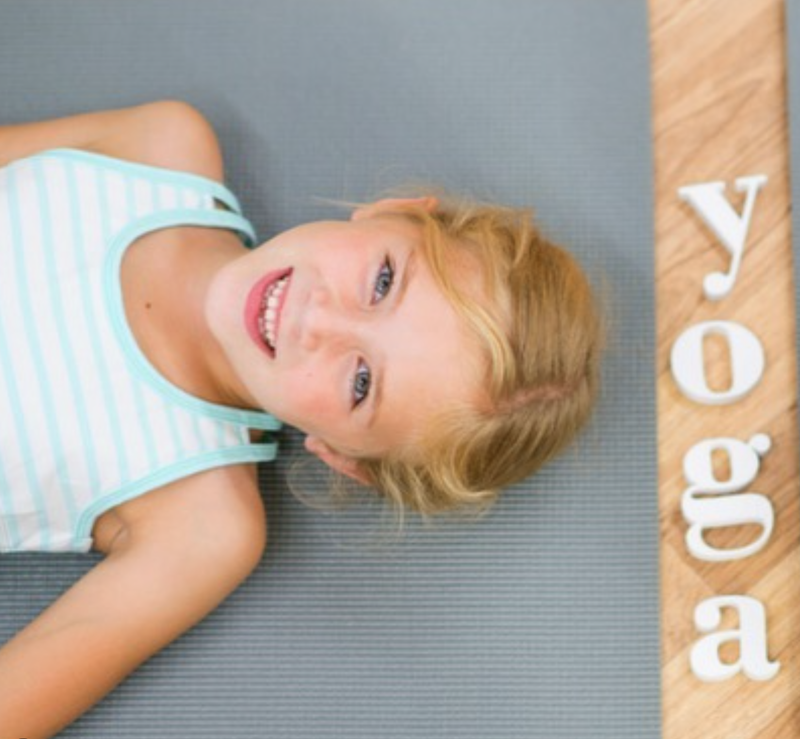 A online yoga subscription can be a wonderful gift for an older child or teen who can stream yoga classes on their phones, tablets, or TV.
For younger kids, Cosmic Kids Yoga is a super fun app that has hundreds of yoga videos. Each yoga video has a theme, from Harry Potter to gaming. The videos also include the Zen Den for mindfulness, Anxiety Busters, Yoga Quests, and Sleep Adventures.
Butterfly Kids Yoga is an online subscription to yoga classes for kids and is great for teens. The program offers yoga and mindfulness class groups from ages 3 to 18. The classes increase confidence and flexibility with movement, and can reduce anxiety.
This program is wonderful for teen athletes as well, I love their Express Sessions for busy teens who are short on time. It offers the benefit of a class in the comfort of your own home.
Kids Yoga Books
For young children, The ABC's of Yoga for Kids is a beautifully illustrated introduction to yoga poses. Kids can accomplish these while also learning or practicing the alphabet. This book is written by a kids yoga expert, Teresa Anne Power. You may recall seeing several of these images in the article she wrote for Green Child on bonding with your child through yoga.
Sharing 56 poses, this book promotes strength, flexibility, and coordination. Even if a child already knows their ABC's, this is a great way for them to learn and remember yoga poses.
In Good Night Yoga: A Pose-by-Pose Bedtime Story your child can follow the story of the natural world as it closes down for the night. Kids learn a simple flow of yoga postures inspired by their favorite characters from nature.
Moving from "Sun Breath" to "Cloud Gathering" to "Ladybug & Butterfly" and more, readers learn techniques for self-soothing, relaxing the body and mind, focusing attention, and other skills that will support restful sleep and improve overall confidence and well-being.
Yoga Exercises for Teens is perfect for tweens and teens who love yoga. Books with yoga poses and practice philosophies are great for this age. Teens are busy and might have difficulty finding a class specifically for their age group, and also may not feel ready for an adult yoga class.
It's developmentally normal for teens to be peer-motivated, so anything that involves friends will speak to them! I love this book because it is teen specific, yet doesn't require a huge commitment. It also features poses that can be done in pairs.
Kids Yoga Mat
My youngest has always loved having her own yoga mat. It made her feel like the big kids and adults. It gave her the autonomy of outlining where her own space is.
This fun kids yoga mat comes in a variety of designs from donuts to dinosaurs. A non-slip yoga mat is helpful for small hands and feet to achieve the poses to the best of their ability. It also provides comfort especially for those who have wood flooring.
For tweens or teens, this personalized yoga mat is a beautiful way to appreciate and support their yoga practice. It features different color choices, a lovely mandala design a teen will love, and a comfortable grip.
Yoga Clothes
This is definitely not an endorsement of the "lululemon girls" trend on social media. But a kids yoga set is be a great gift for anyone who is dedicated to yoga and appreciates a complete outfit. This set comes in a variety of colors and children's sizes, and has comfortable pants perfect for movement and stretching.
For yoga loving teens, this yoga tree sweatshirt is super soft and perfect for wearing to warm up before and during yoga practice.
Encouraging Your Child's Interest in Yoga
I genuinely feel that yoga is for everyone, and can help kids from toddlers to teens. Yoga helps connect their mind and body as well as calm their spirit and manage their emotions. Any child can practice yoga, with a range of abilities, sensory needs, and focus instincts.
You can encourage the mindfulness aspects of yoga by reading guided meditation scripts together. Using relaxation scripts, a body scan meditation, or guided imagery bedtime stories can help your child relax before or after their yoga practice.
Finding gifts for kids of all ages and abilities that inspire self care and inner peace is meaningful. What a wonderful way to support them and share wisdom!